Sean Burrell on his way to a world U20 400m hurdles record in Eugene (© Kirby Lee)
Sean Burrell broke the world U20 400m hurdles record on Friday (11), clocking 47.85* on the third day of NCAA Championships action in Eugene, Oregon.
The 19-year-old, who only started racing the 400m hurdles this year, took a second off his previous best to improve the 48.02 world U20 mark which had been set by Danny Harris in 1984.
Running in lane eight, LSU freshman Burrell had a slight lead off the final bend but powering over the final two barriers he quickly left his rivals behind to cruise over the finish line well clear, roaring with delight when he saw his time on the Hayward Field clock.



Six of the top seven athletes all ran PBs, with Isaiah Levingston coming through for second place in 48.49 and Cameron Samuel finishing third in 48.68.
Burrell, who has also run a PB of 45.42 for the 400m flat this year, ran his previous 400m hurdles best of 48.86 last month and had clocked 49.06 in his semifinal.


Ross runs 400m world lead
Also in Eugene on Friday, on a day which featured finals in the men's events, North Carolina A&T's Randolph Ross ran the fastest 400m in the world so far this year, improving his PB from 44.60 to 43.85.
Behind Ross, whose time was the third-quickest in US collegiate history and the first sub-44 second performance of 2021, Bryce Deadmon finished second in a PB of 44.44 and Noah Williams third in 44.93.
Ross, who is coached by his Olympian father Duane, now sits behind only Michael Norman and Fred Kerley on the NCAA all-time list.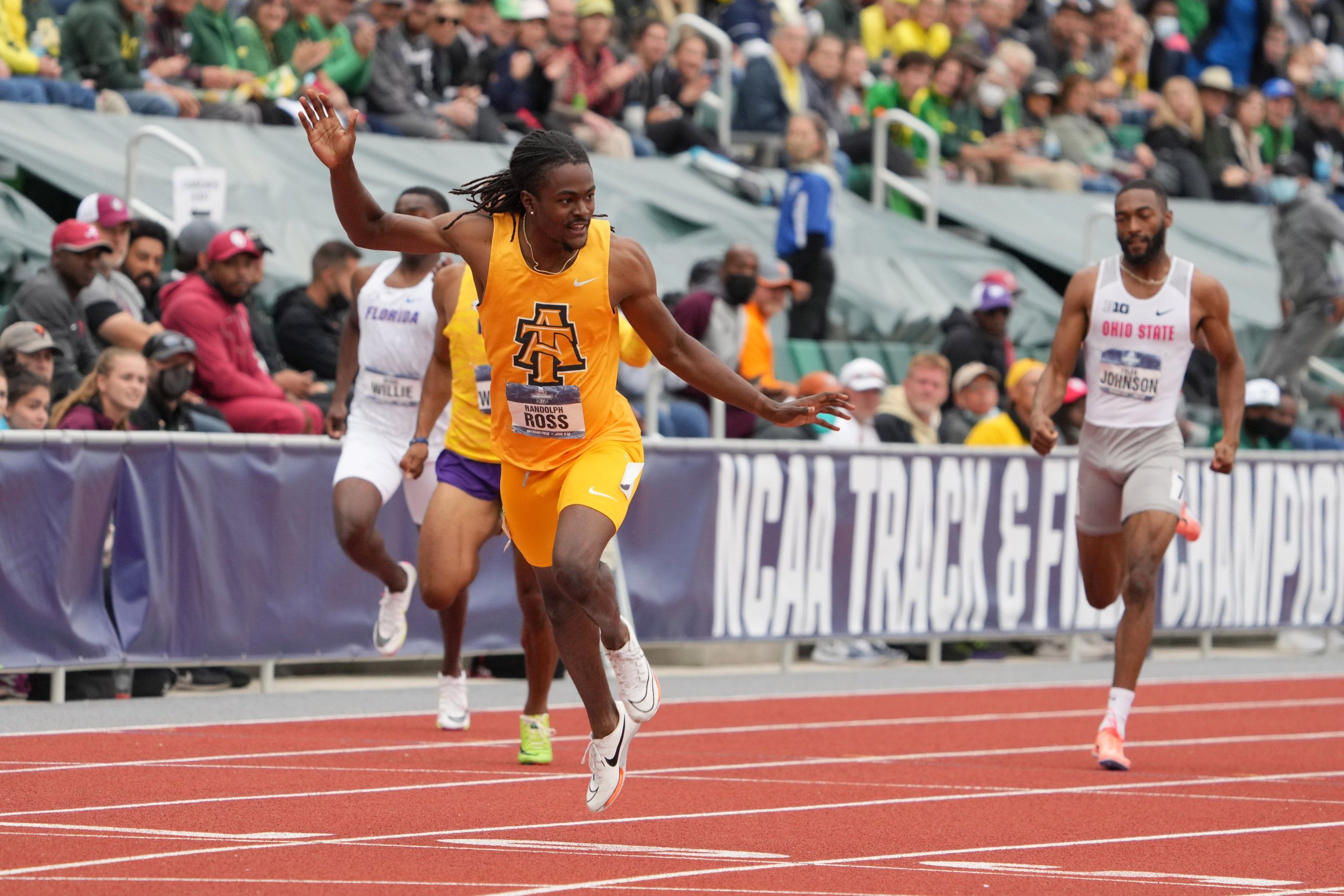 Randolph Ross wins the 400m in a world-leading time at the NCAA Championships in Eugene (© Kirby Lee)

Impressive finishing speed in the 200m saw University of Florida freshman Joseph Fahnbulleh move from fourth to first in the final 50 metres, passing Terrance Laird and Shaun Maswanganyi in the lanes either side of him and dipping to claim victory in a PB of 19.91 (-0.4m/s). Laird held on for second in 19.94, one place ahead of Maswanganyi with 20.10.
Less than an hour earlier, LSU's Laird had won the 100m title in a PB of 10.05 (0.4m/s) from Maswanganyi (10.09) and Micah Williams (10.11), as Fahnbulleh was seventh in 10.26.
The 110m hurdles win was claimed by Alabama's Robert Dunning as he clocked 13.25 (-0.6m/s) ahead of Jaylan McConico (13.38).


🏆 Men's 200m 🏆

WOWOWOW!!! Joseph Fahnbulleh... WHAT A CLOSE!! 🔥🔥#NCAATF x @GatorsTF

📺 ESPN2 pic.twitter.com/RjZhqRkknj

— NCAA Track & Field (@NCAATrackField) June 12, 2021

Teare takes down meeting record
The meeting record fell in the men's 5000m as Oregon's Cooper Teare ran 13:12.27 to improve on the 13:18.36 which had been clocked by Lawi Lalang in 2014, and record the second-quickest mark in US collegiate history.
The top three were all inside the previous meeting record, with Luis Grijalva second in 13:13.14 and Athanas Kioko third in 13:13.47, as 14 of the top 15 set PBs.



Fresh from his 10,000m win on Wednesday, Patrick Dever placed sixth in 13:19.85.
Oregon's double NCAA indoor champion Cole Hocker was fourth in 13:18.95, less than two hours after winning the 1500m in a PB of 3:35.35. There he kicked to beat Yared Nuguse in an exciting race, with Nuguse clocking 3:35.60.
USC's Isaiah Jewett was another athlete in PB form and he won the 800m in 1:44.68 from Brandon Miller (1:44.97), while Middle Tennessee's Kigen Chemadi claimed the 3000m steeplechase title in a time of 8:28.20.
LSU won another 4x100m title, clocking 38.48 ahead of Georgia (38.54), and the 4x400m was won by North Carolina A&T in 3:00.92.


Harrison completes double
LSU's JuVaughn Harrison achieved another high jump and long jump double, adding the high jump title to the long jump win he claimed on Wednesday.
This time he cleared 2.33m on his first attempt to win by 10 centimetres before taking three attempts at 2.39m.


Hear from @jaay_jumps after he pulls off the double... again!#NCAATF x @LSUTrackField

📺 ESPN2 pic.twitter.com/voWn5rP49S

— NCAA Track & Field (@NCAATrackField) June 12, 2021

Oregon's Emmanuel Ihemeje leapt an outdoor PB of 17.14m (1.8m/s) to add the outdoor triple jump title to his indoor win earlier this year, with Jah-Nhai Perinchief also going beyond 17 metres with 17.03m (1.2m/s).
Arizona State's Turner Washington threw 63.42m to win the discus.


Gittens leads heptathlon
Top marks in the 200m (23.79) and high jump (1.84m) helped Tyra Gittens to lead the heptathlon at the end of the first day, the Texas A&M athlete scoring 3834 points to sit 162 points ahead of Ida Eikeng after four events.
Gittens, who had placed second in the individual long jump with a 6.68m leap the day before, also clocked 13.46 in the 100m hurdles and threw 13.31m in the shot put – an event in which Eikeng threw a leading 14.60m PB – on Friday.
Jess Whittington for World Athletics
* pending the usual ratification procedure