Peres Jepchirchir wins the 126th BAA Boston Marathon (© Getty Images)
Peres Jepchirchir and Evans Chebet ensured that two vastly different races both ended with thrilling finishes when the BAA Boston Marathon, a World Athletics Elite Platinum Label road race, returned for its 126th edition on Monday (18).
While Olympic champion Jepchirchir was locked in fierce battle with Ethiopia's Ababel Yeshaneh right to the end, Chebet claimed a clear win after breaking away from a large lead group with a killer kick at 22 miles.
Achieving a Kenyan double, Jepchirchir clocked 2:21:01 to win by four seconds, while Chebet cruised to victory in 2:06:51, half a minute ahead of his compatriot Lawrence Cherono, the Tokyo Olympics fourth-place finisher.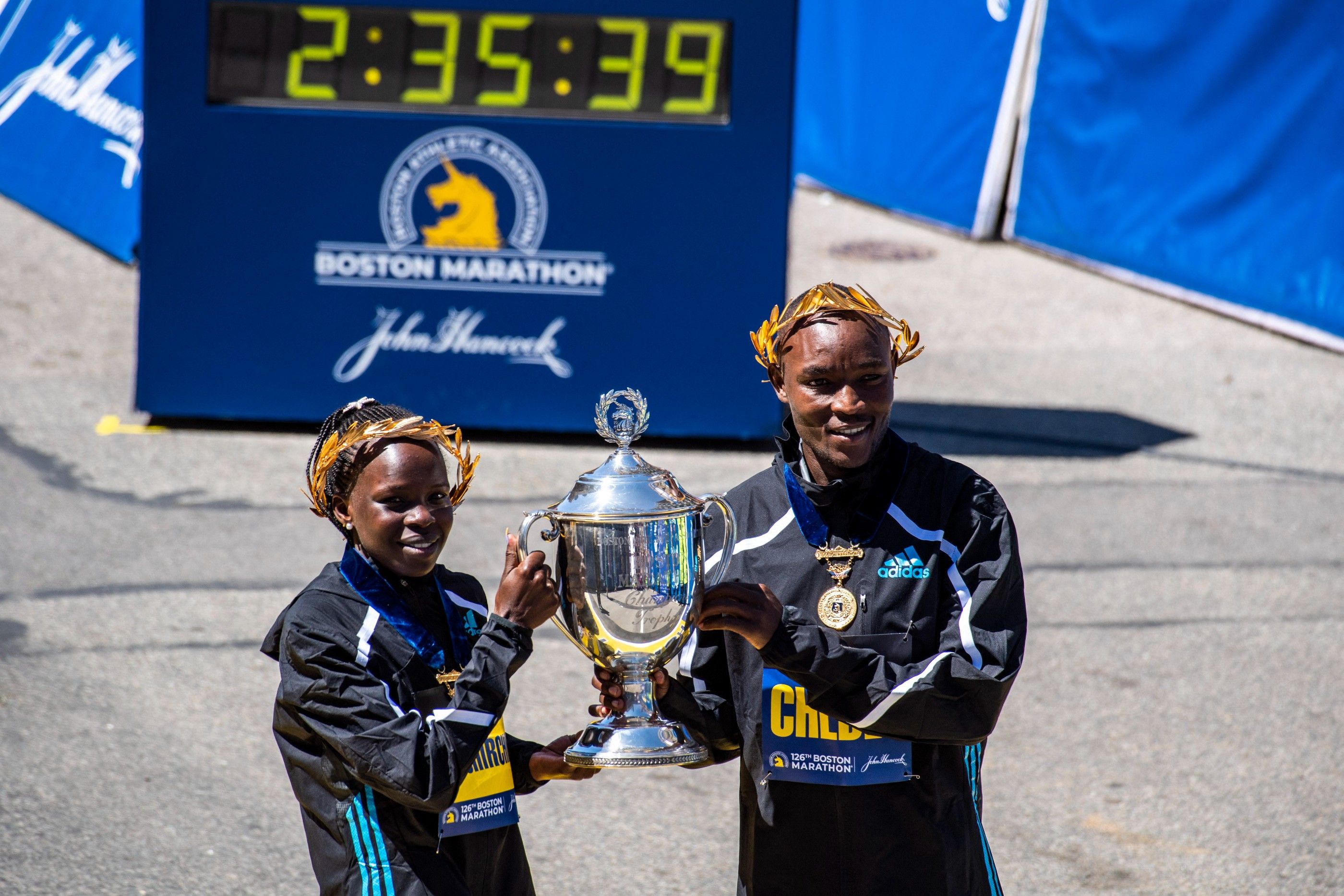 Winners of the 126th BAA Boston Marathon, Peres Jepchirchir and Evans Chebet (© AFP / Getty Images)
The women's race had been billed as a head-to-head between Jepchirchir and her compatriot Joyciline Jepkosgei – last year's London Marathon winner and a fellow world half marathon record-breaker – and for a large part of the race that looked to be the case, with Yeshaneh adding to the challenge. But when Jepkosgei was dropped at around 23 miles, Jepchirchir and Yeshaneh – who has also set a world half marathon record in her career – were left to fight for the finish. Trading the lead numerous times in an exciting final mile, Jepchirchir dug deep to follow her Olympic and New York marathon wins last year with another victory – her fifth consecutive marathon win.
Yeshaneh couldn't respond to Jepchirchir's final powerful surge but was just a few seconds back, claiming the runner-up spot in 2:21:05 to add to her other top three finishes in Chicago and New York over the past few years. Kenya's Mary Ngugi came through to finish third in 2:21:32 and her compatriot Edna Kiplagat – the two-time world champion and winner in Boston in 2017 – finished fourth in 2:21:40.
After a conservative start that saw a lead women's group of 24 athletes pass 5km in 17:41, the pace picked up and an 11-strong pack – led by Jepkosgei, Jepchirchir, Yeshaneh and Ngugi – broke away. Jepkosgei and Jepchirchir seemed in control half an hour into the race, running side-by-side to the fore. They led that pack through 10km in 34:21.
Nine miles in, the impact of Jepkosgei and Jepchirchir pushing the pace was clear to see – after a 4:59 mile they were joined by only Yeshaneh and her Ethiopian compatriot Degitu Azimeraw in a breakaway quartet. The 15km mark was reached in 50:10, with the chase group featuring Ngugi, Kiplagat, Viola Cheptoo, Monicah Ngige and Etagegn Woldu 10 seconds back.
After that 15:49 5km split from 10km to 15km, the lead pace proved too much for Azimeraw and she was dropped soon after, with Kiplagat, Ngugi, Cheptoo and Ngige chasing her down. By 20km, Azimeraw was running at the back of that pack with 1:06:41 on the clock, half a minute behind the leading trio.
As the battle intensified, Jepkosgei, Jepchirchir and Yeshaneh were under course record pace through half way, clocking 1:09:41. The 25km mark was passed in 1:22:20, with the five-strong chase group just over a minute back.
The advantage of the front trio – Jepchirchir and Yeshaneh running together and Jepkosgei slightly detached to their left – had increased to 1:13 by 30km (1:39:20), with Kiplagat, Ngige and Ngugi having dropped Cheptoo and Azimeraw.
Jepchirchir, Yeshaneh and Jepkosgei remained together through 35km in 1:56:46 but Jepkosgei began to struggle and was dropped around a mile later. Yeshaneh and Jepchirchir forged ahead and passed 40km in 2:13:39, with Ngugi and Kiplagat running together 38 seconds behind them.
Then the epic battle really commenced. Jepchirchir kicked hard with a mile to go but Yeshaneh reeled her back in. The Olympic champion had soon returned to running in Yeshaneh's slipstream but when Yeshaneh misjudged a turn, Jepchirchir followed the most direct blue line and edged ahead. Yeshaneh wasn't giving up easily though and managed to cover each of Jepchirchir's surges, until she gritted her teeth for one final push that was enough to triumph, adding another success to her impressive CV.
"The course is tough, but I thank god that I managed to win the race," said two-time world half marathon champion Jepchirchir, who ran her marathon PB of 2:17:16 in Valencia in 2020. "I thought that Ababel was feeling strong. I pushed it and I felt tired and fell behind but I didn't lose hope. I am feeling grateful and honoured."
Behind fourth-placed Kiplagat was Ngige, fifth in 2:22:13, while Cheptoo was sixth in 2:23:47 and Jepkosgei seventh in 2:24:43. Azimeraw (2:25:23), Britain's Charlotte Purdue (2:25:26) and USA's Nell Rojas (2:25:57) also finished in the top 10.
In contrast to the women's race, the men's event featured a large lead group right up to 35km, which was when Chebet decided to make his move.
The 2020 world leader, thanks to his 2:03:00 Valencia Marathon win, had achieved top four finishes in the previous 12 marathons he had completed, but his only DNF had come in Boston in 2018. He rebounded from that in style.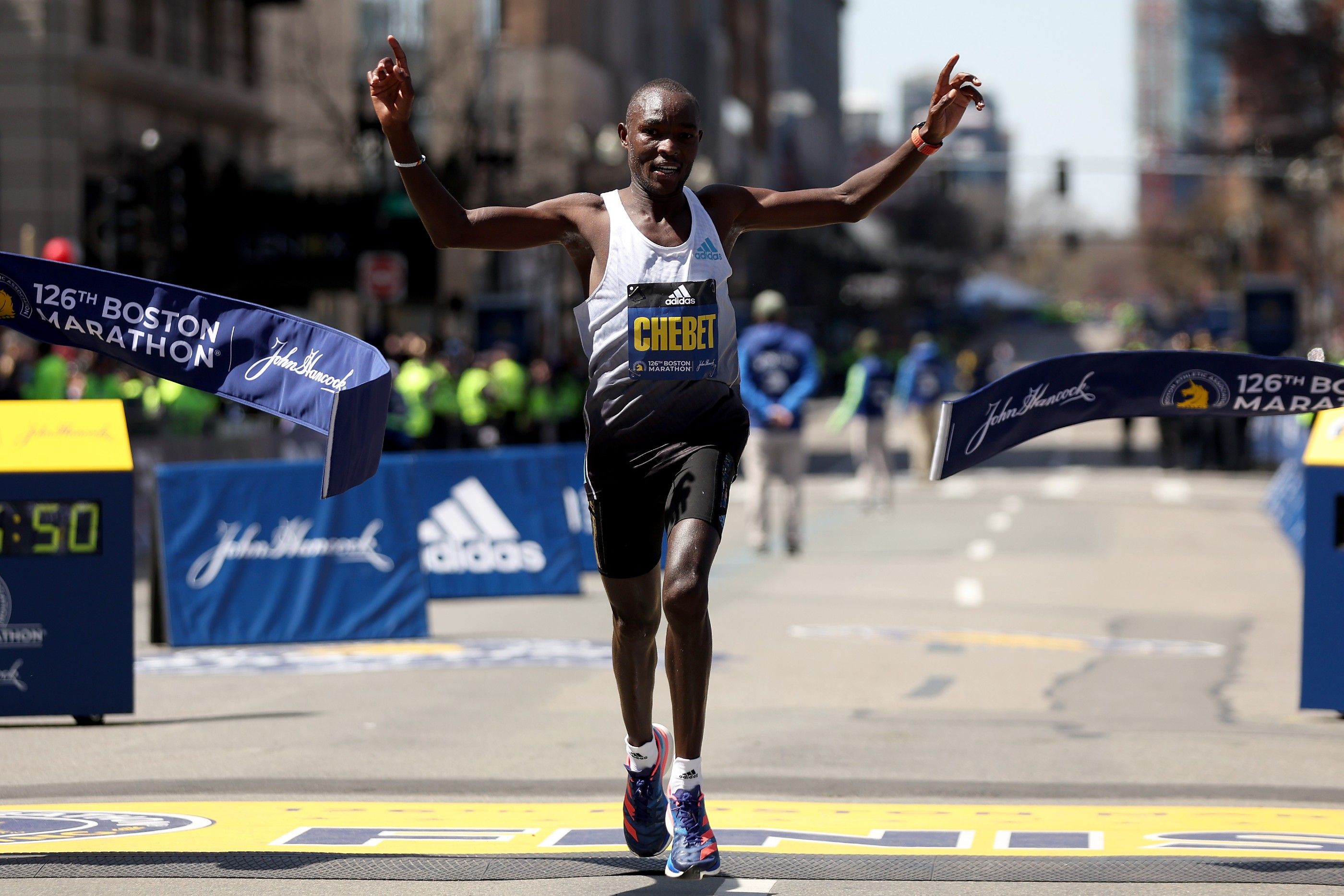 Evans Chebet wins the 126th BAA Boston Marathon (© Getty Images)
Running a 4:27 22nd mile followed by two miles each timed at 4:26, Chebet covered the 5km split from 35km to 40km in 13:55 to leave his rivals for dust.
Untroubled, he crossed the finish line in 2:06:51 for the first World Marathon Majors win of his career, beating 2019 Boston winner Cherono by exactly half a minute. Another former Boston winner, Kenya's defending champion Benson Kipruto, was third in 2:07:27 and Tanzania's Gabriel Geay fourth in 2:07:53.
As he did in 2021, USA's CJ Albertson had gone straight to the front of the men's race but the large chase group was never far away and a pack of more than 30 athletes clocked 14:55 for the opening 5km.
Ethiopia's London Marathon champion Sisay Lemma moved ahead at around the four-mile mark, which caused the pack to break up slightly. Kenya's Bethwel Yegon joined him and then pushed on at 10km, passed in 29:38, with the lead group still 19 strong. That pack remained as Yegon, Albertson and his US compatriot Mick Iacofano led through 15km in 44:43 and Albertson was a stride ahead as the half-way point was reached in 1:03:24.
Unlike the women's race, the large lead group remained through 25km (1:15:25) and 30km (1:30:59), with 15 runners still together at that point.
It was at 35km when the race really came alive. Chebet, who had been sitting comfortable mid group, decided to shake things up and his surge in pace caused athletes to run in single file behind him. Geay was on his shoulder at the 35km checkpoint (1:46:31), with Cherono and Kipruto joined by Ethiopia's Kinde Atanaw and Jemal Yimer in a chase group (1:46:33) and Kenya's three-time world half marathon champion Geoffrey Kamworor running solo in seventh.
But no one could live with Chebet's 13:55 split to 40km (2:00:26) and although chasing hard, Cherono and Kipruto were 18 seconds back at that point. Pushing on, Chebet had increased that lead to 30 seconds by the finish.
"I knew that my competitors were capable of a lot, so I was really trying to give them range so that they were behind me and they stayed behind me," Chebet said, speaking through an interpreter.
"In 2018 I ran (the Boston Marathon) but I had to sit down and rest so I didn't finish. So this is a commendable performance because today I completed the race."
Behind the leading quartet, Kenya's Eric Kiptanui finished fifth in 2:08:47 and Albert Korir sixth in 2:08:50 as Scott Fauble came through to finish as the top US athlete, running 2:08:52 for seventh. Yimer (2:08:58), USA's Elkanah Kibet (2:09:07) and Atanaw (2:09:16) completed the top 10.
In earlier Boston race weekend action, the women's course record fell in the B.A.A. 5K on Saturday (16), with Ethiopia's Senbere Teferi clocking 14:49. That took one second off the record set by Molly Huddle in 2015 but missed Teferi's targeted own world record for a women-only race of 14:29.
"My main goal was to break the world record, but I'm thinking it was a little bit windy," said the 2015 world 5000m silver medallist, who ran 1:07:34 to win last month's United Airlines NYC Half. "I'm very happy to get the course record here."
USA's Weini Kelati was second in 15:04 and Kenya's Sharon Lokedi third in 15:16.
The men's race was won by Charles Philibert-Thiboutot, who ran a Canadian record of 13:35 to beat New Zealand's Geordie Beamish and Zouhair Talbi of Morocco by a second.
USA's Johnny Gregorek and Annie Rodenfels won the B.A.A. Invitational Mile elite races in respective times of 4:08.16 and 4:35.51.
Jess Whittington for World Athletics
Leading marathon results
Women
1 Peres Jepchirchir (KEN) 2:21:01
2 Ababel Yeshaneh (ETH) 2:21:05
3 Mary Ngugi (KEN) 2:21:32
4 Edna Kiplagat (KEN) 2:21:40
5 Monicah Ngige (KEN) 2:22:13
6 Viola Cheptoo (KEN) 2:23:47
7 Joyciline Jepkosgei (KEN) 2:24:43
8 Degitu Azimeraw (ETH) 2:25:23
9 Charlotte Purdue (GBR) 2:25:26
10 Nell Rojas (USA) 2:25:57
Men
1 Evans Chebet (KEN) 2:06:51
2 Lawrence Cherono (KEN) 2:07:21
3 Benson Kipruto (KEN) 2:07:27
4 Gabriel Geay (TAN) 2:07:53
5 Eric Kiptanui (KEN) 2:08:47
6 Albert Korir (KEN) 2:08:50
7 Scott Fauble (USA) 2:08:52
8 Jemal Yimer (ETH) 2:08:58
9 Elkanah Kibet (USA) 2:09:07
10 Kinde Atanaw (ETH) 2:09:16