Devon Allen on his way to a 12.84 110m hurdles at the New York Grand Prix (© Kevin Morris)
Devon Allen ran the third-fastest time in history in the 110m hurdles, while Noah Lyles claimed an impressive 200m victory and Sha'Carri Richardson contested a 100m and 200m double at the USATF New York Grand Prix on Sunday (12).
While showers were in the forecast, the rain held off and the sun peeked through the clouds at Icahn Stadium on Randall's Island in New York.
On the same track where Usain Bolt set his first 100m world record in 2008, Allen nearly joined him in the record books.
The two-time Olympian kicked off the elite portion of the meeting, a new stop on the World Athletics Continental Tour Gold series, by clocking a world-leading 12.84. Allen, who is known for the way he closes races, overtook reigning world champion Grant Holloway at the ninth hurdle and continued to separate from the field in the final metres.
Holloway, the Olympic silver medallist running only his second hurdles race of the season, was second in 13.06 and Daniel Roberts, the third member of the USA Olympic team in Tokyo, was third in 13.17.
Only world record-holder Aries Merritt (12.80) and Holloway (12.81) have run faster than Allen, who was fourth at the Tokyo Olympics.
"I thought I was going to break the world record today, so we'll have to wait for another race," he said.
Allen, who will play professional American football for the Philadelphia Eagles later this year, attributed his fast time to "fresh legs." He had been training hard in both sports, then came down with Covid-19 two weeks ago.
"It was good for me to get off my feet for seven to 10 days," Allen said. "My legs are fresh, I feel good, and now I can start training and getting better for USAs and World Championships."
Holloway, who has a bye for the World Athletics Championships Oregon22 next month, said he will "go back to the drawing board. You've got to up your game. It's going to be a fast year."


Just a casual historic run for @DevonAllen13. No biggie. pic.twitter.com/gCZCcDb6y5

— Continental Tour Gold (@ContiTourGold) June 12, 2022

The New York Grand Prix was a tune-up for many US athletes before their national championships, which begin 23 June, also in Oregon.
Richardson was the only elite athlete to double up at the meeting and placed second in the 100m to Aleia Hobbs, who had to run a PB to beat her, 10.83 to 10.85. Those times put them fourth and fifth on this season's world list.
"I feel phenomenal," said Richardson, whose long, blond hair flowed behind her and who wore a fuchsia outfit with fishnet on her arms and legs. "This is only my third 100m of the season. One of the people I idolise the most got first, Aleia Hobbs — I love her. If anybody was to beat me, I would definitely want it to be Aleia."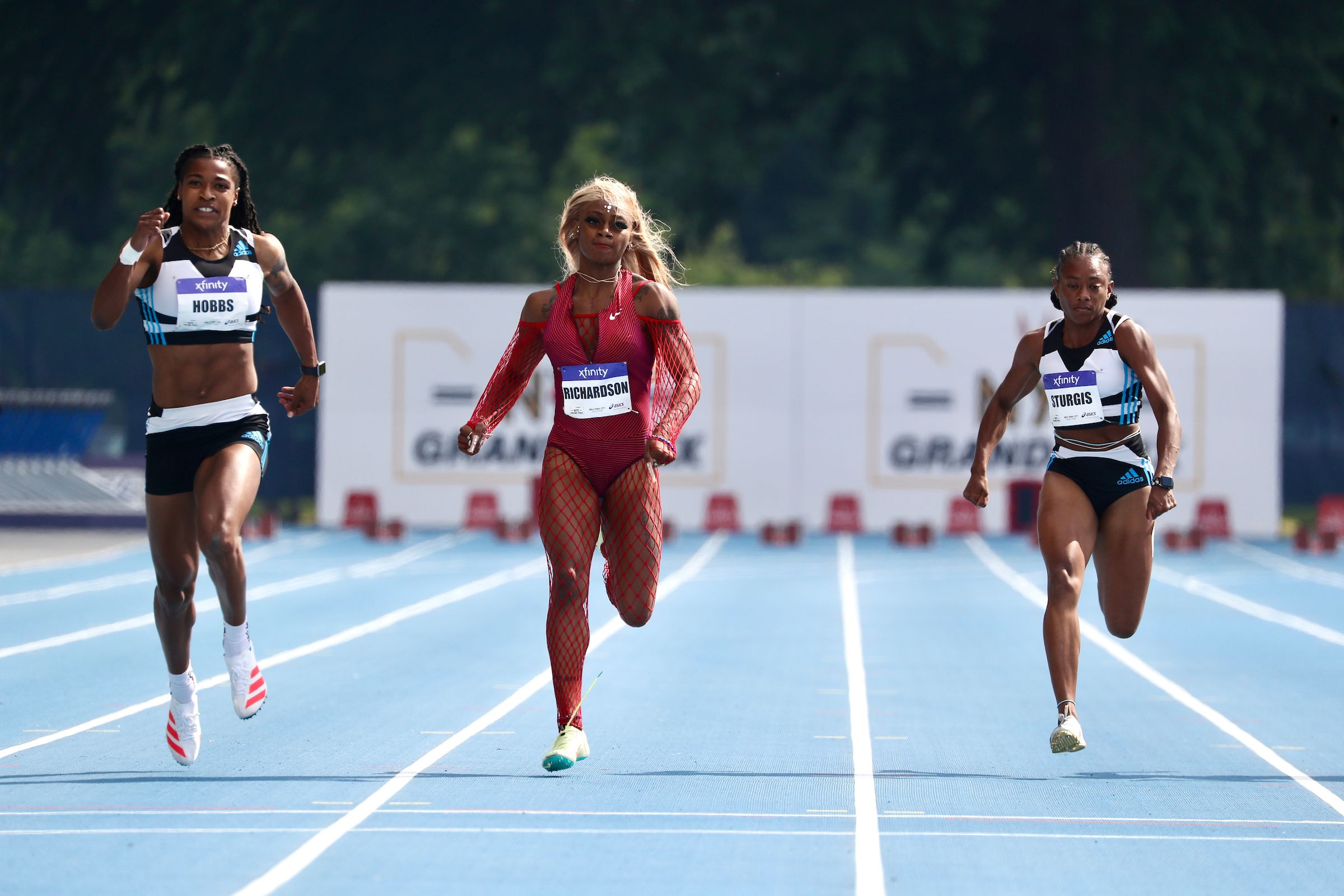 Winner Aleia Hobbs, Sha'Carri Richardson and Cambrea Sturgis in the 100m at the New York Grand Prix (© Kevin Morris)
Nobody beat Richardson in the 200m, where she posted a time of 22.38, well ahead of Tamara Clark in second in 22.62 and Tynia Gaither in 22.66.
Richardson had planned to run only the 100m, then claimed the spot vacated by Gabby Thomas in the 200m.
"It was an amazing race," said Richardson, who threw up her arms with a huge smile on her face as she crossed the finish line. "I actually last-minute got into this race because I want to double at nationals and I didn't have a time, so I was like, 'I need to put a time out there.' I just wanted to complete the race, execute the best that I could and see what that got me.'"
She got the loudest cheers at the meeting and had the biggest fan club, young girls who screamed whenever they saw her and clamored for autographs and photos. Richardson obliged. Many of the girls competed in the public portion of the meeting.
"They're the next generation," Richardson said. "I just want them to know, do it in their way. Don't let limitations of the world stop you. Because the world has its own flaws. Don't let anybody stop you… from shining because you are sunshine, we are the light."
Her outfit, Richardson said, reflected "me always standing out, no matter my performance."
Thomas, who had expected to double, announced Saturday that she had to pull out of the meeting. "I did something funny to my leg during a sprint, met with my medical team," she said on social media, "and they decided that it's not worth the risk with US nationals being just two weeks away."
Christian Coleman ran a season's best of 9.92 in the men's 100m, slipping under 10 seconds for the first time since 2019 when he was world champion. Last season Coleman could not compete because he was serving a suspension and he said he is re-learning "the art of sprinting."
Coleman finished strong to hold off Ackeem Blake of Jamaica, who posted a PB of 9.95, and Marvin Bracy, who ran a season's best 10.03.
"The whole goal today was to try to execute a much better race than my last one," said Coleman, who was third in late May at the Prefontaine Classic, a Diamond League meeting, in 10.04.
He did just that, especially in the second half of his race. Compared to 2019, Coleman said: "I'm the same guy. I feel like it's there. I just feel like when you have a long layoff, obviously it's going to affect you in some kind of way, so this whole season to me is a learning experience. I'm just trying to get better and better. I feel like that same guy is still in me."
He just has to show it. "I need all the races I can get," Coleman said.
Lyles has decided that he will concentrate on the 200m, the distance at which he is defending world champion, and will not double in the 100m at the US Championships. "It's kind of come to a point now, 'Hey, I'd rather grab a gold than two silvers at the World Championships," he said at the pre-meeting press conference.
With that focus, he clocked 19.61, 0.11 off his PB and a whopping 0.41 ahead of the rest of the field. Kyree King turned in a PB of 20.02 to place second, while Brandon Carnes had a PB of 20.07 for third.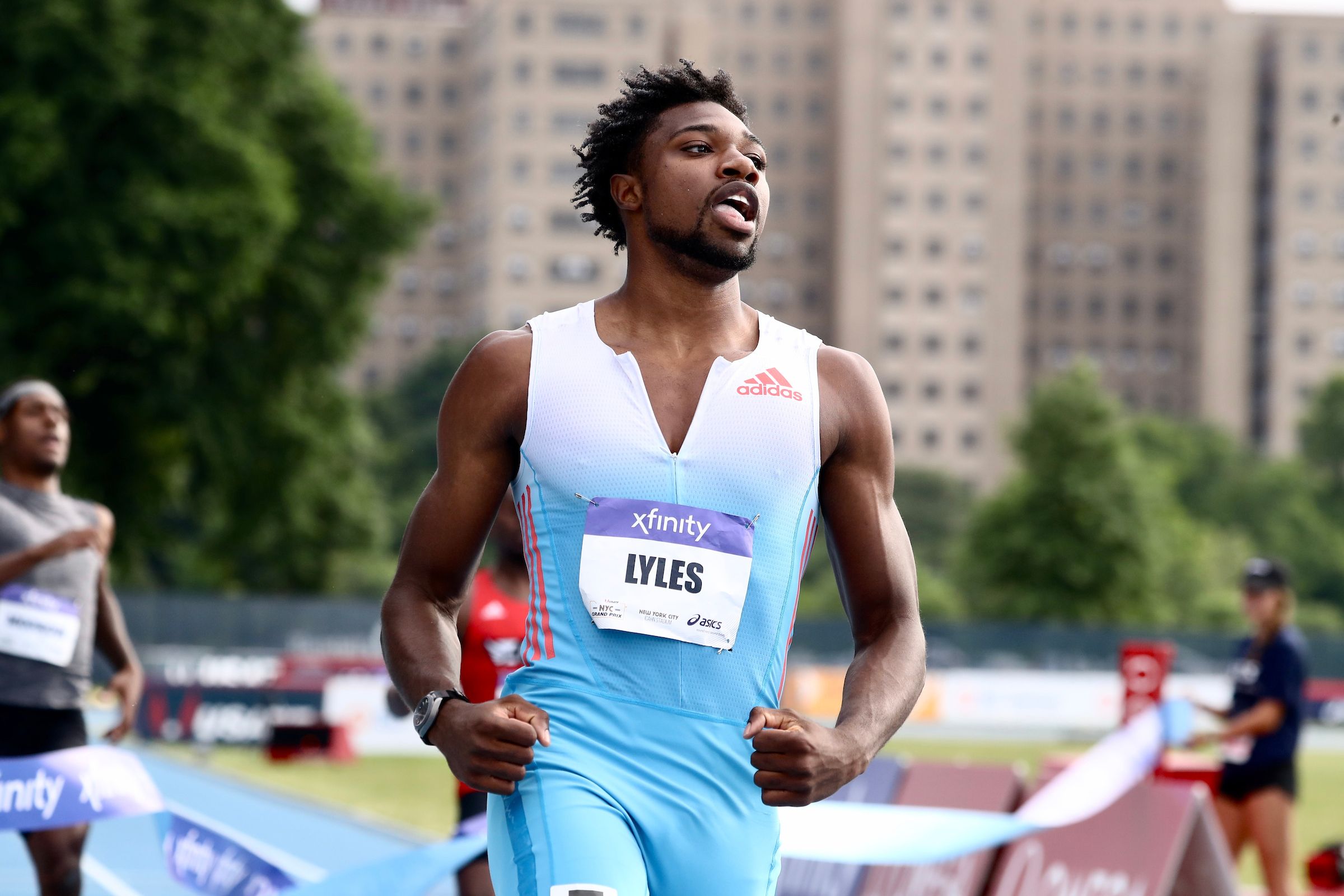 Noah Lyles wins the 200m at the New York Grand Prix (© Kevin Morris)
"I'm proud of it," Lyles said. "I wanted it faster. I wanted to see 19.5, but I'll take 19.61. It's right next door."
He has worked on the first 30 metres of his race and said" "It's working. I've just got to start feeling more comfortable."
He's also uncomfortable being the No.2 USA runner in the 200m this year behind 18-year-old phenom Erriyon Knighton, who has the world-leading time of 19.49.
"I haven't felt this since towards the beginning of high school," said Lyles, who has lost only twice in the 200m — at a Diamond League meeting in Rome in 2019 to Michael Norman and in the Tokyo Olympics, when Andre De Grasse and Kenny Bednarek beat him. "When it's time to line up, I'm going to have it. I know it automatically. I'm always going to be ready."
Unfortunately, Sydney McLaughlin was a late withdrawal from the meeting. The Olympic gold medallist and world record-holder ran a sizzling 51.61 in the 400m hurdles a week ago (5) and was slated to run the 100m hurdles and flat 400m in New York. The schedule was even adjusted to accommodate her. But McLaughlin pulled out of the 100m hurdles before the meeting began and announced she had scratched from the 400m just minutes before the race was supposed to get underway.
She said her coach, Bob Kersee, "decided to pull me this close to trials." McLaughlin was second at the 2019 World Championships, so she does not have a bye. She has raced only twice this season, winning the 100m hurdles at the Penn Relays and then the 400m hurdles last week in Nashville.
"I think last week was a good testament of where we're at," McLaughlin said, "and I think that's why he decided to shut it down. We want to focus on the things that matter most, which is trials and Worlds and practice has been going great so I think it's keeping us right on pace."
However, even McLaughlin wondered how fast she could have run the 400m. She ran one 400m last year, but allowed that "I haven't really raced since college, so I was just as curious as you were. Hopefully I'll get another chance this season to do it."
In other races, Alaysha Johnson ran a PB of 12.40 in the 100m hurdles, breaking Michelle Perry's meeting record that had stood since 2005.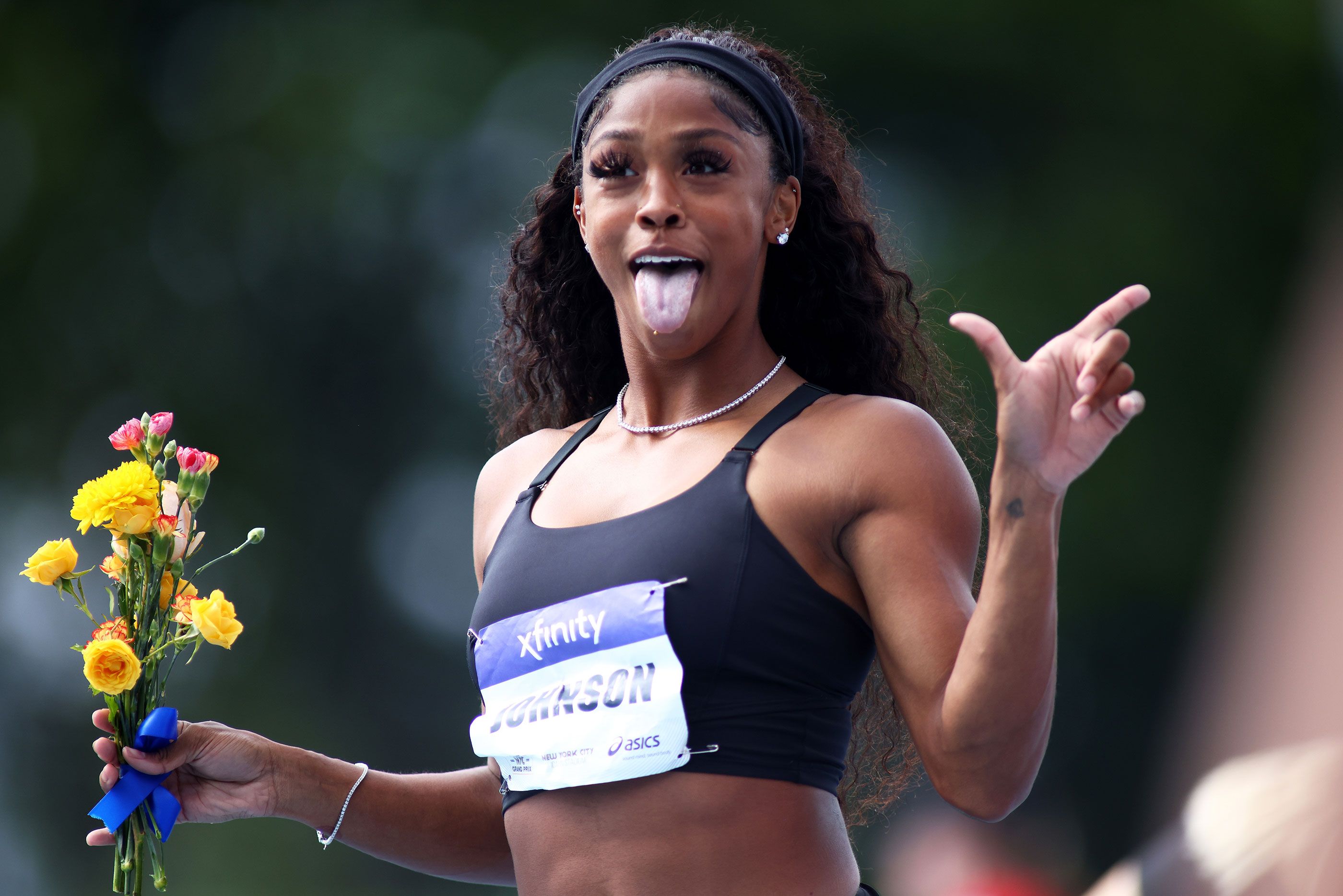 Alaysha Johnson celebrates her 100m hurdles win in New York (© Getty Images)
"I was really nervous; I was shaking in the blocks," Johnson said.
She said she didn't have the best start, "but it just came together. I had no idea I was running fast."
Johnson added that she hopes to do well at the US Championships and "get a contract, and get some money, because that's what we're doing this for."
World indoor champion Ajee' Wilson won the women's 800m in 2:00:62 in windy conditions. Wilson said she's getting back to the fitness she had in 2019 and 2017, when she won world outdoor bronze medals. "I think confidence-wise I'm there," she said.
Bryce Hoppel won the men's 800m, clocking a season's best 1:45.07 to sprint away from Jesus Tonatiu Lopez of Mexico in 1:45.16. Hoppel almost waited too late to make his move.
"When Tonatiu went on my right on the outside on that last turn, I was like, 'I better go with him,'" Hoppel said. "I think I have enough to do it."
Tyler Terry won the men's 400m in 45.70 and Lynna Irby took the women's race with a time of 51.38.
Gianna Woodruff of Panama ran a season's best of 54.35 in the women's 400m hurdles and Quincy Hall captured the men's 400m hurdles in 48.75, finishing well ahead of Amere Lattin in 49.67.
In the only field events, Jessica Ramsey claimed the women's shot put title with a throw of 18.90m and Donald Scott leaped 16.81m in the men's triple jump, closely followed by Will Claye in his season opener at 16.75m.
"It's a win," Scott said. "I'll take it."
Karen Rosen for World Athletics