Italy's Cesare Maestri raced last year in Chiang Mai and is a contender again in Innsbruck (© Organisers)
More than 1100 of the world's top runners from 68 countries will gather in the Austrian Alps for the World Mountain and Trail Running Championships, which will be staged in the spectacular setting of Innsbruck and Stubai over the next five days (6-10).
The inaugural event was held last November in Chiang Mai, Thailand, and while that proved a success, the quality and quantity of competitors who have made their way to Tyrol this week suggests the second edition will be even better.
At the press conference on Monday afternoon, Alessio Punzi, Head of Running and Mass Participation at World Athletics, said: "The World Championships are a dream come true that we started to dream in 2017. In the future, we want to attract more and more athletes and make it more and more difficult for everybody to ignore."
The elite races will play out across four challenging routes, with five events for each gender, ranging from the viciousness of the vertical uphill – which opens the elite programme on Wednesday (7) with a 7.3km event, featuring 1020m of elevation gain – to the concluding mountain classics on Saturday, featuring looped 15.5km races for senior men and women. Thursday's action will see competitors take on the short trail race over 44.6km, while Friday will bring a stern test with the long trail, an 85km event.



The planned route for the long trail had to be altered in recent weeks due to the cool spring temperatures. "There is so much snow in places that the avalanche danger is simply too big," said Alexander Pittl, head of the organising committee. "There is an alternative route for this case and we have already decided to switch to this."
Nonetheless, runners will be treated to one of the most spectacular courses on offer in the running world. "I'm amazed with the scenery and landscape, it is an amazing place for a runner," said Janet Ng, President of the International Trail Running Association. "It is an organiser's dream to bring trail running in the middle of the old town and I'm happy to be part of a historic week."
Sarah Roswell, council member of the World Mountain Running Association, said the region "combines the infrastructure of a big city with the wilderness of the mountains," adding that she hopes to see mountain and trail running at the Olympics in the future.
To many in the off-road running world, this week will feel like an Olympics.
The vertical uphill races will see more than 130 men and 108 women take to the course. Some of the leading entrants in the men's race include Cesare Maestri of Italy, who has an International Trail Running Association performance index (ITRA PI) of 892, while Switzerland's Dominik Rolli is another likely to feature. However Patrick Kipngeno – who became the first Kenyan to win a mountain running world title last year – should prove tough to beat, and he will be backed up by his compatriot, and last year's silver medallist, Philemon Kiriago. Ireland's Zak Hanna could also contend for a medal, having finished fifth last year.
The women's race will see Scout Adkin of Britain, USA's Allie McLaughlin and Austrian great Andrea Mayr, among others, battle it out for the medals. McLaughlin beat Mayr to gold by 26 seconds at last year's edition in Thailand, while Switzerland's Maude Mathys, fourth last year, is also back and she will be hoping to reach the medal rostrum.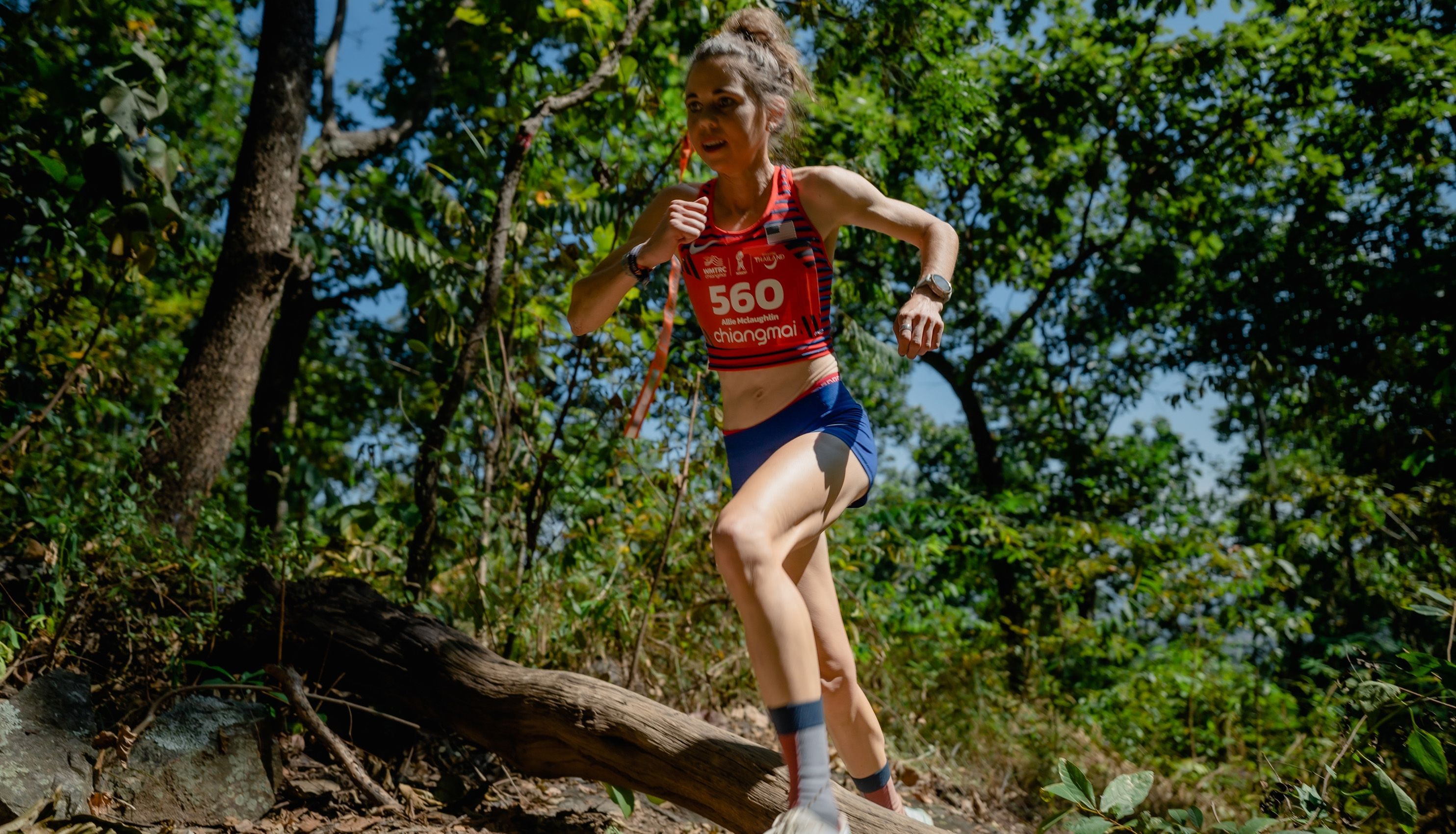 Allie McLaughlin in action in Chiang Mai (© Organisers)
The short trail fields will gather runners of exceptional quality, with 14 in the men's field boasting an ITRA PI of over 900. Great Britain's Jonathan Albon, a bronze medallist at the inaugural edition last year, will likely be favourite, topping the rankings with his ITRA PI of 938. Defending world champion Stian Angermund of Norway should also be a strong contender. Italy has four men ranked in the top 15, led by Davide Magnini, while France should also prove formidable with orienteering specialist Frederic Tranchand leading them on rankings. Sweden's Petter Engdahl is also likely to be in the mix.
The women's race will see South Africa's Toni McCann start as favourite, with her ITRA PI of 781, though there is a slew of strong contenders lining up alongside her, led by USA's Brittany Charboneau (771), Spain's Nuria Gil (770) and New Zealand's Caitlin Fielder (768). Mauritius has a decent medal chance in Marie Perrier, while Britain's Eleanor Davis should also be in contention.
The long trail will see a cluster of trail-running titans take each other on. Five men in the field have an ITRA PI of over 900, led by Germany's Hannes Namberger with 923. France's Thibaut Garrivier (912), Italy's Andreas Reiterer (911), Switzerland's Gian Schicktanz (904) and France's Nicolas Martin (901) will ensure it is a hard-fought battle to get on the podium.
On the women's side, reigning world champion Blandine L'Hirondel of France tops the start lists with an ITRA PI of 812, while she will be backed up by teammates Manon Bohard Cailler (769) and Marion Delespierre (744). Spain will have a strong hand in Azara Garcia (771) and Gemma Arenas (762), while Germany's Rosanna Buchauer (762) should also be in the medal shake-up. Another strong contender is Nepal's Sunmaya Budha, who has the second highest ITRA PI in the field with 772. France will start favourites for gold in both team events.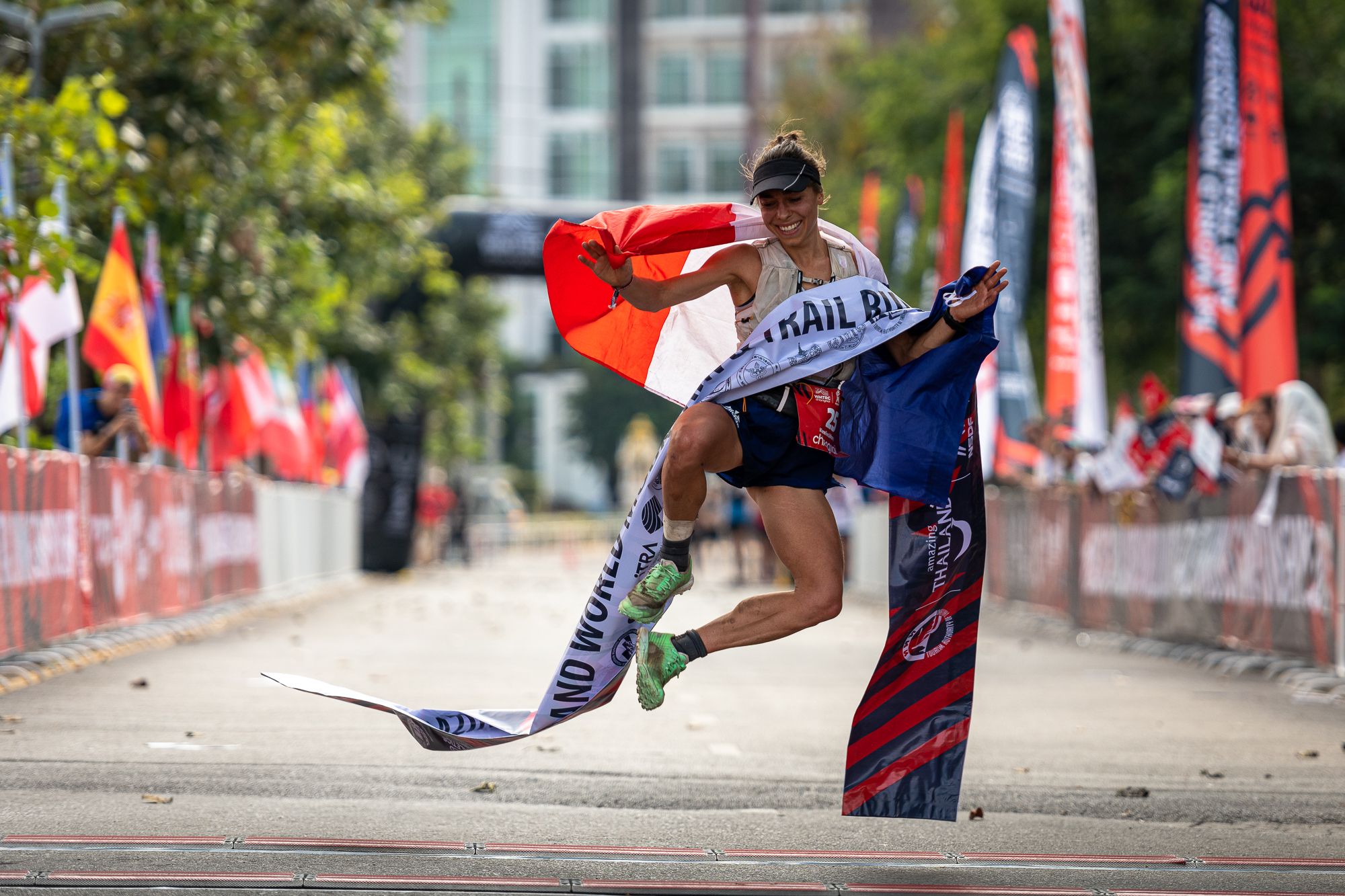 Blandine L'Hirondel celebrates her women's long trail win at the World Mountain and Trail Running Championships (© Marco Gulberti/Corsa in Montagna)
The classic mountain races on Saturday will begin with two U20 races, held over an up-and-down course of 7.5km, with the senior races to follow over 15.5km.
Kenya should again be to the fore in the senior men's race, with Kipngeno boasting an ITRA PI of 925 and his teammate Kiriago (903) also a strong medal candidate. Among the others in the 900 club are Spain's Andreu Blanes (912) and Austria's Manuel Innerhofer (910). Spain's Alejandro Garcia, together with Italy's Maestri and Alberto Vender, should also feature.
The women's race will see Sweden's Tove Alexandersson go in with an ITRA PI of 817, while US pair McLaughlin and Grayson Murphy, France's Christel Dewalle and Uganda's Rebecca Cheptegei should all prove strong contenders, along with Switzerland's Judith Wyder and Romania's Madalina Florea.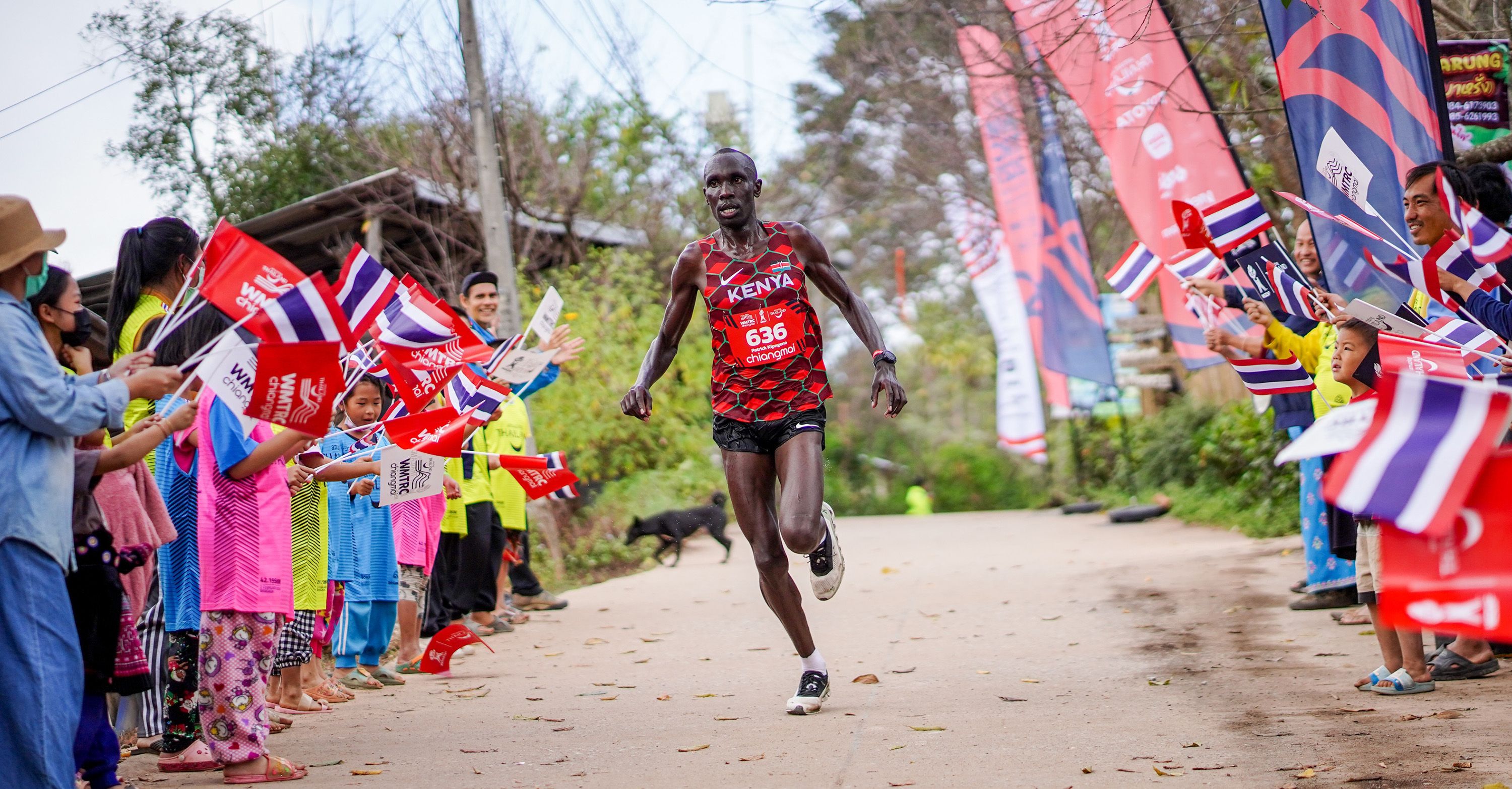 Kenya's Patrick Kipngeno on his way to uphill victory at the World Mountain and Trail Running Championships (© Organisers)
World Athletics President Sebastian Coe said the championships will "provide an exciting opportunity to showcase a different racing challenge for distance runners and for them to come together to celebrate their shared passion for our sport."
He added: "I offer my best wishes to all athletes, coaches, officials, volunteers, and of course our loyal fans for the most successful and enjoyable championships."
Cathal Dennehy for World Athletics