Anouk Vetter in the heptathlon javelin in Gotzis (© AFP / Getty Images)
Olympic champion Damian Warner and Olympic silver medallist Anouk Vetter will be in the spotlight at the Hypomeeting in Götzis, a World Athletics Combined Events Tour Gold meeting, this weekend (27-28).
Warner will compete at the Mösle-Stadium for the 10th time in pursuit of a record-extending eighth win at the meeting. The Canadian star became the first decathlete to win the Hypomeeting six times in 2021, scoring a then PB of 8995 points. The performance was highlighted by his 10.14 in the 100m and an 8.28m long jump, which was a world decathlon best at the time.
Warner went on to win Olympic gold in Tokyo with a national record of 9018 points, becoming the fourth decathlete in history to surpass the 9000-point barrier. He then won world indoor heptathlon gold in Belgrade in 2022, setting another national record and the second best performance on the all-time list with 6489 points, before clinching his seventh overall – and sixth consecutive – victory in Götzis with 8797 points.
This weekend Warner returns to decathlon action for the first time since last July when he suffered a hamstring strain during the 400m at the World Championships in Oregon.
Warner's compatriot Pierce LePage will make his fourth appearance at the Hypomeeting. LePage placed second behind Warner in Götzis in 2021 with 8534 and won the world silver medal in Oregon with a lifetime best of 8701. He also finished fifth at both the 2019 World Championships in Doha and at the Olympic Games in Tokyo.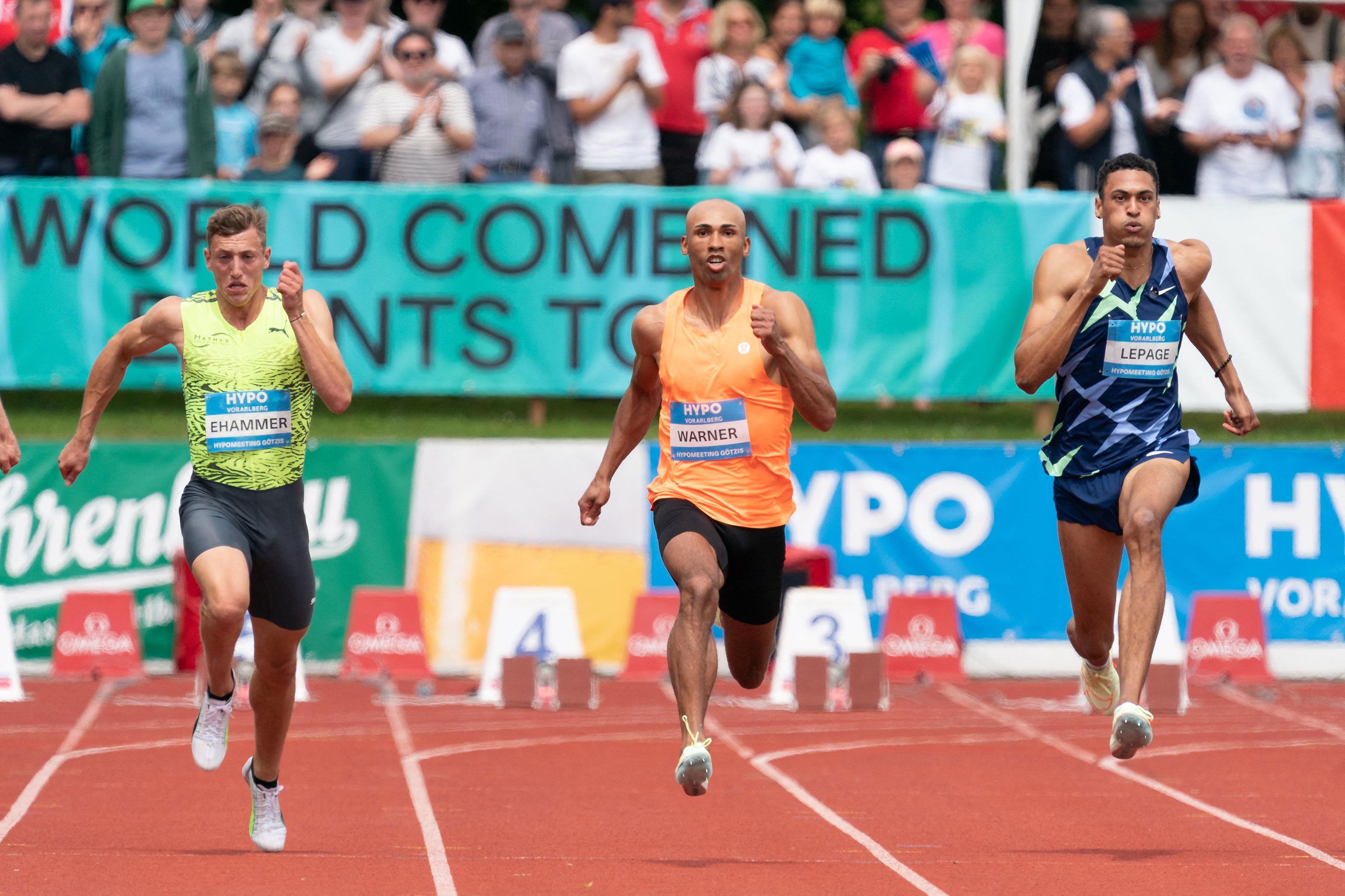 Simon Ehammer, Damian Warner and Pierce LePage in the 100m in Götzis (© AFP / Getty Images)
Simon Ehammer from Switzerland broke Warner's world decathlon long jump best with 8.30m in Ratingen in 2022 and improved the mark to 8.45m at last year's edition of the Hypomeeting en route to third place with 8377 points. Ehammer won world indoor heptathlon silver behind Warner with a national record of 6363 points in Belgrade and he also claimed world bronze in the long jump with 8.16m in Oregon and European silver in the decathlon with a national record of 8468 points in Munich.
He opened his 2023 season with 8.12m in the long jump and a PB of 13.43 in the 110m hurdles in Basel on 13 May.
The Swiss contingent also features Finley Gaio, who finished fifth in the European Championships 110m hurdles final and set a decathlon PB of 7949 in Götzis last year.
Lindon Victor from Grenada returns to Götzis, where he placed second last year with 8447 before finishing fifth at the World Championships in Oregon. He went on to win Commonwealth Games gold in Birmingham and won at the Decastar meeting in Talence, setting a national record of 8550. He was later rewarded for his consistency as he took the overall title in the 2022 World Athletics Combined Events Tour. Particularly strong in the javelin, Victor set his PB of 71.56m in that discipline en route to his seventh place at the Olympic Games in Tokyo.
Australia's Ashley Moloney is also back in Götzis, where he finished 13th with 8038 on his debut in 2019 and received the 'rookie of the meeting' award. Moloney, who won the world U20 title in Tampere in 2018, went on to claim two bronze medals at the Olympic Games with an Oceanian record of 8649 points and at the World Indoor Championships in with another area record of 6344 points, the highest third-place tally for a heptathlon competition. He will be joined by his compatriot and training partner Cedric Dubler, who won Commonwealth Games bronze in Birmingham and finished eighth at the World Championships in Oregon with 8246.
Sander Skotheim from Norway will make his debut in Götzis after a successful indoor season highlighted by European indoor heptathlon silver, while Karel Tilga from Estonia will compete in his second decathlon competition in a month after winning at the Multistars in Desenzano del Garda with a meeting record of 8482 points.
The Belgian contingent will feature European U20 champion Jente Hauttekeete and Niels Pittomvils, seventh at the European Indoor Championships in Belgrade in 2017.
The line-up also includes Poland's 2021 European indoor bronze medallist Paweł Wiesiolek, Sweden's 2019 European indoor fourth-place finisher Fredrick Samuelsson and USA's Devon Williams, third at this year's Multistars in Desenzano.
Vetter aims to retain
Vetter became the first Dutch heptathlon winner in Hypomeeting history last year with a score of 6693, adding four points to the national record she set at the Olympic Games in Tokyo, where she won silver. In the 2022 edition of the Götzis meeting Vetter broke Nafissatou Thiam's meeting record in the javelin with a sensational throw of 59.81m.
Vetter went on to win world silver in Oregon with another national record of 6867 points, five years after her bronze medal at the 2017 World Championships in London.
The strong Dutch contingent also features Emma Oosterwegel, the Olympic bronze medallist in Tokyo with 6590 who also finished seventh at the World Championships with 6440, plus Sofie Dokter and Marijke Esselink, who finished fourth and 10th respectively at the European Indoor Championships in Istanbul.
Adrianna Sulek from Poland returns to Götzis, where she improved her PB to 6429 points to finish second last year. Sulek – the overall World Athletics Combined Events Tour winner in 2022 – won world indoor silver with 4851 points in Belgrade and improved the Polish record to 6672 points to finish fourth at the World Championships in Oregon. She started 2023 with a pentathlon silver medal at the European Indoor Championships in Istanbul with 5014 points, surpassing the previous world record set by Nataliya Dobrynska at the 2012 World Indoor Championships in the same arena. Finishing first in the 800m, Sulek held the world record for about six seconds, but she had to settle for No.2 all time, as Thiam followed her over the finish line to improve the mark even further, achieving 5055 points.
NCAA champion Anna Hall will make her debut in Götzis. The 22-year-old won world bronze, becoming the third-best heptathlete in US history with her PB of 6755 points. She holds the third-fastest ever heptathlon 800m time with 2:03.11 and has a PB of 54.48 in the 400m hurdles. This year Hall broke Brianne Theisen-Eaton's North American record with 5004 points in the pentathlon at the US Indoor Championships and at the same championships she later won the 400m, clocking a PB of 51.03.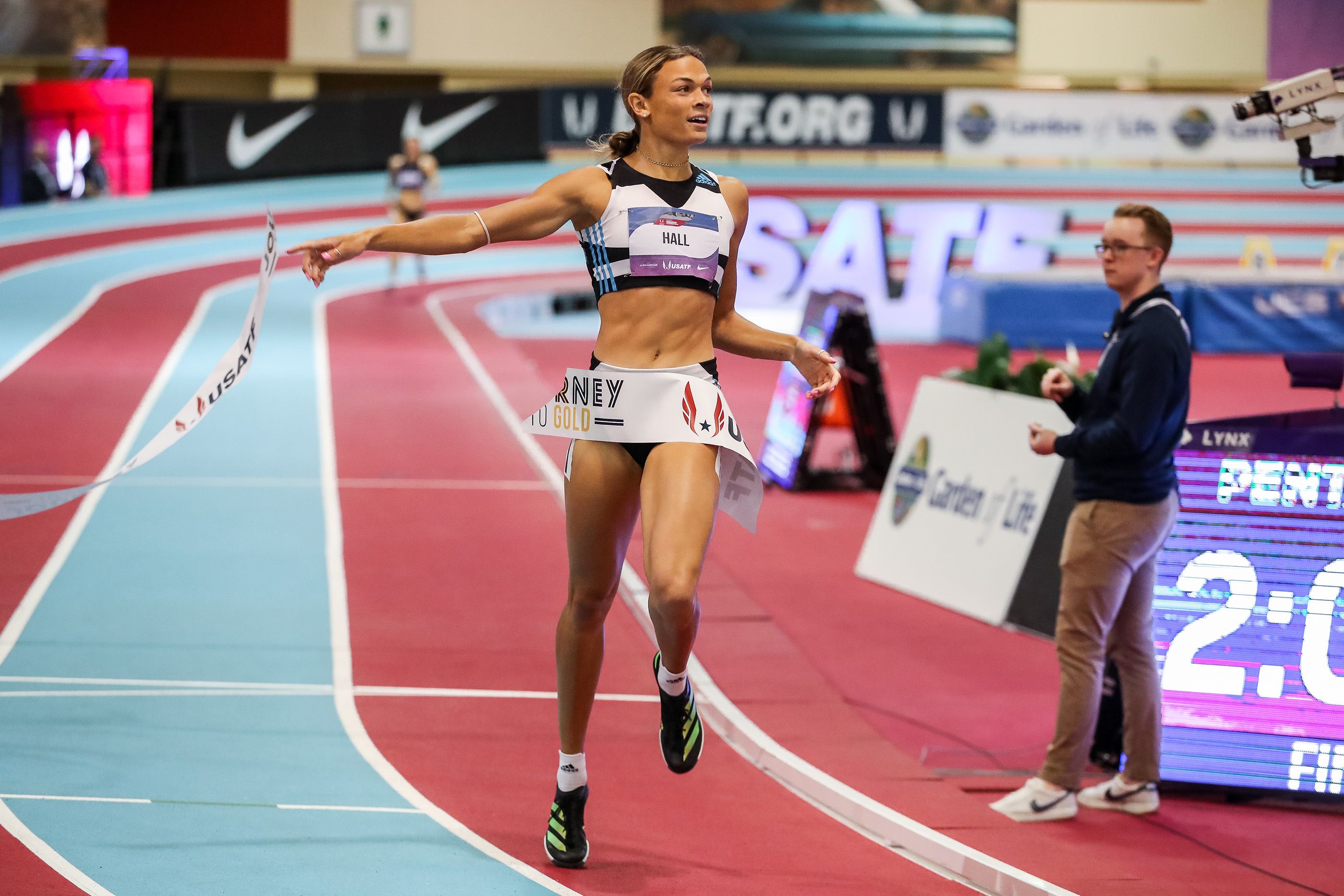 Anna Hall crosses the 800m finish line to break the area indoor pentathlon record at the US Indoor Championships (© Kevin Morris)
USA's Taliyah Brooks will compete in her second heptathlon meeting this year after taking the win at Multistars with a world-leading score of 6330 points. There she performed well in the long jump, leaping 6.65m in what is one of her strongest events – one in which she holds a PB of 6.78m. She also excels in the 100m hurdles and has a PB of 12.61.
The other top US heptathlete is Annie Kunz, who won the US Olympic Trials in 2021 with her PB of 6703 and finished sixth at the Olympic Games in Tokyo.
British combined events star Katarina Johnson-Thompson returns to the Mösle-Stadium, scene of her victories in 2014 (6682) and 2019 (6813).
The 2019 world champion, who improved Jessica Ennis-Hill's national record when she won in Doha with 6981, claimed her second consecutive Commonwealth Games crown in Birmingham last year in her most recent heptathlon competition. The 2018 world indoor pentathlon champion clocked 13.73 in the 100m hurdles and threw 13.13m in the shot put in Loughborough last weekend.
Great Britain will be also represented by Jade O'Dowda, Holly Mills and Niamh Emerson. O'Dowda won bronze at the Commonwealth Games and placed second in Desenzano del Garda this year, while Mills finished fourth at both the World Indoor Championships and Commonwealth Games and Emerson is the 2018 world U20 gold medallist.
Hungary's Xenia Krizsan has fond memories of Götzis, as she won this meeting in 2021 with a national record of 6651. She finished fifth at the European Indoor Championships in Istanbul with 4493.
German star Carolin Schäfer also returns to the Hypomeeting, where she has claimed three top three finishes (2015-17). Schäfer won world silver in London in 2017 and European bronze in Berlin 2018. The German contingent also includes Sophie Weissenberg and Vanessa Grimm, who was third in last year's edition of the Hypomeeting with her lifetime best of 6323.
The rising star to watch is Saga Vanninen from Finland, who won two world U20 titles in Nairobi in 2021 and Cali in 2022 as well as European U20 gold in Tallin in 2021 with her lifetime best of 6271.
Other athletes with a PB over 6200 are Canada's Georgia Ellenwood, Cuba's Adriana Rodriguez, Maria Huntington from Finland and Paulina Ligarska from Poland.
Austrian hopes are carried by 2016 world U20 gold medallist Sara Lagger, who finished fourth at this year's Multistars with 6010 in her first heptathlon competition since July 2021, when she finished fourth at the European U23 Championships. She is joined by local athlete Chiara-Belinda Schuler, who won the bronze medal at the European U18 Championships in 2018.
Diego Sampaolo for World Athletics