Grant Holloway at the ISTAF meeting in Berlin (© AFP / Getty Images)
Many of the year's leading athletes, including recently crowned Diamond League champions and world gold medallists, will look to cap their seasons with success at the Boris Hanzekovic Memorial, the final World Athletics Continental Tour Gold meeting of 2022, in Zagreb, Croatia.
This year's event takes place across three days, the women's pole vault and men's long jump kicking off the action on Friday (9) before the men's shot put on Saturday (10) and the main in-stadium programme on Sunday (11).
Fresh from their victories at the Wanda Diamond League Final in Zurich, Grant Holloway aims to end his season on a high, while Joe Kovacs tops another shot put clash with Ryan Crouser. Valarie Allman faces home star Sandra Perkovic in the women's discus, while Kristjan Ceh goes in the men's discus and Soufiane El Bakkali plans an attack on the world 2000m steeplechase best.
The pole vault, long jump and shot put will be held as street events and all eyes will be on the throws circle next to the city fountains on Saturday for the Ivan Ivancic Memorial. Three days after beating world record-holder Crouser for the second time this season and moving to second on the world all-time list, two-time world gold medallist Kovacs again goes up against his US compatriot. The men's shot put Diamond League final was also held as a street event, and in one of the city's most famous squares on the shore of Lake Zurich, Kovacs launched his shot 23.23m – the third-farthest mark in history.
The only athlete to have ever thrown farther is Crouser, who set his world record of 23.37m in Eugene last year, and who finished second in Zurich with a best of 22.74m as he continues his comeback after long covid. Also in the strong line up is New Zealand's 2017 world champion Tom Walsh, who threw 21.90m in Zurich to finish third, and USA's world bronze medallist Josh Awotunde, while home favourite Filip Mihaljevic, the European champion, is sure to get great support. Crouser set the meeting record of 22.84m last year.
"This is always one of our favourite shot put competitions," said Kovacs. "They do such a good time highlighting our event. All of us feel obligated to give back as much as we can with good performances, entertainment and energy, because ultimately this is the best showcase for our event."
On his performance in Zurich, he added: "I had been knocking on the door of 23 metres. If I left this year without throwing a PR, I wouldn't call it a bad year, but I feel like when you know you're capable of something – and I think I am capable of throwing farther than I even did in that meet – you want to show what you work for. You want that to reflect."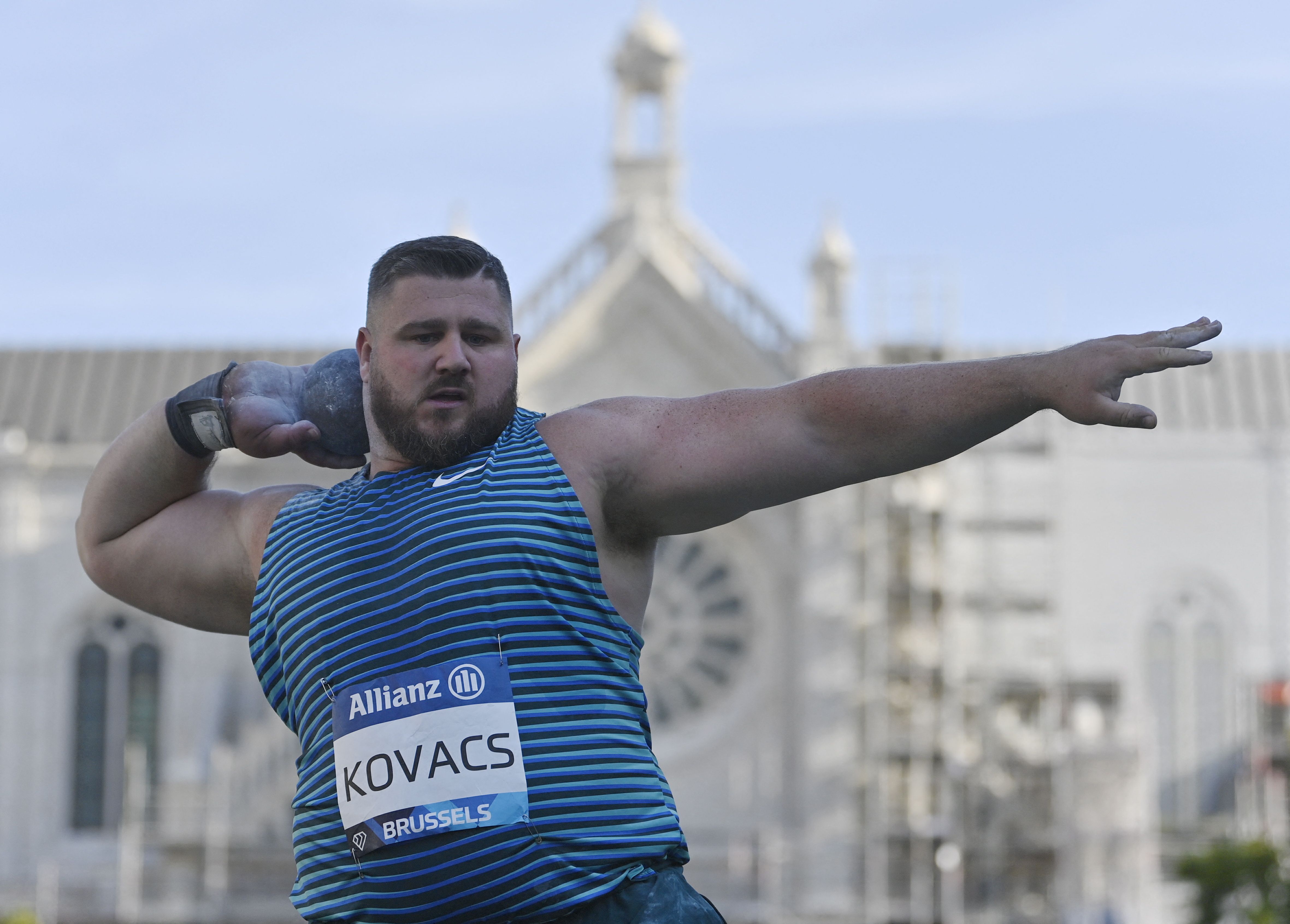 Joe Kovacs in the shot put in Brussels (© AFP / Getty Images)

In the pole vault on Friday during the Zagreb City Challenge in the Ban Jelacic Square, Slovenia's world indoor and European bronze medallist Tina Sutej targets the meeting record of 4.50m set by Fabiana Murer in 2015. Sutej, who set her season's best of 4.75m when claiming her European medal in Munich, has surpassed 4.70m in five competitions this season, winning in Lausanne and finishing third in Zurich.
Jamaica's 2019 world champion Tajay Gayle leads the entries for the men's long jump in the central city square. The 26-year-old jumped a season's best of 8.26m to win in Padua five days ago but those looking to deny him another triumph in Zagreb include Bahamas' Commonwealth Games champion LaQuan Nairn, Australia's 2012 world indoor silver medallist Henry Frayne and Czech Republic's 2015 European indoor silver medallist Radek Juska.
The following day, rivalries will also be renewed in the men's 110m hurdles, plus the women's and men's discus.
The men's 110m hurdles – the event's memorial race that is named after Boris Hanzekovic who was a 110m hurdler before he was killed in World War II – features USA's two-time world champion Holloway.
Since retaining his world title in Oregon, Holloway won in Monaco, clocking a season's best of 12.99, and followed it with victories in Berlin and Zurich. USA's Freddie Crittenden, who set a PB of 13.00 to win the NACAC title and then followed it with a runner-up finish to Holloway in Berlin, will also be in Zagreb.
"It has been a great season. It started off in February and I'm coming to a strong close in September," said Holloway. "I'm coming off of a big Diamond League win. I'm excited to be here and looking forward to very fast times tomorrow and getting back out there and having fun."
Asked at the pre-event press conference if the meeting record of 12.98, set by Mark Crear in 1999, could fall, Holloway replied: "Absolutely, I think it can be challenged. I think all the meeting records here are going to be challenged because you're bringing in some of the best athletes, coming fresh off either a Diamond League win or the World Championships. I think we're all ready to get out there and compete."
In the women's 100m hurdles, Jamaica's Olympic bronze medallist Megan Tapper takes on USA's Padua winner Tonea Marshall and Bahamas' world indoor 60m hurdles silver medallist Devynne Charlton.
The Jamaican duo of two-time Commonwealth Games champion Janieve Russell and 2019 world bronze medallist Rushell Clayton head the entries for the women's 400m hurdles, while the men's event features USA's world fifth-place finisher Khallifah Rosser, who secured NACAC silver in The Bahamas. Finishing one place behind him there was his compatriot CJ Allen, who also finished third at the Diamond League final, and they are joined in Zagreb by athletes including France's European fourth-place finisher Ludvy Vaillant.
Allman against home star Perkovic, Ceh seeks discus dominance
USA's Olympic champion Allman and Croatia's two-time world and two-time Olympic gold medallist Perkovic have again treated fans to some top clashes this season and that rivalry is renewed in Zagreb.
Their current career head-to-head record stands at 12-9 to Perkovic, their most recent battle coming in the Diamond League final where Allman, the bronze medallist at this year's World Championships, threw 67.77m to win ahead of world silver medallist Perkovic. But Perkovic will be further motivated to capture her 10th win at this home meeting.
Also in action is Germany's Kristin Pudenz, the Olympic silver medallist who claimed a medal of the same colour at last month's European Championships in Munich.
"Tomorrow is my last meet of the season. It has been a beautiful season," said Perkovic at the pre-event press conference. "I stood on the podium, getting silver at the World Championships, and retained my sixth title as European champion. I don't want to put any pressure on myself to expect any throws over 70 metres – I want to do my best and I know that I will do it in front of the Zagreb audience."
Allman, who has been inspired by the performances of Perkovic, achieved her world lead of 71.46m in April and US women now top this season's global lists in each of the throws events. Asked how it feels to be part of such strength for throwing events in her country, the 27-year-old said: "When I first got into the sport, I would go on YouTube and watch Europeans like Nadine Muller and Sandra Perkovic and now it feels like this really wonderful cohort of women in the US who are taking pride in being throwers, and who are going on to the global circuit and really embracing throwing as a profession.
"I think it is so important for the next generation to see that you can really accomplish big goals, but also be a strong, fierce, confident woman in sports and particularly in field events. One of the most meaningful parts of this journey is when young women come up to me and want to take a picture (with me). It really has changed a lot since I got into the sport and takes people like Sandra, who inspires me, and hopefully I can help facilitate people finding their passion in the future."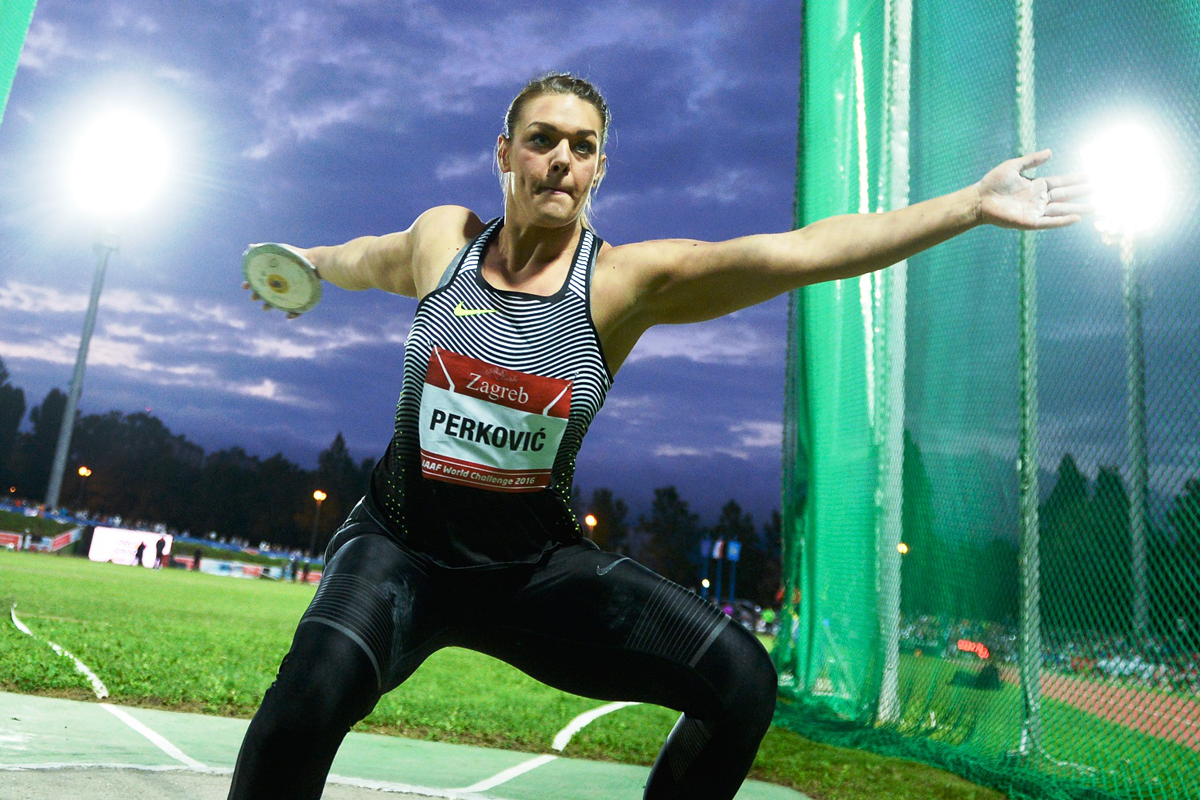 Sandra Perkovic in the discus at the Hanzekovic Memorial in Zagreb (© Organisers)
The men's discus final was not as close as the women's in Zurich, Slovenia's world champion Ceh winning by almost a metre and a half. His closest rivals there are not competing in Zagreb but that doesn't mean another victory will necessarily come easy. The field features Sweden's Olympic champion Daniel Stahl, who finished fifth in Zurich but leads the world top list with the 71.47m he threw in Uppsala in June, plus Sweden's Olympic silver medallist Simon Pettersson, USA's Sam Mattis and Britain's Lawrence Okoye.
In the men's triple jump, world and Olympic medallist Hugues Fabrice Zango of Burkina Faso competes against USA's two-time Olympic and four-time world gold medallist Christian Taylor, who continues his comeback this season after surgery, and Azerbaijan's Alexis Copello.
El Bakkali targets world steeplechase best
Despite all his achievements, Morocco's El Bakkali had never won a Diamond Trophy until Thursday, when the world and Olympic steeplechase champion dominated the race in Zurich. He will look to carry the momentum through to Zagreb where he will take a shot at the world best for the rarely-run 2000m steeplechase, which stands at 5:10.68 set by Mahiedine Mekhissi in 2010.
The 17-strong women's mile field features Kenya's world U20 3000m steeplechase champion Faith Cherotich, third in the Diamond League final, as she drops down in distance to race this discipline for the first time against Australia's Olympic sixth-place finisher Linden Hall, Ethiopia's African 800m silver medallist Netsanet Desta, USA's Josette Norris, Kenya's Winny Chebet and Uganda's Winnie Nanyondo.
Kenya's Commonwealth 10,000m silver medallist Daniel Simiu Ebenyo goes in the 3000m, where he will line up alongside his compatriot Reynold Kipkorir Cheruiyot, the world U20 1500m champion, and Ethiopia's Getnet Wale, the world and Olympic 3000m steeplechase fourth-place finisher, who races the 3000m outdoors for the first time. Also among the entries are Ethiopia's Nibret Melak, Sweden's Andreas Almgren, USA's William Kincaid and Norway's Filip Ingebrigtsen.
The men's 100m field is led by USA's world silver medallist Marvin Bracy-Williams, who has finished in the top three of all his 100m races this season. He ran his season's best of 9.85 when finishing second at the US Trials and that matches the best mark of Kenya's Commonwealth champion Ferdinand Omanyala this year. The meeting record is Usain Bolt's 9.85 set in 2011.
After winning in 9.86 last year, this time Bracy-Williams doesn't intend to just break the meeting record.
"I actually want to shatter the meeting record," he said. "I want to go 9.7 tomorrow. I have put the plan in place. This is the track to do it. I'm just hoping for good conditions and looking forward to competing against a good field of athletes."
Cuba's Reynier Mena, double NCAA champion Joseph Fahnbulleh and USA's double NACAC silver medallist Kyree King will be doubling in the 100m and 200m.
Three of this season's sub-50.00 sprinters clash in the women's 400m, Dominican Republic's world finalist Fiordaliza Cofil, who finished second in Zurich, racing against the athlete she pipped to the line in the Diamond League final, world bronze medallist Sada Williams of Barbados, and Jamaica's Candice McLeod.
Serbia's two-time world U20 champion Adriana Vilagos is among the athletes contesting the national javelin contest.
Jess Whittington for World Athletics