Gudaf Tsegay competes at the World Indoor Tour Gold meeting in Lievin (© Dan Vernon)
With overall tour titles and wild cards to fight for, plus world record attempts and fierce clashes, the last meeting in this season's World Athletics Indoor Tour Gold series in Birmingham on Saturday (25) is poised to deliver a fine finale.
Gudaf Tsegay and Laura Muir will attempt to make history in the 3000m and 1000m, respectively, while Keely Hodgkinson targets another fast time in the 800m, Grant Holloway and Daniel Roberts go head-to-head in the hurdles, and Dina Asher-Smith, Daryll Neita and Shericka Jackson star in a 60m showdown.
The World Indoor Tour Gold offers athletes the chance to compete for bonus prize money as well as wild card entries for the World Athletics Indoor Championships Glasgow 24, subject to selection by the athlete's national federation.
The scoring disciplines on the World Indoor Tour rotate each year and in Birmingham those on show are the women's 60m, 800m, 3000m and pole vault, plus the men's 400m, 1500m, 60m hurdles, high jump and long jump. Each athlete's best three results through the season will count towards their overall point score. The athlete with the most points in each scoring discipline at the end of the tour will be declared the winner.
Hodgkinson is among the athletes who could jump to the top of the standings with a win on Saturday. Britain's world and Olympic 800m silver medallist started her season with a world indoor 600m best of 1:23.41 in Manchester at the end of last month and went on to win World Indoor Tour Gold 800m races in Torun and Lievin, clocking respective times of 1:57.87 and a world-leading 1:57.71.
The fact that Hodgkinson was disappointed with that time in Lievin says much about her ambition in Birmingham. The 20-year-old ran her national record of 1:57.20 – a mark that puts her sixth on the world indoor all-time list – at this event last year and will be seeking another strong run as she works toward a European indoor title defence in Istanbul next month.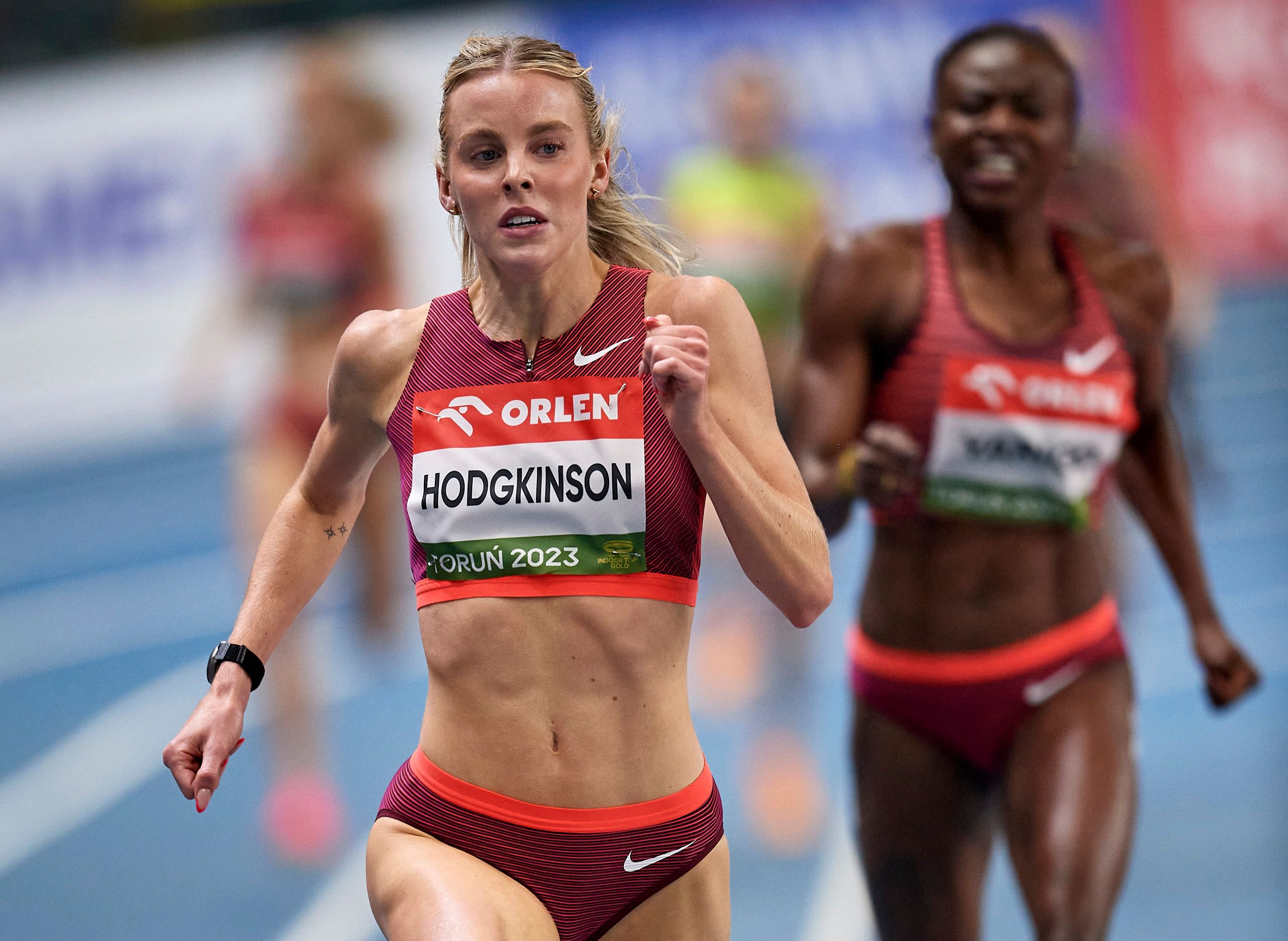 Keely Hodgkinson wins the 800m ahead of Noelie Yarigo at the World Indoor Tour Gold meeting in Torun (© Adam Nurkiewicz)
Among the athletes looking to deny her will be Benin's Noelie Yarigo. Enjoying a breakthrough season, the 37-year-old won at Wednesday's World Indoor Tour Gold meeting in Madrid and finished second behind Hodgkinson in Torun in a national record of 1:58.48, a time that puts her second on this season's top list.
Australia's Catriona Bisset is the other indoor sub-2:00 runner on the start line and she challenged Yarigo in Madrid, while USA's Allie Wilson and Slovenia's Anita Horvat are also in action.
Hodgkinson has her eye on 1:55.82: the world indoor record that was set by Jolanda Ceplak on the day Hodgkinson was born almost 21 years ago.
"I feel I'm in pretty good shape and if the perfect smooth race was to happen, then I could get close to it," said the 20-year-old, who celebrates her birthday on 3 March. "But if you watch that world record, there was two of them battling all the way to the line. I'm not sure how difficult it would be, potentially by myself. I'd like to give it a shot but my aim is ultimately to try to break my own British record."
Asked at the pre-event press conference what it would take for her to break the world record, Hodgkinson added: "Probably 57.2 (through half way). I've gone 56 seconds before, as I did last week (in Lievin), and I feel it's not really needed that much. It was a bit of a messy race last week, exerting energy here, there and everywhere. So for me it's about attacking it, hitting that mark at 57 seconds and trying to get a smooth run."
Like Hodgkinson, Ethiopia's world 5000m champion Tsegay also hoped to run faster in Torun, where she took aim at the world indoor mile record. The 26-year-old world indoor 1500m gold medallist, who set the world indoor 1500m record of 3:53.09 in Lievin in 2021, fell just short but moved to No.2 on the world all-time list with her 4:16.16 run and now she's back on the track and ready to attack Genzebe Dibaba's world indoor 3000m record of 8:16.60 that has stood since 2014.
Tsegay also sits second on the world indoor all-time list for that discipline thanks to the 8:22.65 she ran in Madrid in 2021.
Germany's Konstanze Klosterhalfen races her, fresh from a national title win on Saturday, while Kenya's 2021 world U20 champion Teresia Muthoni Gateri makes her indoor debut and another champion at that U20 event – Ethiopia's 5000m winner Mizan Alem – joins them on the start line after a third-place finish in Lievin.
Britain's Olympic bronze medallist Josh Kerr, who won the 3000m in New York, and Neil Gourley, who won the mile in Boston and was second in that event in New York, will face off in the men's 1500m. Spain's Adel Mechaal, third in Madrid, joins them, as does Ireland's Andrew Coscoran.
Muir's participation in the women's 1000m was announced as a world indoor record attempt in December and since then Britain's Olympic 1500m silver medallist has won the 3000m in Boston in 8:40.34 and the mile in New York in 4:20.15. The 29-year-old achieved the second-fastest indoor 1000m time in history at the 2017 edition of the Birmingham indoor event, clocking 2:31.93. Only Maria Mutola, who ran her world record of 2:30.94 in 1999, has ever gone quicker.
"I feel I'm in a really good spot," said Muir. "I was fortunate the last time I competed over the kilometre in Birmingham, I got the European record, so I'd love for my second time in Birmingham doing it, to hopefully go one further.
"It's definitely tricky, it's nasty!" she added. "It's like running an 800m and then keep going. I'd probably say it's the most painful of all the distances I've competed over. It's one that I feel I can run quick over, which is exciting."
Her competition includes Poland's Sofia Ennaoui, Romania's Claudia Bobocea and Maureen Koster of the Netherlands.
Sprint showdowns
Hurdles star Holloway hasn't lost an indoor sprint hurdles race since 2014, when he was 16 years old. In Birmingham, the world indoor record-holder will look to keep that win streak intact when he goes up against his US compatriot Roberts, who was just 0.01 shy of Holloway's world lead this season with the 7.39 PB he set in Madrid on Wednesday.
Could they push each other to even greater things? Two-time world 110m hurdles champion Holloway set his world record of 7.29 at the World Indoor Tour Gold meeting in Madrid in 2021 and then equalled it during the semifinals of last year's World Indoor Championships in Belgrade, later winning the title.
Cuba's Roger Iribarne pipped USA's Freddie Crittenden for the runner-up spot behind Roberts in Madrid and they compete again in Birmingham, joined by Britain's David King and Andrew Pozzi, the 2018 world indoor champion in Birmingham.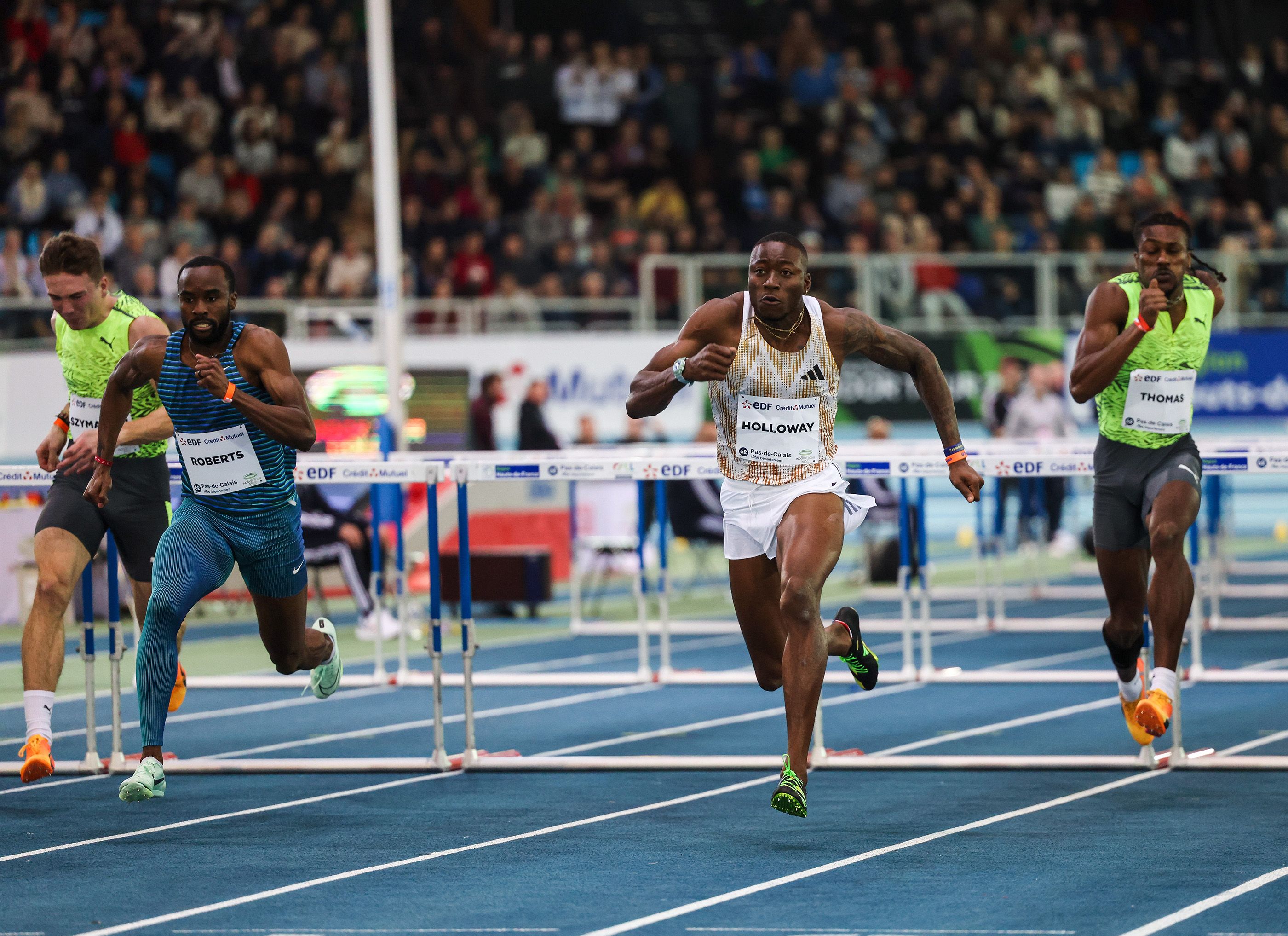 Grant Holloway wins the 60m hurdles in Lievin (© Dan Vernon)
Asked at the press conference about his unbeaten run, Holloway replied: "I think it just goes to show that when you put your mind towards something and you focus in, and you are able to go through a quick race with the least margin of error, that's when you really set yourself apart from everybody else."
Of all those winning performances, three particularly stand out.
"Both the world records," Holloway explained. "One in Madrid and then one in Serbia. I also go back to the great battle that my good friend Daniel Roberts and I had at NCAAs in Birmingham, Alabama (in 2019). All those races, you can look at it, watch the film and be able to figure out what you did right, what you did wrong, and tweak it."
There's also plenty of quality in the women's 60m, which will feature two heats before a final. The 2019 world 200m gold medallist Asher-Smith and Neita lead the entries on time, the British duo having respectively clocked a national record of 7.04 and a time just 0.01 off that so far this season.
Jamaica's Jackson, the world 200m champion in Oregon last year, also has an indoor 60m PB of 7.04 set in Belgrade last year and she again tests her speed as part of a field also featuring USA's Destiny Smith-Barnett and Kayla White, Germany's Gina Luckenkemper and former British record-holder Asha Philip.
On her ambitions for the race, Jackson said: "I think once I get my first 30m together, then I'll definitely run fast. My last 30m is okay but my first 30m is very bad. I had a really bad race in Boston, especially over the first 30m. Once I put the first 30m together, then anything is possible."
In the men's 400m, Trinidad and Tobago's world indoor champion Jereem Richards – winner in New York and a close second in Boston – again clashes with USA's Vernon Norwood.
The men's 60m will feature a domestic clash between athletes including Jeremiah Azu, runner-up at the recent UK Championships, Ojie Edoburun and Adam Thomas.
Kerr and Sutej aim to fly high
Both New Zealand's Hamish Kerr and Slovenia's Tina Sutej sit second on the respective season top lists for their events and will be looking to build on those performances in Birmingham.
World indoor high jump bronze medallist Kerr soared an Oceania record of 2.34m in Banska Bystrica last week, while Sutej, the world indoor pole vault bronze medallist, cleared an outright national record of 4.82m in Ostrava earlier this month.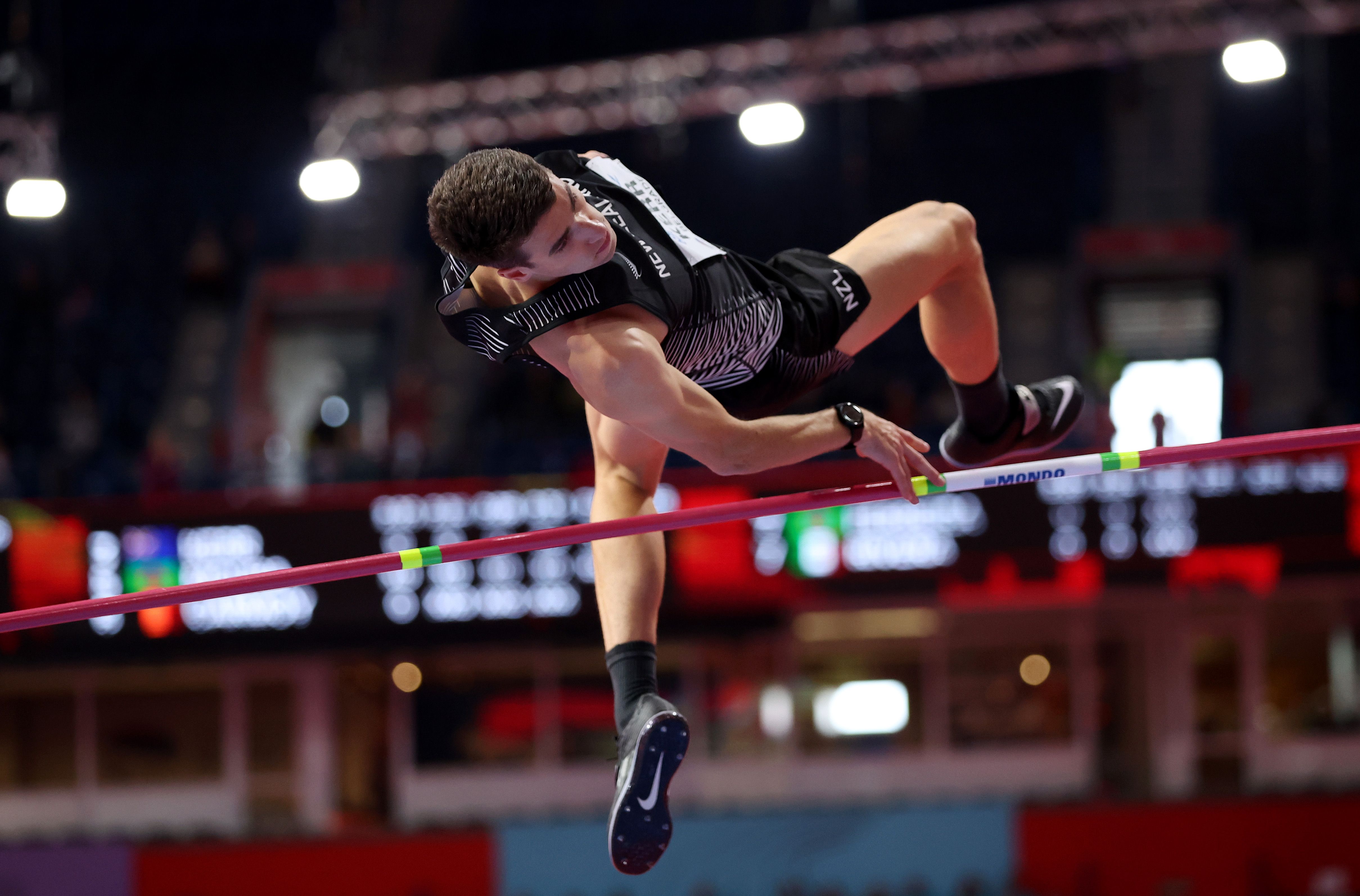 Hamish Kerr competes in Belgrade (© Getty Images)
Kerr's performance added 3cm to his previous outright best and going up against him will be Mexico's Edgar Rivera and Erik Portillo, plus Belgium's Thomas Carmoy and Germany's Tobias Potye, who have all cleared 2.27m this season.
In the women's pole vault, Sutej faces USA's Bridget Williams and Finland's Wilma Murto, who have respectively recorded an outright PB of 4.77m and an indoor national record of 4.75m this season, plus Alysha Newman and Katerina Stefanidi.
The men's long jump features US champion Will Williams, who jumped 8.20m to win his national title in Albuquerque at the weekend, up against Sweden's world indoor silver medallist Thobias Montler, USA's 2016 world indoor gold medallist Marquis Dendy and Jamaica's 2019 world champion Tajay Gayle, making his indoor season debut.
Jess Whittington for World Athletics