Bou Samnang (401) competes in the 5000m final at the Southeast Asian Games (© AFP / Getty Images)
Cambodia's Bou Samnang has been commended for her perseverance after she completed the women's 5000m final in torrential rain at the Southeast Asian Games on Monday (8), despite the winner finishing almost six minutes earlier.
When Bou did make it over the finish line, she broke down in tears, joining her palms in thanks to her supporters. The race was won by Vietnam's Nguyen Thi Oanh, who returned to the track on Tuesday to win the 1500m and then the 3000m steeplechase just half an hour later.
Finishing one place ahead of Bou in the 5000m was Run Romdul, also competing for Cambodia, which is hosting the Games in the capital Phnom Penh.
After the race, Bou was awarded $10,000 by Prime Minister Hun Sen, who said he was rewarding the runner "to encourage perseverance".
Bou's resolve made her the toast of the Games host nation and footage of her wet, lonely run to the line was shown around the world.
Dedication 💪

Torrential rain or not, 🇰🇭's Bou Samnang was determined to reach the finish line of the women's 5000m final at the Southeast Asian Games.

Read more 🔗 : https://t.co/5QxfTgdLLI pic.twitter.com/GtoENYUlNb

— World Athletics (@WorldAthletics) May 10, 2023
Hun Sen added to the outpouring of admiration and in a statement, he said: "The interesting story is that runner Bou Samnang ran in the rain until the finishing line although she did not place (in the medals).
"To encourage perseverance, I and my wife donate $10,000 to her."
The average worker earns about $10 a day in Cambodia.
Another athlete looking to inspire the next generation is pole vaulter Ernest John Obiena, who said after his competition in Phnom Penh that he will auction off his gold-medal-winning spikes to raise money for children back home in the Philippines who practise in a sawdust pit.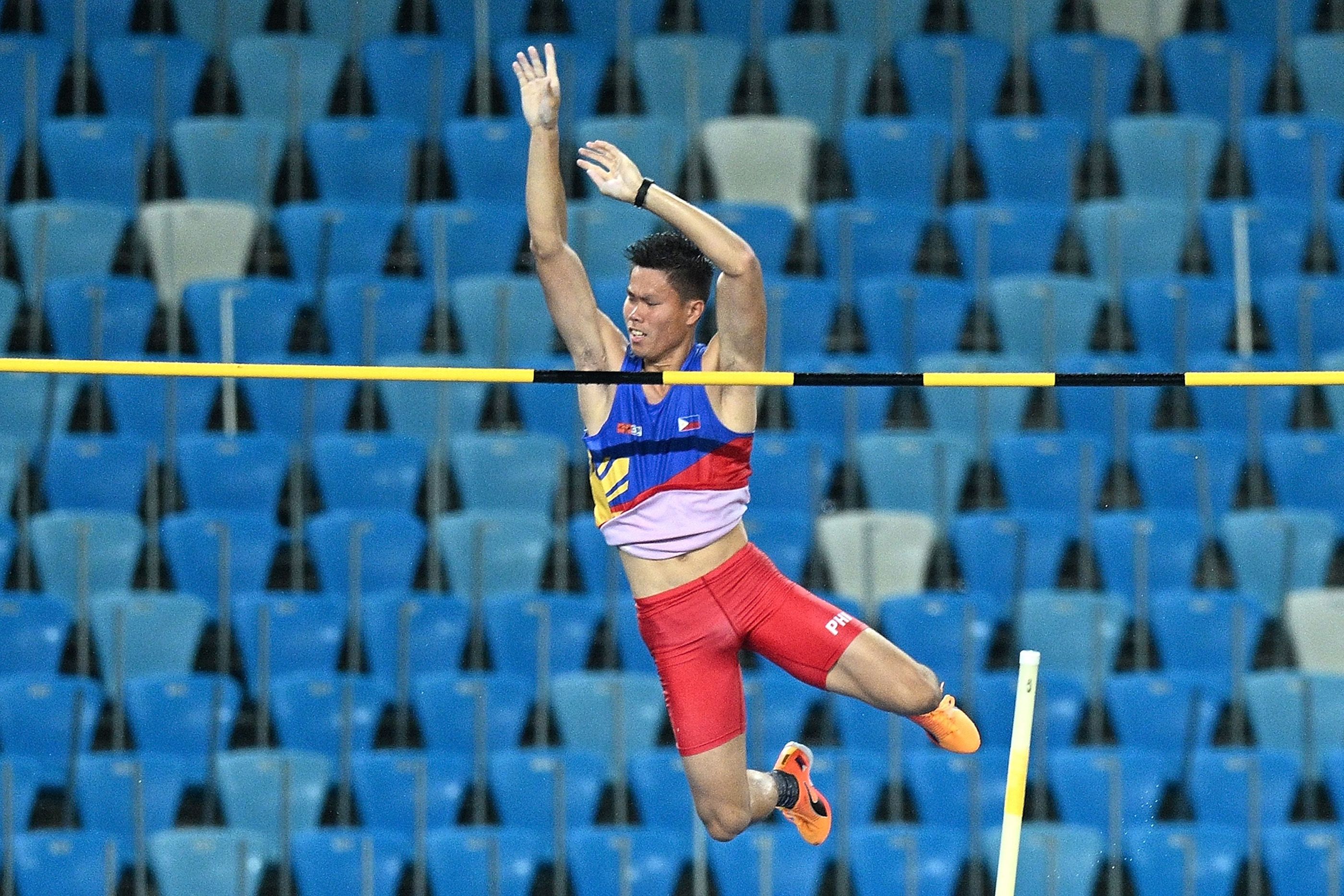 Ernest John Obiena competes at the Southeast Asian Games in Phnom Penh (© AFP / Getty Images)
The world bronze medallist claimed his third consecutive Southeast Asian Games title on Monday, clearing 5.65m to break his own Games record.
Afterwards, he told reporters that he had seen a video of a young pole vaulter in the Philippines using sawdust to land in.
"Anyone who's listening: it's up for grabs," he said, brandishing his shoes.
"All money, all proceeds, will go to buying a new pole vault pit or a second-hand pole vault pit.
"If we can't get actual size then we'll get something - just not sawdust."
AFP