Mondo Duplantis, Femke Bol and Jakob Ingebrigtsen at the European Championships in Munich (© Getty Images)
Four years after sharing the rising star honour, Mondo Duplantis and Jakob Ingebrigtsen were named joint winners of the men's European athlete of the year award, while Femke Bol claimed the women's European athlete of the year prize at the annual Golden Tracks award ceremony held in Tallinn, Estonia, on Saturday (22).
Bol, Duplantis and Ingebrigtsen collectively won nine major titles in 2022, including six gold medals at the European Championships in Munich.
Their fellow European champions Elina Tzengko and Mykolas Alekna, who both won gold medals in Munich as teenagers, received this year's rising stars awards.
Bol achieved an unprecedented treble in Munich, claiming European titles in the 400m hurdles, 400m and 4x400m. That came after silver medals in the 400m hurdles and mixed 4x400m at the World Athletics Championships Oregon22 and another two silver medals in the 400m and 4x400m at the World Athletics Indoor Championships Belgrade 22.
"I think the only other person to win three gold medals like this at a European Athletics Championships was my compatriot Fanny Blankers-Koen," said Bol. "I'm not a superstar like her yet but one day I hope to be and this just gives me extra motivation."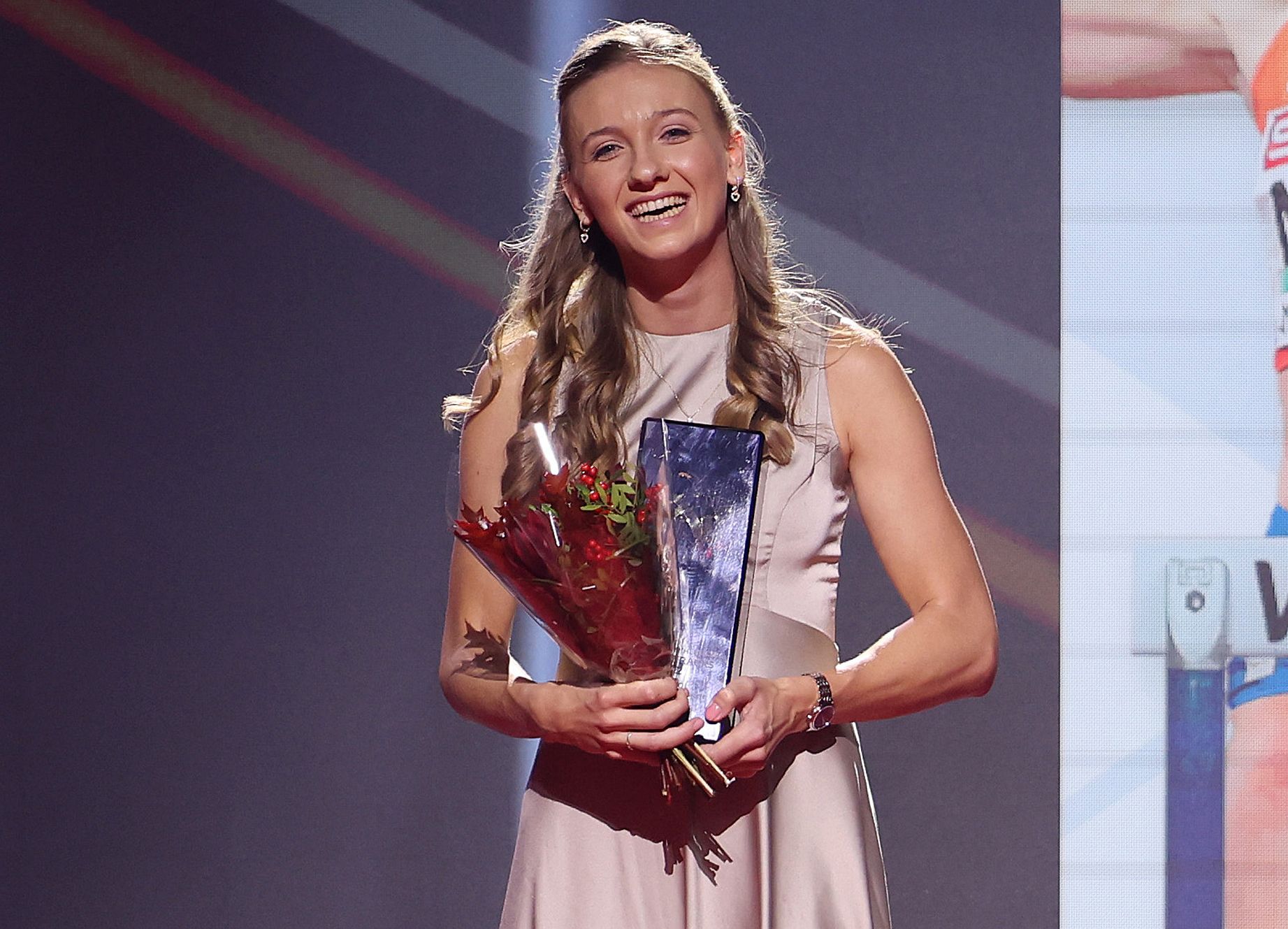 Femke Bol with her European Athletics award (© European Athletics via Getty Images)
The Dutch 22-year-old, who received the rising star award last year, claimed this year's honour ahead of Ukraine's world indoor and European high jump champion Yaroslava Mahuchikh and Belgium's world and European heptathlon champion Nafissatou Thiam.
In the men's category, Sweden's Duplantis and Norway's Ingebrigtsen could not be separated at the end of a year in which they both broke world records and won world and European titles.
Duplantis improved the world pole vault record three times, including twice in major championships with a 6.20m clearance at the World Indoor Championships in Belgrade and a 6.21m clearance at the World Championships in Oregon.
Less than a month later, the 22-year-old improved his championship record to 6.06m in cool and wet conditions at the European Championships in Munich.
Ingebrigtsen, meanwhile, began his year by setting a world indoor 1500m record of 3:30.60 in Lievin. Five major medals followed, including 5000m gold and 1500m silver at the World Championships and another 1500m and 5000m double at the European Championships.
"It is always an honour to share a prize with Mondo, especially when he is performing as he is at European and world level," said Ingebrigtsen. "What really motivates me is to see how far I can go."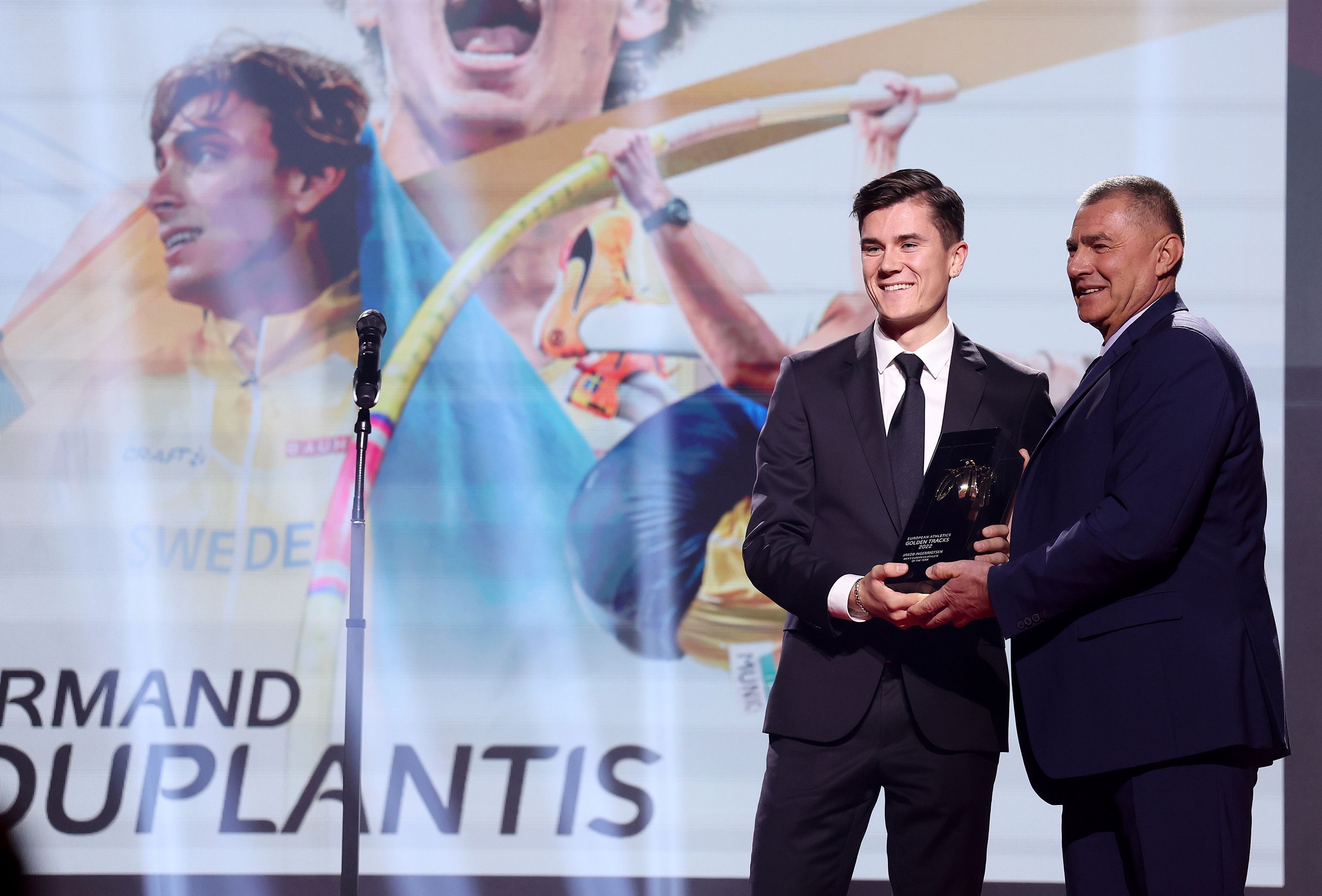 Jakob Ingebrigtsen receives his European Athletics award (© European Athletics via Getty Images)
Speaking via video link from the USA, Duplantis said: "I think Jakob would agree, European Athletics and the European Athletics Championships have been such important stepping stones in our careers that I would just like to say a big thank you."
Duplantis and Ingebrigtsen were two of the three finalists for the accolade, alongside world indoor and European long jump champion Miltiadis Tentoglou of Greece.
As another busy awards season gets under way, Duplantis and Ingebrigtsen are also among the nominees for the Men's World Athlete of the Year honour, while Mahuchikh is in the running for the Women's World Athlete of the Year prize.
Rising stars Tzengko and Alekna both became the youngest winners in European Championships history in their respective events in Munich, Tzengko winning the women's javelin title and Alekna claiming men's discus gold. Alekna also secured world silver in Oregon.
Ukraine's Iolanta Khropach was the first recipient of this year's European Athletics member federation awards, while the first of the 2022 European Athletics coaching awards were also handed out to Bosnia and Herzegovina's Kada Delic–Selimovic and Estonia's Heiko Vaat.
Andorra's Nahuel Carabana was awarded the European Athletics fair play award for his sportsmanship at the European Championships, where he sacrificed his race to assist an injured opponent in the heats of the 3000m steeplechase.
European Athletics for World Athletics