Faith Kipyegon on her way to a world 1500m record in Florence (© Getty Images)
As great athletes approach their 30th birthday, their minds naturally turn towards their legacy.
That has clearly been the case for Faith Kipyegon, who completed her set of the highest accomplishments in her sport by breaking the world 1500m record (3:49.11) at the Golden Gala meeting in Florence on Friday (2).
She joked that she had rolled around the track like "a crazy woman" in a euphoric reaction when she saw her historic time pop up on the trackside clock at the Wanda Diamond League meeting. "I really wanted that one," she said.
With two Olympic gold medals and two senior world titles to her name, in a career that was temporarily interrupted when she gave birth to her daughter Alyn in 2018, Kipyegon was already one of the greats of her sport, but the world record has elevated her into rare air indeed.
She is now one of only five athletes who have dominated at every level in their track and field specialism – an individual world champion at U18, U20 and senior level – and set a senior world record.
This club includes only Usain Bolt, Mondo Duplantis, Yelena Isinbaeva, Kevin Mayer and now Kipyegon.
Grand slam
Athletes to have achieved an age group grand slam in individual outdoor track and field World Championships and broken a senior world record.
| | | | | |
| --- | --- | --- | --- | --- |
| Athlete | U18 | U20 | Senior | World record |
| Usain Bolt | 100m, 200m | 200m | 100m, 200m | 100m, 200m |
| Mondo Duplantis | pole vault | pole vault | pole vault | pole vault |
| Yelena Isinbaeva | pole vault | pole vault | pole vault | pole vault |
| Faith Kipyegon | 1500m | 1500m | 1500m | 1500m |
| Kevin Mayer | octathlon | decathlon | decathlon | decathlon |

Many already regard Kipyegon as the greatest female 1500m runner in history and she intends to continue to burnish her star by attacking her new best time at the Herculis meeting in Monaco next month, then attempting to win a third world title at the World Athletics Championships in Budapest in August. If she can then go on to win a third Olympic gold medal in Paris next year, she will truly stand alone in the middle-distance pantheon.
The reaction of her fellow athletes in Florence demonstrated just how much she is already revered in the sport. The other 1500m women surrounded her and enveloped her in a group hug soon after the race, a rare sight in the ultra-competitive world of elite sport.
Kipyegon will compete over 5000m in Paris next Friday to put further strength in her legs for the challenges ahead, then return to Eldoret in Kenya for another training block under master coach Patrick Sang, who has also plotted the career of the world's greatest marathon runner, Eliud Kipchoge.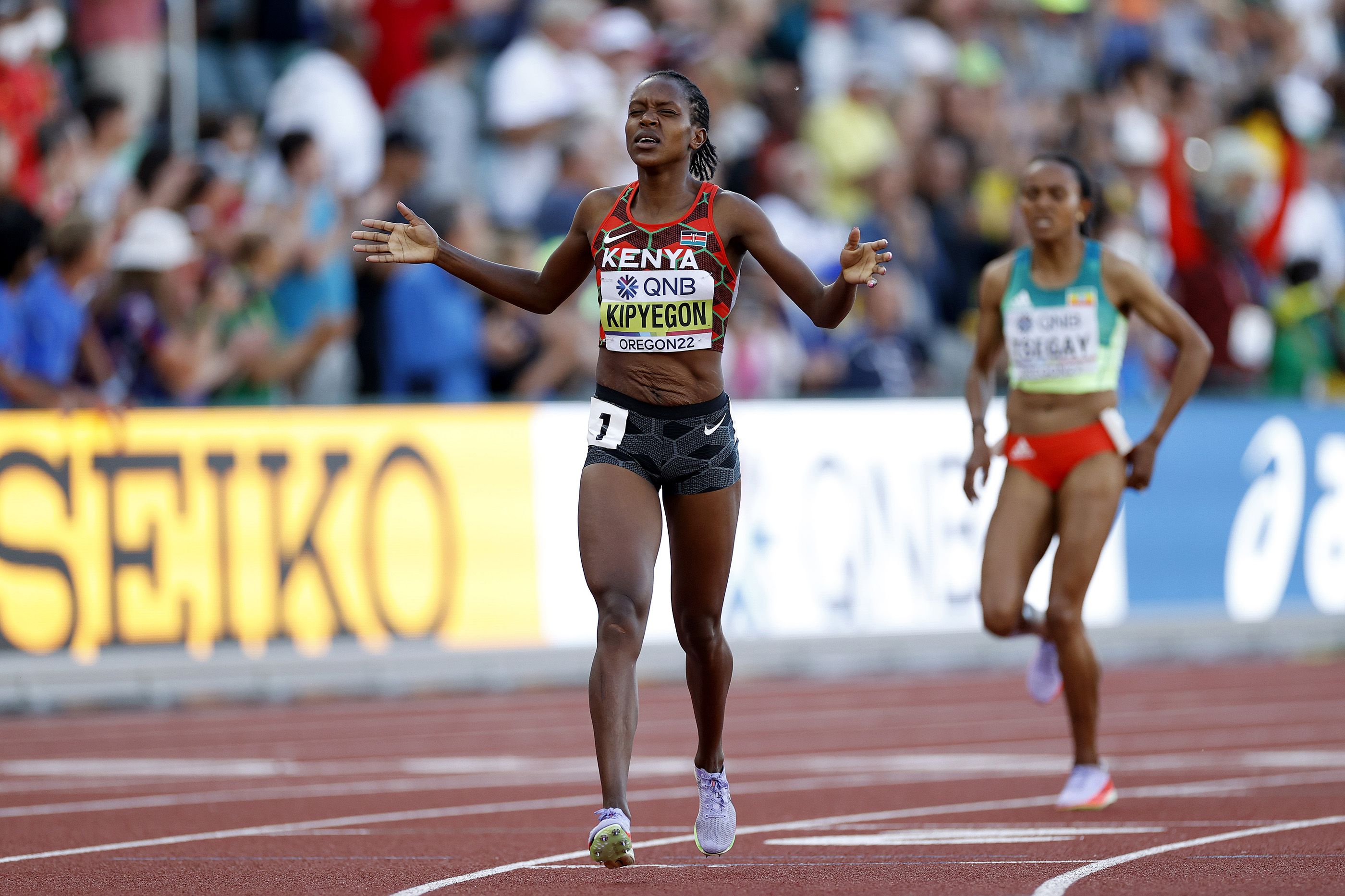 Faith Kipyegon wins the 1500m at the World Athletics Championships Oregon22 (© Getty Images)
"I'm training with marathoners and I normally say that one day I will run a marathon but now I have achieved what I wanted, what was in my heart and my mind today, and I'm still heading towards Budapest and I still want to run faster than 3:49," she said.
"I wanted to go gradually, slowly, slowly, to see what was possible this year, and the world record just came as a surprise, but I'm still looking forward to the World Championships and I really thank my coach for giving me the tactics to run today and see what is possible."
Kipyegon is the odd athlete out in a large training group focused on the marathoners, since joining the group in 2019, but she said she enjoyed both the challenge and the camaraderie she found in the camp.
"Since I joined Patrick and Eliud Kipchoge, I have done really, really different training, because with the marathoners there we come along and train together and enjoy sports together. They are doing long runs and fartlek and track sessions."
Kipchoge was among those who were delighted by Kipyegon's achievement in Florence.
"It was only a matter of time," he said. "Faith has shown a great focus and determination to attack the world 1500 record since coming back from maternity."
The longer training has certainly not dulled her speed but it has given her new strength which she will apply again in Monaco, where she came so near to breaking the world record last year, falling just 0.3 short (3:50.37) of Genzebe Dibaba's 2015 standard, also set in the Stade Louis II, which has become a mecca for middle-distance runners in the past decade.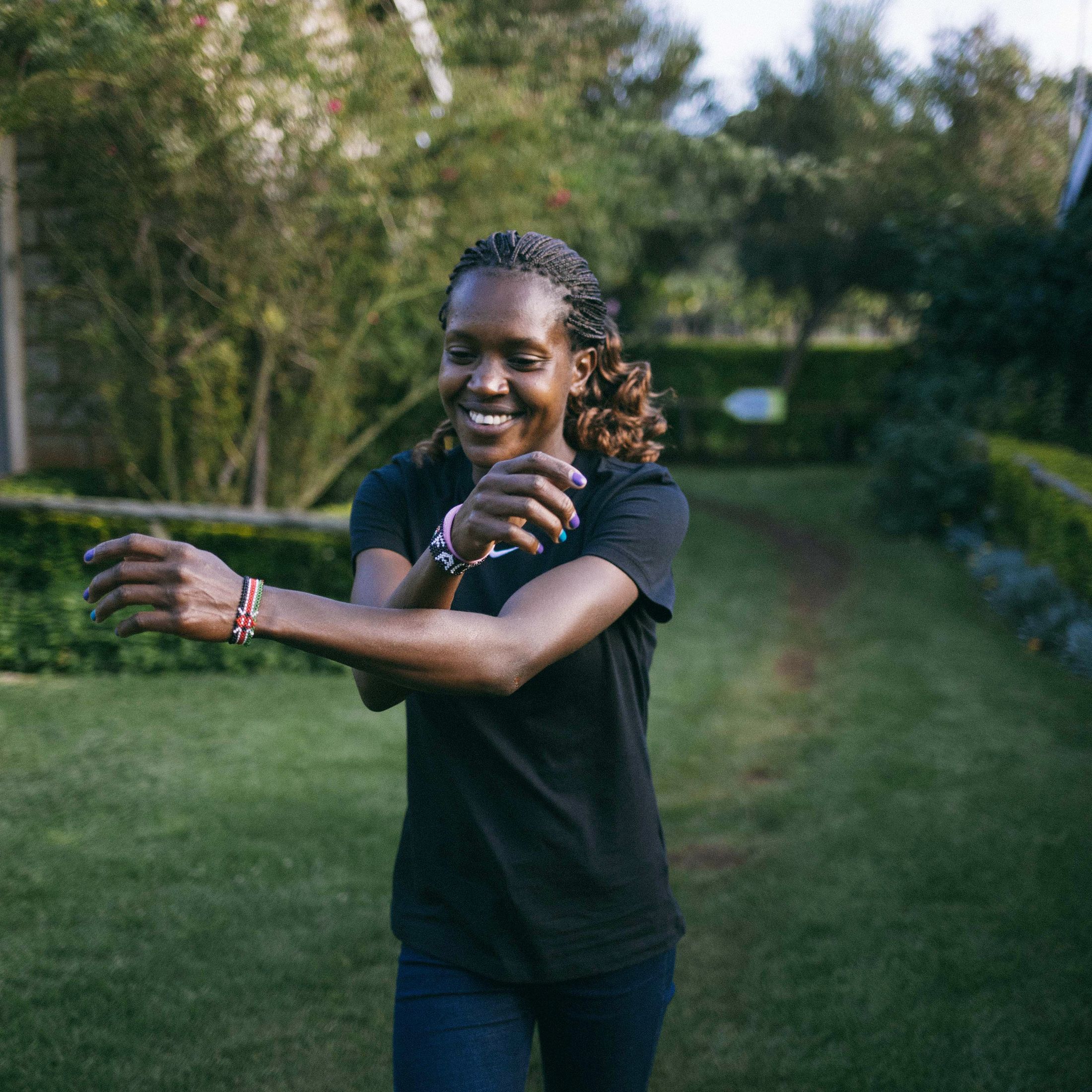 Faith Kipyegon at the Kaptagat training camp (© Dan Vernon / NN Running)
"(That) was really motivating me," she said. "I went back home knowing that everything was possible. I didn't lose hope, I still worked hard, waking up every morning knowing that everything is possible, breaking the world record, defending my world title in Budapest, and that is what I have started, so I'm looking forward.
"I'm hoping for the best as well in Monaco. I'm going to run my race and focus myself towards the finish line."
The legacy she is creating is not only for herself, but also for her family, particularly her daughter, now almost five, and that is also driving her forward.
"She understands what I do now," Kipyegon said.
Nicole Jeffery for World Athletics