Puerto Rican 800m runners Wesley Wazquez and Ryan Sanchez (© Getty Images)
There is no minimum size required to be a powerhouse, and when it comes to running the 800m at the highest level, Puerto Rico is near the top of the list.
The small island in the Caribbean holds nearly three million inhabitants and among them are three of the fastest 800m men in the world who, after a tough year, are locked, loaded – and qualified – for the Tokyo 2021 Olympic Games.
Vazquez leading the current generation


During the past 20 years, six different Puerto Ricans have run under 1:47 for the 800m. Wesley Vazquez, currently ranked fifth (26 Jan) in the world, is the epicentre of a strong core of Puerto Rican 800m runners that includes youngster Ryan Sanchez and University of Florida graduate Andres Arroyo, all of whom have dominated the Caribbean and Pan American scene in the event for the past three years.
Vazquez entered 2020 thinking that things could only improve after his magnificent breakthrough season in 2019 with the help of his long-time coach Carlos Guzman. The 26-year-old native of Orocovis established three personal bests, made his first World Championship final (where he finished fifth), and qualified for his third Olympic Games all in the same season before the pandemic hit and put everything in perspective for the whole world.
"I thought I was in my best moment," Vazquez said about his approach into the 2020 season. "I was surprised by how fast I was running while doing so little. I said: 'this is my year!' I started working out and surpassing double of what I did in 2019. And then quarantine happened, and we had to stop everything. I think having to start training so hard again from the ground up was the reason I got injured. But I had those race commitments already. I had to comply and I think that affected me."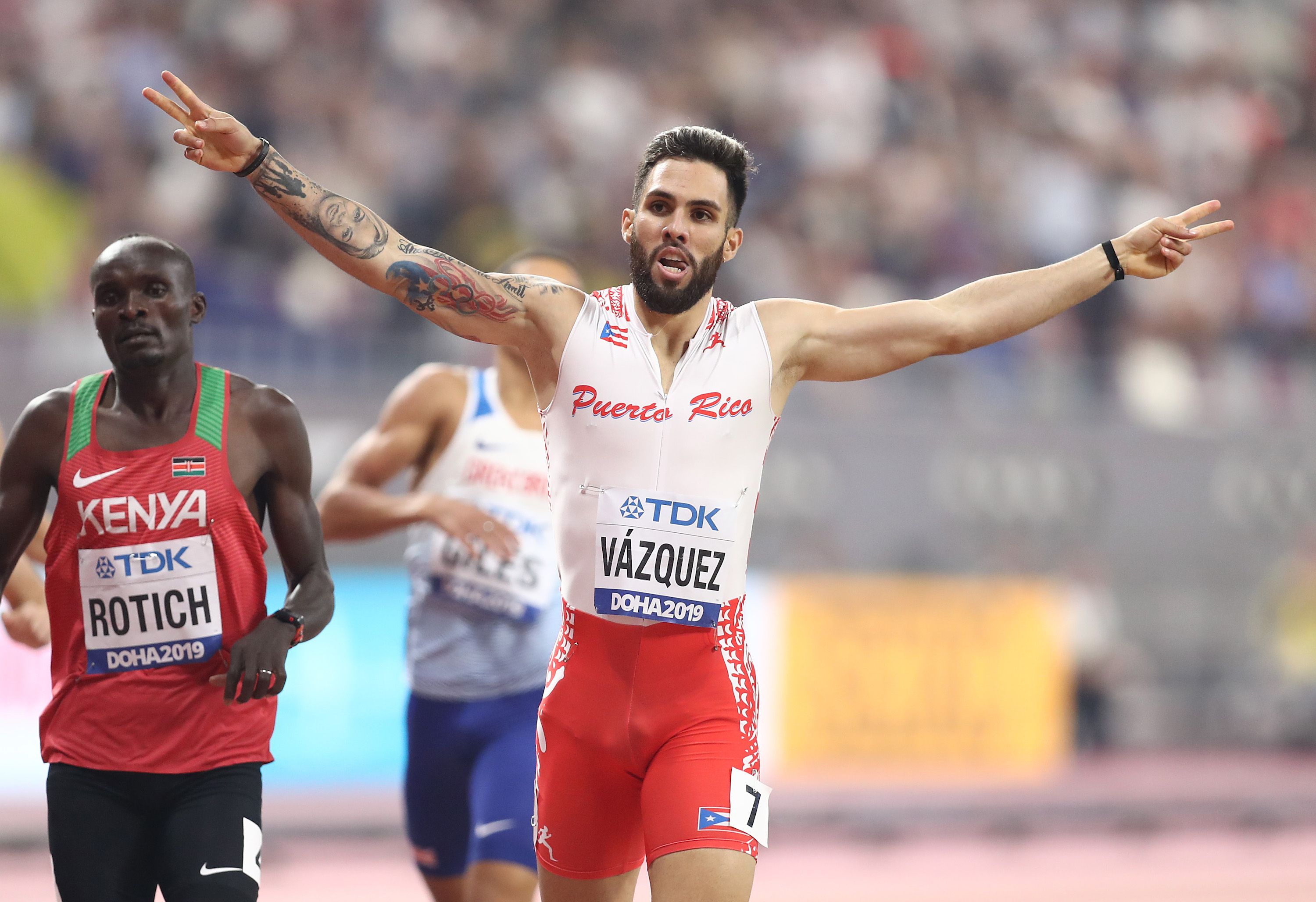 Things have changed now for Vazquez after he scrambled to salvage his 2020 season and squeezed six races into a four-week period late in the year. Even though he managed to be competitive in most of them, the result was an injured athlete, one with a reputation as a powerful front-runner, struggling in pain to make it to the finish line.
Vazquez suffered an Athletic Pubalgia [sports hernia] and has only recently started to feel recovered and is back to some structured training.
"I've been doing rehab since September [2020], in the pool, PRP treatment, and I spent two weeks doing nothing. I started rehab again, strengthening, and the recovery was slow, but I was improving. I just got the clearance to run and do strength training again. I feel good, a little stiff, but it is just a matter of adapting to training again."
Vazquez has battled nagging injuries to his back, knees, and Achilles tendon throughout his career and has learned to deal with being on the sidelines. Nonetheless, he is clear that once he gets back to full health, his only focus will be to make it to the Tokyo Olympic final.
He decided to reduce his race schedule for the year and will compete just enough to be ready for the Games. Vazquez plans to debut at the Adidas Boost Boston Games on 23 May if everything goes according to his projected recovery. The powerful runner said he has no problem with a shorter race calendar and will prioritise races in the United States.
"Everything aims for the Olympics. Even though I got injured, I'm relaxed. I have learned a lot. This doesn't affect me anymore. I work day by day, whatever happens, happens. If you worry it is worse. I ran 1:43, 1:44, and I was always in pain. I've never had a whole year where nothing bad happens to me. When that happens, I think I'll run a world mark."
Sanchez - 'This year I want to explode'


On the other side of the coin for Puerto Rico is Ryan Sanchez, 22, a Caribbean and Pan-American Games medallist whose style it is to run hard from the gun regardless of the field or setting. Sanchez, who like Vazquez made his rise by annihilating the competition at the local collegiate league Liga Atletica Interuniveristaria [LAI] as a teenager, made the tough call to cancel his entire 2020 season in a move that surprised many observers.
"The decision was mainly to protect my health and my life," said Sanchez, who produced his 1:44.82 lifetime best in 2019. "COVID was and still is a major threat. Why expose yourself unnecessarily in a year where the Olympics were already postponed? Sometimes when you are under a constant load you are prone to injuries. I think that was the second reason. Why not better protect yourself in a dead year? I preferred to prioritise the Olympics. That is my commitment to my country. Tokyo was the priority."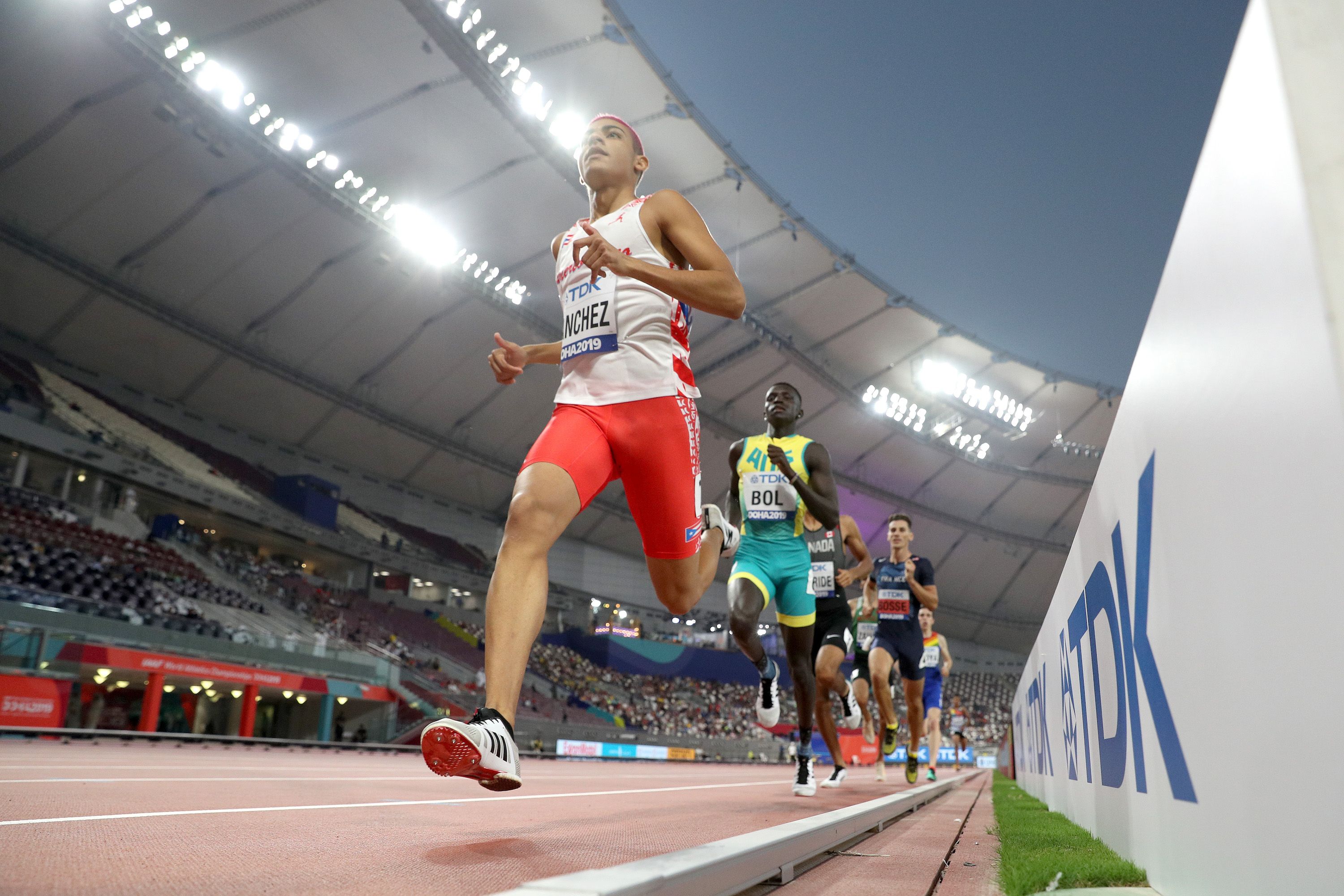 Sanchez opted instead for a simulated "season" during which he ran a 1000m, 600m and 800m controlled meetings. He says he was happy with his 2:22.09 personal best at 1000m and a 1:14.81 in the 600m which was very close to his PB and the world-leading mark he ran in March 2019. Sanchez finished his controlled efforts with a 1:45.6 over two laps around the mythical Sixto Escobar Stadium in San Juan, the same track used for the 1979 Pan American Games.
Sanchez has enlisted a strength coach for the first time and has been hitting the gym consistently for more than a year. Many, including Sanchez himself, believe this is the main key he was missing to show his true potential. His work group also includes a sports psychologist and a dietitian who is helping Sanchez fix some nutritional bugs he has had in the past that harmed his recovery in between races.
"Honestly the past season and this one there have been a lot of positive changes," he said. "I've been doing excellent marks but with less effort and that's good looking forward to Tokyo. The formula with my coach - and stepfather - Jorge Paris haven't changed much. The brutal change, other than I'm still maturing physically, is the strength training we have been doing in the gym to address my weaker areas."
Sanchez, who also used the downtime in quarantine to launch his sports apparel brand Neon G, trusts his abilities more than anyone and is not afraid to speak his goals and dreams into existence. He said that even if the Olympic Games are cancelled or postponed again, he is committed to racing consistently in 2021 and to use that exposure to attract the attention of race directors worldwide to hopefully become a regular on the Diamond League and Continental Tour circuits. Sanchez already has two races marked on his calendar, the Jamaica Classic on 8 May and the Golden Spike in Ostrava 11 days later.
"I have all the physical and psychological characteristics, the maturity, the youth," he said. "Everyone tells me that and I believe, I know it. But I'm 22 and I know that I still have two more Olympic cycles which is my goal for Puerto Rico God willing."
"I want to reach the Olympic final and show the world. I want to be among the stars, at the top of the rankings. This year I want to explode."
Also qualified for Tokyo 2020 in the 800m for Puerto Rico is Andres Arroyo. The 25-year-old NCAA standout, who holds a personal best of 1:44.96, was part of Vazquez's training group last year. Arroyo was recently married and relocated to Florida to continue his training.
With three elite picks on the Olympic 800m start list this year, Puerto Rico has made a name for itself as a prime manufacturer of stars in the region. It remains to be seen if talent, hard work, and luck will align in Japan for them to achieve Olympic glory.
Emmanuel Marquez for World Athletics