Tenacity, hard work, equal rights, innovation, and the pursuit of excellence — these are all values close to the heart of Oregonians, and the key to understanding how Eugene became TrackTown USA.
A CONTINUING LEGACY
The TrackTown story starts with names like Bill Bowerman, the legendary coach who pioneered training methods that incorporated individual training plans and periods of rest and invented early synthetic track surfaces and lightweight shoes with waffle soles. In his career, Bowerman trained dozens of Olympic athletes, American and world record holders, and sub-4-minute-milers. During his 24 years at the University of Oregon, the Ducks track and field team finished in the top 10 in the nation 16 times.
As a nationally renowned coach, and a passionate local supporter and proficient fundraiser, Bowerman was able to bring the Olympic Team Trials to Eugene in 1972, 1976 and 1980. During this time, Bowerman pioneered some important concepts, including combining women's and men's competitions into one mega-event for the first time in 1976 — a huge boost to female athletes.
Around the same time, Steve "Pre" Prefontaine burst onto the scene at the University of Oregon, holding every American outdoor track record for distances between 2,000 and 10,000 meters at the time of his tragic death at age 24 in 1975. Pre fought tirelessly for the rights of amateur athletes in the U.S. and was instrumental in national conversations that later changed the structure of athletics.
After a trip to New Zealand in the 1960s, Bowerman introduced the concept of running for fitness to the United States. The running boom of the early 1970s was born from his book "Jogging," and the iconic status of Pre.
Bowerman passed the University of Oregon coaching baton to Bill Dellinger, one of the greatest athlete-coaches ever produced by the state of Oregon, born in Grants Pass and raised in Springfield. Dellinger set both world and American records and made the U.S. Olympic Team three times in the 5000 meters, winning a bronze medal in 1964, and returning to the University of Oregon in 1966 as cross country coach and became head track coach in 1973. 
In 2005, Vin Lananna was hired by the University of Oregon as a head coach and associate athletic director. Under his leadership, track and field saw a resurgence in Eugene when the U.S. Olympic Team Trials - Track & Field returned to Hayward Field at the University of Oregon in 2008 and came back again in 2012 and 2016. 
The legacy continues today under Coach Robert Johnson and University of Oregon teams who continue to make history. At the 2017 NCAA Outdoor Championships, the women's team completed a historic Triple Crown — NCAA titles in cross country, indoor track and field and outdoor track and field in the same academic year. Since Johnson arrived at the University of Oregon, every women's sprint school record for distances still actively run, for both outdoor and indoor track and field, has been broken.
Prefontaine's memory, meanwhile, lives on through the Prefontaine Classic, one of the premier track and field meets in the USA. Held at Hayward Field, the Pre Classic is part of the Wanda Diamond League circuit and continues to attract dozens of the world's greatest athletes, year after year.
In 2014, Hayward Field played host to the World U20 Championships. Not only was it the first global outdoor track and field championships on US soil, it also ended up being USA's biggest ever World Athletics Series event as more than 1400 athletes from 153 countries descended on Eugene.

It was a hit with the fans, too, with more than 51,500 spectators flocking to Hayward Field throughout the championships.

The likes of Ugandan distance runner Joshua Cheptegei, Venezuelan triple jumper Yulimar Rojas, US sprinter Trayvon Bromell and Croatian javelin thrower Sara Kolak competed at those championships, to name but a few. Within a few years, all went on to achieve major global success.
EXPERIENCE THE MAGIC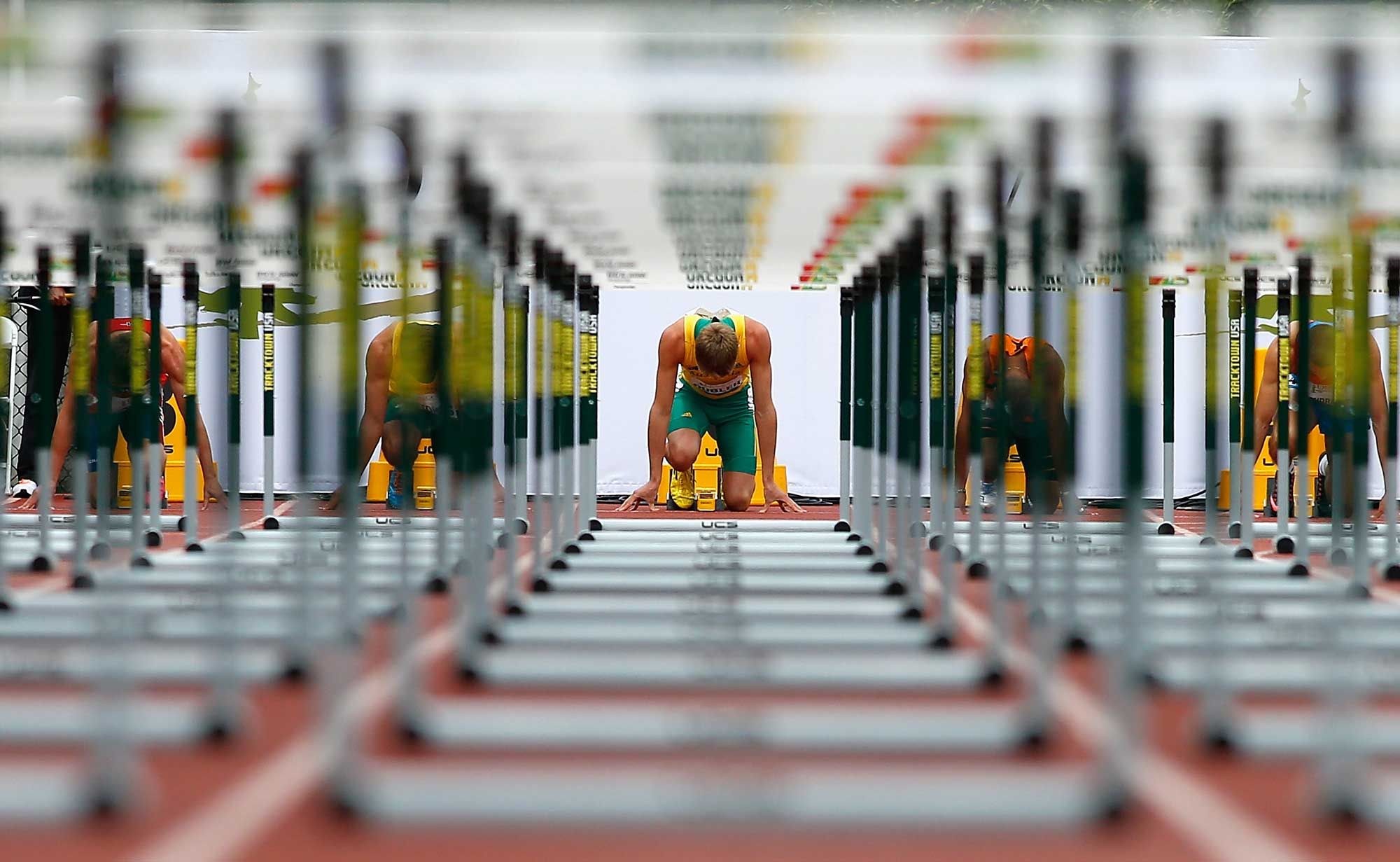 Cedric Dubler of Australia in the decathlon 110m hurdles at the 2014 World Junior Championships in Eugene, Oregon (Getty Images)
Hayward Field is the place to witness the best of track and field. A ticket to Hayward Field is a ticket to unforgettable moments. As a spectator, you're part of a milestone experience.  Athletes count on the crowd's energy to propel them to new records.
Outside of Hayward Field's hallowed walls, the legacy of TrackTown is easy to find. Runners from around the globe make three important visits when they come to Eugene: Hayward Field, the Steve Prefontaine Memorial Running Trail and Pre's Rock. These three iconic symbols of TrackTown are reminders of an enduring legacy.
Both recreational and elite runners enjoy Eugene and Springfield's soft bark running trails, and local running stores like RunHub Northwest and Eugene Running Company that offer personable service, training and weekly group runs. The Oregon Track Club welcomes all members of the community — from elites to kids — to engage with the track and field heritage by participating as an athlete, a volunteer, or a spectator. Proud of its role in bringing recreational running to the U.S., Eugene remains committed to being a community where track and field is a sport for everyone.
We can't wait to share the heart and home of track and field in the USA with you in 2022! Sign up here to keep in touch on all things World Athletics Championships Oregon22.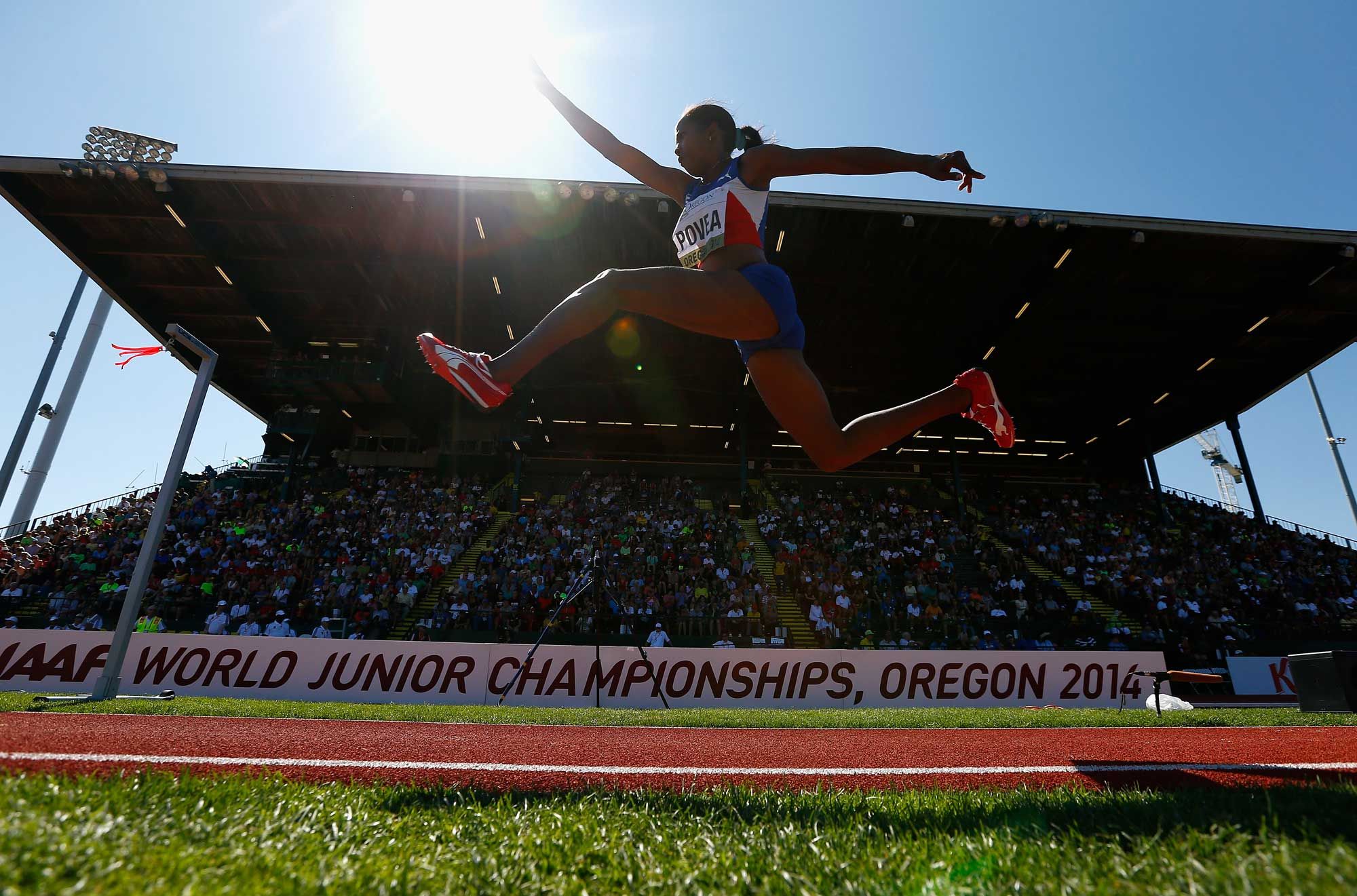 Liadagmis Povea in the triple jump at the 2014 World Junior Championships in Eugene, Oregon (Getty Images)