Tejaswin Shankar celebrates his high jump win in Boston (© Dan Vernon)
"We made a bet," recalls 2022 Commonwealth Games high jump bronze medallist Tejaswin 'TJ' Shankar about attempting his first decathlon. "It only took me five years to fulfil that bet."
When Shankar entered into the 10-event wager with his Kansas State college teammate Aaron Booth, he did so as a high jumper.
Shankar had competed for India in the high jump at the World U18 Championships in Cali in 2015, and at the Commonwealth Games in 2018. He became national record-holder in 2016, aged 17, when he jumped 2.26m. His record now stands at 2.29m.
He secured a place at Kansas State University in 2017, and initial tests suggested that the former cricketer could be competitive at events beyond his speciality.
"The coach thought I could run a really good 400m," Shankar explains, "and he wanted me to be the backup guy for the 4x400m team. That's how I started running a little bit more. Usually high jumpers don't like running, but I enjoyed it. And I wanted to do more. I wanted to go to bed tired."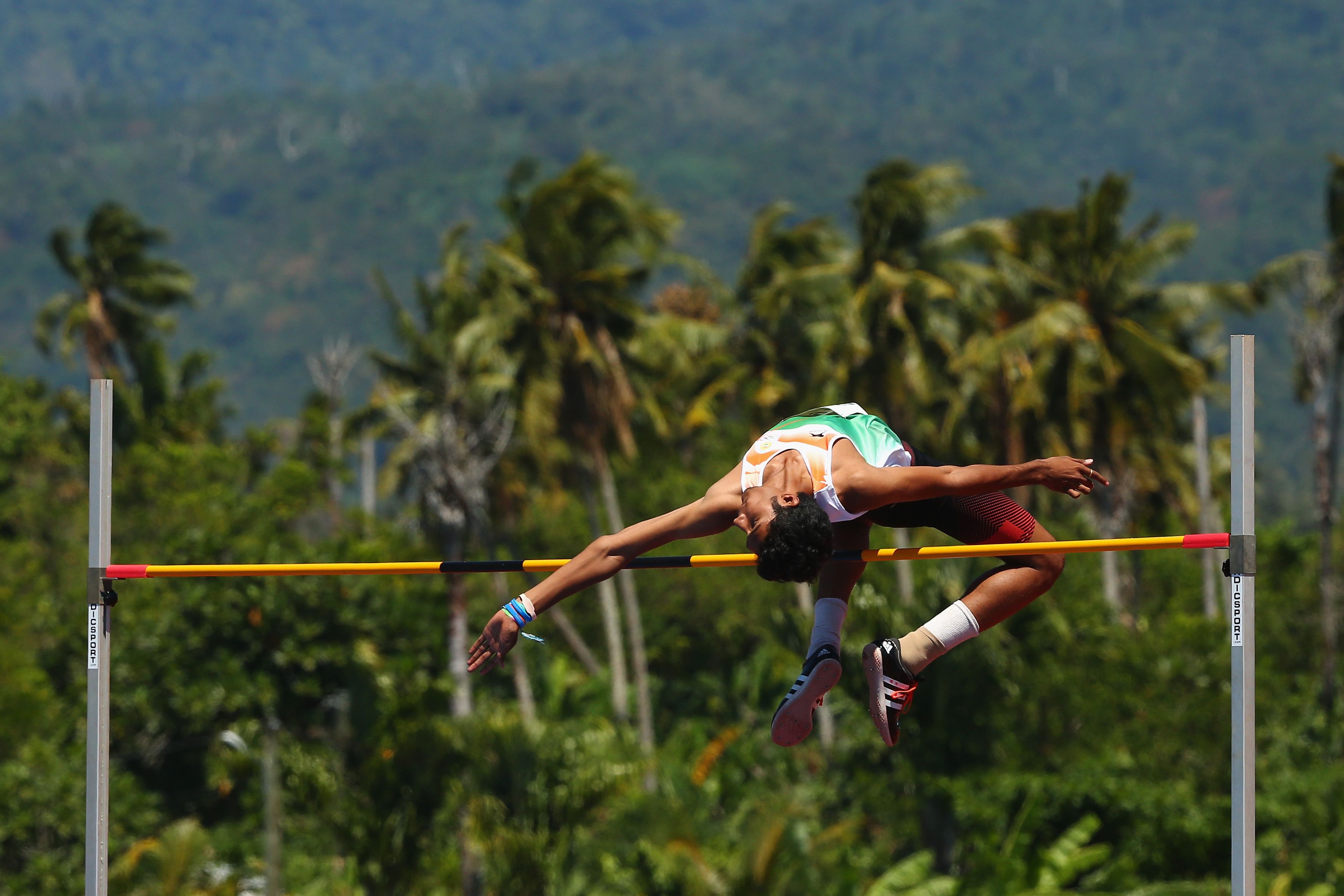 Tejaswin Shankar in action at the 2015 Commonwealth Youth Games in Apia, Samoa (© Getty Images)
The 'K-State' coach – Cliff Rovelto – suggested that Shankar try some other events. "I think you can long jump well," Shankar recalls Rovelto advising him. "So maybe let's sprinkle in some long jump, and some hurdles here and there to make training a little more interesting."
One of Shankar's teammates at the time was the New Zealand decathlon champion Booth. "I watched Aaron train for the multi-events," he says. "We used to train together, and I would beat him at practice in the individual events. So, I thought - well, all I have to do is put all this together, and that's how easy it would be!"
The opportunity soon presented itself for Shankar to investigate whether the combined events were as effortless as his training partner's achievements seemed to suggest.
Kansas State has a history in combined events beyond the traditional combination for men (decathlon outdoors and heptathlon indoors) and women (heptathlon outdoors and pentathlon indoors).
Almost 20 years ago, Rovelto spotted the potential in two-time Olympic heptathlon medallist Austra Skujyte to excel over 10 events and coached the Lithuanian to the current women's decathlon world record in 2005.
At the other end of the scale, the college hosts an annual pentathlon for men, including the 60m hurdles, high jump, shot, long jump and 1000m.
According to the US Track & Field and Cross Country Coaches Association (USTFCCCA), the all-time college best for men's pentathlon belongs to US international Sheldon Blockburger, who scored 4451 in 1987. No-one had scored over 4300 in a college pentathlon in almost 20 years, with 2003 world decathlon champion Tom Pappas the closest (4285 in 1999). Even Derek Drouin, the 2016 Olympic high jump champion who went on to score 7150 in decathlon, only scraped over 4000 points (4009) in 2012.
The five-discipline event suited Shankar beautifully. In his first pentathlon in December 2018 he scored 3826. A year later he improved that to 4137. And in 2020, he became the fourth-highest scoring male college pentathlete of all time, scoring 4343.
Shankar's series in 2020 was 8.34 in the 60m hurdles, 2.24m in the high jump, 11.94m in the shot, 7.48m in the long jump and 2:39.35 in the 1000m. While his stand-out high jump naturally dominated his performance, the standard of his other events showed considerable promise.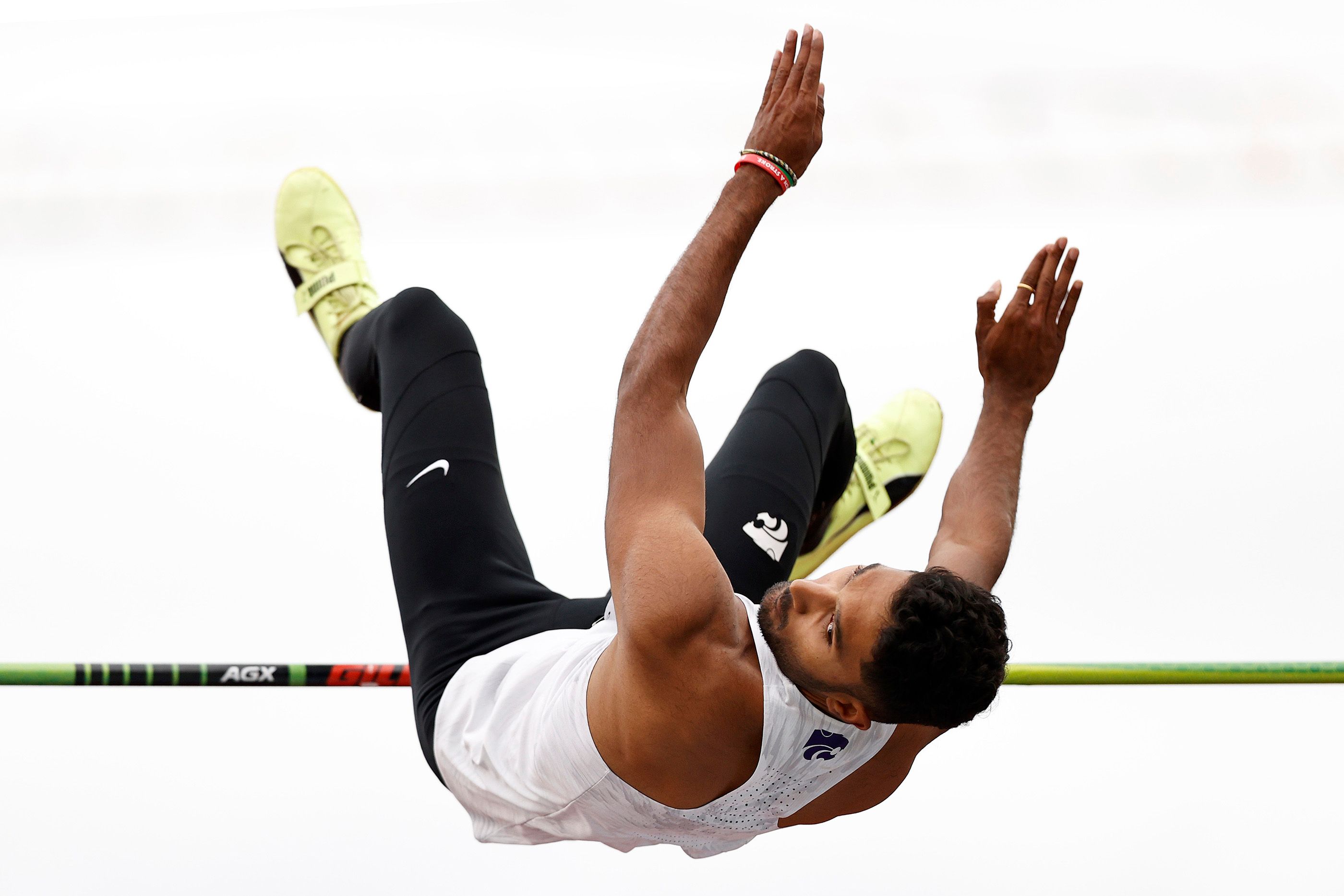 Tejaswin Shankar competes at the NCAA Championships (© Getty Images)
The experience of the one-day competitions caused Shankar to rethink his view that the multis were simply about putting individual performances together.
"It was the exact opposite! It is not as easy as it looks," he says.
"In my initial pentathlon, I won three out of five events, and Aaron two. But in total points, he won. And that really captivated me about the multis. It's not about winning an event, but the whole combined picture.
"I jumped 2.24m, but I threw the shot 8m. I lost a lot of points, but gained in the average, and still compared well to everyone else. And that really sparked the interest in me.
"That was when we made a bet. Aaron challenged me do a multi and tell him how I felt about it. This last year I did my first decathlon. I texted him and said: "Hey man – it only took me five years to fulfil that bet!"
En route to those 10 events, the next milestone after the pentathlon was indoor heptathlon. With a little work on the pole vault to get to 3.75m – "we have a running joke that I can probably high jump higher than I can vault" – Shankar logged a respectable 5650 for his first heptathlon in early 2021. That was also an Indian record, to add to his high jump records.
To complete the set, and fulfil his deal with Booth, Shankar scored 7592 over 10 events at the Big 12 Conference Championships in May 2022, only 66 points short of the Indian decathlon record.
His decathlon series was 10.85 100m, 7.63m long jump, 13.77m shot put, 2.17m high jump, 50.15 400m, 14.66 110m hurdles, 35.35m discus throw, 3.81m pole vault, 44.95m javelin throw and 4:36.12 1500m.
Meanwhile, Shankar continued to excel at his specialist event. He jumped 2.27m in June 2022, achieving India's qualification mark for the Commonwealth Games. The trials for the Games clashed with the NCAA Championships and Shankar was not initially selected. Uncertain about whether he would be travelling to Birmingham, his preparation was less than ideal. But eventually his place was confirmed.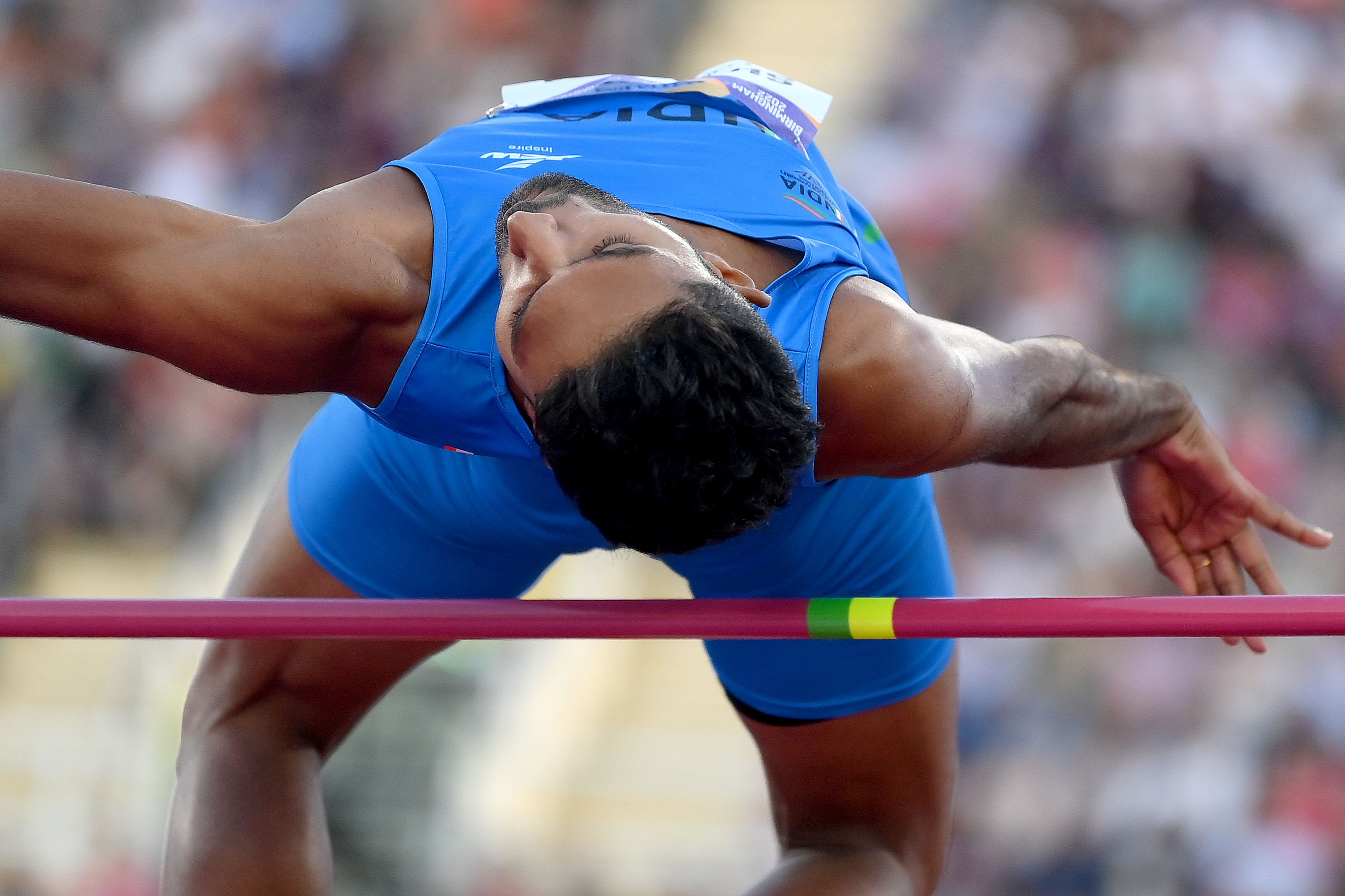 Tejaswin Shankar competes at the Commonwealth Games in Birmingham (© Getty Images)
"Once I got there, the emotion was good, and the crowd was very educated – they knew what they were supporting," he says. "Winning the bronze medal, looking back it feels like a fairy tale.
"Back home, cricket was always number one, but our javelin thrower – Olympic champion Neeraj Chopra – has really revolutionised the sport for us. More people started watching track and field, and so many more people stepped up from fourth and fifth spot into medals. In the Gold Coast in 2018 he was one of only a few who won a medal but this time we had triple jumpers, long jumpers, high jumpers, steeplechasers and so on. The difference is the confidence."
With a major medal in his portfolio and his college career at a close, Shankar considered what lay ahead.
"I always thought that my end goal was to win a medal or win a competition. I'm extremely competitive," he says.
"But when I did the decathlon, the feeling was not "I want to beat that guy" but how we can bring out the best in each other. It was very refreshing for me, and my whole mindset changed.
"Last year I followed the long jump at the World Championships because we had an Indian guy. But I knew that Simon Ehammer was jumping, and for him to do what he did at the World Championships (bronze medal) and then score how high he does in the multis, I use that as motivation. Why should I narrow my scope and choose between the decathlon and high jump? Why can't I do both?"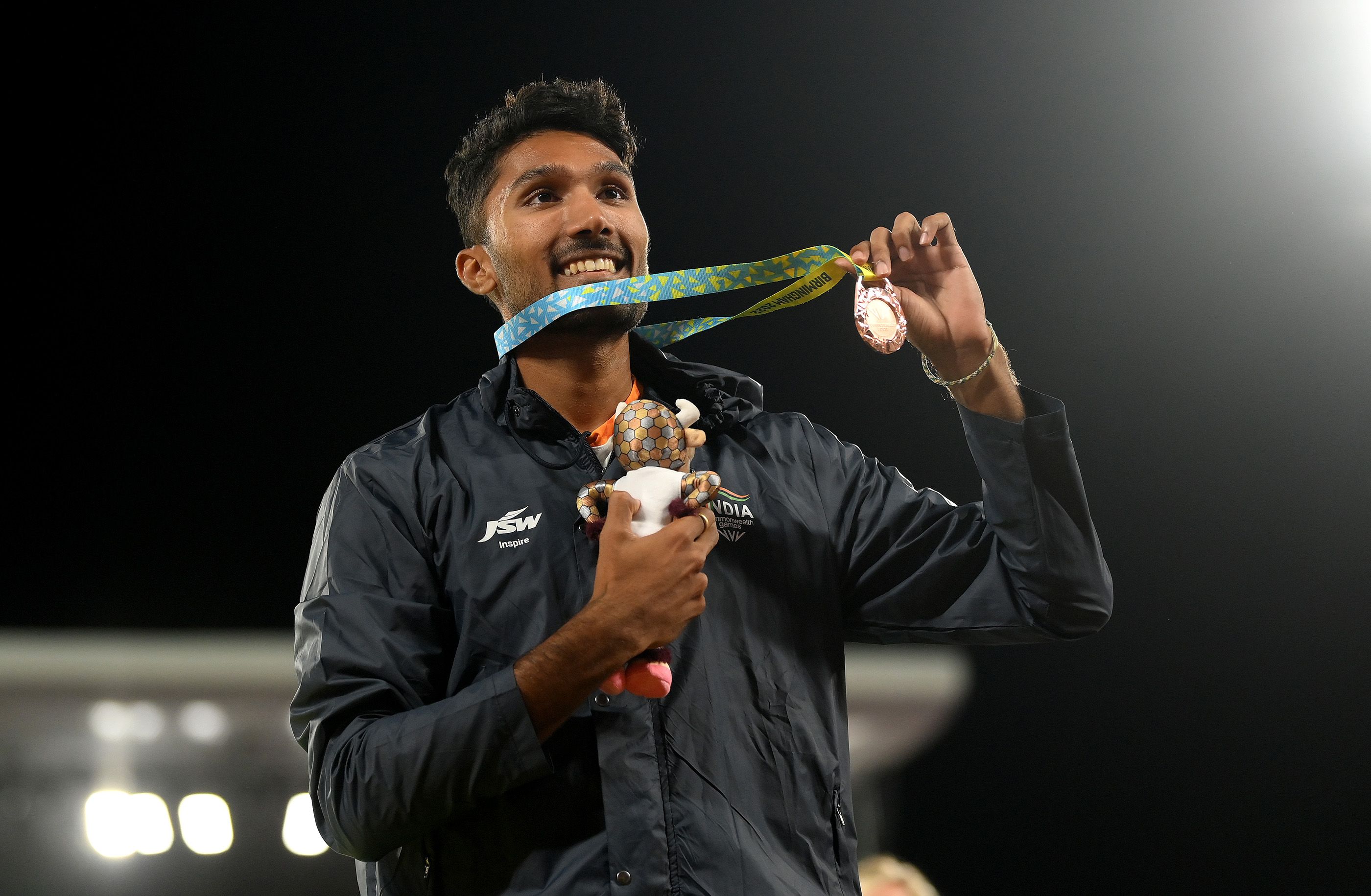 Tejaswin Shankar celebrates his bronze medal at the Commonwealth Games in Birmingham (© Getty Images)
Shankar is already emulating his Swiss counterpart, winning the individual high jump with 2.26m at the New Balance Indoor Grand Prix, a World Athletics Indoor Tour Gold meeting, in Boston in February, and with plans to maintain all 10 events.
"All those things I learned over the last year were just so fascinating – it's like an endless ocean," he says. "For me to put up a 7600 score with no background in three events, that made me happy. Once you're exposed to multis, you realise there's so much more in the sport than we always thought there was."
Gabriella Pieraccini for World Athletics