Ethiopian distance runner Roza Dereje (© Guillaume Laurent)
When Roza Dereje broke the tape at the Valencia Marathon in December 2019, smashing the course record in a time of 2:18:30, and becoming the then-eighth fastest marathon runner of all time, she beamed, elatedly.
Few knew about the rocky months leading up to the race, and assumed a DNF at the World Championships in Doha two months prior was a result of the brutally humid conditions. But this was not the case.
"For the World Championship in Doha I was really, really prepared," stressed Dereje, who was eager to bring home the gold for her Ethiopia. "We trained hard because I was representing my country for the first time and I wanted to bring something good to Ethiopia. But with about two weeks left I got saddled with a bone injury. After that, for one month I didn't do any training. But because I trained so well for Doha it helped me in winning Valencia."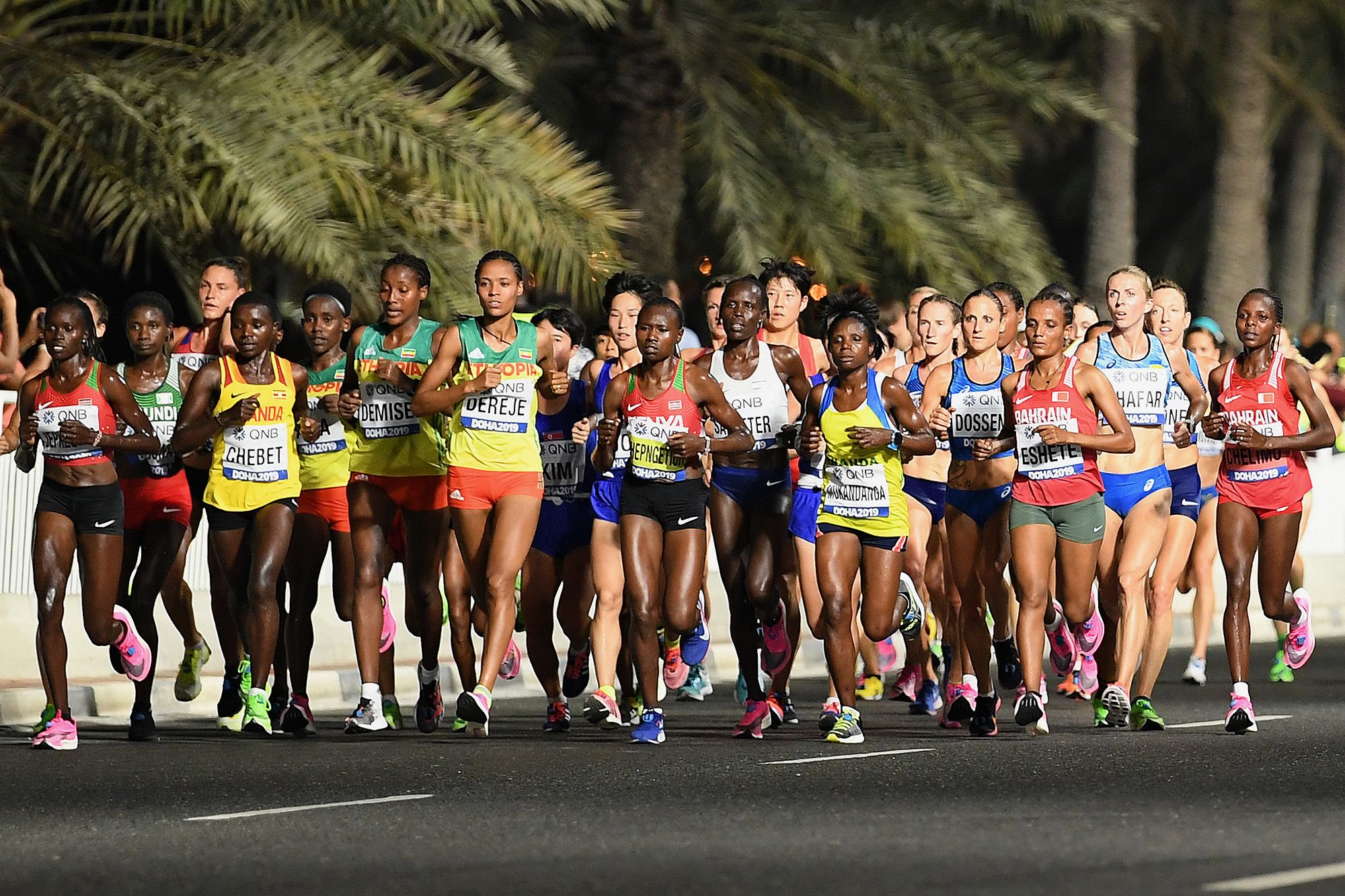 Above: Roza Dereje leads the marathon at the World Athletics Championships Doha 2019 (© Getty Images)
Below: Roza Dereje celebrates her victory at the 2019 Valencia Marathon (© Organisers)


When she returned home from Valencia, she hosted coaches, Haji Adilo, Kasim Adilo, and Moges Taye, her physiotherapist, Jeroen Deen, and a few others in her inner circle at her home in Sululta as a show of appreciation for their support. Dereje is not one to forget who helps her along each step of the way.
One of the figures in her life that features prominently when she speaks of supporters is her late father, who was an avid running fan. Many women from the countryside in Ethiopia who begin running do so at the behest of their parents, who see the slim rates of success and enormous devotion as a precarious life path. But Dereje's father, along with her mother and four brothers, encouraged her from the start.
"Before my father died, he would take me to the regional competitions," recounts Dereje. "My family was always happy and encouraging. They just told me to finish my 10th grade education and continue running as I wanted."
In her native district of Selale, in the Oromia region of Ethiopia, Dereje took inspiration from Derartu Tulu and Tirunesh Dibaba, whom she would see on television. With the support of her family, and after fulfilling her promise to complete the 10th grade, she moved to Bekoji to train with a project – a type of training group for junior athletes in Ethiopia that usually does not receive government support, unlike the extensive network of funded clubs. There, she focused on the 800m and 1500m.
However, Dereje always had interest in eventually running the marathon, and when she won a local half marathon, she caught the eyes of two key figures in her life – her future coach, Haji Adilo, and her future husband, Dereje Abera Ali.



(© Guillaume Laurent / ATHLE.ch)

Ali also grew up in Selale, and remembered seeing Dereje in her earliest running days. He was running professionally at the time and thought with a more rigorous training plan she could be a dominating force in the marathon.
"She didn't know that much before we met," said Ali, who has a marathon PB of 2:10:19. "She learned how to work much harder after we met."
Ali's career was cut short due to injury, so he opted to stop his training and focus on helping Dereje grow. "She's become a really hard worker and very focused. Now she likes to work and train hard."
Dereje credits her husband for a lot of her success. Not only did he teach her a lot about training, and take on doing most of the housework – a dramatic gender role reversal in Ethiopia – but he gave her the confidence to succeed in the longer distances.
Her first competition outside of Ethiopia was a marathon in Algeria in 2015 where she finished fourth in 2:34:02. She won the Shanghai Marathon in 2016 and successfully defended her title in 2017. In 2018, an early win at the highly competitive Dubai Marathon in 2:19:17 proved Dereje had what it took to be one of the best ever.
"Roza listens, respects, and trusts in her coaches," said Adilo, her coach, who has overseen the training of several Olympic and world champions. He thinks she is one of the most talented athletes he has worked with to date. "These are the types of athletes that go far. From the beginning she has improved steadily, year to year, and I think she will become of the best, ever."
Dereje's agent, Hussein Makke of Elite Sports Marketing and Management, echoed similar sentiments about Dereje's character beyond sport. "Roza is a really different and special athlete. She has confidence in both herself and those around her and this reflects in the way she conducts business with her coach and the management so professionally. She's easy to work with and really one of the best athletes I've ever managed."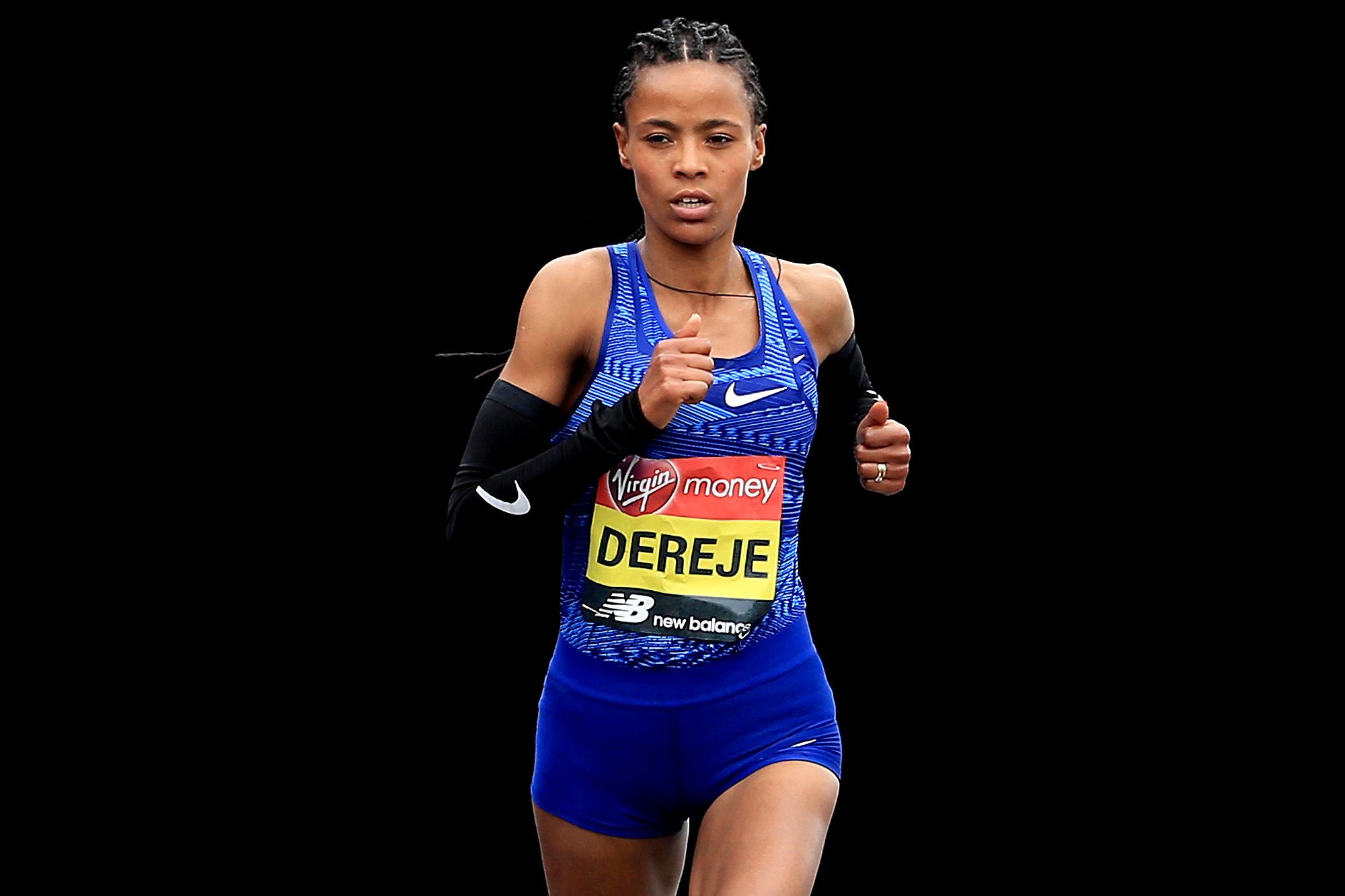 Roza Dereje in action at the 2019 London Marathon (© Getty Images)
In 2019, Dereje finished third at the London Marathon before winning what was her last full marathon in Valencia. She was prepared to race the London Marathon in early 2020, but that race, along with most others, was postponed due to Covid-19. A small set-back led to her sitting out the rescheduled edition of the London Marathon late last year, opting to focus solely on the Tokyo 2021 Olympic Games.
There's a very common saying in Amharic – kas be kas inculal be egeru yiheal – that translates roughly to, 'Slowly by slowly, the egg grows legs'. Essentially, it means that this kind of incremental improvement will lead to a sustained success, without any severe fall back. Dereje's attention to detail, trust in her husband, coaches, and agents, and commitment to her training programme is based on this proverbial advancement.
More than winning any major marathons and breaking course records, representing Ethiopia, and bringing home the gold at the Olympics, drives her steady training.
"Running has changed my life and made me happy," Dereje said. To bring glory to Ethiopia would bring her immense happiness, she stresses. "It's a good thing. It's a good thing for my country. It's a dream."
Hannah Borenstein for World Athletics