Nicholas Kimeli on his way to winning the 10,000m in Leiden (© Erik van Leeuwen)
When Nicholas Kimeli looks back on 2020, he is under no illusion how fortunate he has been to have such a successful season during the most unexpected of years.
"I have a great job," he said recently, not long after pacing Joshua Cheptegei to a world 10,000m record in Valencia in October.
"I have been everywhere. I have met great people like the President; people I never thought I would meet in life."
Kimeli's outing in Valencia, the City of Running, was a particularly good one as the world record mission was accomplished. "We did our best and we're happy that we achieved our target," he said, his face beaming with pride.
Kimeli was instructed to lead Cheptegei for 5000-6000m and then drop out. After going through half way in 13:08, Kimeli dropped back but finished the race in 27:12.98. Cheptegei, meanwhile, went on to break the world record with 26:11.00.
"It was not about fighting, but finishing the race," said Kimeli. "If you drop out of one race, it then becomes easy for your mind to convince you to drop out of another race when things get hard."
Twice this year Kimeli has been part of athletics history. Two months before the 10,000m race in Valencia, Kimeli had finished second to Cheptegei over 5000m in Monaco in a PB of 12:51.78 as the Ugandan star won in a world record of 12:35.36. Kimeli's manager Michel Boeting described it as a "mature and brave" race.
Despite a less-than-ideal preparation due to the coronavirus pandemic, Kimeli enjoyed a strong 2020 season. Along with his runner-up finishes to Cheptegei, Kimeli was victorious over 10,000m in Lieden, clocking a PB of 26:58.97, and over 5000m at the Continental Tour Gold meeting in Nairobi, running 13:08.32 at altitude.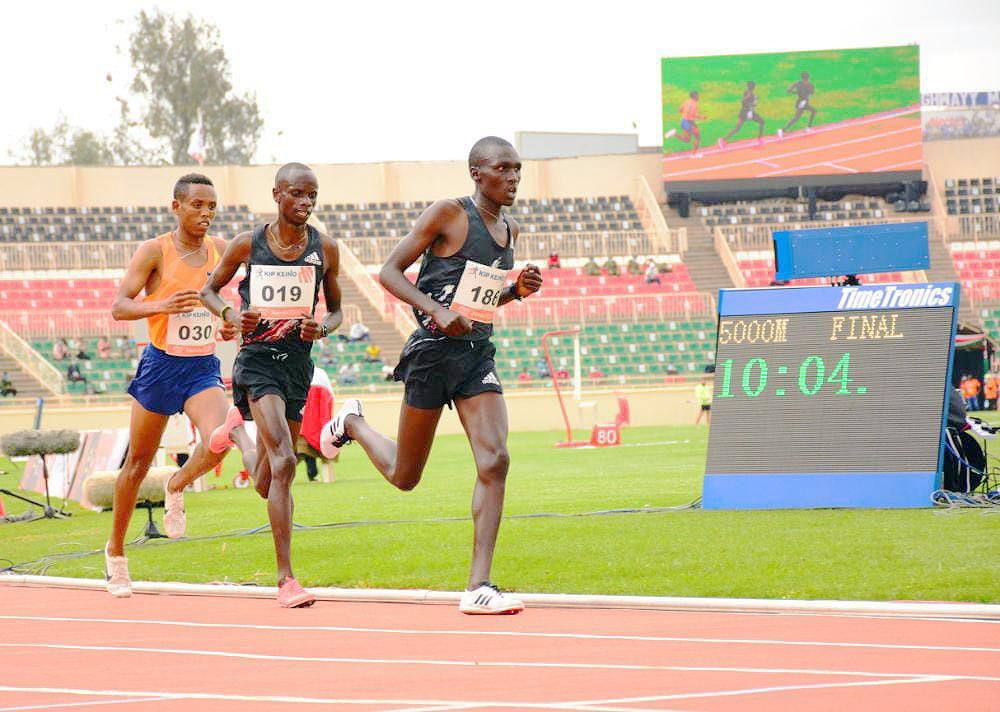 Nicholas Kimeli on his way to winning the 5000m in Nairobi (organisers)

"We were training without knowing where we were going to race," he says. "But I'm thankful I was able to compete this year."
Up until March, Kimeli still had his sights set on the African Cross Country Championships at the start of the year, but then Covid-19 struck and lockdowns took effect. With training camps closed and races cancelled, Kimeli lost focus and his hopes were dashed.
"By June, I didn't think I'd be able to set a personal best or a world lead or even run under 27 minutes in 10,000m," he says. "I was training alone; my routine became fartlek and farming. I was training to maintain my fitness so as to not get fat."
Fortunately, some top-level meetings were able to take place in the second half of the year and Kimeli was inspired to get back into racing shape.
"Three days before I was due to travel in Monaco, I still didn't have a visa. It eventually got sorted and it ended up being my best race of the season. My second-best race was at the Kip Keino classic in Nairobi. I was happy to perform at home and I was not expecting to run under 13:13 in Nairobi."
Off the back of his 2020 performances, 22-year-old Kimeli is now confident he can break 12:50 for 5000m next year.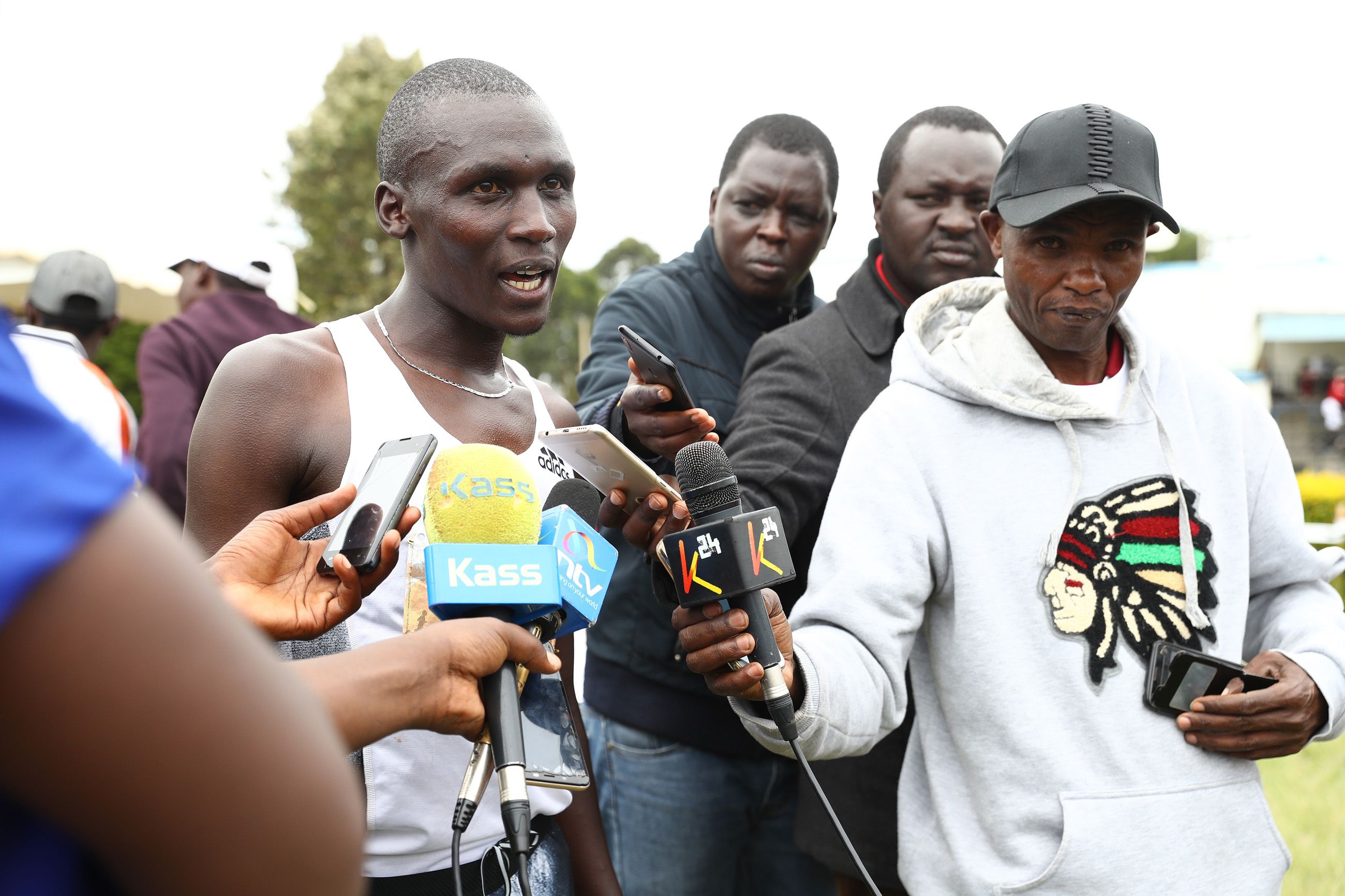 Nicholas Kimeli talks to reporters after winning the Discovery Kenya Cross Country in Eldoret (Getty Images)
A story for every race
Kimeli grew up in Kaptale, in Kapkitui village, Nandi County. He is the second-last born in a family of eight children; three boys and five girls. His brother Eliud Kimeli, a Kenya Defence Force soldier since 2009, is the only family member involved in athletics.
Kimeli's parents were farmers and they provided for Kimeli and his siblings the basic needs of education (primary) and food. They ensured their children never went to bed hungry.
"My life was not easy, but our parents tried," says Kimeli. "They showed us the way, instilled discipline, emphasised the importance of good character, loving people and going to church."
Athletics wasn't Kimeli's first love – volleyball was.
"I was a good booster; I was a good spiker also," said Kimeli, who played a lot of volleyball in primary school and still likes to play now when he has some free time. "I really liked it and I represented my school at the provincial level. I did well in volleyball, and even now I really miss it."
But things didn't work out in volleyball. "They replaced me with someone who was better than me," he says. "And then I came to discover that in athletics, it is you alone."
He went to Kekiptir Primary School until class six when he moved to Iten to stay with his elder brother. Unsurprisingly, it was during his time at Iten Primary School that he was exposed more to athletics.
At the Primary School Games, one of his first big competitions, he won bronze over 5000m. He would also compete at the annual Ndalat Gaa Cross Country, starting out in the kids' race in 2009 and eventually going on to win the senior title in 2017.
"I earned some money – 10,000 shillings (US$100) – when I won," he recalls. "I gave some to my parents, and then I bought shoes and a tracksuit to help me progress in athletics. I saved the remainder."
He didn't always have running shoes, so to raise the 300 shillings (US$3) required for a pair, he started rearing chickens. He was eventually able to pay for shoes, t-shirt and a tracksuit.
In 2014, armed with a folder and having just graduated from primary school, he met his manager Michel Boeting.
"He had brought every certificate he ever got from competing in school competitions, his school papers and birth certificate," recalls Boeting. "He had a story for every race."
Kimeli preferred training camps to school. Even so, in 2015 he joined St Francis High School in Kimuron, the same school David Rudisha attended, and he competed at the East Africa Secondary Schools competitions. The school and running requirements never matched, Boeting said.
"The real low was him getting into an argument with the cook over the amount of food served," said Boeting. "And this was after he had sneaked out of school for a competition he was not released for."
High school wasn't a smooth ride for years and Kimeli's educational journey ended in 2017 at a different school.
For Boeting, though, each year provided another glimpse of Kimeli's raw ability. And in 2018 they began to polish that talent when Kimeli joined the Adidas Camp in Iten, managed by legendary coach Brother Colm O'Connell.
"We were supported without paying anything, the food was provided by Brother Colm," said Kimeli. "They help athletes from schools or from low-income backgrounds like mine, so I really appreciate the support they have given me since I was young athlete.
While still studying at school, Kimeli would go for morning and evening runs. "I was trying to work hard so that I could improve my life," he says. "It was difficult, but I tried."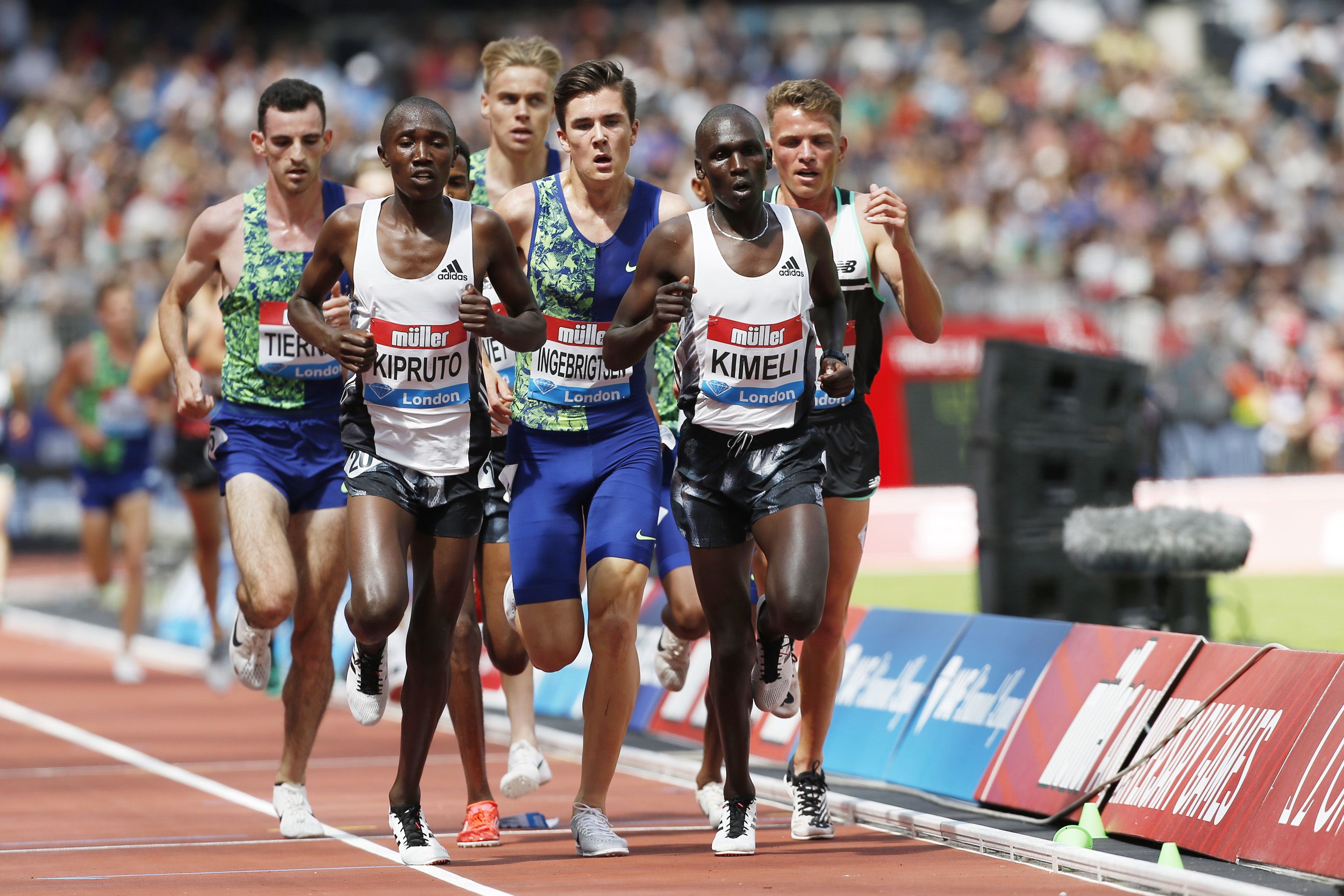 Nicholas Kimeli leads the 5000m at the Diamond League meeting in London (AFP / Getty Images)
International breakthrough
His first competition for Kenya was the 2017 African U20 Championships in Tlemcen, Algeria, where he won gold in the 10,000m and bronze in the 5000m. One year later, in his first season as a senior, he competed at the Commonwealth Games, and in 2019 he finished eighth in the 5000m at the World Championships in Doha.
"I miscalculated the race in Doha," he says. "I stayed at the back and I could not make it to the front in good time. By the time I realised, it was too late to respond."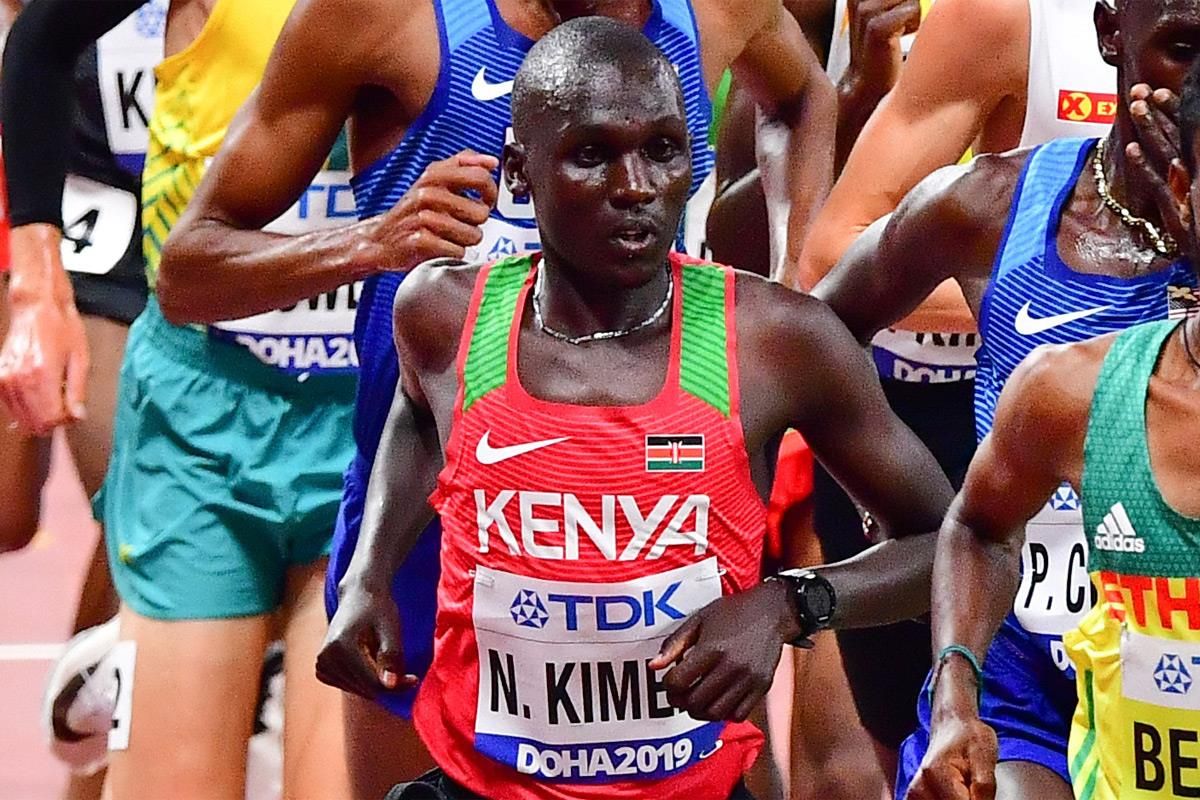 Nicholas Kimeli in action at the World Athletics Championships Doha 2019 (AFP / Getty Images)
Having previously played team sports, Kimeli knows that he is the only person accountable when it comes to an individual sport such as athletics.
"I run for myself, not a team," he says. "When I fail, it is on me. It's not like a team sport where, if you fail, the team turns on you."
It's clear that athletics is important to Kimeli. It's his calling, he says as he sips a cup of latte. Having established himself as one of the best in the world this year, his next aim is to build his profile and put his name out there alongside some of the greats in athletics.
For now, there is plenty of greatness surrounding Kimeli at his training base in Kaptagat in the form of Eliud Kipchoge and Geoffrey Kamworor.
"I look up to Eliud Kipchoge because he advises and encourages us that we will make it," says Kimeli. "We are there with him in camp. I'm also friends with Joshua Cheptegei, Rhonex Kipruto, Geoffrey Kamworor and others."
Like Kipchoge and Kamworor have done, Kimeli hopes to one day move up to the marathon and to race the London Marathon. His ultimate aspiration, though, is to win Olympic and World Championships medals on the track.
"Maybe the medal will come in Tokyo or in 2022 at the World Athletics Championships," said Kimeli. "But I'm hopeful that it will happen in Tokyo."