Jamaican triple jumper Jaydon Hibbert at the World U20 Championships Nairobi 21 (© Dan Vernon)
Jamaica's Jaydon Hibbert has been extremely successful in a relatively short period. In the space of two years, the young triple jumper has earned a world U20 silver medal to go with his North American, Central American and Caribbean Association (NACAC) U18 and CARIFTA U20 titles.
In Colombia, less than a year after his second place finish at the World U20 Championships in Nairobi, he will have the opportunity to target another global podium place at the World Athletics U20 Championships Cali 22, being held at the Pascual Guerrero Olympic Stadium in Colombia from 1-6 August.
And the 17-year-old will do so off the back of some highly promising results.
His winning effort of 16.66m at the recent ISSA/Grace Kennedy Boys' and Girls' Athletics Championships – known as 'Champs' – was not only a championship record but also a Jamaican U18 best that moved him to fifth on the world U18 all-time list.
In his formative years, Hibbert progressed from being an unpredictable talent, having tried several disciplines while at RJR Basic School and Vaz Preparatory School in Kingston, before finally finding his niche years later at Kingston College.
"I participated in the 100m, 200m, 400m, long jump and high jump at prep school," Hibbert explains.
Interestingly, though, Hibbert did not compete for Kingston College, the most successful school in Champs history, until grade 10. According to Hibbert, it was not his fate to compete before the appointed time and he stayed firm for his opportunity to shine.
"It was a long wait and nobody really knew me before," declares the polite and modest Hibbert. "I struggled to identify the event that worked best for me, but I finally discovered that jumps (long and triple) were my calling."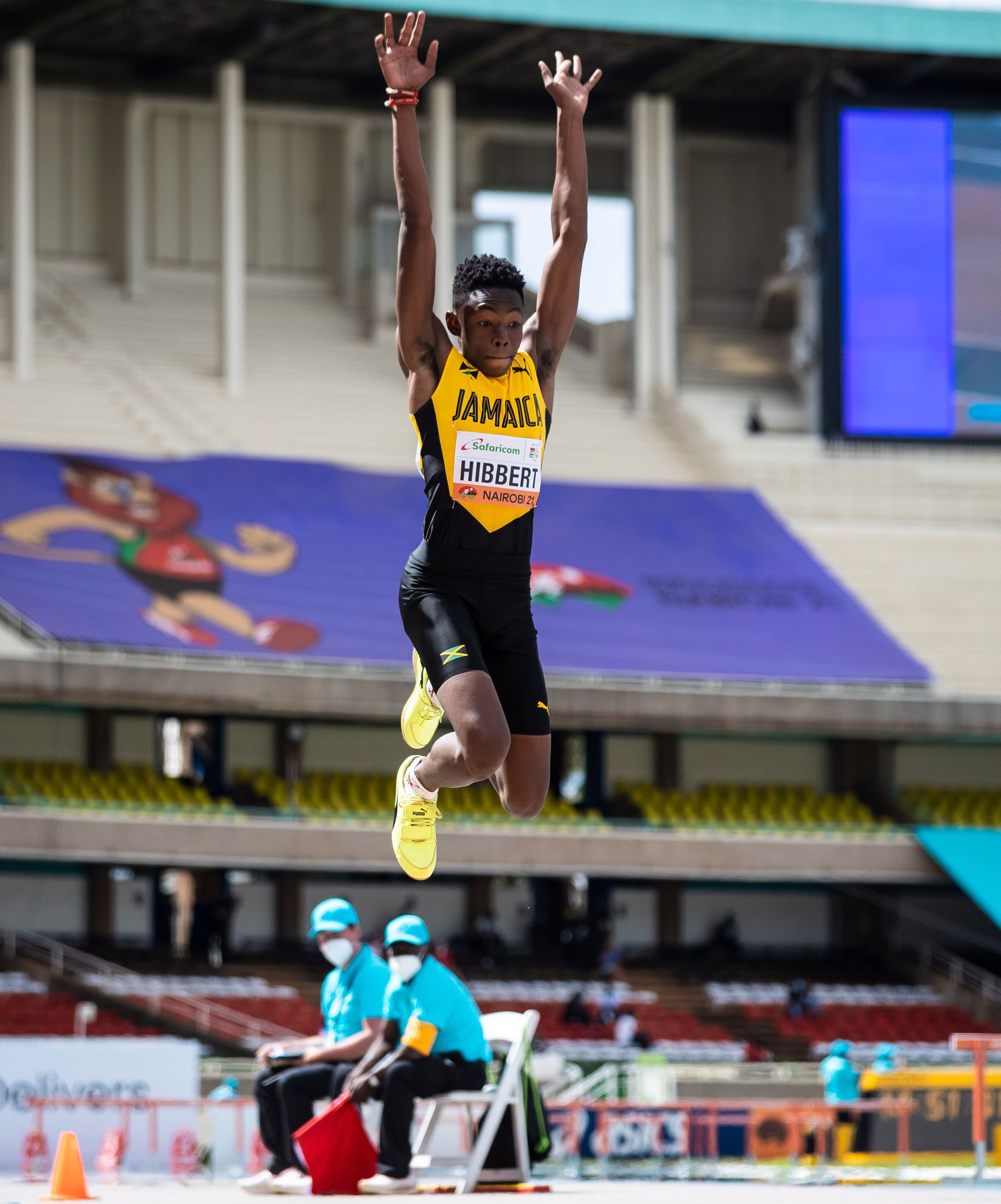 Jaydon Hibbert competes at the World Athletics U20 Championships Nairobi 21 (© Dan Vernon)
Champs, with its prestige and history, undoubtedly represents one of the greatest milestones at which any high school Jamaican athlete can dream of showing their talent. In 2021, his first year at Champs, Hibbert achieved mixed results.
"I was predicted to win both events," says Hibbert, who contested the long jump and triple jump. "However, I had muscle contractions all over my body and could not compete effectively."
First, he failed to make it to the long jump final after finishing 11th in the preliminary round, before bouncing back to claim silver in the triple jump.
Hibbert believed his season had ended after Champs until one day his telephone rang. "My coach (Jeremy Dellisser) called and asked me to return to training for two upcoming championships in Costa Rica and Kenya," he says.
"So, I trained, but I wasn't optimistic because of my unsatisfactory Champs results. Anyway, I proceeded to win the national U18 trials with a personal best of 15.68m. Afterwards, I sat down and watched the rest of the trials without knowing that I had achieved the world U20 qualifying standard. I was notified five hours later by my coach that I was on the national team."
Although Hibbert was still relatively new to the sport, his unwavering faith in God, self-confidence and powerful school motto – 'The brave may fall, but never yield' – gave him the assurance of succeeding at international level in his breakout season.
In August, a very excited Hibbert travelled to Nairobi for the World U20 Championships. To say the trip and the conditions were foreign to him would aptly describe the experience.
"I've never sat in a tight space for 16 hours before," says Hibbert, who is not a fan of long flights.
"I had difficulty sleeping when I landed, as my body did not adjust immediately to the eight-hour time zone difference between Kenya and Jamaica. In fact, I had to stay awake and wait until the following night to sleep. I also had to wear jackets throughout the day as it was really cold given the altitude (1795m above sea level)."
In the triple jump final, the then 16-year-old Jamaican was the youngest participant of the 11 finalists. Nevertheless, he was undaunted by their seniority, especially knowing he was capable of going beyond 16 metres, a feat he had achieved while winning the NACAC U18 title in San Jose, Costa Rica, a month earlier.
On the eve of the global championships, he learned he was second in the rankings. In spite of this revelation, he remained focused, knowing he had a great opportunity to do something special.
"My confidence was boosted somewhat after registering a personal best at the national trials and afterwards I kept improving, so I knew everything was coming together," he says.
"Despite the weather being what it was, it did not faze me too much, as I knew I had a job to do. I adjusted really well, surprisingly, and then it got warmer on the last two days of the championships, which suited me as the triple jump final was on the last day."
He bounded out to 16.05m in the second round and led the competition until the fourth round, when eventual winner Gabriel Wallmark (16.43m) of Sweden overtook him.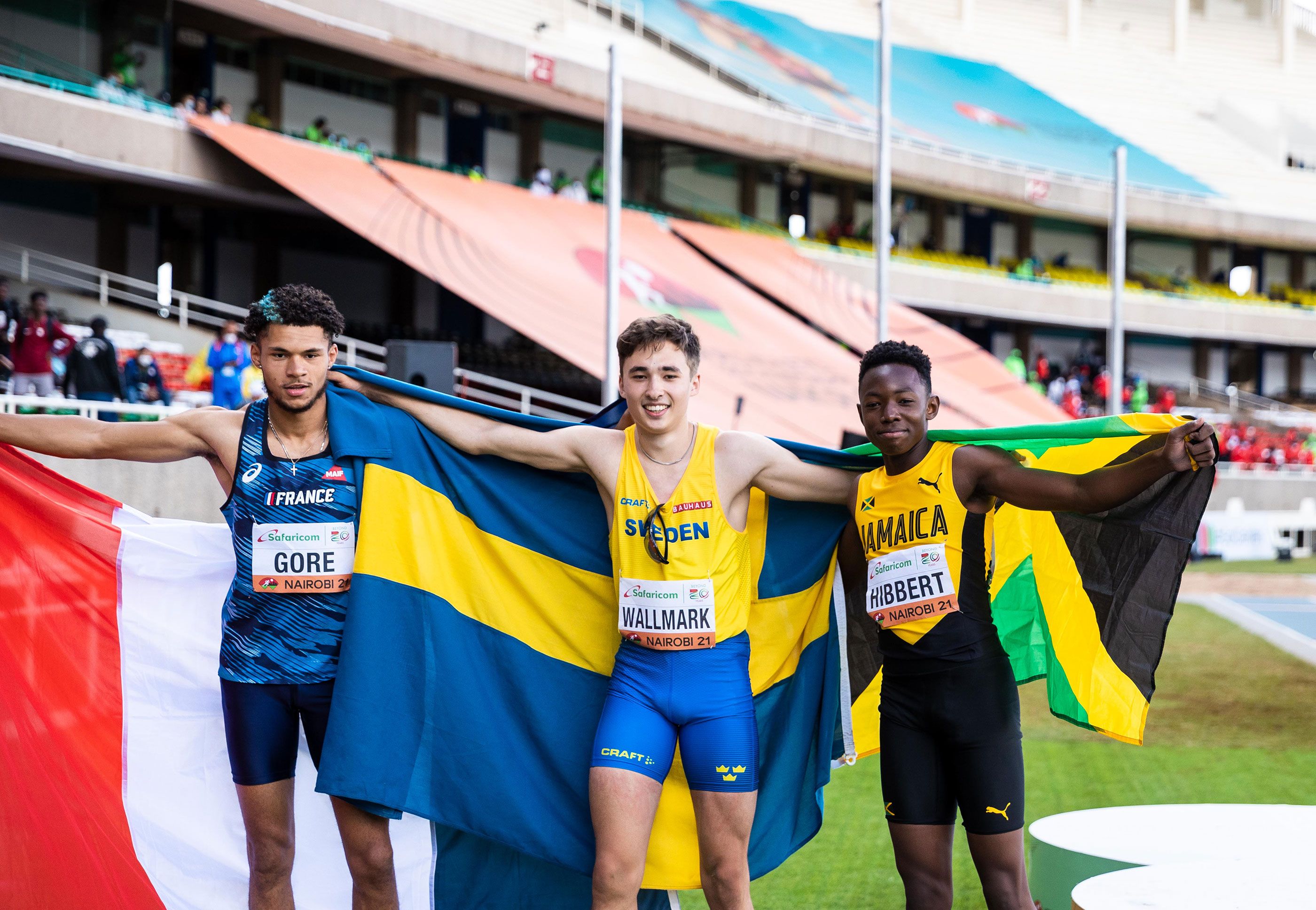 Bronze medallist Simon Gore, winner Gabriel Wallmark and silver medallist Jaydon Hibbert in Nairobi (© Dan Vernon)
The silver medal crowned an extraordinary year for Hibbert, who took advantage of the opportunities presented to him. But he almost did not have the chance to build on that, with injuries afflicting him prior to the 2022 season and nearly denying him the chance to compete.
"I got injured in November last year. I had two back strains and a hip injury along with some shin splints and knee pains," explains Hibbert, who had to fast track his training schedule due to the amount of time lost.
"I prayed and worked tirelessly in the gym as well as visited the physiotherapist regularly to get back into shape to compete and dominate at Champs," he adds.
After his subpar showing in the long jump at Champs in 2021, Hibbert, who takes pride in his results, was determined to redeem himself with a performance that would simply restore the faith placed in him.
"This was my second year at Champs and I wanted it to count," says Hibbert, who won titles in both the long jump and triple jump with lifetime best and world-leading efforts in his age group – 7.87m in the long jump as well as his 16.66m in the triple jump.
Two weeks later, in front of his home crowd, he established a CARIFTA Games triple jump record after bounding out to 16.46m, which came after a wind-assisted 17.05m (+2.8m/s) in the previous round.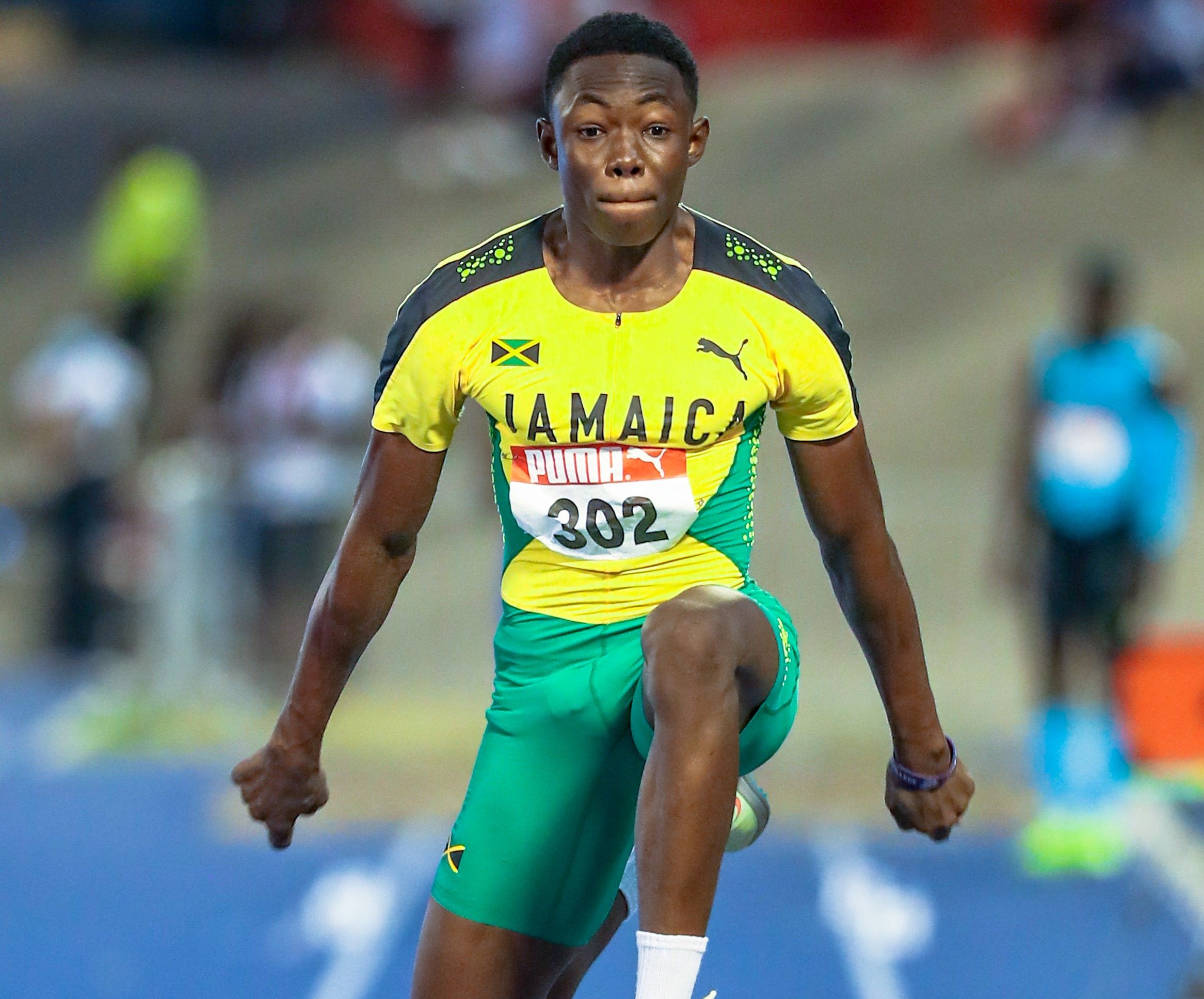 Jaydon Hibbert in the triple jump at the 49th edition of the Carifta Games in Kingston (© Athelstan Bellamy)
The teenager, though technically sound, sets high standards and is constantly in search of knowledge to improve in his discipline.
"I think I'm good technically," says Hibbert. "As far as speed is concerned, I am working on it. Last year, I was really slow and weak. My coach has identified these two areas and this season we have been working on both my speed and strength."
With age on his side, he has time to work on his weaknesses as he looks to follow in the footsteps of athletes such as world and Olympic champions Christian Taylor and Jonathan Edwards, who he watches on YouTube while searching for the perfect technique.
The World Athletics U20 Championships Cali 22 is next on the horizon and Hibbert is looking forward to peaking at the right time.
"I am more confident than I was last year, given that I'm jumping really well so early in the season," he adds. "My aspirations are to get a personal best and to make my mom proud."
Noel Francis for World Athletics