Imaobong Nse Uko wins the women's 400m title at the World U20 Championships in Nairobi (© Roger Sedres)
One silver lining of the postponed World U20 Championships in Nairobi last year is that there is just a one-year wait between that edition and the next one.
It means it's slightly more likely that the medallists in 2021 will be able to compete for podium places again at the World Athletics U20 Championships Cali 22 on 1-6 August.
Of the 40 individual winners in Nairobi, 16 will be eligible to compete in Cali. Here's a closer look at those talented teenagers.
Purity Chepkirui – Kenya, 1500m
Chepkirui was one of Kenya's eight gold medallists in Nairobi. She beat Ethiopia's Diribe Welteji, the 2018 world U20 800m champion and sub-four-minute 1500m runner, to take gold over 1500m in 4:16.07.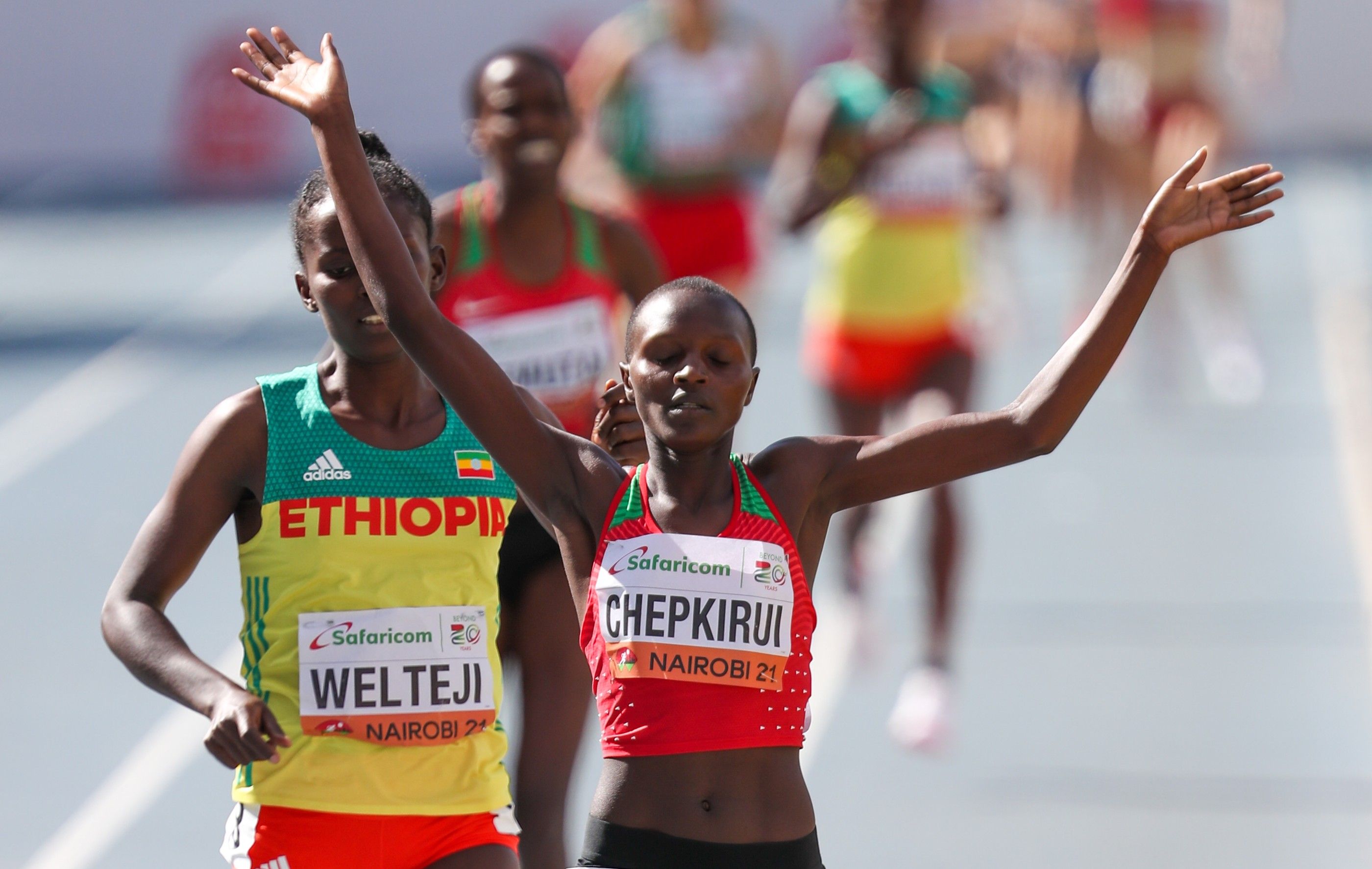 Jackline Chepkoech – Kenya, steeplechase
The 18-year-old narrowly missed out on making Kenya's Olympic team, but then turned her focus to the World U20 Championships. She went on to strike gold in a PB of 9:27.40, beating Ethiopian Olympian Zerfe Wondemagegn by eight seconds. Chepkoech's teammate Faith Cherotich, who took bronze in Nairobi, will also be young enough to compete in Cali.
Tina Clayton – Jamaica, 100m
One of the youngest winners in Nairobi, Clayton claimed 100m gold in 11.09 and then formed part of Jamaica's triumphant 4x100m team, setting a world U20 record of 42.94. Her twin sister Tia was also part of the relay quartet and, of course, will be able to compete in Cali later this year.
Mine de Klerk – South Africa, shot put
Another double medallist in Nairobi, De Klerk won the shot put title with 17.40m, having also taken silver in the discus with a PB of 53.50m. In the Colombian capital later this year, she'll have the opportunity to retain her shot put title and upgrade her discus silver to gold.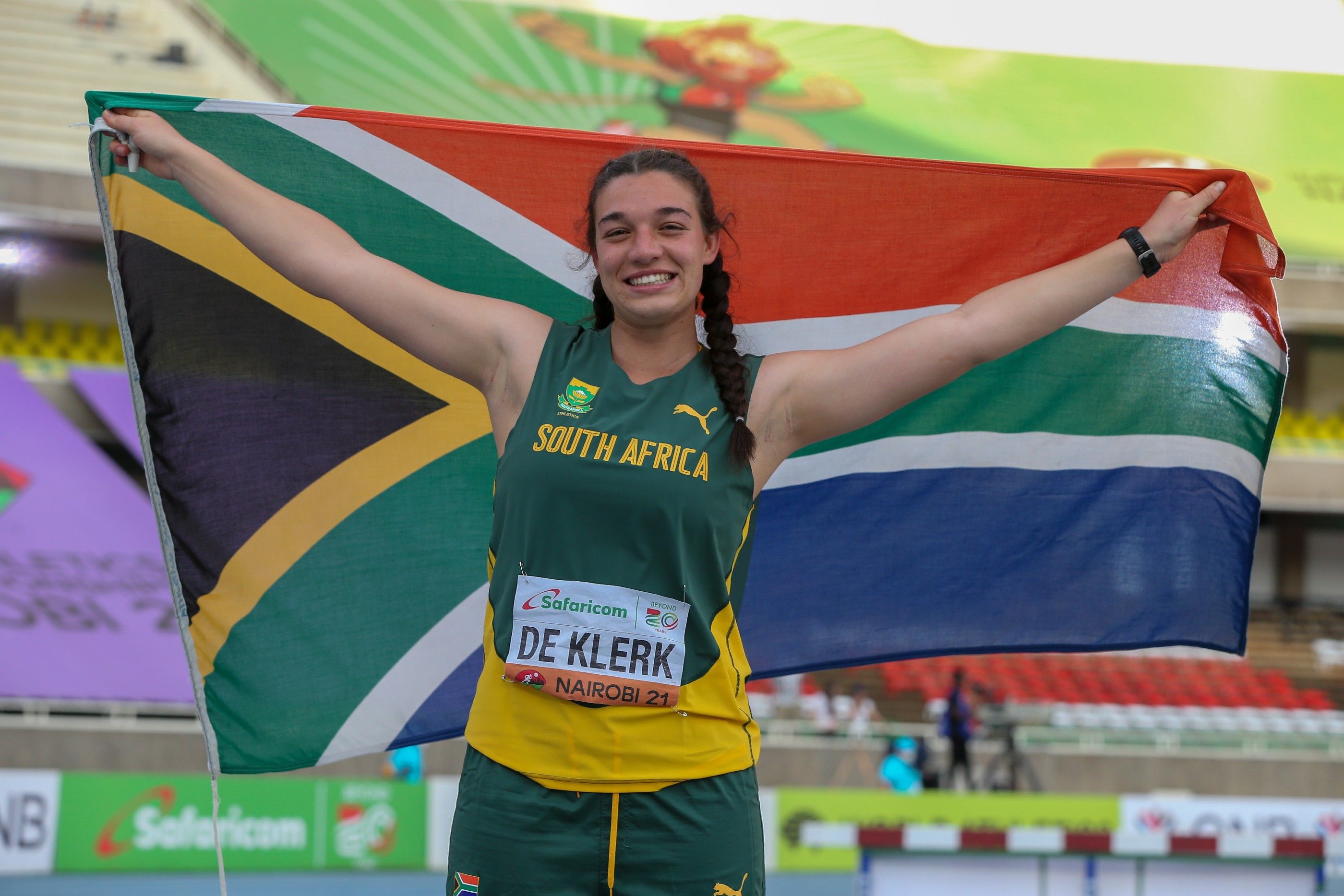 Benson Kiplangat – Kenya, 5000m
A relative newcomer, Kiplangat defied the altitude of Nairobi to win 5000m gold in a PB of 13:20.37. In doing so, he held off a strong challenge from Ethiopia's Tadese Worku, who had won 3000m gold earlier in the championships.
Erwan Konate – France, long jump
Having taken bronze at the European U20 Championships in Tallinn in mid-July, Konate uncorked the performance of his life to win long jump gold in Nairobi. The 18-year-old, who started the year with a PB of 7.30m, produced jumps of 7.98m, 8.00m and 8.12m in the final three rounds of the competition to secure the title.
Christine Mboma – Namibia, 200m
One of the revelations of 2021, Mboma took Olympic silver in Tokyo before landing the world U20 title in Nairobi in a championship record of 21.84 – one of five sub-22-second performances she achieved in 2021. Her time in Tokyo, 21.81, was recently ratified as a world U20 record and she will have the opportunity to improve on that in 2022, her final year as an U20 athlete.
Udodi Onwuzurike – Nigeria, 200m
US-based Nigerian sprinter Onwuzurike enjoyed the competition of his life in Nairobi last year. He smashed his 200m PB in the heats with 20.47, ran a wind-assisted 20.13 to win his semifinal, then took gold in the final with a PB of 20.21. He also featured on the Nigerian 4x100m squad which failed to get the baton around, but he and his teammates can aim to make amends in Cali later this year.
Heidi Salminen – Finland, 400m hurdles
Salminen, aged 17 at the time, headed to Nairobi off the back of a disappointing performance at the European U20 Championships in Tallinn, where she finished last in her 400m hurdles semifinal in 60.30. Having never broken 59 seconds before, she set a PB of 58.12 to win her heat and then smashed that three days later to win gold in 56.94.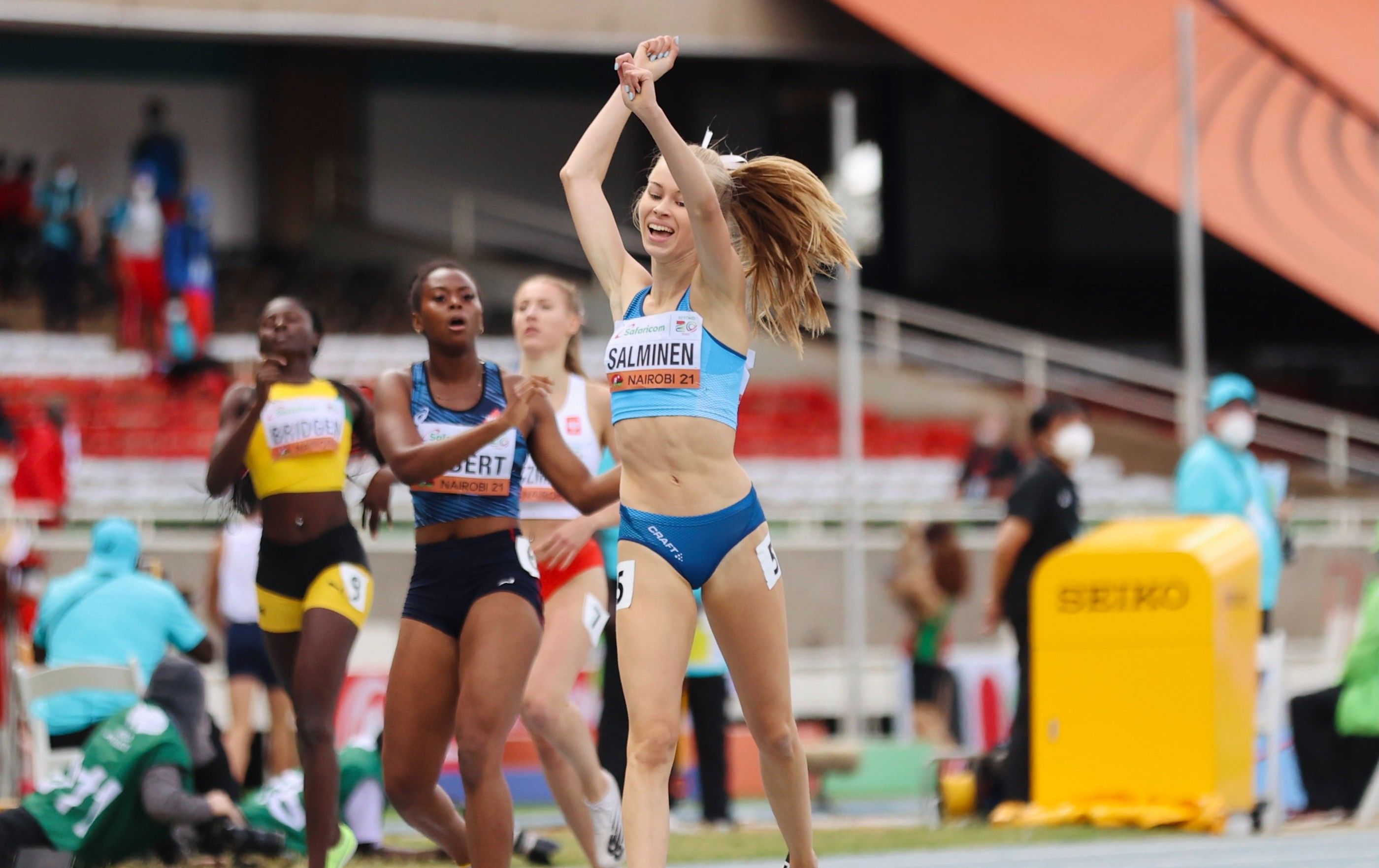 Letsile Tebogo – Botswana, 100m
One of three titles won by Botswana in Nairobi, the men's 100m went to Letsile Tebogo. The 18-year-old set a PB of 10.22 in the heats, then broke the senior national record in the semifinals with 10.11. Running into a minor headwind, he secured gold in the final in 10.19. He took silver in the 200m two days later, so will be keen to win a sprint double in Cali.
Imaobong Nse Uko – Nigeria, 400m
The prodigious Uko, who ran 52.36 at age 14 back in 2018, won three gold medals in Nairobi. The 17-year-old set a lifetime best of 51.55 to win the one-lap sprint title. One day later, she contributed to Nigeria's triumph in the women's 4x400m, having also formed part of the winning mixed 4x400m team earlier in the championships. All three medallists in the women's 400m in Nairobi will be young enough to clash again in Cali this year.
Saga Vanninen – Finland, heptathlon
Finnish heptathlete Vanninen was one of a small handful of athletes to win gold at the European U20 Championships and World U20 Championships. The 18-year-old set PBs in the 200m (24.83) and javelin (49.22) en route to her 5997 overall victory, winning by 251 points.
Adriana Vilagos – Serbia, javelin
Another 17-year-old winner, Vilagos warmed up for Nairobi by setting a world U18 best of 70.10m with the 500g implement. Competing with the standard senior implement in the Kenyan capital, her opening effort of 61.46m added more than a metre to her PB and stood as the best mark of the competition. One month later, she improved her best to 62.36m in Zagreb.
Matvey Volkov – Belarus, pole vault
The prodigious pole vaulter, who set a world U18 best during the indoor season, enjoyed a successful outdoor campaign. After taking silver at the European U20 Championships, he went one better in Nairobi and struck gold with 5.45m.
Emmanuel Wanyonyi – Kenya, 800m
Three weeks after turning 17, Wanyonyi scorched to victory over two laps of the track in 1:43.76. Not only did he break the championship record, he also set a Kenyan U18 best.
Heristone Wanyonyi – Kenya, 10,000m race walk
No relation to the 800m winner, Wanyonyi produced one of the biggest surprises of the championships to win Kenya's first global race walking title. He took the 10,000m race walk crown in a PB of 42:10.84, and the fact he excels in altitude should stand him in good stead in Cali later this year.