Marileidy Paulino in action at the Tokyo Olympics (© AFP / Getty Images)
As she reflects on a breakthrough year, capped with two Olympic silver medals, the deeply religious Marileidy Paulino would be inclined to describe her 2021 season as a miracle. But hard work, discipline and determination comprise the recipe for this late comer to athletics.
The second youngest of six siblings in her household – she has five other siblings on her father's side – Paulino grew up an active girl in Don Gregorio, a one-hour drive west from Santo Domingo, the capital of the Dominican Republic. With no sporting background in the family, Paulino did not participate in organised sport until the age of 18, when she started to practise handball. As she was offered a monthly salary to join the Air Force as a track and field athlete, she changed to her definitive sport a year later.
At first, when she started training under coach Heriberto Garcia in a baseball field, she didn't take the sport too seriously. In 2015 she missed a local meet for army athletes on her 19th birthday. "It was my birthday and I did not want to celebrate competing," she reasons.
But early in 2016, she joined the training group of Cuban coach Yaseen Perez, who had recently arrived in the country. She made her competitive debut in March 2016 with respectable times of 12.01 and 24.67 for 100m and 200m, which she improved to 11.89 and 24.54 two weeks later at the Military Games. This performance opened the door for her first international experiences in Colombia and Cuba, where she improved to 11.61 and 23.81.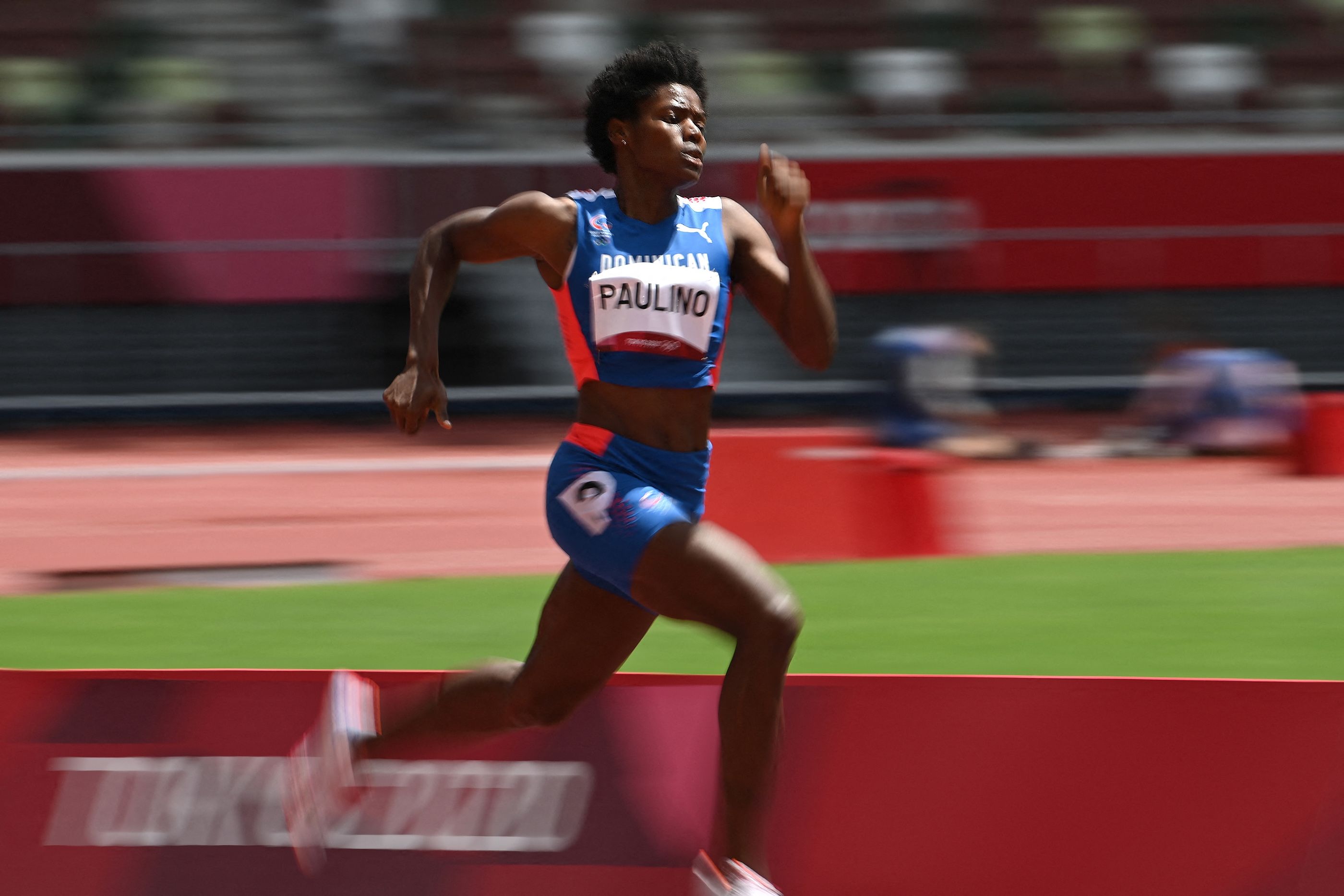 "I was very excited to board a plane for the first time," she recalls of those competitions. "I was really motivated to see that my talent was rewarded with an international trip. I donned the national uniform for the first time. It's beautiful and a great honour to represent my country. The track in Colombia was amazing."
She ended the season by reaching the 100m and 200m finals at the NACAC U23 Championships. "Back then, my love for the sport was not that deep," she says. "I did not know much about the sport."
In 2017 she attempted the 400m for the first time. She was scheduled to run the 100m and 200m double as usual at the National Military Games, but a team member withdrew from the 400m. Paulino gave it a try and led through 370m before dropping to third at the finish with 56.30. "I didn't like the distance at all and did not think I would run it again."
She ended her season at the World University Games in Taipei, where she missed making the 200m final by one place and before her 4x100m relay squad was disqualified.
"I hate long trips," she recalls. "It took us a day and half. I can't sleep on planes. The food was very different. I only ate rice and eggs. But I was happy to see my compatriot Luguelin Santos' win (400m) and listen to our national anthem."
At the start of 2018, Paulino tried racing indoors for the first time. Although she didn't particularly enjoy her two competitions in New York, she set national records for 60m (7.45) and 200m (23.82).
Outdoors, she improved the national 200m record to 22.87 in the heats at the Central American and Caribbean Games, but had to settle for fourth in both sprint events. Only 0.01 separated her from the bronze in the 100m where she ran a marginally wind-assisted 11.33, having set a PB of 11.39 in the semifinal. She found some consolation with the 4x100m bronze medal.
The following year didn't result in any personal bests, but consistency was crucial.
"2019 gave me a lot of confidence," says Paulino, who reached the 200m final at the Pan-American Games. "The cold and humid weather affected me a lot at the Pan American Games in Lima. After warm-up, my body got cold and couldn't perform at my best."
She also made her World Championships debut in Doha. "The World Championships was an incredible experience. This time, it was too hot. Warming up at 2pm was almost unbearable. I had the opportunity to meet some of the world's best, including world 200m champion Dina Asher-Smith and Elaine Thompson."
Paulino closed the season by taking 200m silver at the World Military Games in China, her first individual medal at an international meet. "It was emotional. I was very happy. I kept my consistency for seven months."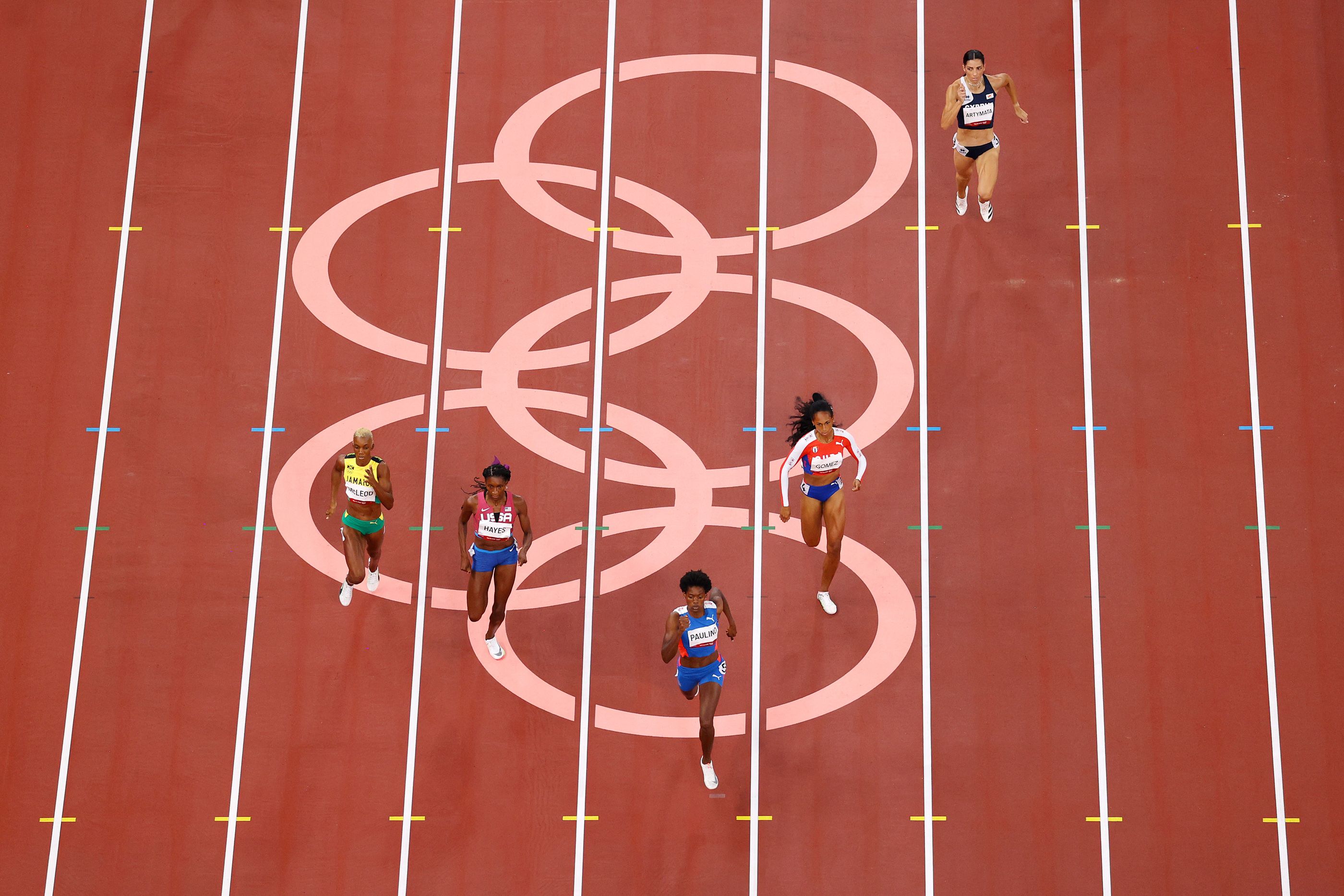 Turning point
With many international competitions cancelled during the first year of the Covid-19 pandemic, Paulino had just one race in 2020. But it proved to be something of a turning point.
With no specific training, she raced over 400m in Santo Domingo and took half a second off the national record with 51.88.
"I was not training for the event; I just tried a 400m off the back of my 200m preparation and realised I had the potential to be a good 400m runner," she says. "Training for 400m is very different and more demanding but I managed well."
Paulino stayed in Cuba to train for four months, then returned home and followed the training programme that had been set by her coach, who stayed in Cuba. She would start training at 6am at the local baseball stadium and would finish by 8am, before the baseball players arrived.
The next goal was to achieve the Olympic standard, which she achieved with her 2021 season's debut as she reduced her own national record to 50.31
She impressed on her European debut as an instrumental member of Dominican Republic's silver-winning mixed 4x400m squad at the World Athletics Relays in Silesia, qualifying her team for the Tokyo Olympics.
After a few races in Europe, Paulino felt her old spikes made her uncomfortable. She tried a new pair and rushed to a meeting in Huelva, Spain, to help training partner Anabel Medina reach the Olympic qualifying time.
"That was the sole intention," she says. "I didn't give it my all, so I was surprised to see the time: 49.99 – my first time under 50 seconds."
She was ready to be a serious contender in Tokyo.
Before the individual 400m in Tokyo, she and her teammates proved the silver medal in Poland was no fluke. Running the second leg in the mixed 4x400m final, Paulino put her team in the lead halfway through and anchor Alexander Ogando pipped USA's Vernon Norwood at the line for the silver medal.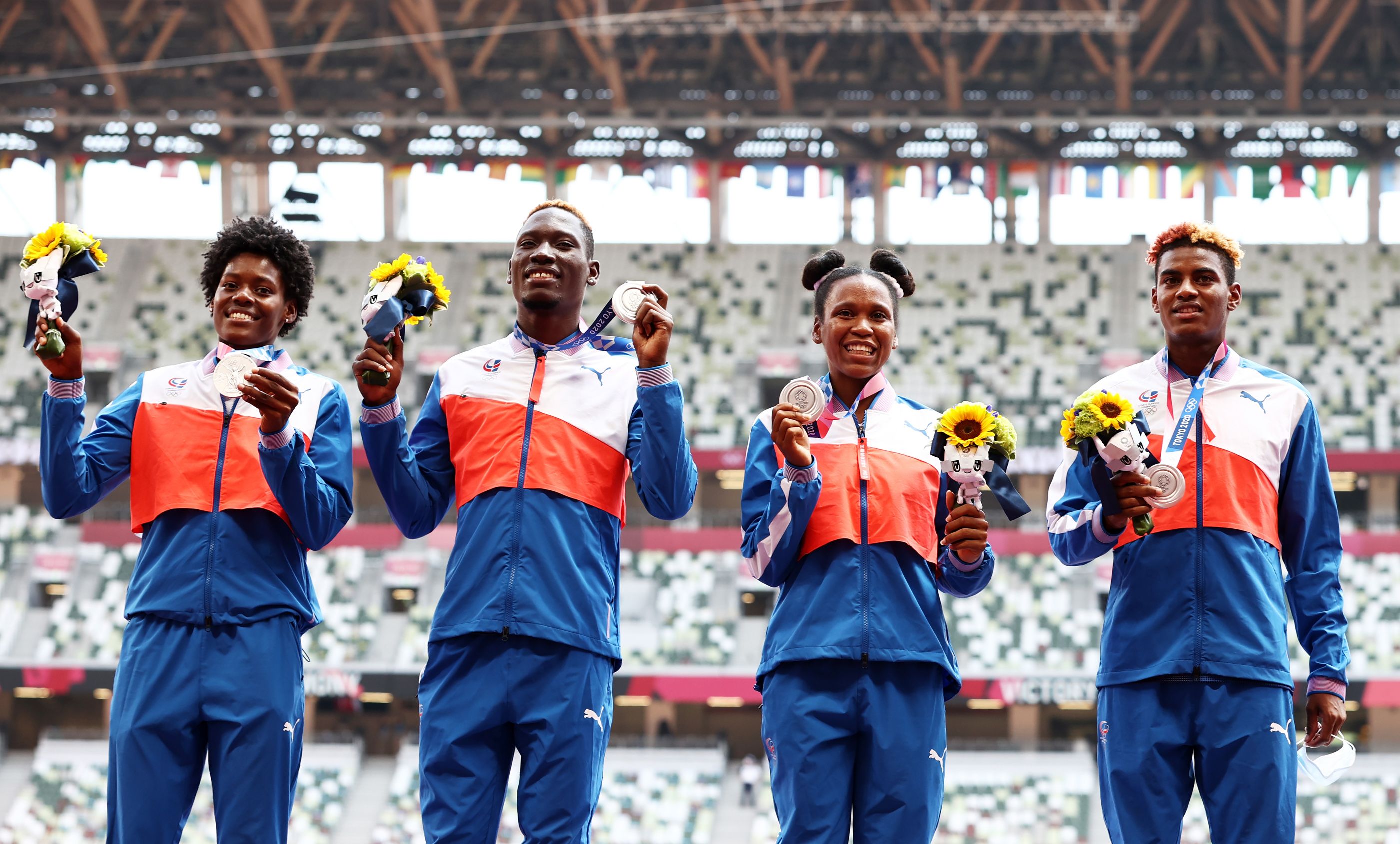 "Many thought running the relay would negatively affect my performance in the individual event, but we knew we had a chance and it would be a great motivation for the individual 400m," says Paulino, who produced a 48.7 split in the final. "That was a historic performance by the team. We won a medal and beat the US quartet. I am so proud of them."
Buoyed by her relay success, Paulino carried that momentum through to the individual 400m, winning her heat (50.06) and semifinal (49.38).
"I felt fresh every time I stepped on the track," she says. "Running sub-49-second pace so comfortably in the semifinal before slowing down towards the finish gave me the confidence I would fight for a medal."
In the final, she was one of four women in medal contention with 100 metres to go. "At that point, I felt like I had extra gear and sprinted towards the line," she recalls. "I accelerated my arm movements and that helped me move my legs faster."
After she crossed the finish line in second place in 49.20, her fifth national 400m record of the year, she held up her left spike with a phrase written on it: 'Silence. God is my hope'.
It took a while for the result to sink in. "My first realisation was at the medal presentation when Luisin Mejia (IOC member from the Dominican Republic) presented the medals. When I saw the flag, I knew it was for real." Paulino also received phone calls from the country's President and First Lady.
In order to stay fully focused while in Tokyo, Paulino disconnected herself from social media three days prior to her arrival in Japan until the end of the Games. "I didn't know what was happening in my country and how people were reacting. I only stayed in contact with my family," she says.



Paulino's two Olympic medals opened the door to her Wanda Diamond League debut and she suitably rose to the occasion, winning in Lausanne (50.40) and Paris (50.12) before ending the season with a second-place finish in 49.96 at the Diamond League final in Zurich.
She was given a hero's welcome at home when she returned from Europe. A caravan took her from Santo Domingo airport to her hometown of Don Gregorio. "It was great to see the love of so many people," says Paulino, who was given an apartment in Santo Domingo from the national government. "I was really tired from the trip, jetlagged. They hosted me in another event in my hometown the following day. At first, I couldn't go unnoticed to do my shopping. Things have calmed down now."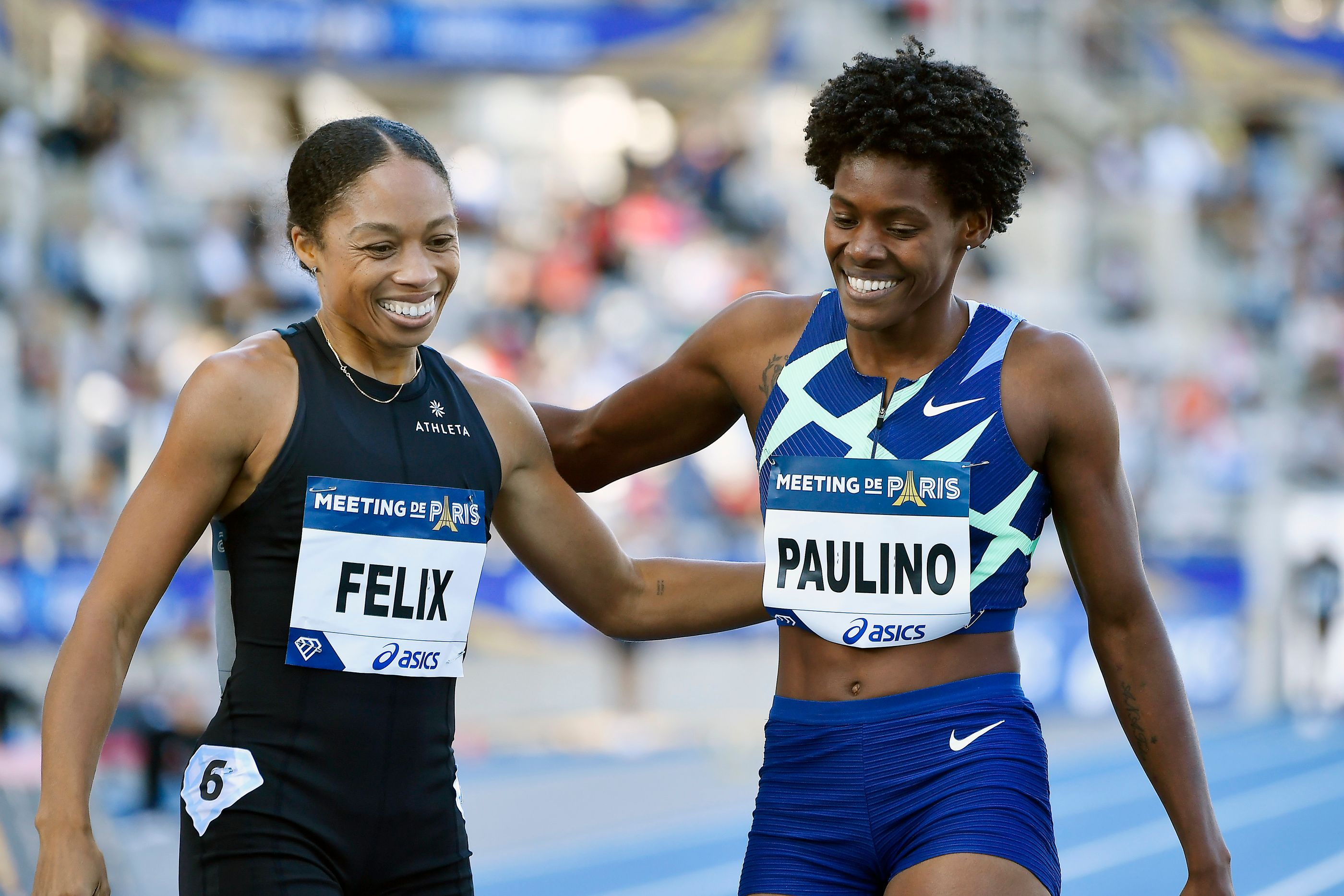 Guidance from Perez
Perez, her coach, has been instrumental in Paulino's success. "When we started working together, I saw in her a strong woman physically," he says. "Her movements were wide and not fluid, so we needed to work on her technique. We decided to focus on 100m and 200m to begin with, but from the start she always had good natural endurance."
"For any sprinter, the 100m is the event in which you learn how to run. My work was initially focused on teaching her how to run before deciding on her speciality. At first I thought the 200m would be her event, but then I saw her potential for 400m. Other seasoned coaches also advised me that she would be a better fit for that event.
"(Before her 51.88 run in 2020) she was not totally convinced she could be a contender in the 400m," added Perez. "That race paved the way for the results we have achieved so far."
Off the track, Paulino is just like many other people her age. She enjoys spending time at the beach, by the river or in the countryside. She also loves dancing and spending time with loved ones, trading jokes and enjoying good food and wine.
But when she sets foot on a track, she is fiercely determined. Indeed, beyond her obvious talent, Perez believes Paulino's success is thanks to her discipline, her ambitions and her drive to meet her goals. "She loves to set objectives, and she'll often surpass our own goals for training," he says. "This is an advantage; I never need to push her."
As Paulino started to get more serious in athletics, her respect grew for two compatriots: two-time Olympic 400m hurdles champion Felix Sanchez and 2012 Olympic 400m silver medallist Luguelin Santos. The latter raced alongside Paulino in the heats of the mixed 4x400m in Tokyo. "He is a warrior," Paulino says of Santos. "I love his fighting spirit on the track.
"Felix is a national hero. I see him on a regular basis. I am not in his training group, but he gives me motivation every time we interact. He is a great person. He was proud and cried of happiness when we won those medals in Tokyo."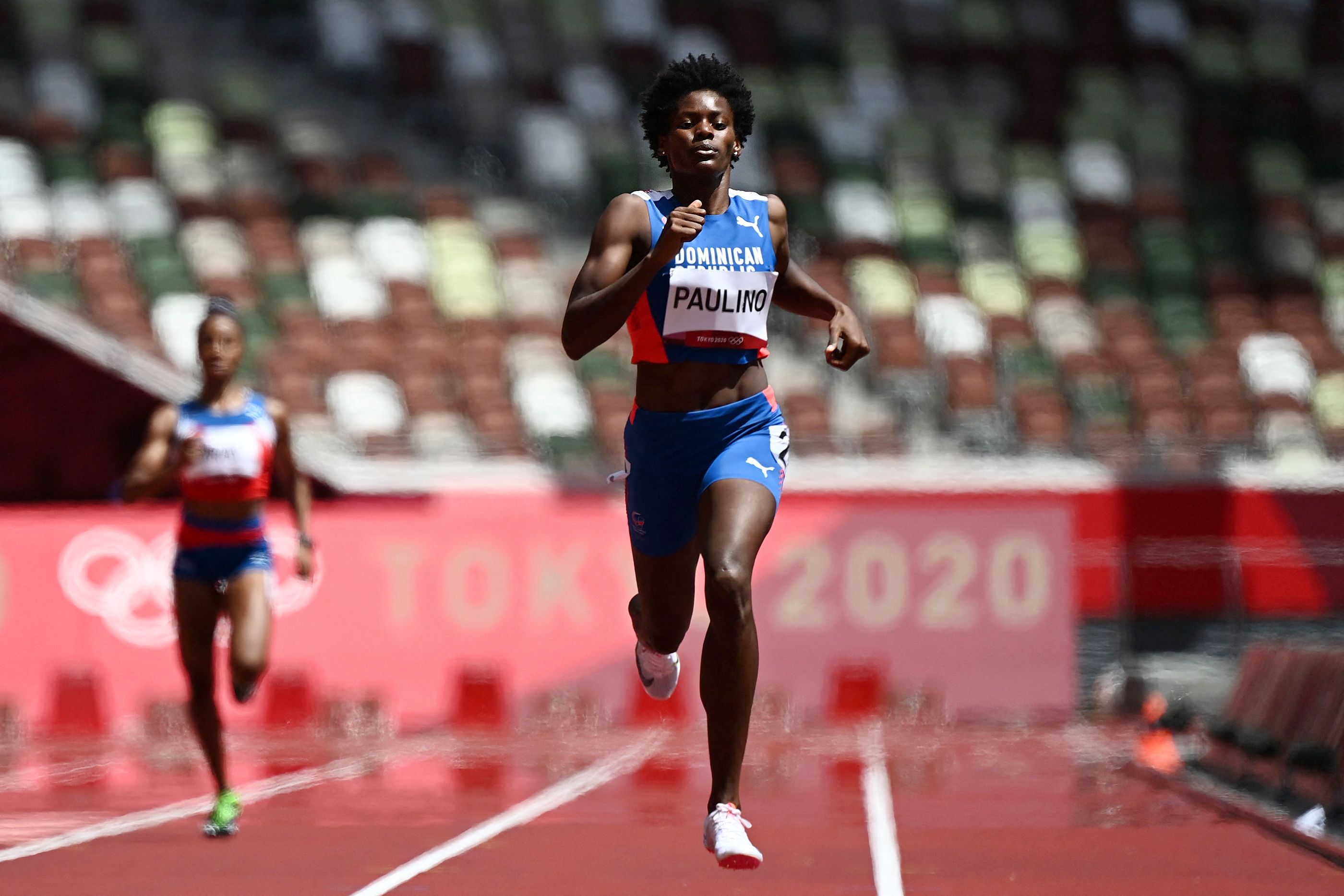 Having become the first woman from the Dominican Republic to earn an individual Olympic medal in athletics, Paulino now knows what it feels like to be considered a national hero. But she doesn't let it get in the way of the goals she has set for 2022.
"I want to perform well at the World Championships and in the Diamond League," she says. "I also count on my team to be in the mix for the medals again in the mixed relay."
"We plan to run fewer 400m races this year and will focus on the first half of the race and work on her speed," added Perez. "She will run a few 200s and even some 100s. The goal is to stay at the same level. We do not want to rush anything and we work towards Paris 2024. If she runs 48 seconds, it is welcome, but that's not the goal."
Whatever the ultimate goal, Paulino appears to have immeasurable potential in her new discipline.
Javier Clavelo Robinson for World Athletics