Joyciline Jepkosgei celebrates her win at the 2021 Virgin Money London Marathon (© Thomas Lovelock for Virgin Money London Marathon)
In the moments after her brilliant victory in the Virgin Money London Marathon, a World Athletics Elite Platinum Label race, it was significant that Joyciline Jepkosgei was already looking to the future and signalling there was more to come.
"The marathon is like a book," she said. "When I started running the marathon, I opened the book in New York, and every time I do one I am learning so much."
After a sleepless night replying to messages of congratulation from friends and colleagues back home in Kenya, Jepkosgei returned to the theme of self-improvement, speaking confidently about how she believes she can go quicker than her winning London time of 2:17:43.
It already places her seventh on the women's marathon all-time list and was achieved in only her third race over 26.2 miles, following her debut victory in New York in 2019 and her second-place finish in Valencia last year.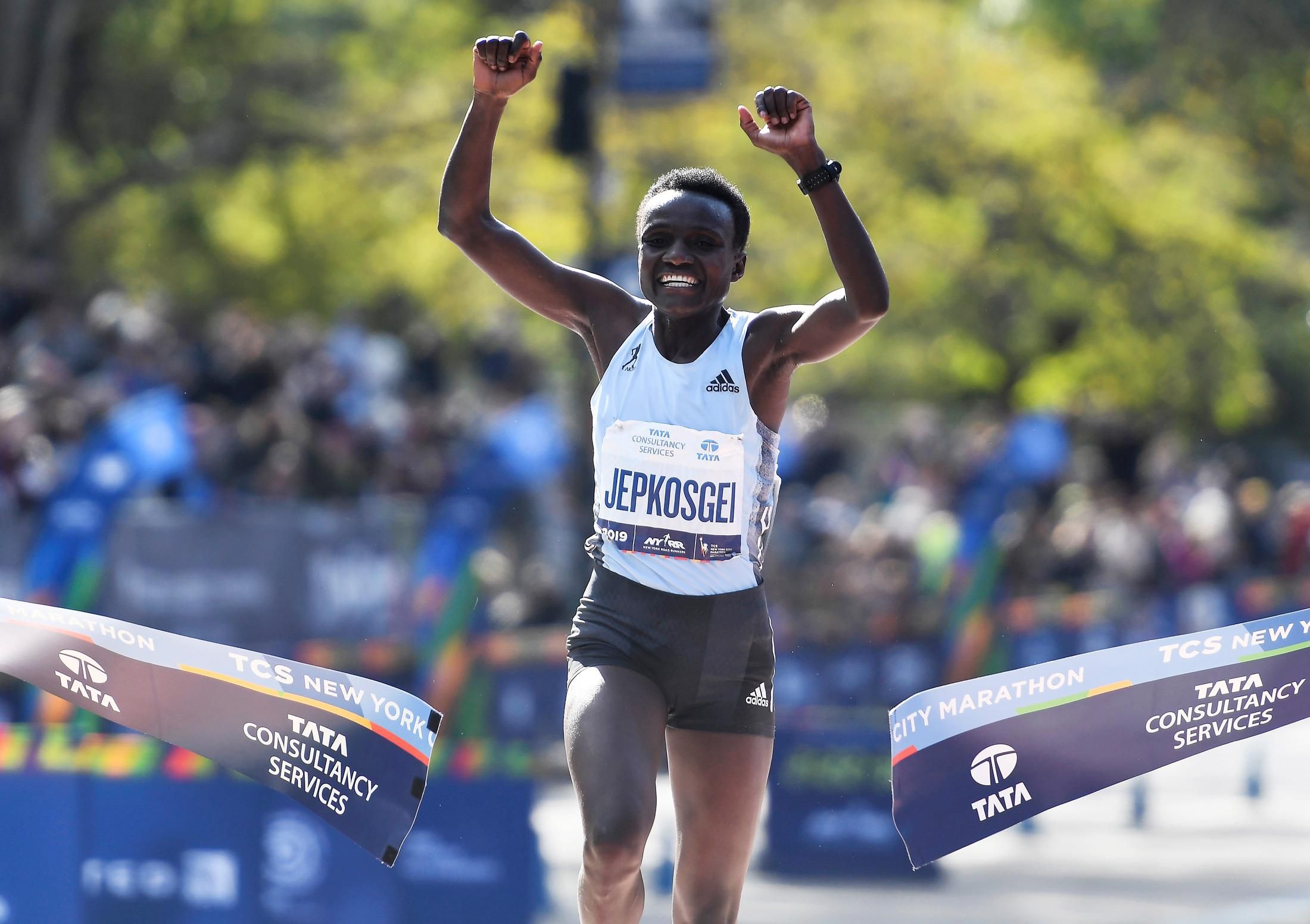 "This marathon in London has motivated me to do even more each and every day because I have run faster times in each of my three marathons," she said. "I ran 2:22, then 2:18 and now 2:17, so I'm seeing the improvement and that motivates me to go even faster."
The confidence Jepkosgei exudes, both in her aggressive running style and her forthright attitude, suggests there are plenty more chapters to be written in her fast-track marathon career.
Remarkably, she only began training seriously eight years ago following the birth of her son, Brendan, although her talent for running was evident right from her school days growing up in Cheptil, near Eldoret.
"Going to school and coming home was all about running," she said. "I would run to school in the morning, run home for lunch, run back to school and then run home again – each and every day of the week.
"I realised the talent was there when we had inter-class races at school. I was the winner every time I competed, so my parents were very happy with me and motivated me every morning. When they sent me to the market I would run and then come back fast. My parents said: 'This girl will become a runner in the future'."
Her coach, Nicholas Koech, is a former 1:46 800m runner and also her husband. Jepkosgei says the dual relationship works perfectly for her and describes it as a "privilege" to be coached by him.
"When we are in the field, he is a coach not a husband, and in the house he is a husband," she said. "I'm very happy and I'm proud of him. He has trained me not only in my running but mentally to remain focused in everything I am doing."
Under Koech's guidance, Jepkosgei achieved her first breakthrough in the elite ranks when she won the Karlovy Vary Half Marathon in the Czech Republic in May 2016.
The following April, she underlined her extraordinary talent by breaking no fewer than four world records in a single race on her way to victory in the Prague Half Marathon. She set marks for 10km (30:04), 15km (45:37) and 20km (1:01:25) before becoming the first woman to run a sub-65 minute half marathon by winning in 1:04:52.
Five months later, she lowered her 10km world record even further when she won the 2017 Birell Prague Grand Prix in 29:43 to become the first woman to break the 30-minute barrier on the roads.
In a curious twist of timing, Jepkosgei held the 10km mark until just minutes before she went to the London Marathon start line as Bahrain's Kalkidan Gezahegne lowered it to an unratified 29:38 in in winning the Giants Geneva 10km.
Jepkosgei was not aware that her record had gone until after her London victory, though she was unsurprisingly sanguine about her loss.
"It was great to break the record to show what is possible but now I'm just happy to win here," she said.
"This is an achievement that will last forever. It is a great personal achievement for me and it will last a lifetime."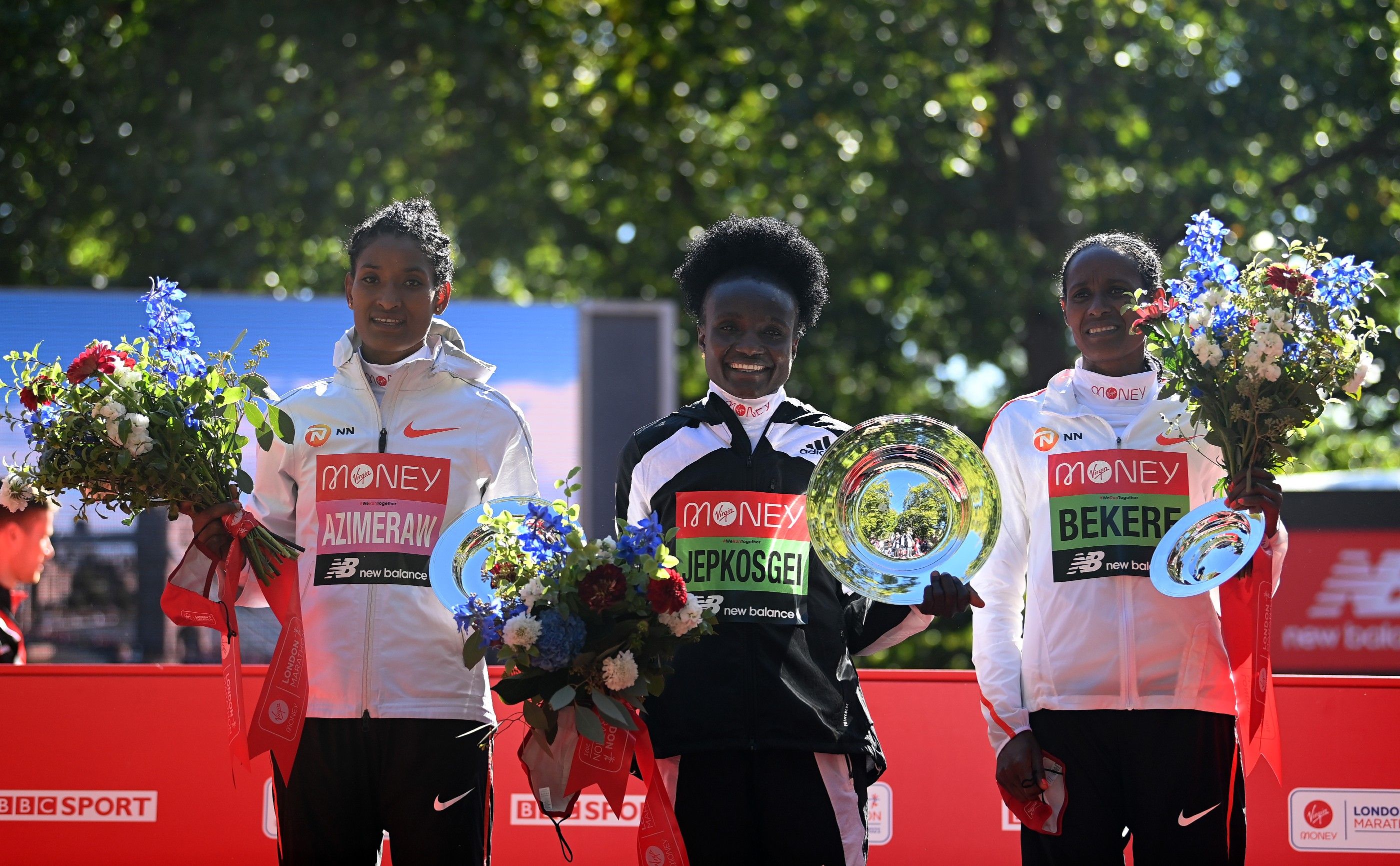 Jepkosgei, who gained some experience of the London course when she performed pacemaking duties in 2019, said she knew she was in the physical shape to win on her debut after breaking the course record at the Berlin Half Marathon in August.
"The Berlin Half Marathon was a taster for the London Marathon and I was feeling confident after running 3:05 or 3:06 per kilometre in Berlin," she said. "I felt confident that 3:15 or 3:16 would be a comfortable pace for me in London and that I would run well."
The decisive moment came after the 35km mark as Jepkosgei launched her attack and quickly opened up clear daylight on her rivals. She extended her lead and crossed the finish line 15 seconds ahead of second-placed Ethiopian Degitu Azimeraw.
"My plan in London was to go with the pacemakers until they finished and then move from 30km," she said. "But everyone was very strong and the group stayed together.
"Then I finally made my move and saw than no-one was following me. I kept up the pace and I was feeling comfortable until the last one or two kilometres, when I started to feel a little tired. But the crowds kept on motivating me and I finished strongly."
The only pity was that fellow Kenyan Brigid Kosgei, the world record-holder and two-time London winner, was unable to mount a meaningful challenge after running on tired legs just two months after her silver medal-winning performance at the Tokyo Olympics. She finished fourth in 2:18:40.
The good news for the London Marathon organisers is that Jepkosgei is already thinking about defending her London crown next year, raising the tantalising prospect of a marathon showdown with a fully fit Kosgei.
"We will now go back and take a recovery break and then I will plan with my coach and my management what I will do next year," said Jepkosgei. "But I would be happy to come to London again next year."
Simon Hart for World Athletics