US heptathlete Kendell Williams (© Getty Images)
In 2014, 19-year-old college heptathlete Kendell Williams won gold in the 100m hurdles at the World U20 Championships at Hayward Field. Eight years later, her eye is again on the honour roll at Hayward Field, this time at the World Athletics Championships Oregon22 in July.
Since that freshman year at the University of Georgia, Williams has amassed seven NCAA titles and finished fifth at the 2021 Olympic Games in Tokyo and 2019 World Championships in Doha.
She has surpassed 6400 points in the heptathlon in every year she has competed since 2016, to become one of the most consistent elite combined eventers in the world. Meanwhile, in the classroom, she is on her way to her second masters degree and her third degree overall.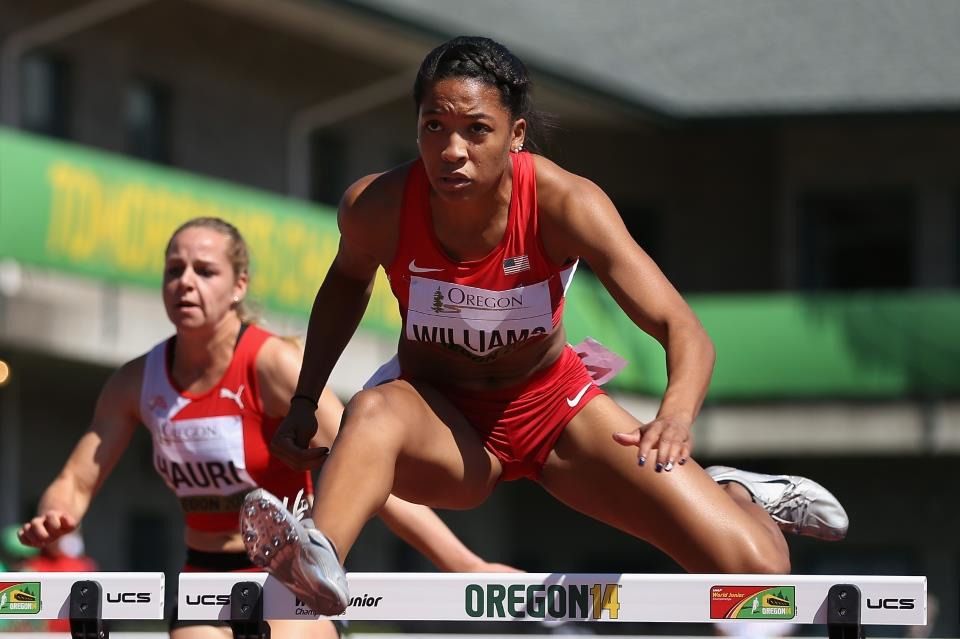 Kendell Williams on her way to winning the world U20 100m hurdles title in 2014 (© Getty Images)
In every sense, Williams is an accomplished student of her event.
Williams' education in combined events started when her father Blane slowly added more events to her track sessions.
"When I very first started track," she recalls, "I ran the 100m and the 200m. That slowly turned into the long jump and the 200m and 400m. And then when I was old enough to hurdle, we tried the hurdles. I already had some experience with high jump, and at that point, we're almost at the pentathlon. So, he just had to teach me how to throw the shot put and run the 800m. That's how we got started in the multis – just slowly trying different events over the years."
Williams won her first NCAA title in 2014 with a score of 4635. It couldn't be ratified as a world U20 record, but she still sits at the top of the world U20 all-time list, ahead of Carolina Kluft (4535) and Nafi Thiam (4558).
Williams was the first athlete to win four consecutive NCAA titles in the same event indoors, and in 2017 she and her brother Devon won the NCAA indoor pentathlon and heptathlon titles respectively at the same meeting, the only siblings ever to do so.
In between college titles, Williams placed fifth at the World Indoor Championships in Portland in 2016 and participated in her first Olympics in Rio later that year.
"At my first Olympics, I felt I had done my whole college season and so the Olympics was kind of extra – OK, this is great, I get to go to the Olympics," she explains. "Whereas in Tokyo, I felt the focus was 'how close can I get to the podium?' From just being happy to be there to really feeling like I belong – that I could compete against these other really talented women in the world."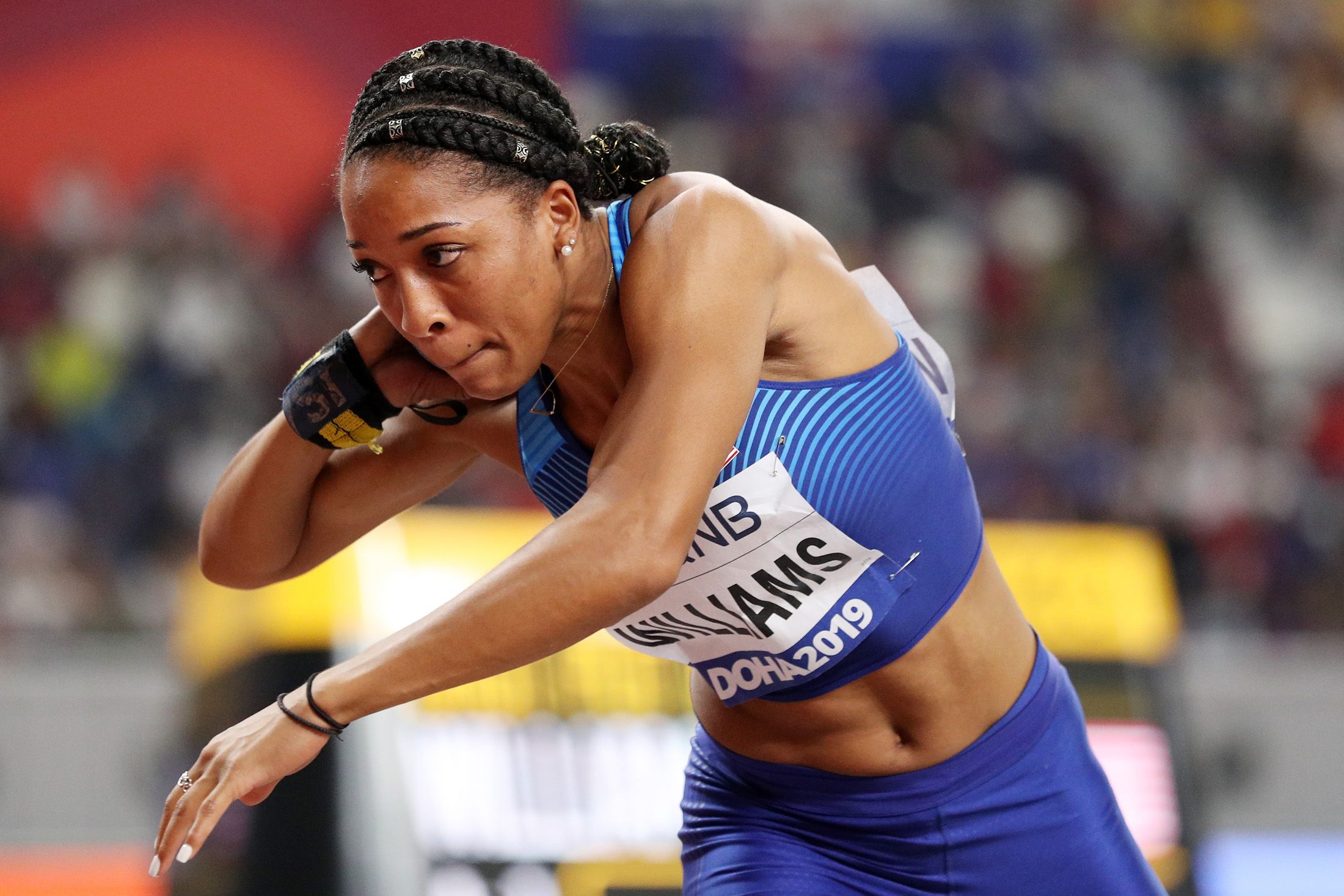 Kendell Williams finished fifth at the 2019 World Championships, above, and at the Tokyo Olympic Games, below (© AFP / Getty Images)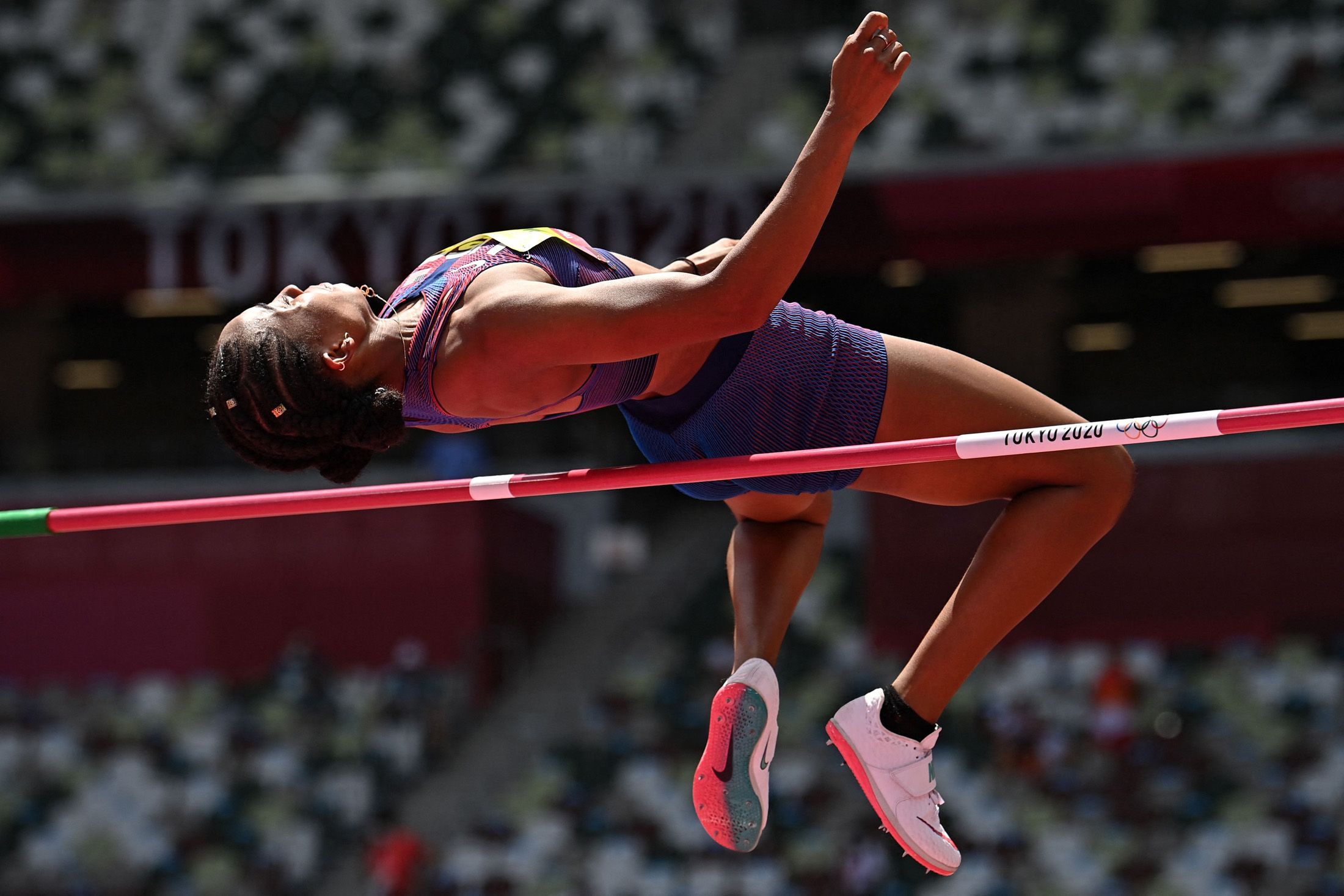 Williams was getting closer to the podium in the big competitions as her heptathlon PB climbed above 6400, 6500 and 6600. Her graduation to elite status secured her first invitation to Götzis in 2019, where she finished fifth, and she also finished fifth that year at the World Championships in Doha. After a hiatus due to the Covid pandemic, Williams returned to competition at Götzis in 2021 where she finished third.
"Götzis is usually my first heptathlon of the year," she says. "With any multi, for the very first one, I never really set the bar too high. I try to focus on the techniques that we've been working on, my cues. If the score comes together, great. And so, at Götzis it just so happened to come together, and I was able to get third (6383). I was really pleased with that."
Then came a return to Hayward Field for the US Olympic trials, in oppressive 37C/100F heat. "It was hot, record-setting temperatures in Oregon for those two days," she recalls. "They didn't move the start time, so we took the brutal heat. I just tried to make sure that I stayed hydrated. I had a fan that blew water, and cooling towels over my head. So, I was very happy to score a personal best (6683), especially under those conditions.
"Coming off a really good USAs, I was hoping that some of that momentum would carry a little more into Tokyo. In Tokyo I didn't do enough on day one, so on day two, I had a lot of ground to make up. I was able to come back with a solid long jump, a PR in the javelin and a solid 800m. To end up fifth at the Olympics (6508), I couldn't help but be proud."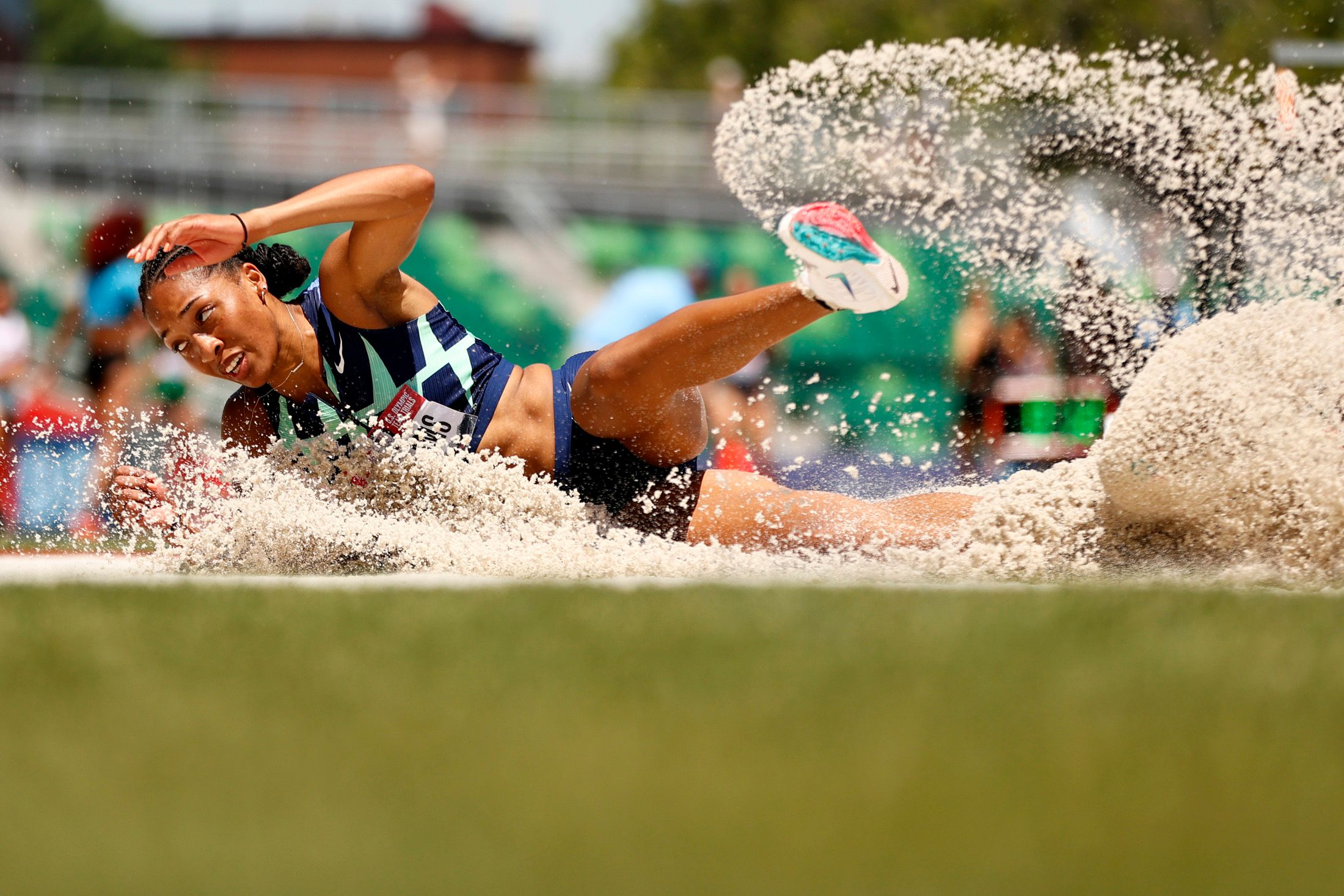 Kendell Williams set her lifetime best of 6683 at the 2021 US Olympic Trials at Hayward Field, Eugene (© Getty Images)
William's 2021 season – winning the World Athletics Combined Events Challenge and posting the fourth best heptathlon score in the world – set her up well for the 2022 season. Her Combined Events Challenge win earned Williams an invitation to the World Athletics Indoor Championships Belgrade 22. She warmed up for the competition in the Serbian capital by finishing second at the US Indoor Championships in Spokane in February.
"We were pretty relaxed going in – we didn't want to fire all of our guns at USAs. I feel like we saw a lot of good things, and I'm looking forward to seeing how that translates when I'm fresh and peaked for the Worlds."
Williams will be joined in Belgrade by two of her training partners, world indoor and outdoor champion Katarina Johnson-Thompson and fellow US Tokyo Olympian Garrett Scantling. William's long-time coach is Petros Kyprianou, who was based at the University of Georgia until 2021. As she finishes her masters in public relations, Williams is now in the process of relocating to Florida to continue with Kyprianou's group, which also includes her brother Devon and 2016 Olympic 110m hurdles champion Omar McLeod.
"I think having a bunch of talented athletes that span across a variety of different events is so cool," said Williams. "We can bounce ideas off each other – I'm doing hurdle starts and Omar might see something. And then we changed my blocks, and my start was better. Garrett might have a shot put tip that he'll give to me and Kat. We all work together to make each other better."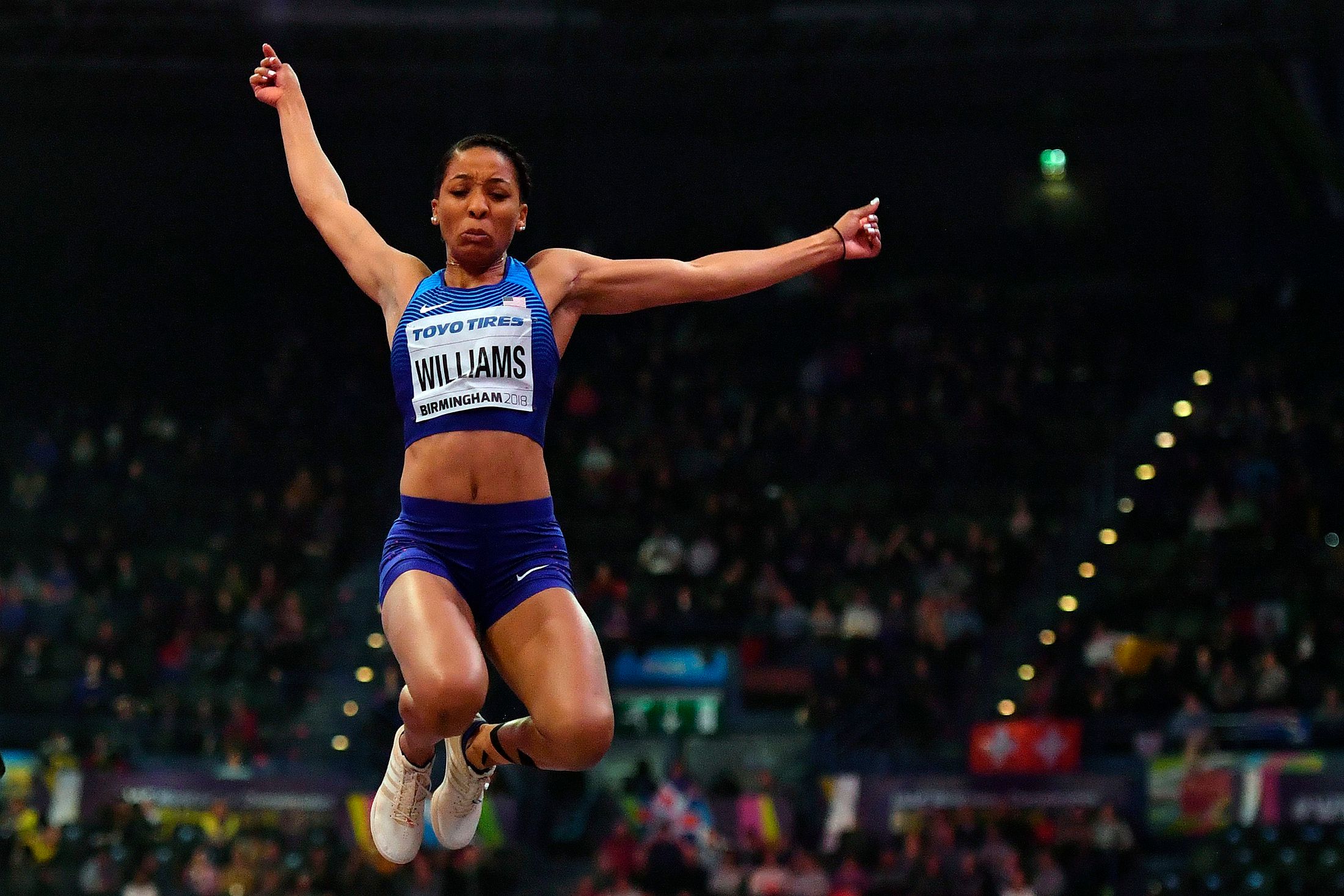 Kendell Williams in action at the World Indoor Championships Birmingham 2018 (© AFP / Getty Images)
Whether McLeod will make a decathlon cameo remains a mystery for now, but one of the proud achievements of the group is, according to Kyprianou, the unofficial world best combined heptathlon-decathlon score by a sister and brother. Williams' best of 6683 is complemented by Devon's 8345, taking them to a combined score of 15,028.
"I say all the time that my brother is my favourite athlete," Williams enthuses. "He has had a lot of challenges throughout his career, and he just gets up, refocuses and goes back after it. That resilience is so inspiring. Family's so important to me, and it's been fun traveling all over the world together with our parents (Blane and Terri) because they don't miss anything – they are at every single competition."
Williams has been remarkably consistent over the years and, as a 12.58 hurdler and seven-metre long jumper, she has few weak events requiring improvement as she closes in on 6700 points. But there is always something to study, something to master.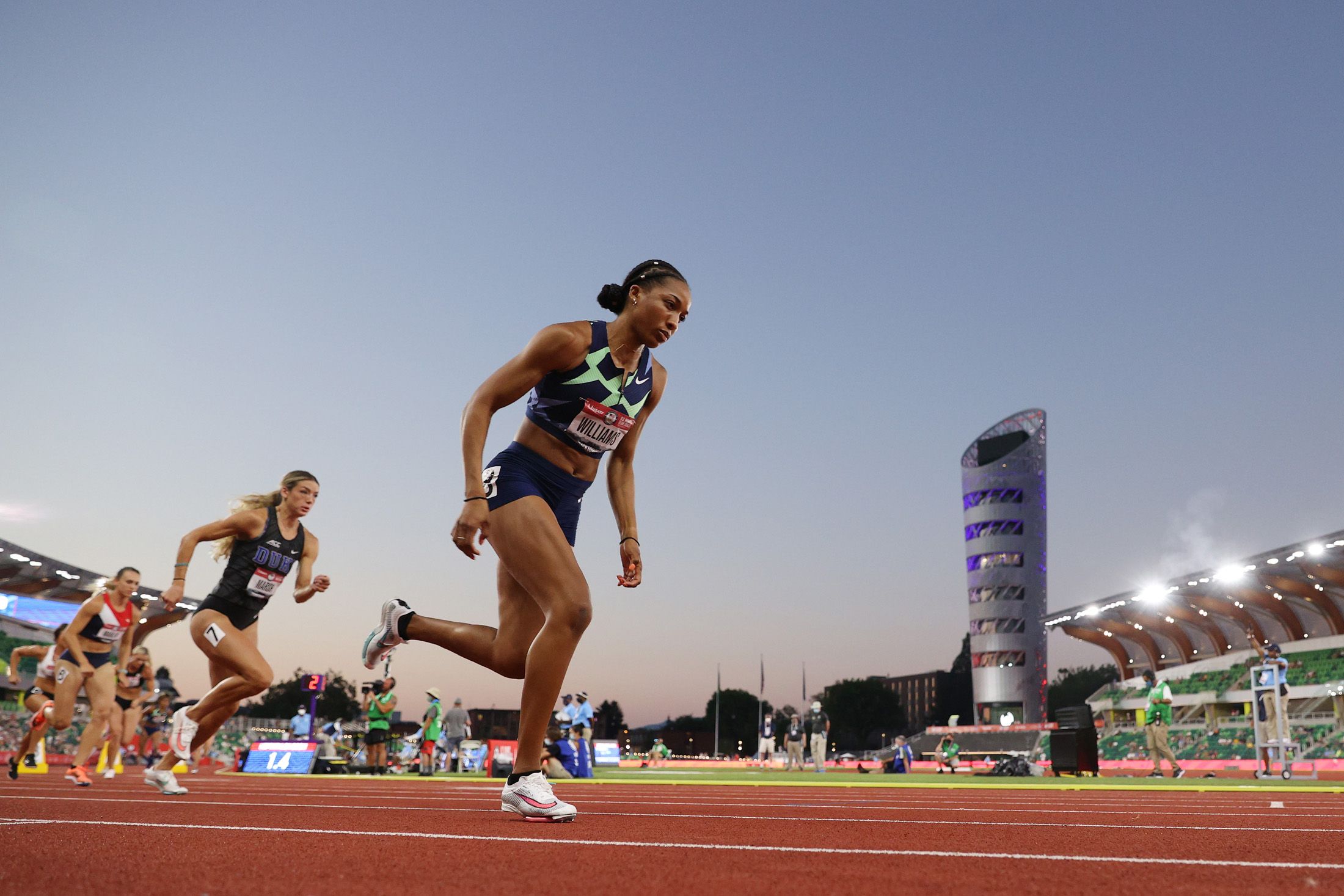 Hayward Field in Eugene, Oregon, holds many special memories for Kendell Williams (© Getty Images)
"I definitely want to improve in the shot put and the 800m," she says. "My indoor PB is 13.55m, but on average, I'll throw in the 12-metre range, so my next goal is to see more throws over 13 metres. In the 800m, I feel like I've been stuck at that 2:16 range for so long. I really want to challenge myself to break through and get to 2:14 or lower. I feel like my fitness is at a place where I'm able to run faster – working on that mental barrier, pushing through the pain of the run.
"Every time I do a heptathlon or pentathlon, I just try to stay consistent and produce a consistent score," she adds. "That comes from learning more about the events, understanding the technique. And ever since I was a freshman in college, becoming more of a student of my event."
Gabriella Pieraccini for World Athletics