Kara Winger at the World Athletics Championships Oregon22 (© Getty Images)
With each landmark achievement this season – and there have been many – Kara Winger was met with the same question from journalists and fans.
"Are you sure you want to retire?"
The US javelin thrower decided some time ago that 2022 would be her final year in the sport. It also ended up being her best season by quite some margin.
She won her first global medal, taking silver at the World Athletics Championships Oregon22, then won NACAC gold and followed that with a US record of 68.11m in Brussels before capping her season by taking victory at the Wanda Diamond League Final.
But after all of that, the 36-year-old has stood by her decision to hang up her throwing shoes. Doing it on her own terms, off the back of such a successful season with no regrets, has been a dream finish, she says.
"I can retire happy," she said. "It took me 12 years to break my PR and I'm not going to wait another 12. Breaking my PR was my last box to check. With all of the difficulty that I've had in my career, a part of me believed that it would never happen again.
"I've been so grateful to know that this is my last go all season," she added. "Being aware of the end for years – even through my most recent injury recovery – means I've soaked up each experience and treasured memory all the more (and I was already pretty good at that). I don't think you get to repeat last season magic. And I wouldn't want to try. I have other plans."
Throughout her 18-year international career, Winger had dreamt of a season like this. Numerous injuries and setbacks over the years threatened to derail those ambitions, and as the years went by she knew that time wasn't on her side.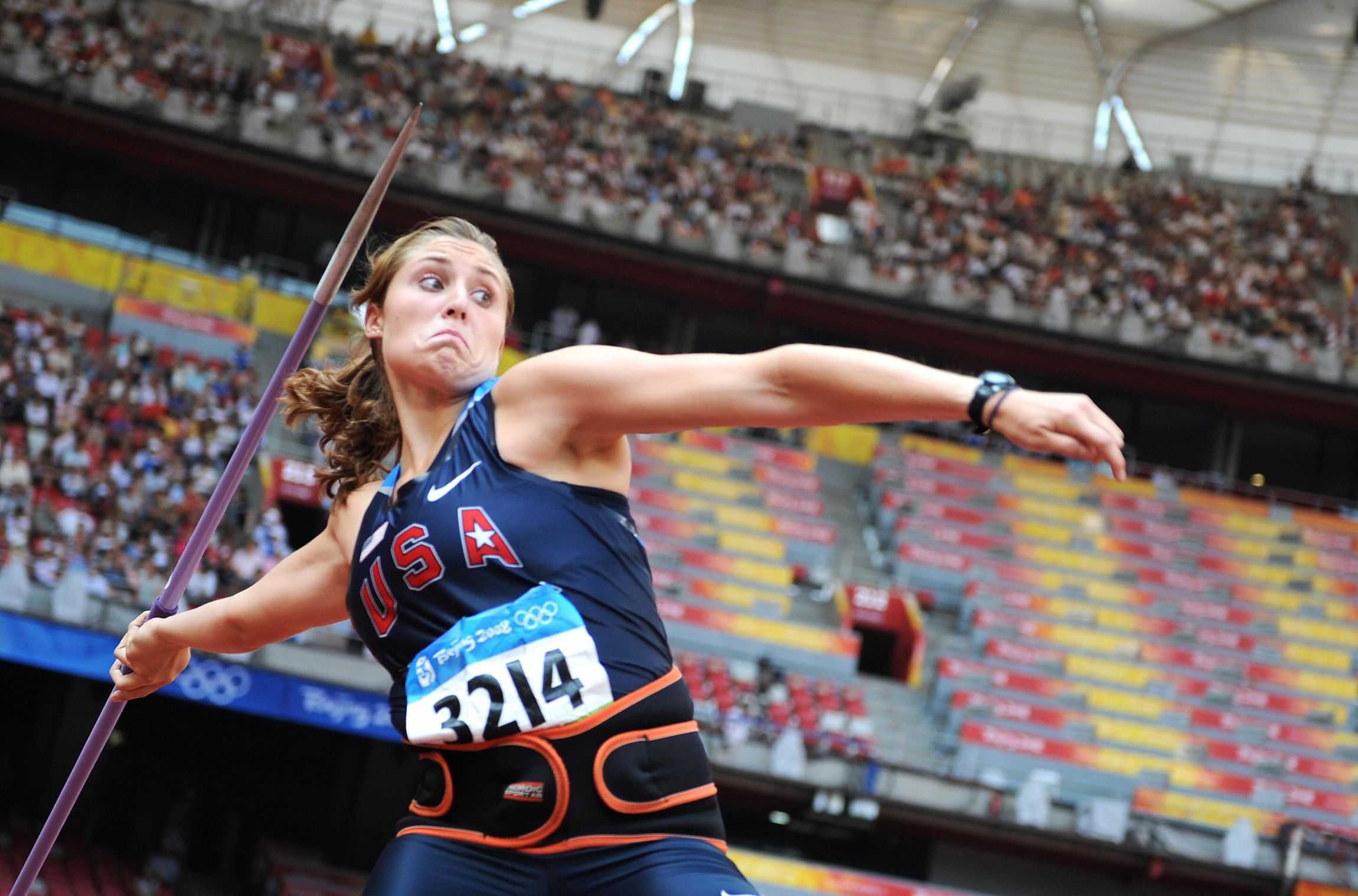 Kara Winger at the 2008 Olympics in Beijing (© Getty Images)

Her career began with much promise, taking silver at the 2005 Pan-American Junior Championships in Windsor, Canada. 2008 became a breakthrough year on several fronts, as she threw beyond 60 metres for the first time, won her first national title and competed at her first Olympic Games.
She went on to compete at three more Olympics, as well as six World Championships, making the finals in 2015, 2019 and 2022. She also took silver at the 2015 Pan-American Games and gold at the 2019 edition, as well as NACAC gold in 2015 before regaining the title in 2022.
But in among those successes, there were also missed opportunities brought on by injury. And most of those injury-induced dips in form just so happened to coincide with Olympic years.
After tearing her ACL at the 2012 Olympic Trials, Winger wasn't at her best at the London Games one month later. That she managed to throw 56 metres in qualifying was a miracle in itself. Her preparation for the next Olympic season was less than ideal too, as she suffered a torn left labrum and rotator cuff in 2015 and underwent shoulder surgery later that year. Her shoulder wasn't fully up to speed in 2016 and she was also dealing with a niggling knee problem throughout the season, ultimately missing the Olympic final by one place.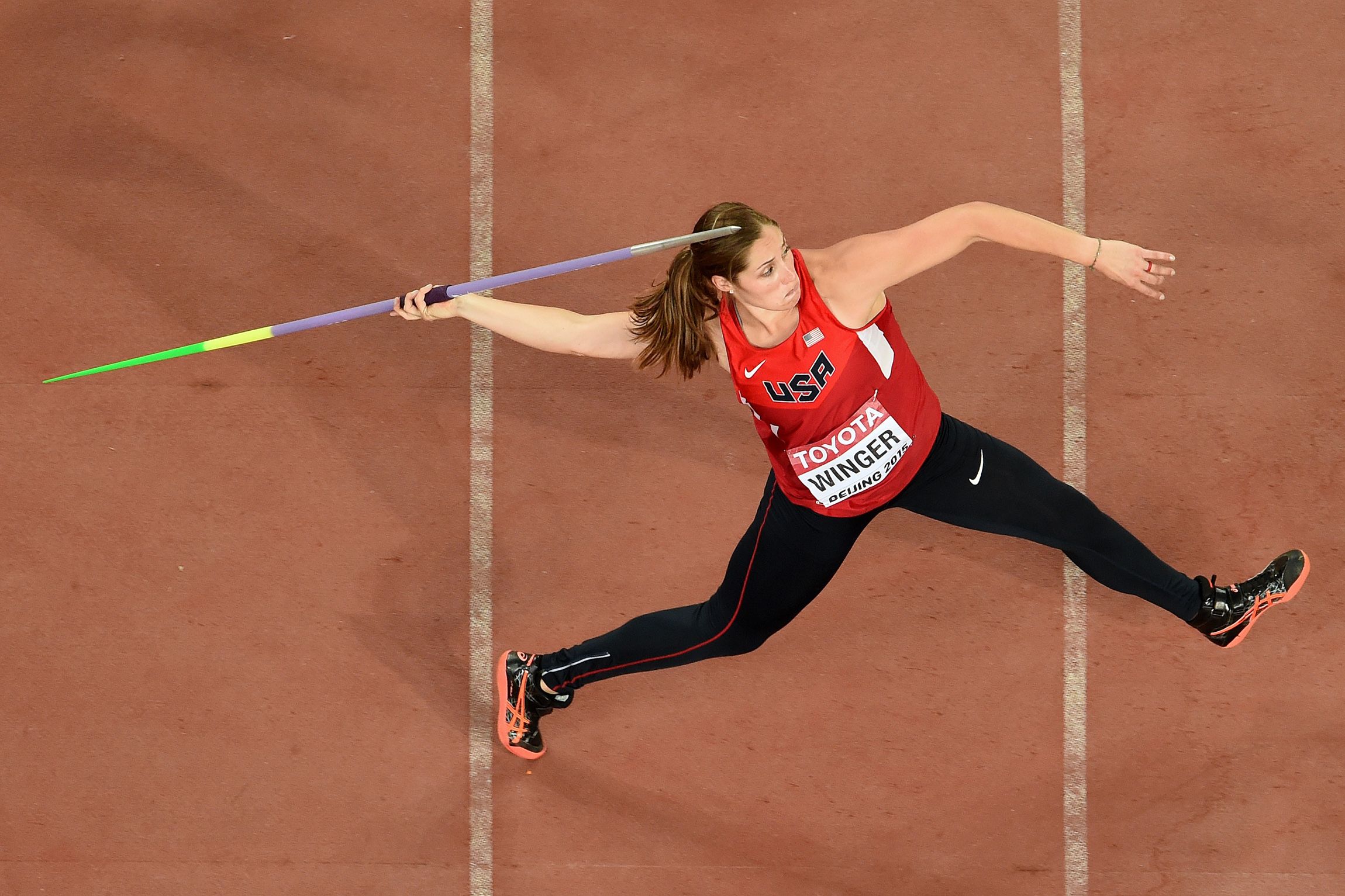 Kara Winger at the 2015 World Championships (© Getty Images)

Winger was in great form in the pandemic-hit 2020 season, throwing 64.44m in her one and only competition that year. Had the Olympic Games gone ahead as originally planned that season, perhaps that would have marked a breakthrough moment in Winger's career. As it was, though, she suffered a second ACL tear later that year, compromising her form for the 2021 season. She qualified for her fourth Games, but once more missed out on the final.
It was far from an unfulfilling experience, though. Winger was named captain of the US athletics team for the Games, and she went on to carry the US flag at the closing ceremony – fitting recognition for her persistence over the years, and a reminder that competing at an Olympics is about more than just winning medals.
Winger, however, was still desperately keen to win a global medal.
It became one of her biggest goals as she embarked on her 2022 farewell season. And, having announced ahead of time that it would be her final year, she found that she could finally compete without the burden of pressure of expectation. She was throwing for the love of throwing.
"When you've had two surgeries on your block leg, each throw is a little bit scary because you don't know how many are left, so you don't know how hard to try in each throw," she said. "But when you know exactly how many throws you have left (in your career), you know that each one can be quality. I knew I could really attack every single one.
"And to have my husband (Russ, former international shot putter and discus thrower) as my coach for my final year just makes the whole thing so much more special," added Winger, who was previously coached by Dana Lyon. "I've been able to fully relax and have a great time."


Turning point
Despite a strong start to her final year, throwing beyond 63 metres in her first four competitions, Winger was still lacking the 64.00m qualifying standard for the World Championships on home soil.
Going into the US Championships, she knew that she not only needed a top-three finish to secure her place on the team, she also had to produce her best throw of the year.
She had a couple of 58-metre throws in the first three rounds and was sitting in third place with two rounds to go. A 60.46m effort in round five gave her the lead, but she needed more than that.
She took to the runway one final time and unleashed a 64.26m throw, securing victory and her place at the World Championships.
"I battled through a lot of stuff in that competition," she recalled. "So that became my most recent memory of Hayward Field going into the World Championships."
Less than a month later, Winger found herself on the same runway. In a highly competitive and memorable final, she was in fifth place with two rounds to go. A 62.17m effort in round five moved her up to fourth, but she still wasn't done. With her final throw of the competition, Winger launched her spear out to 64.05m to move into second place.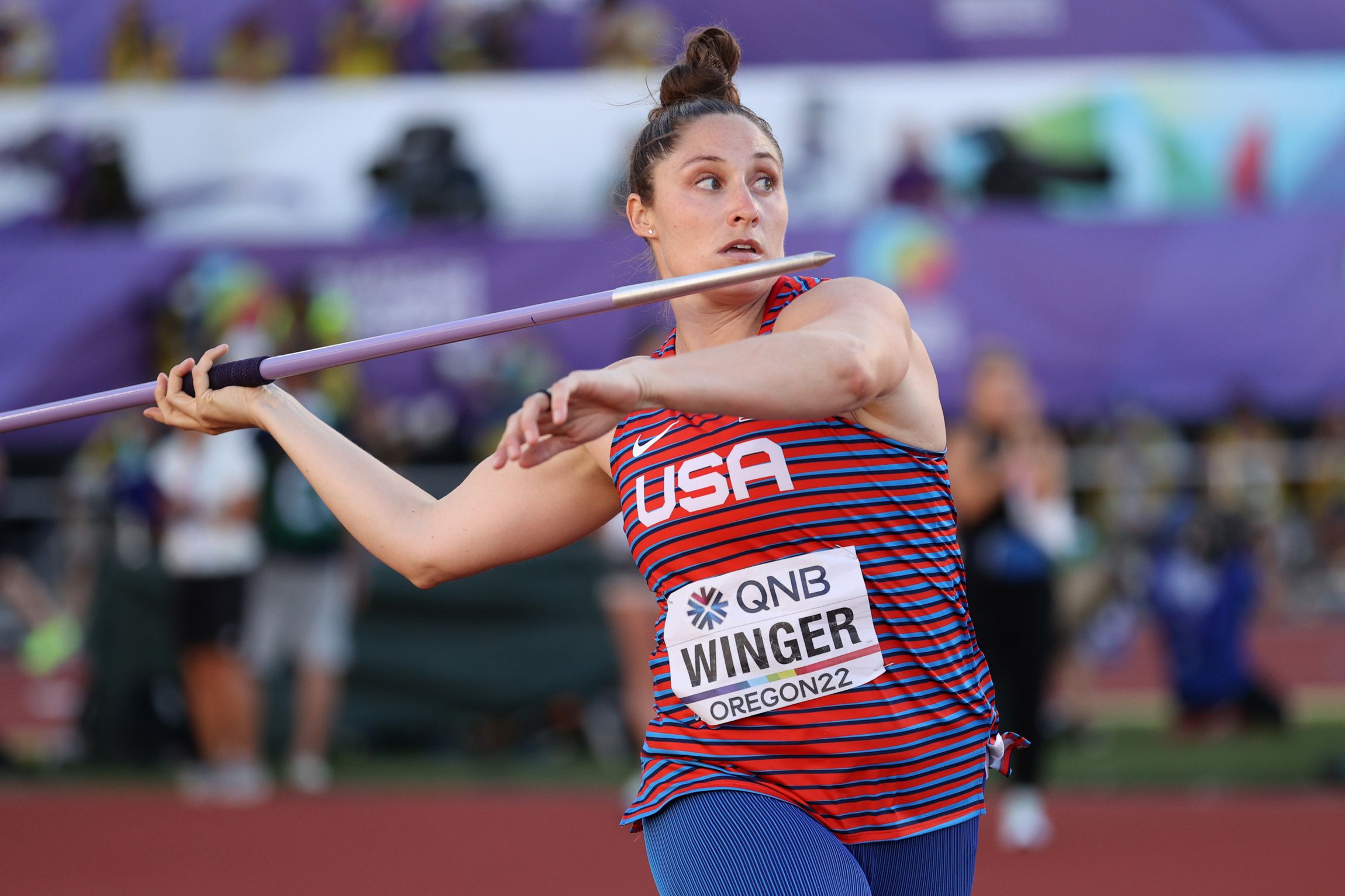 Kara Winger at the World Athletics Championships Oregon22 (© Getty Images)

Japan's Haruka Kitaguchi responded with her best throw of the competition, also making it on to the podium, but her 63.27m throw wasn't enough to overtake Winger, who held on to the silver medal position.
It wasn't just Winger's first global medal, it was also USA's first women's javelin medal at the World Championships.
"I have dreamed about these championships for a long time," Winger said at the time. "My inspiration for retirement at Hayward Field was Steffi Nerius of Germany winning the 2009 World Championships in front of a home crowd in Berlin the year she announced her retirement, so knowing I was going to have a home crowd, I thought, 'What better way to go out than maybe grabbing a medal at my home field?'"
Winger competed alongside Nerius at those World Championships back in 2009. Czech legend Barbora Spotakova was also in that competition, taking a silver medal on that occasion. Over the years, Spotakova and Winger built up a good friendship and it was strengthened in 2022 in what became the final competitive season for both women.
"I can't believe I've got to compete with Barbora Spotakova for my entire professional career," said Winger. "She is so wonderful, she is incredibly consistent. I'm just such a huge fan. To be sharing these moments with her this season is really, really special."
Leaving a legacy
In much the same way that Winger looked up to Spotakova, many young throwers in the US would have no doubt been inspired by Winger's time in the sport.
In fact, throwing events as a whole have been a revelation for US women in recent years. For the first time ever at a World Championships, US women earned medals in all four throwing disciplines, including two gold medals.
In terms of depth on the international scene, the javelin remains the weakest of the throwing disciplines for US women, but Winger aims to do all she can to help change that.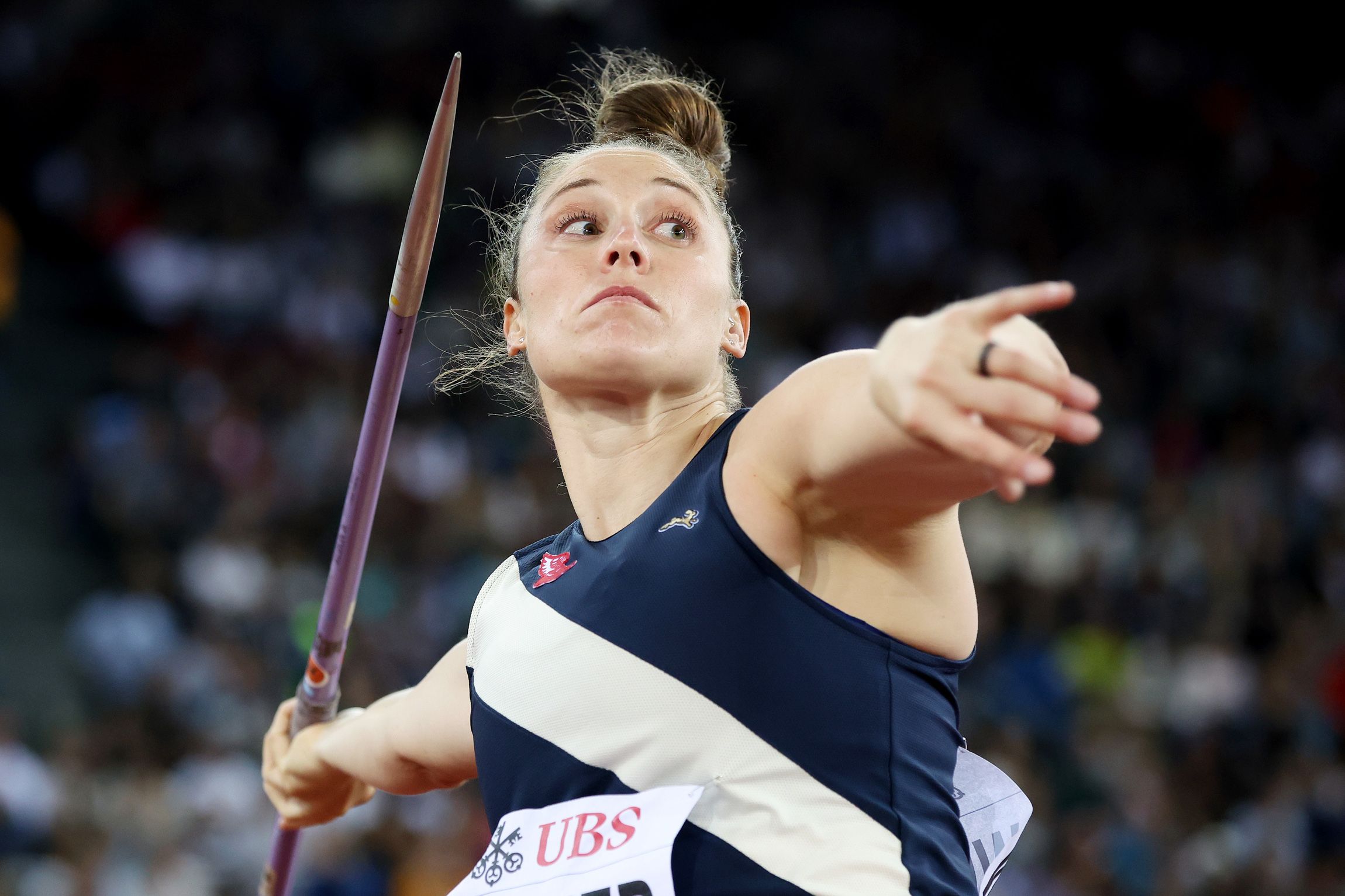 Kara Winger at the Wanda Diamond League Final in Zurich (© Getty Images)

"It was so special to have medals in all four throws at the World Championships, five medals in total," she said. "I was rounding out the group so there was a bit of pressure there. I realised this season that American women's javelin have all of a sudden got older. I've been the oldest since I was 24 and that's 12 years ago. To have people now who are 33, 30 years old filling in the gaps, that's only going to get better.
"Earlier this year I was in a competition where two women from the US threw over 200 feet (60.96m) – and I wasn't one of them. I love that.
"I'm still going to be involved as a coach, giving advice to help other US throwers succeed on the world stage. I also want to direct funds to them by creating a javelin grant system."
Indeed, her work in that area has already started. Winger is senior director for Parity, an organisation dedicated to closing the gender pay gap in sports.
There will also be an easy segue into coaching as Winger has already made plans to take a more active role in the training of Ariana Ince, her US teammate, who is currently coached by John Dagata.
"She actually lived with us in Colorado during lockdown in 2020," said Winger. "She's just awesome, for five years now we've been almost inseparable, rooting for each other at major championships. My husband has such a good eye. They're far more similar in terms of athleticism, so I'm really excited to see what they can do together. I'll be on hand to help translate things into competition terms, helping her to dominate like I know she can."
In fact, Ince is wasting no time in taking up the baton from Winger. At the Continental Tour Gold meeting in Zagreb last weekend, just three days after Winger's last ever competition, Ince threw a lifetime best of 64.38m to win the competition.
Just a couple of weeks prior, Winger and Ince had taken gold and silver at the NACAC Championships in The Bahamas, where they spent as much time as they could together, knowing it would be their final opportunity to do so at an international event.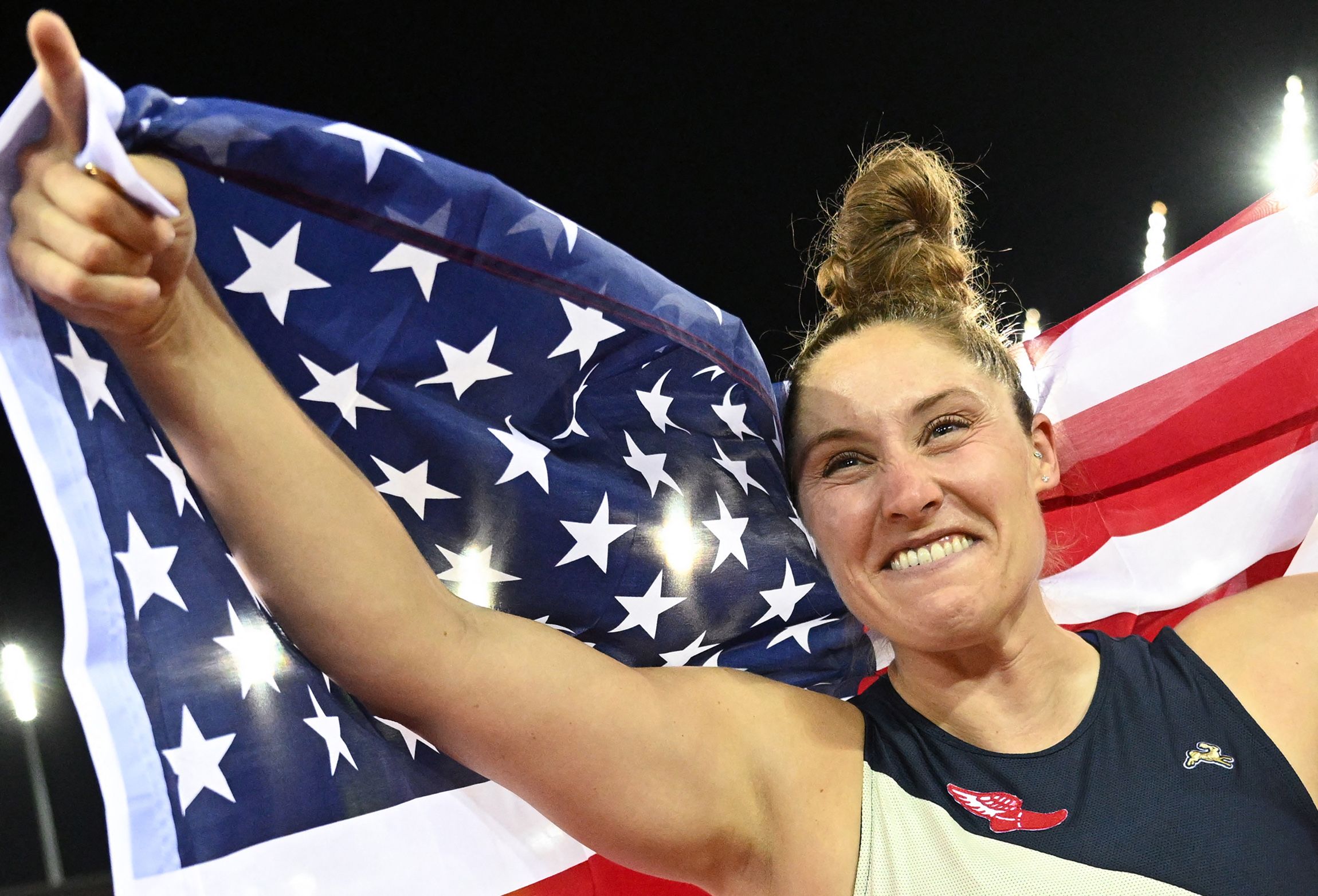 Kara Winger at the Wanda Diamond League Final in Zurich (© AFP / Getty Images)

After wrapping up her championship career in The Bahamas, Winger went on to enjoy the dream finish to her season with victories in Brussels and Zurich. She broke the US record in Brussels with 68.11m, while she won in Zurich with 64.98m and all six of her throws were beyond 61 metres – the best series of her career.
"I had been knocked down a lot of times and I didn't know if it was ever going to happen," she says. "I overcame so much and I'm just incredibly grateful that I got to become that first person to win a medal in the women's javelin.
"To be part of the history that I always wanted to be part of is what makes the ending to this whole journey so unbelievable and fitting."
Jon Mulkeen for World Athletics