Camryn Rogers, Brooke Andersen and Janee Kassanavoid at the World Athletics Championships Oregon22 (© Getty Images)
This year's World Athletics Championships Oregon22 was an event of firsts.
It was the first time the championships had taken place in the USA, there were staggering world records by Mondo Duplantis in the pole vault and Sydney McLaughlin in the 400m hurdles, medal sweeps in both the men's and women's 100m and an unprecedented fifth successive gold in the men's hammer by Pawel Fajdek of Poland.
But perhaps it was the women's hammer that saw the most significant first – potentially marking a new era for the event.
It was the first time no European athlete made the podium, with North American athletes taking gold, silver and bronze, signifying a changing of the guard with a new continent as the dominant force.
It was also only the fifth time in any throws event – men's or women's – where there were no European medallists in the World Championships, the others being women's javelin and men's shot put, both in Doha in 2019 and Oregon in 2022.
The men's shot in Eugene also saw a historic 1-2-3 for the USA, but that, of course, is already an event with a rich American heritage. Not so the women's hammer, until recent years.
Hammering home the point
It's not just championship podiums where North American women are starting to dominate – it's also on the world lists.
North American women now make up half of the world all-time top 10. Of all the throwers in history to have thrown beyond 74 metres – usually the benchmark of where major medals are won – the USA makes up the biggest share at 20%. That's a significant increase on the national split compared to 10 years ago.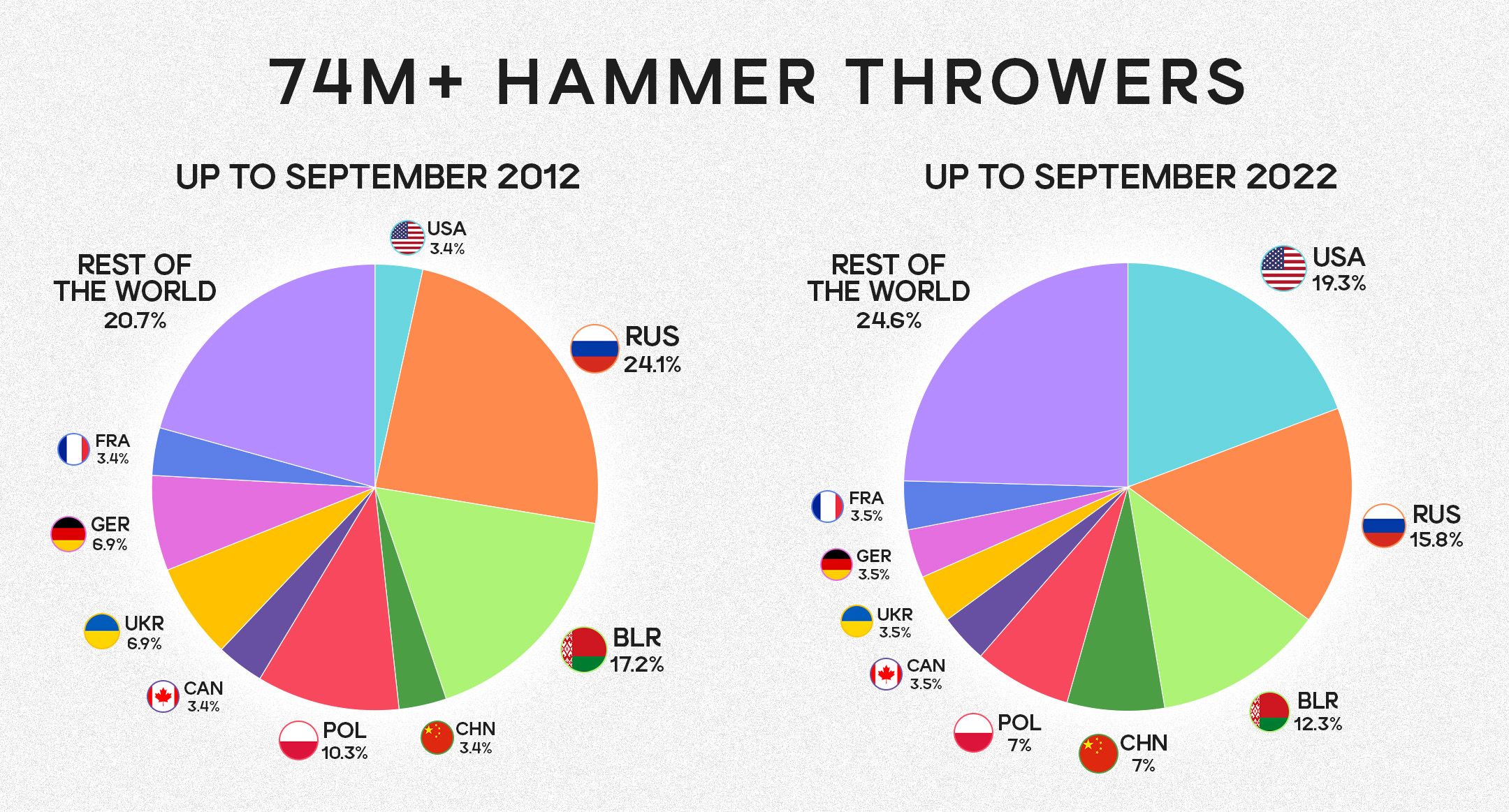 In the absence of Poland's four-time world champion Anita Wlodarczyk due to a knee injury, there was a breakthrough title by DeAnna Price in Doha in 2019.
The ebullient Price staked a further claim on global leadership in the event by setting a North American record of 80.31m to win the US Olympic Trials in June 2021, becoming only the second woman after Wlodarczyk to throw beyond 80 metres.
However, carrying multiple injuries in her leg, hip and foot, Price could only battle to eighth place at the Tokyo Olympics a few weeks later as the iconic Wlodarczyk took her third successive Olympic gold.
And from the flowering of North American women's hammer throwing through Price, there was a full bloom in Eugene. The unlucky Price was absent from Eugene through Covid-19 and so too was Wlodarczyk through a thigh injury.
But both would have had to have been near their absolute best to have changed the outcome at the top of the podium. USA's Brooke Anderson won gold with 78.96m – the second-best winning throw in World Championships history – and, in a demonstration of the new depth of North American hammer throwing, Camryn Rogers of Canada took silver with 75.62m and Andersen's US teammate Janee Kassanavoid claimed bronze with 74.86m. Another Canadian thrower, Jillian Weir placed fifth with 72.41m.
Despite Wlodarczyk's unfortunate absence – an injury brought on by chasing a car thief – Andersen's victory was a fair reflection of a season in which she held the world-leading throw of 79.02m and won eight of 10 competitions she took part in.
For Andersen it was her third senior global championships and indicative of her upward trajectory after placing 20th in qualifying at the 2019 World Championships and 10th in the Olympic final last year.
Rogers is an athlete who has shown huge promise, ever since winning Pan-American U20 gold in 2017 and world U20 gold in Tampere in 2018. Silver in Oregon, in what was the 23-year-old's first senior World Championships, was a huge result. Before then, she had won the NCAA title with a collegiate record of 77.67m, and she ended her season by claiming the Commonwealth title.
Kassanavoid also celebrated her first appearance at a World Championships with a medal, as she took bronze.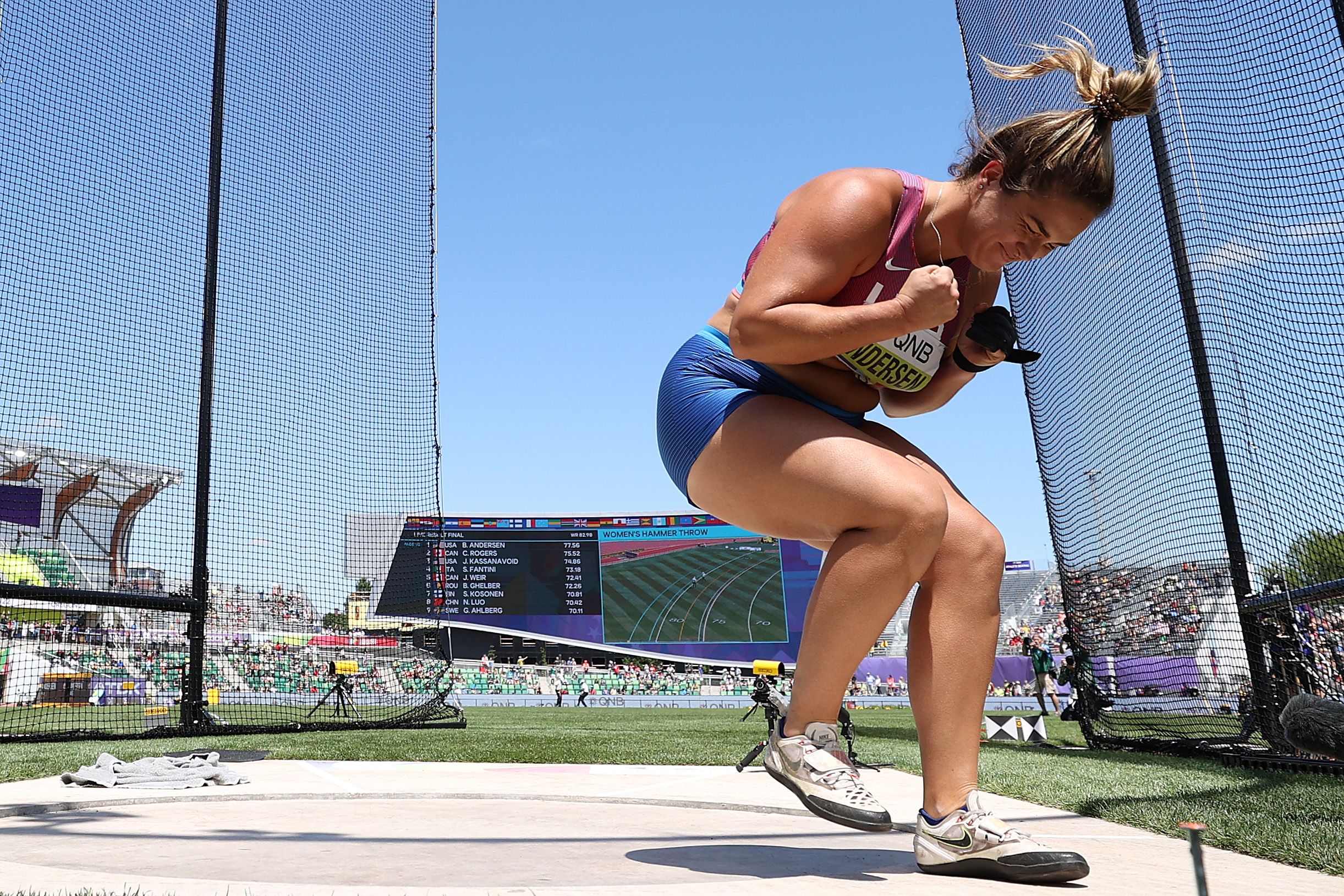 Brooke Andersen in the hammer at the World Athletics Championships Oregon22 (© Getty Images)

With all three athletes in their mid-twenties, they each still have several years ahead of them to chase the major prizes in the sport and forge a new North American dynasty.
"It is amazing to carry on DeAnna's mission and keep it in the United States," Andersen said after her Oregon victory, evoking a sense of a new chapter in the event.
Like Andersen and Kassanavoid, Rogers' success is a product of the US collegiate system. Having completed her competitive collegiate duties, Rogers is ready for the big challenges ahead.
"I could not be more grateful to have finished my NCAA season so strong and my entire NCAA collegiate career," she said. "Every meet we went in with a plan. We came in with a same plan: to execute and get the job done. Everything we are doing, we are on the right path. There is still more to go and that's one of the most exciting parts."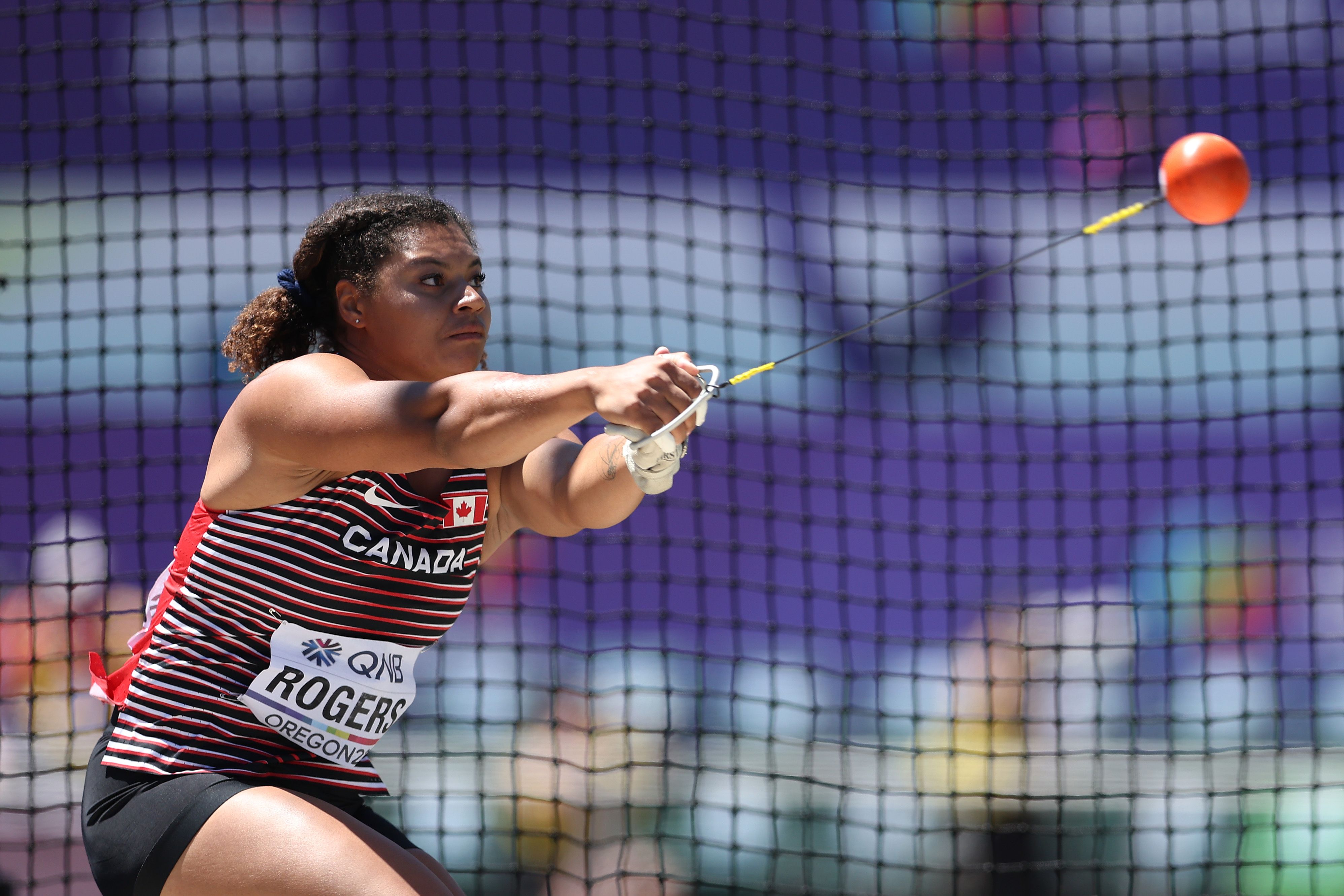 Camryn Rogers at the World Athletics Championships Oregon22 (© Getty Images)

Kassanavoid is arguably the one who still has the furthest to go in fulfilling her potential and the rawest talent of all. "I am probably one of the weakest hammer throwers in the field," she said when quizzed on her strength.
"I came from a lot of knee surgeries. The more time I have in training to develop special strength in the weight room, the better. I still have a lot of progression to make. I've got to keep actively working. The better you get, the harder it is to get better. But still, I am happy with being consistent at 74-78 metres."
She was also a relative late comer to the event, having taken part in soccer, gymnastics, basketball, softball and dance in her youth, rather than track and field. "I have a lot of natural raw talent as an athlete, being dynamic, powerful and strong.
"At a young age, I learned all those fundamental skills of balance, speed and flexibility," she says. "All of that has progressed very fast and well with hammer. It takes a lot of skills that a lot of people don't recognise in the ring, what happens in six to 10 seconds. All that has helped me a lot in working progressively with my coach."
She is pleased to see the collective success of US teammates like Andersen and Price, for whom she has a healthy respect. "We are doing great. I'm super happy and super proud of everyone. Track and field is a very hard sport – you have to have a lot of intrinsic motivation.
"Your train by yourself, you can't always train with your coach. So, it's finding ways and how bad you want it." She also says that there is more to come from the US conveyor of throws talent.
"We have revolutionised a whole bunch these past couple of years. And there's a bunch of people still coming in. Everyone is continuing to learn new things and bring their strengths to the table. As long as I am staying happy and healthy, I have a lot more years in this sport to progress.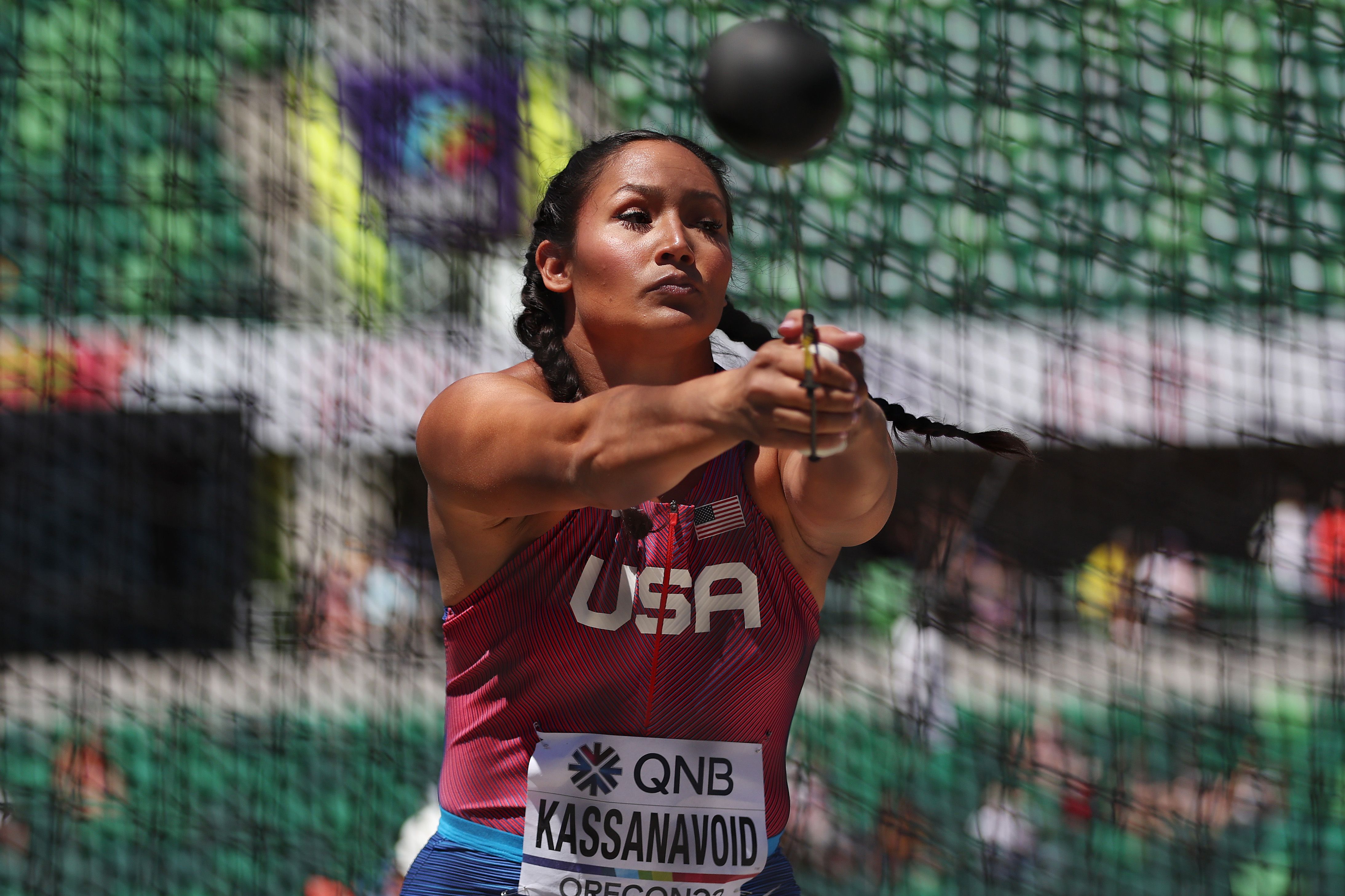 Janee Kassanavoid at the World Athletics Championships Oregon22 (© Getty Images)

"Other girls could be learning from me," she added. "I could be a leader and a role model for those youth girls wanting to throw hammer. They could be as good if not better than me. But I hope to perform well enough to keep my name around."
And while she is enjoying the rising success of the USA scene, she leaves no doubts over her personal ambitions.
"I am an athlete; I am a competitor at heart," said Kassanavoid, the only woman this year to beat Andersen. "The goal is to be the best and make history continuously.
"If everyone is competing at a high level, there's going to be records broken, there's going to be high level competitions. Of course, we all wish each other well, but at the end of the day, we are going for gold."
It's that type of keen domestic rivalry that has kept Polish hammer throwing at the forefront internationally through the likes of Wlodarczyk, Malwina Kopron and Joanna Fiodorow in the women's event and Fajdek and Olympic champion Wojciech Nowicki in the men's event over the past decade.
And although Wlodarczyk intends to compete until the Paris 2024 Olympics, it is North American athletes who look set to be dominant force of women's hammer throwing through the coming era.
Chris Broadbent for World Athletics