Getnet Wale, Lamecha Girma and Senbere Teferi (© Guillaume Laurent)
Over the past few years, people have taken note of the rise of Ethiopian steeplechasers.
Although a few Ethiopian women have enjoyed moderate success in recent Olympic cycles, until recently the men's steeplechase has been mostly a Kenyan domain. Part of the reason for Ethiopia's delayed success in the men's event – as compared to the other middle and longer distance events at which they have been so competitive – has to do with access.
"The problem in Ethiopia has been the obstacles," said Teshome Kebede, who has been on a mission to popularise the event in the country and help rear a new generation of Ethiopian steeplechase talent.
Obstacles here are both literal and figurative – both the economic and physical barriers. "The only availability [of hurdles] is in cities – in Addis Ababa and in some academies."
Kebede has made it his personal mission to develop Ethiopian athletes in the steeplechase, and studied the discipline before going around to regions in the country to recruit potential talent. His early protégés include 2019 Diamond League champion Getnet Wale and world silver medallist Lamecha Girma.
Finding new events and opportunities in a place like Ethiopia is crucial, too, because the level of competition in long-distance running events is so high. Making Olympic and World Championship teams in the 10,000m and 5000m can even be harder than bringing home hardware from the championship events. But, as will be evident at the FBK Games in Hengelo on 6 June – which will be followed two days later by the Ethiopian Olympic track trials – range and quick adaptation are prerequisites for all Ethiopian hopefuls, regardless of what is already on their resumes.
Gebere Lij – a farmer's child
Wale, in many ways, has been the face of athletic versatility and variability.
He says his athletic and mental assets are derived from the grit and strength of being a gebere lij – a farmer's child – growing up in rural Ethiopia. Wale was born in Sek'ela, Ethiopia, in the province of Gojjam, which is in the north-western part of the Amhara region, and he grew up helping his parents and six siblings tend to their crops.



(© Guillaume Laurent)
"My parents encouraged me, telling me to be courageous and strong. My father first didn't know anything about sport but when I started he would listen to the radio and hear about Ethiopian athletes. When I started to show some success, he told me I could do less work on the farm, so I could better focus on school and sport. And as much as he could, he would try to buy me some sports clothes to support me."
Wale did not know much about the steeplechase, but Hiwot Ayalew, who just missed the podium in the steeplechase at the London 2012 Olympics, also grew up in Gojjam. As a result, Wale had some rudimentary interests when Kebede paid him a visit.
Seeing potential, Kebede invited Wale to train at the Ethiopian Youth Sport Academy in Addis Ababa – partially funded by the Ethiopian government to allow athletes in 11 sports to grow and develop – and hone his skills.
"To be honest, I didn't know anything about the steeplechase when I started," Wale said. "There is none in the countryside. [Before my first competition] I watched some videos about how to jump over the obstacles and then I went to Addis Ababa to run my first race. But because I'm a farmer's child, I was eager to run well and was selected for the national team."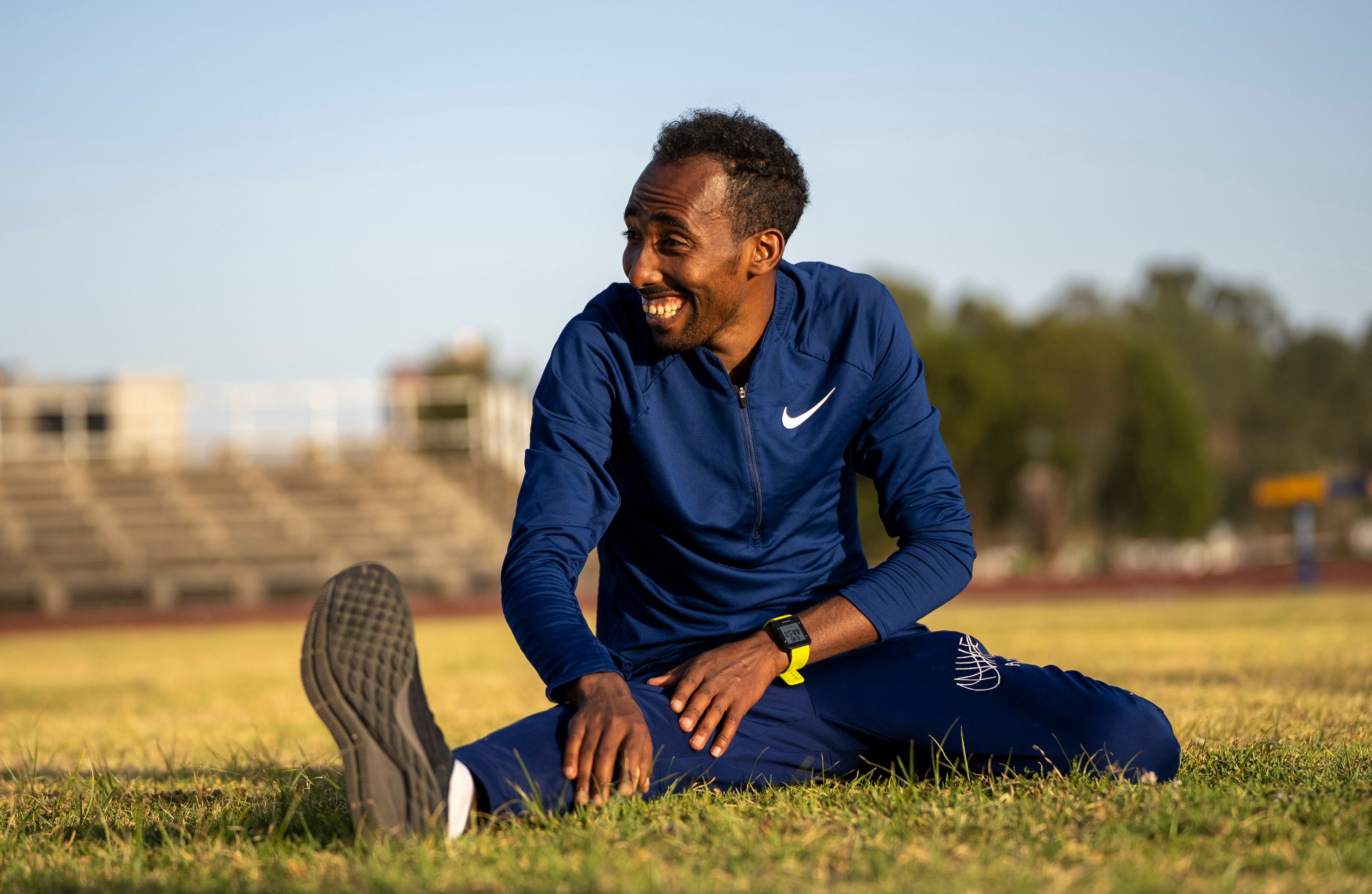 Ethiopian steeplechaser Getnet Wale (© Guillaume Laurent)
In his first competition abroad, Wale ran at the World U20 Championships in Bydgoszcz and finished third. Shortly after, the government invested in more barriers and a water pit, making it one of the few places in Ethiopia where steeplechasers can adequately practice.
The next year, while still an U18 athlete, Wale competed at the World Championships in London, where he finished ninth overall. In 2018, he won his second bronze medal at the World U20 Championships in Tampere, Finland. And in 2019, after winning the Diamond League title, he just missed out on the podium at the World Championships in Doha.
But his new training partner, and Kebede's new apprentice, Lamecha Girma, seemed to come out of thin air, and shook the running world.
Coaching two kings
Girma, who is from the Asella region of Ethiopia, was focusing on the 1500m at the Tirunesh Dibaba Athletics Club before Kebede brought him, too, north to the Youth Academy to train.
Training alongside Wale, Girma blossomed quickly, with 2019 being a banner year. That year, he won the trial race in Hengelo in 8:08.18 to secure his spot on the World Championships team. And in the final in Doha, he just missed out on a gold medal to Kenyan star Conseslus Kipruto.
Managing two top athletes and training partners can be tough, Kebede admits. "What I tell them is to be good athletes they need to support each other, to love each other, to work together, and to care for each other.
"Every training session is like a competition between the two of them," he added. "Sometimes, it is difficult to have two kings on a single team. So they love each other but they compete with each other."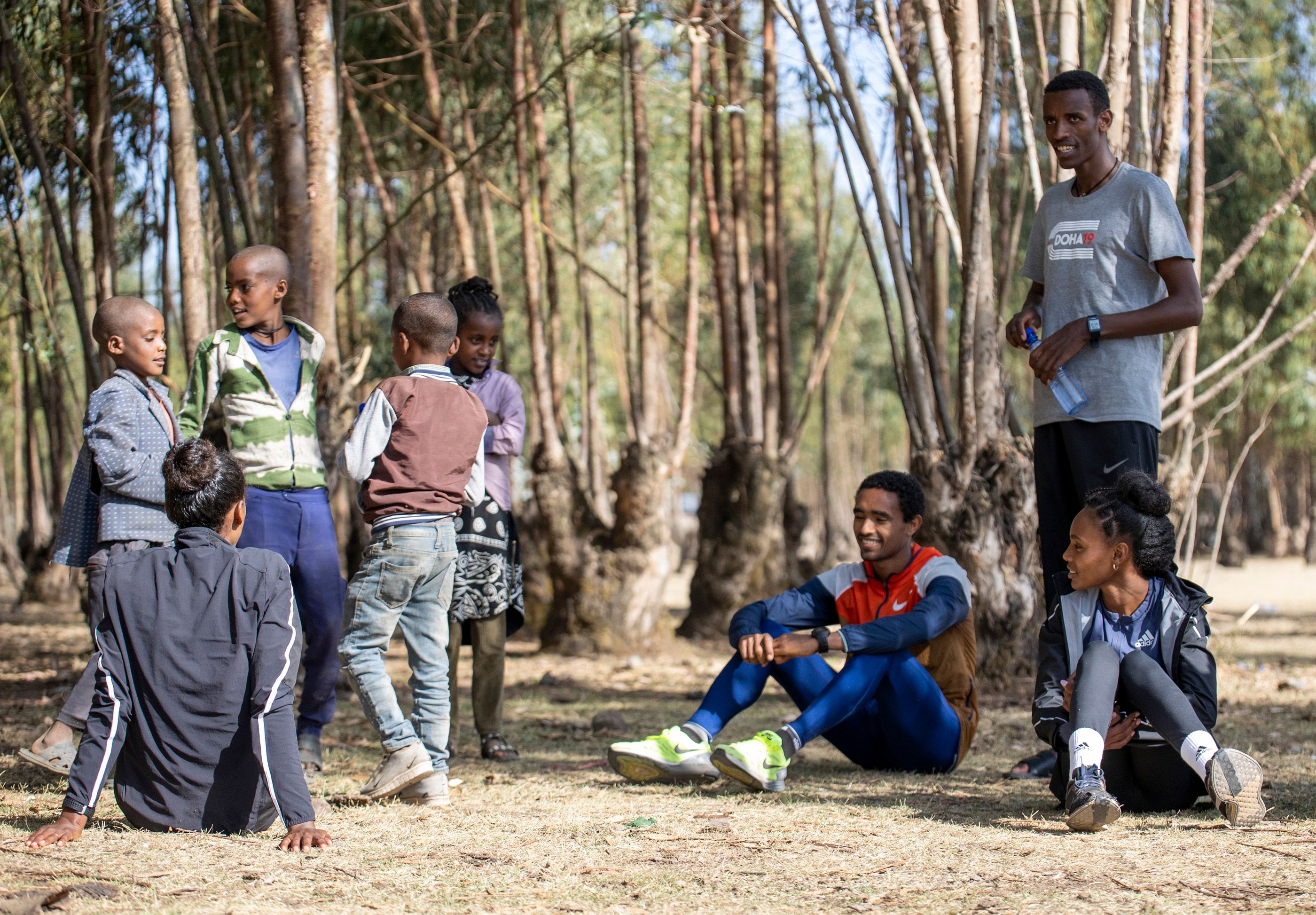 Lamecha Girma and his training partners talk to some local children during a training session (© Guillaume Laurent)
Despite this, the two have become close friends. Not only do they eat and train together, but when they have down days the two sometimes venture out in Addis Ababa, and in pre-pandemic times were known to enjoy rest days at the cinema.
Wale has been keen on offering his insights to Girma who rose so quickly to global success.
"Sport needs patience," says Wale of some of the most important insights he has learned. "When you are not winning, you need to accept not winning. You will face different problems in sport, but you need to persevere."
Wale, who is keen to soon move up in distance to the 5000m, expects more and more Ethiopian steeplechasers to rise to prominence soon too. Like the other events, and in addition to Girma, "there are a lot of reserve runners who are very good. In the future I will expect even better results."
Running is Teferi's injera
The reserve runners to whom Wale refers are present in nearly every middle distance and distance event for both Ethiopian men and women. It makes event specialisation and choice a complicated undertaking for athletes, coaches, and selection committees. Many Ethiopian runners have incredible range, but representing the country can be a tricky calculus of measuring not only the international, but the domestic competition.
Senbere Teferi, for example, has excelled in every distance from the 1500m up to the marathon, and slides up and down the distance scale, and between the track, roads, and grass, to compete in nearly every discipline.
At the Oromia Club in Ambo, Ethiopia, where she began running, Teferi focused initially on the 1500m and the 5000m. In 2011, she left Ethiopia for the first time to race the World U18 Championships in France, where she took home the silver medal. But the first time she wore the Ethiopian singlet at the senior stage was at the 2015 World Championships in Beijing, where she again finished second. The following year, she represented Ethiopia at the Rio Olympic Games, where she finished fifth in a time of 14:43.75.



(© Guillaume Laurent)
"The 5000m is internal to me," Teferi explains with glee. "Why? The first time I represented Ethiopia I was able to win silver. So the 5000m is still inside of me. So I really want to run the 5000m well. That's my interest."
Since then, Teferi has proved she has ability and potential in longer distances as well. In addition to running the 10,000m on the track, where she is one of the top ranked athletes in the world, she has held the half-marathon national record, running 1:05:45 and earning the title of the fastest debut in history. She clearly has potential on the roads, too, shown by her 2:24:11 debut in 2018.
"Running comes with two things," Teferi said. "Naturally, you have 'it'. The rest comes from training. My ability is natural and comes from inside me. So I can run in the middle distances up to the marathon. This is just natural for me so I am able to run."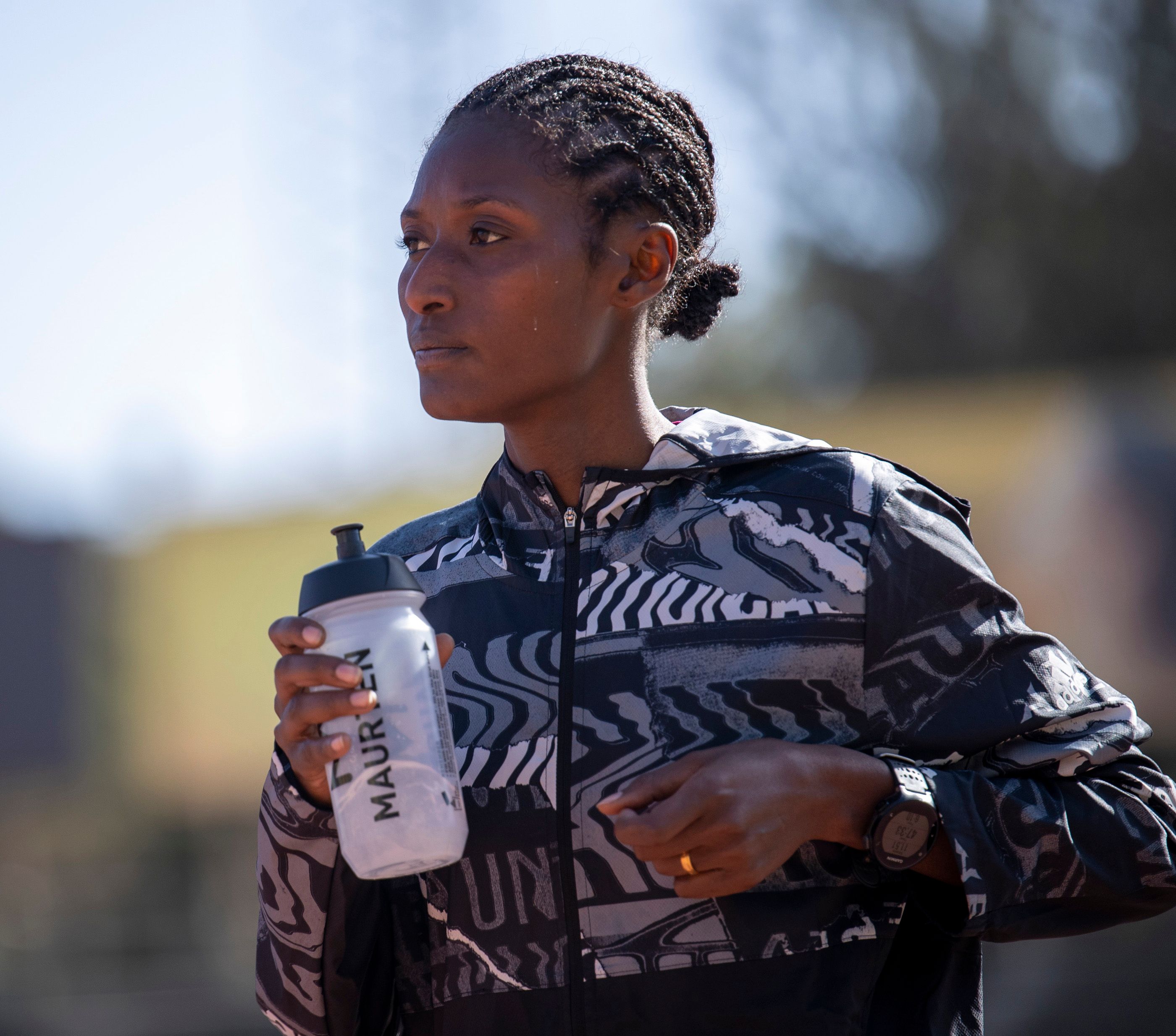 Ethiopian distance runner Senbere Teferi (© Guillaume Laurent)
While Teferi no doubt has natural talent, she also is known to be an incredibly meticulous athlete, notorious for stretching for 40 minutes after training, never missing a gym session, and maintaining a varied and calculated diet.
In addition to regularly eating the Ethiopian staple injera, it's how she relates to the sport itself. "Running is everything to me," Teferi emphasises, further explaining her tremendous range. "Running is my injera. It's my life."
Trials
When it comes to a packed trials, few events compare to the distance races that will take place in Hengelo. Although the Ethiopian Athletics Federation can make adjustments following the competition, Ethiopian athletes need to be in world-class shape to show their readiness for the Olympics.
Teferi, Girma, and Wale will be trying to prove themselves worthy of representing Ethiopia at the Tokyo Games, alongside dozens of others. And choosing the correct distance at the right time is a part of that uniquely difficult preparation.
Hannah Borenstein for World Athletics