US sprinter Allyson Felix (© Getty Images)
Allyson Felix has given so much to the sport of track and field over the course of a remarkable 19-year elite career. But such is the sprint legend's humility, the sentiment is mutual.
"I feel like through the sport, I have found my purpose," says the 21-time senior global gold medallist, currently midway through her farewell season.
"I think it took quite some time to get there, and it was such a journey, but it was going through those personal experiences that helped me find it. It has led me to what's next and I think that's why I do feel good and confident about where I'm at, because I know the next steps and I know that I am really passionate and excited about that as well. Sport has given me that."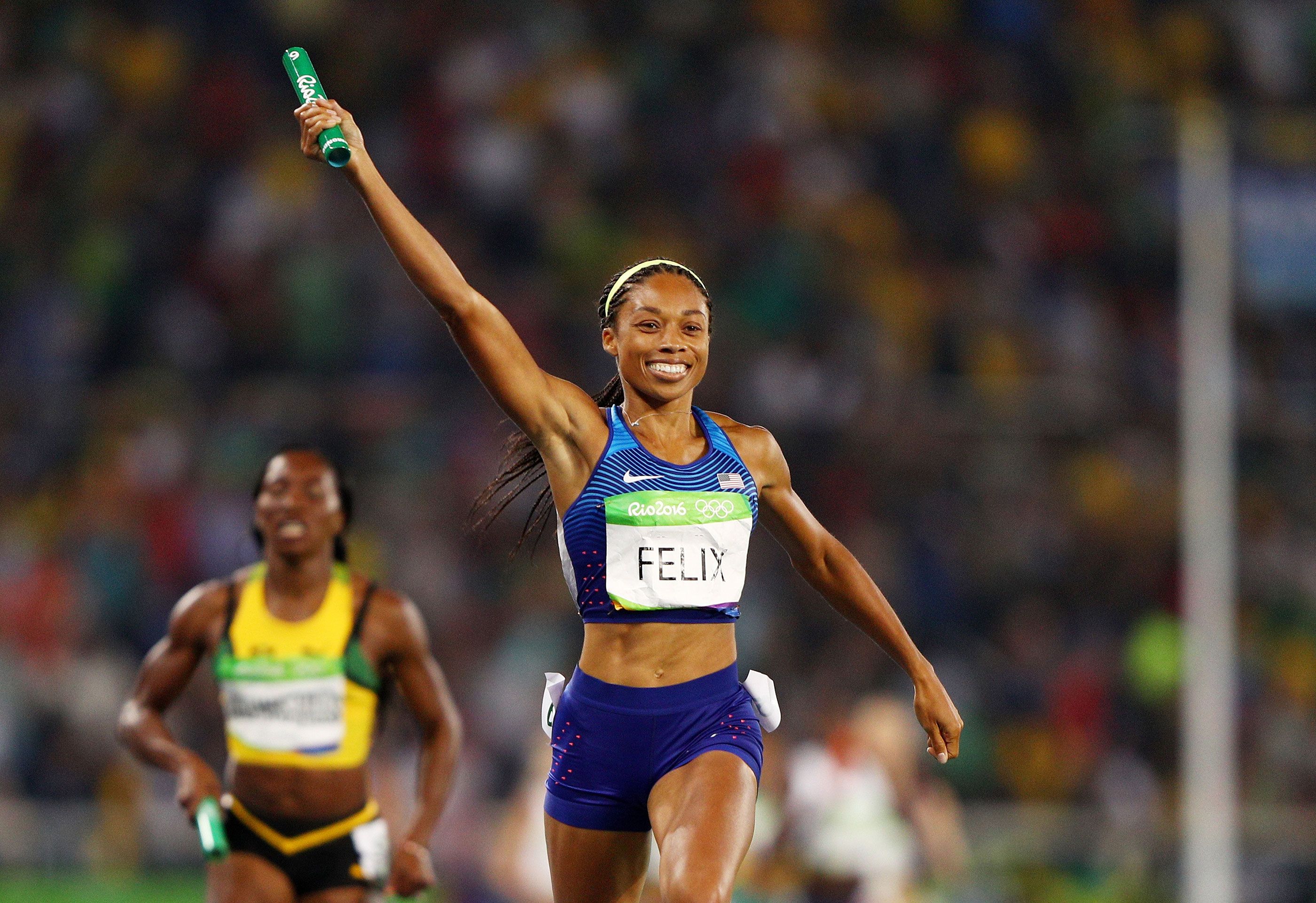 Allyson Felix anchors USA to gold in the women's 4x400m at the Rio 2016 Olympic Games (© Getty Images)
Felix has blazed a trail, on and off the track. The 36-year-old is the most decorated athlete in World Athletics Championships history and could add to her legend at next month's World Athletics Championships Oregon22. When it comes to the Olympics, no other athlete has won more medals in women's athletics events. Alongside this, she has become a mother and a business founder, an advocate for women in sports and Black maternal health.
And it's not just what she has won or done, but how – with fierce determination, consideration and grace.
Previously motivated by medals, now she is committed to creating change.
"I felt like I stumbled into the sport, and I didn't know what to expect at all," Felix says. "I never would have imagined that this would be my career or that I would have run so long, or any of it. I never could have seen it coming."
From that initial stumble, she soon made speedy strides. In a 2003 World Athletics feature, the Californian teenager was described as "the future" of sprinting following her 22.11 200m run in Mexico City at the age of just 17. The year before that she had finished fifth at the World U20 Championships in Kingston and the year before that she had won 100m and medley relay titles at the World U18 Championships in Debrecen.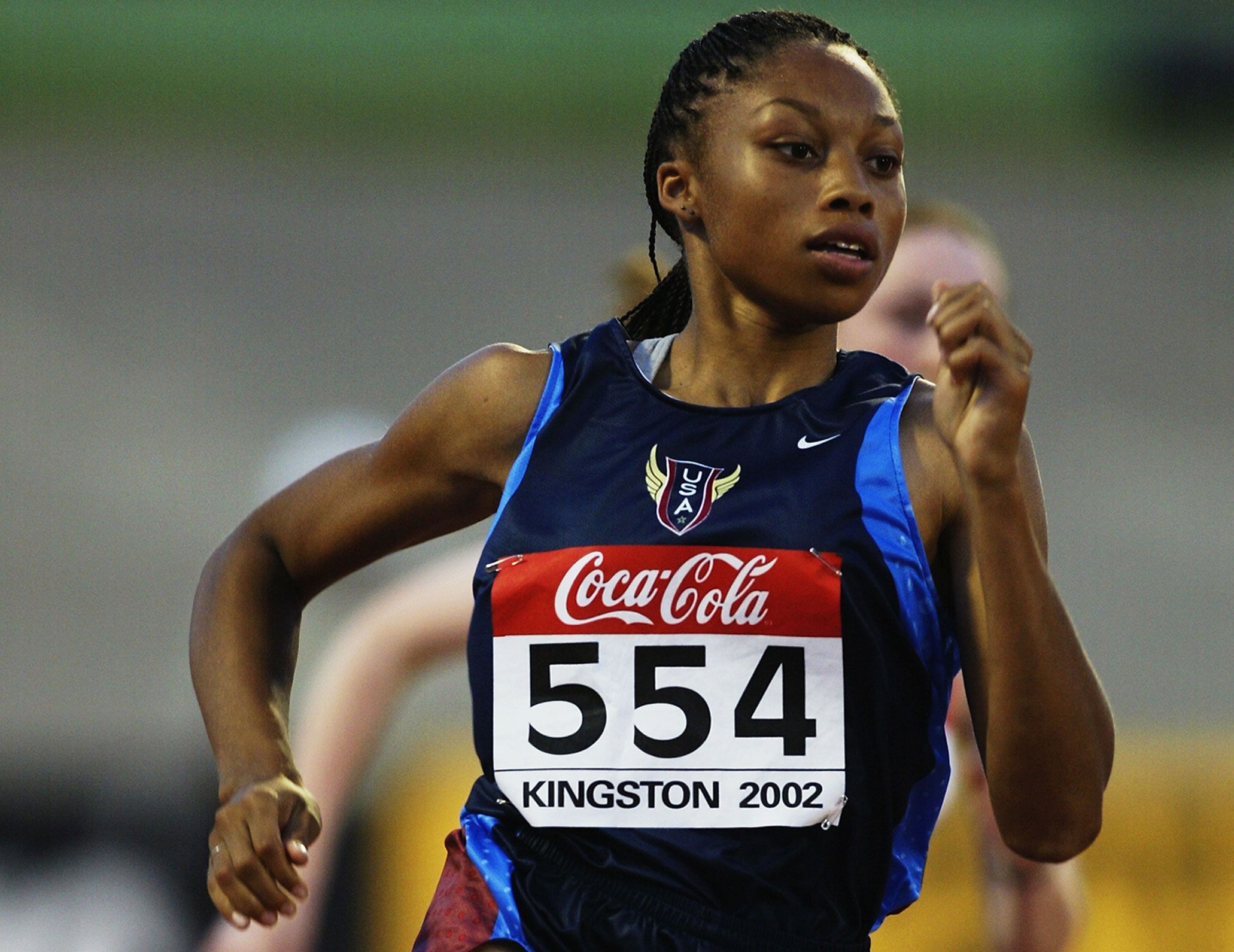 Allyson Felix at the World U20 Championships in Kingston (© Getty Images)
While her 22.11 could not be ratified as a world U20 record, she officially added her name to the record book in 2004 by running 22.18 at her debut Olympic Games in Athens. That performance secured silver for the 18-year-old and was to prove just the start.
In 2005, after making her senior World Championships debut in Paris two years earlier, she won the world 200m title in Helsinki. In 2007 she repeated the feat and raised it by two, also forming part of the USA's gold medal-winning 4x100m and 4x400m teams. In 2008 came a second Olympic 200m silver and a first Olympic title, in the 4x400m. In 2009 she completed a world 200m title hattrick, alongside 4x400m gold, and in 2010 she won the 4x400m as part of the US team at the World Indoor Championships in Doha.
Felix's global individual 400m debut came at the 2011 World Championships in Daegu and was rewarded with a silver medal, as well as 200m bronze and two relay titles. In 2012 she amazed with an Olympic treble in London, winning 200m, 4x100m and 4x400m crowns. That came after a 21.69 victory at the US Olympic Trials, a performance that at that time placed her fourth on the world 200m all-time list, and she was later named the World Athletics female world athlete of the year.
One year later, injury struck. But despite tearing her hamstring at the 2013 World Championships in Moscow, Felix rose from the ashes. She went on to win world 400m gold in 2015 alongside two relay silver medals. In 2016, she helped the relay teams to retain both Olympic 4x100m and 4x400m titles and claimed 400m silver. Two more world relay titles came in 2017, together with 400m bronze. In 2019, the year after she welcomed her daughter Camryn into the world, she won world 4x400m and mixed relay titles. Then, at the delayed Tokyo Games last year, she capped her incredible Olympic career with 400m bronze and another 4x400m title.
Then there are also her four Diamond League trophies and numerous national titles.
"There are always things I wish could have gone better or differently but when I look back, I have no regrets because I think everything happened for a reason," she says in reflection. "I think it made me the person that I am. I am grateful, more than anything, for every single experience."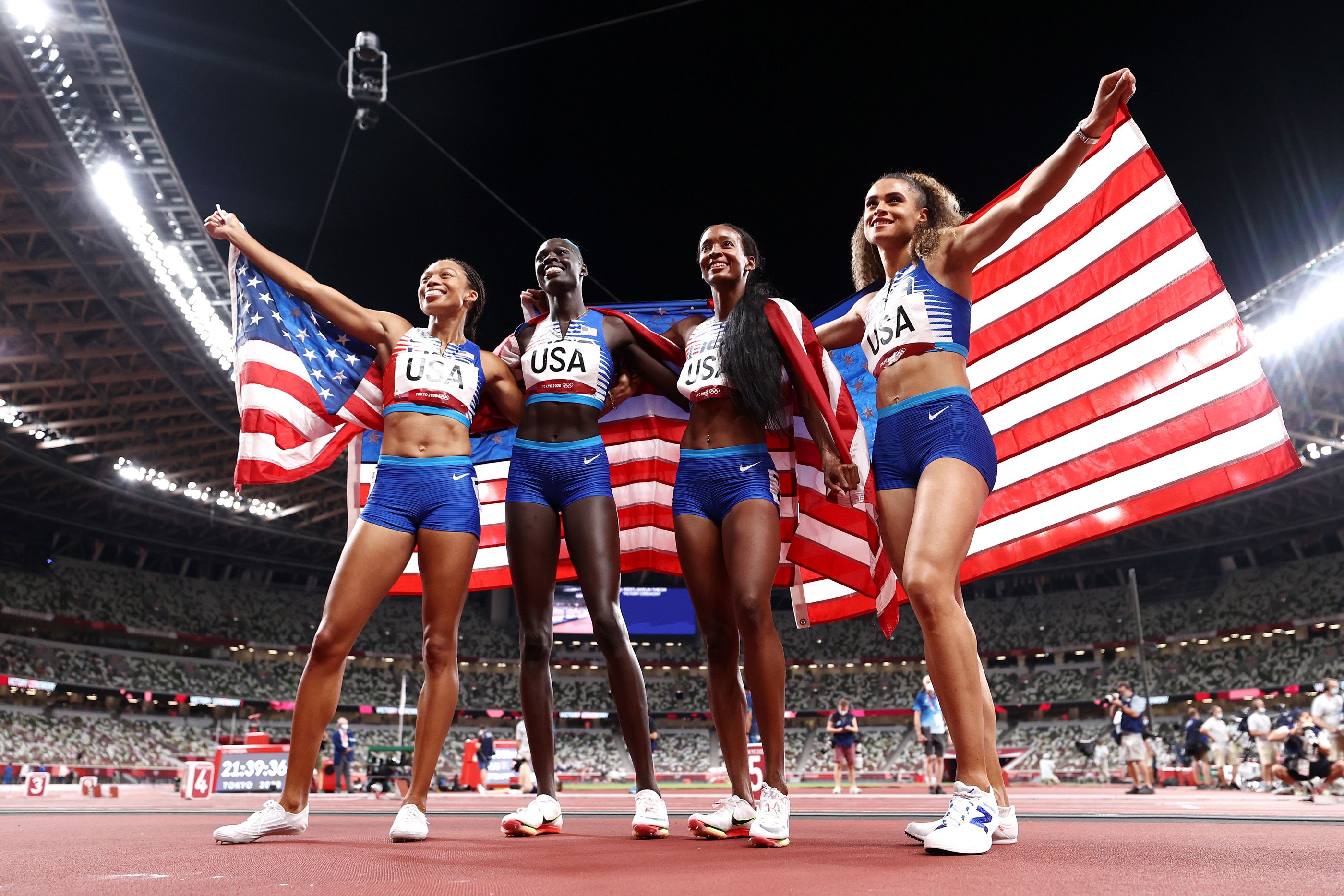 Allyson Felix, Athing Mu, Dalilah Muhammad and Sydney McLaughlin after the 4x400m in Tokyo (© Getty Images)
Given all she has achieved in athletics, is it possible to select just three highlights?
"2012 – London and the 200m, when everything came together, was very special," she smiles. "Last year, in Tokyo, winning bronze and overcoming so much adversity – that was incredibly special to me.
"And probably in Athens, winning silver as a teenager, is really what lit the fire for me and made me know that this was for me and that it was going to be a long journey."
And that journey isn't over yet.
With an eye on making a relay team, Felix could compete at a 10th World Championships next month, when the global showpiece stars on her home soil. First she will line up at the US Championships, taking place at the same Hayward Field venue on 23-26 June.
"I am so excited," she says on the prospect of her home country hosting the World Athletics Championships for the first time. "It has been such a long time and so to finally see it come to the States, I think that Eugene is going to be such an awesome host and excited to welcome the world there.
"I was torn with whether I wanted to do another season, with last year being so exhausting physically and mentally. I thought, if I were able to do a relay (at the World Championships), that would be amazing, but I will be a fan and supporter either way."
On the impact of the USA hosting the event, she adds: "I really hope that new fans will take notice and that everyone in the States will be able to appreciate this amazing event. I think sometimes it does take the event coming to you and being able to experience it on that level. I hope that there are a lot of new people who want to follow the sport and see it grow."
When it comes to women's sprinting, the long-time Bobby Kersee-coached athlete has been a key part of the growth. Her 200m best of 21.69 still makes her the seventh-fastest women's 200m runner in history and since she achieved it, Dafne Schippers, Gabby Thomas and Elaine Thompson-Herah have also stormed up that all-time list. Thompson-Herah and Thomas both achieved their top results last year, their respective times of 21.53 and 21.61 placing them at No.2 and No.3 all time behind Florence Griffith-Joyner's 21.34 world record. Similar strides have been made in the women's 100m, with Thompson-Herah 0.05 off Griffith-Joyner's 10.49 world record and Shelly-Ann Fraser-Pryce just another 0.06 back, at No.3 all time.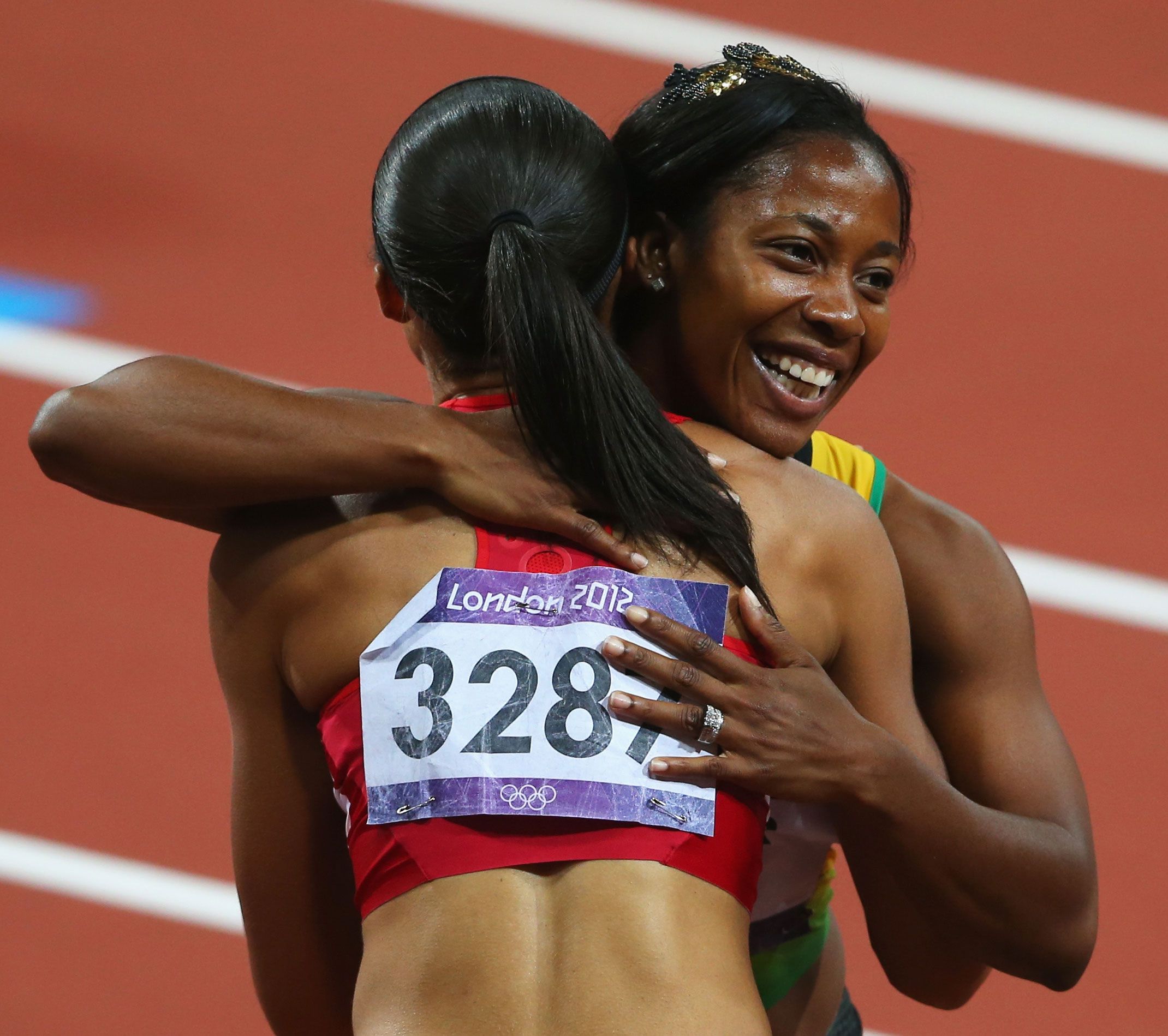 Allyson Felix and Shelly-Ann Fraser-Pryce at the London 2012 Olympic Games (© Getty Images)
"It has come so far," Felix says on the evolution of women's sprinting during her career. "I think we are in such a good space right now and it's really exciting. Everyone is taking notice.
"Obviously, the times are continuing to drop and that's even more exciting, but also we're hearing more stories and really appreciating the individuals who are running."
For Felix, that particularly applies to Fraser-Pryce, who has also made a highly successful return to the sport after becoming a mother.
"There has just been this incredible group of women that has really shown that you can be a mother and you can still pursue your highest dreams, and I think the best way to see that is demonstrated on the track," she says.
"Shelly-Ann has been a really special person who has encouraged me and motivated me through her own performances and shown me that it's possible."
Felix is also proof of what is possible. After giving birth to her daughter Camryn by emergency C-section at 32 weeks because of severe pre-eclampsia, a condition that threatened the lives of both mother and baby, she would later testify before US Congress during a hearing about racial disparities in maternal health. She has been a driving force in improved maternity protection for athletes and alongside her brother Wes, who joined her on that World U20 Championships team in Kingston 20 years ago, she has launched her own women's footwear company.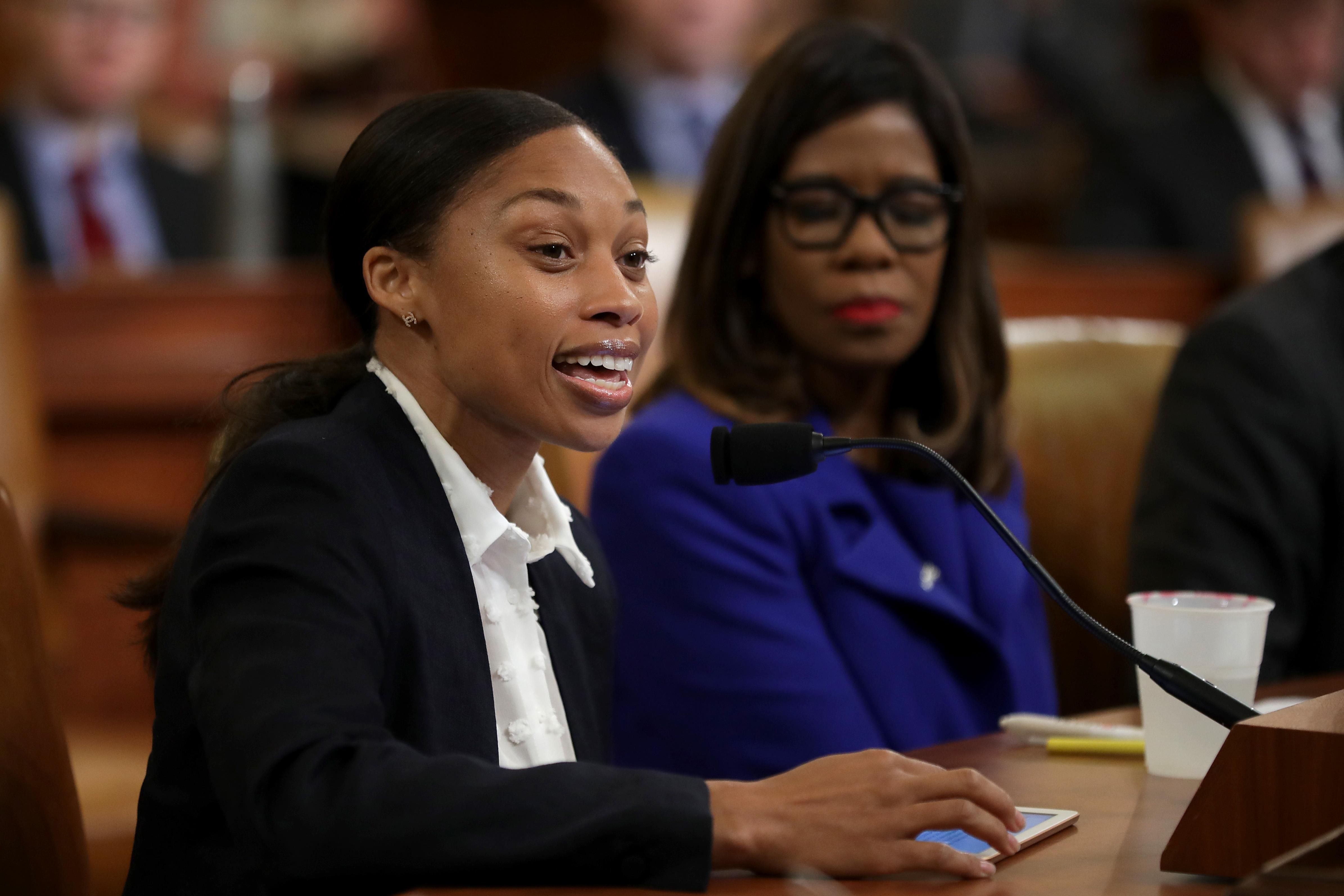 Allyson Felix testifies before the House Ways and Means Committee during a hearing with American Medical Association President-elect Patrice Harris (© Getty Images)
"I am really excited for the next chapter," says Felix. "Being more present as a mom at home and doing some more work advocating for women and making things better, and also running my company Saysh with my brother. Those are at the forefront, right now.
"It's an area where I have seen a lot of mothers struggle, trying to embrace motherhood and also be a competitive athlete," she adds. "Through my experiences, I am just trying to shine a light on providing more resources for mothers and that was a big part of coming back for this year and having the opportunity to do some more work around that.
"I'm just trying to be more helpful - whether that's in providing funds to help with childcare when mothers go and compete, or resources as we travel. Just trying to make things easier."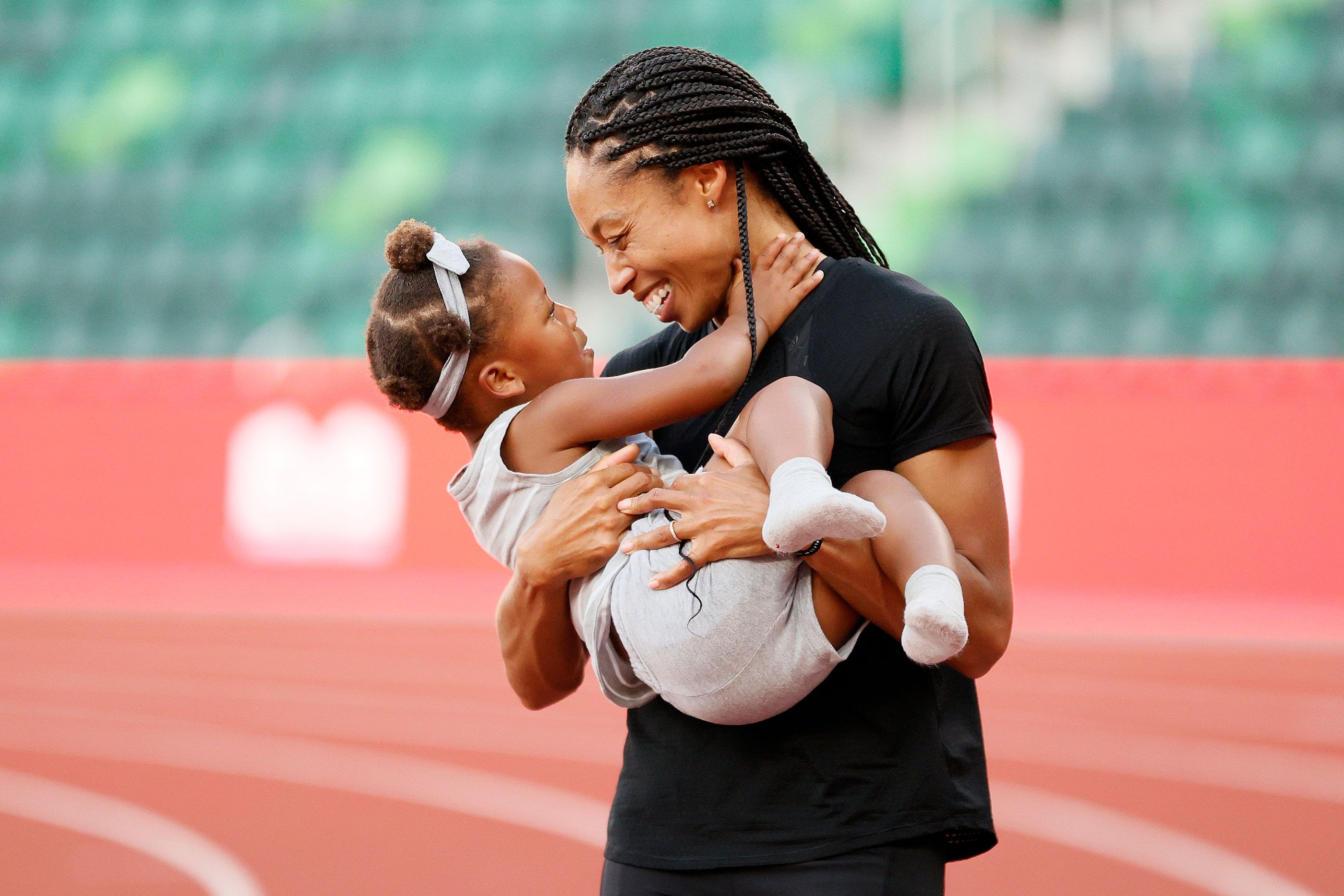 Allyson Felix with her daughter Camryn (© Getty Images)
So, as she prepares to hang up her spikes, what legacy does she hope to leave?
"I hope it is one of just leaving things better than when I came," she replies. "My eyes were opened to so many hardships and so just fighting to make thing more equal and better."
And if she could give a message to that 17-year-old Allyson Felix – "the future" of sprinting back in 2003 – what would it be?
"Just be patient and embrace everything – the highs and the lows," says Felix, who was included in Time magazine's 100 most influential people of 2020 and 2021. "As a younger athlete I was so focused on wanting to have success and I think it's about both success and the failures, because that makes you better. Don't get so disappointed, but figure out what you can learn when things don't go your way."
After two decades in the sport, Felix is using those experiences to help her leave that lasting legacy.
"I have so much gratitude for this sport that has changed my life," she wrote in a social media post announcing her final athletics season. "This season I'm running for women. I'm running for a better future for my daughter. I'm running for you."
Jess Whittington for World Athletics