Kimberly Garcia wins in La Coruna (© Almudena Miguez (FGA))
Peru's Kimberly Garcia and Brazil's Caio Bonfim captured 20km race walk victories at the 36th Gran Premio Cantones de La Coruna, a World Athletics Race Walking Tour Gold event, held on Saturday (3) in Spain's northwest coastal city.
Taking advantage of a quick circuit and ideal weather conditions, both winners set respective career bests of 1:26:40 and 1:18:29 to also break their own national records. In a contest featuring great depth, a total of seven men ducked under the 1:20 barrier.
Garcia is ready for double world title defence
Right from the start, the reigning double (20km and 35km) world champion Garcia injected a brisk rhythm into the women's race, which could only be followed by Mexico's Alegna Gonzalez, the pair opening a five-second gap over the first 1000m covered in 4:23. A large chasing group, headed by Spain's Maria Perez, Ecuador's Glenda Morejon and China's Yang Jiayu, followed in 4:28.
The Spaniard led the pack to join the leaders midway through the second circuit and by the fifth kilometre the front group featured nine athletes, always with Garcia at the helm walking at a steady 4:23 pace as they reached that point in 21:58. The lead pack included all the favourites, with the exception of the former world record-holder Liu Hong.
Just after passing the eighth kilometre some 36 minutes into the race, local star Perez unleashed a devastating kick to break away from the rest of the group with incredible ease to cover the ninth kilometre in a blistering 4:09 and build an 11-second gap over 800m. She left behind a six-strong group, featuring Qieyang Shijie, Yang, Wu Quanming, Garcia, Gonzalez and the surprise Peruvian Evelyn Inga. Morejon had lost ground and travelled 15 seconds in arrears by halfway, which was reached by Perez in 43:25 to elevate her advantage to 18 seconds over the quality chasing group.
With the newly-minted world 35km record-holder Perez flying on the streets of La Coruna in front of her home crowd, few could have predicted the outcome of the event. While Perez slowed – to 4:18 for the 11th kilometre and 4:21 for the 12th – Gonzalez accelerated and managed to catch Perez exactly four kilometres after the Spaniard's break.
The 15km checkpoint was reached in 1:05:15 by the quartet of Garcia, Gonzalez, Qieyang and Wu. The first withdrawal was the defending champion Qieyang, who began to falter in the 16th kilometre. Just before the 18th kilometre, Gonzalez also lost contact with Garcia and Wu. Garcia's relentless pace finally paid off inside the closing kilometre when she finally managed to get rid of Wu to romp home in 1:26:40 with an 18-second improvement on her previous PB, while Wu (1:26:48) and Gonzalez (1:26:59) also achieved respective lifetime bests.
"I've been working very hard in my base of Ecuador and I was confident of doing a fine race today," said the 29-year-old winner. "This win is extremely important for me as the standard was as high as at a World Championships, so I'll be aiming to defend my world titles in Budapest.
"I'll now go to Peru to see my relatives but will soon return to Ecuador to continue my build-up for the World Championships. I won't compete any more before Budapest," added Garcia, who is coached by Ecuador's Andres Chocho, the 2015 world 50km race walk eighth-place finisher. Interestingly, the now 39-year-old finished the men's race in La Coruna on Saturday in 1:26:44 - a similar time to his athlete.
Inga also impressed, improving her previous best of 1:33:21 to 1:27:32. Perez had to stop due to sickness with six laps remaining, but she didn't give up and crossed the finish line in fifth place in 1:27:19.
Ninth time lucky for Bonfim
Brazil's 2017 world bronze medallist Bonfim started like a bullet and went through the opening 1000m in 3:51. Despite the star-studded line-up, only five athletes managed to stay close to the Brazilian: Ecuador's Brian Pintado and David Hurtado, Spain's Alvaro Martin, China's Zhang Jun and Japan's Yuta Koga.
Bonfim maintained 3:55 pace over the following kilometres and the 5km mark was reached in 19:38. Both Koga and Hurtado began to receive warnings from the judges and they were forced to slow, the lead pack whittled down to four by halfway, which was reached in 39:15 after another 19:37 five-lap split.
World leader Zhang then took command of the race but was always followed in crocodile file by Bonfim, Pintado and Martin as the Chinese athlete clocked 3:52 for the 11th kilometre. The following kilometres were fascinating as Bonfim regained the lead and Pintado also moved to the front to keep the rhythm alive, while the double European champion Martin preferred to remain tucked behind throughout.
With the clock reading one hour, it seemed clear that Bonfim, Zhang and Martin would take the three podium spots as Pintado began to falter. The speed remained in the 3:55/3:57 range and shortly after covering the 16th kilometre, Zhang lost ground and the race became a two-horse battle between Bonfim and Martin.
The key move came some 1:04:30 into the race with 3600m remaining, when the 28-year-old Spaniard just couldn't follow in Bonfim's footsteps. Over the closing laps the leader maintained his steady and powerful pace to gradually extend his advantage.
At the tape Bonfim – who was making his ninth appearance in La Coruna after two third places (2014 and 2022) already to his credit – was rewarded with an 18-second lifetime best of 1:18:29, while Martin dipped under the 1:19 barrier for the first time with a 1:18:49 performance. Surprisingly, the final place on the podium went to Diego Garcia. The 27-year-old Spaniard never featured at the helm, being a distant seventh at halfway, but powerful closing laps led him to third place in a season's best of 1:19:25 ahead of the also fast-finishing German Christopher Linke in 1:19:43.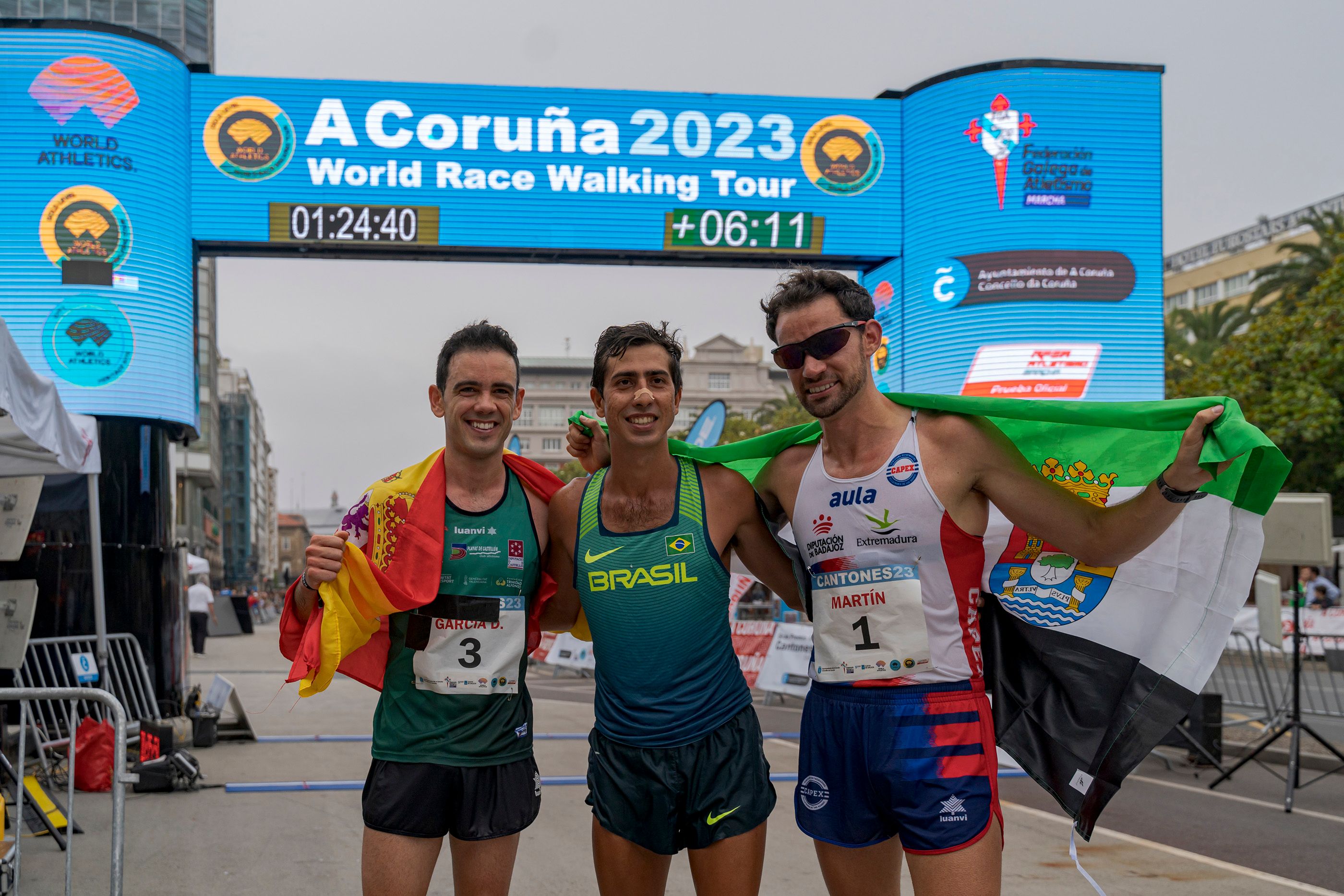 Diego García, Caio Bonfim and Alvaro Martin in La Coruna (© Almudena Miguez (FGA))
"I'm super happy. I've won for the first time here and have also improved my PB, I can't ask for more," declared a delighted Bonfim. "I went off very determined but the level of the field was awesome, winning has not been an easy task. I now return home and I'll do the Brazil championships over 20km before doubling in Budapest as there's a six-day gap between the 20km and the 35km and I think it will be enough."
Emeterio Valiente for World Athletics
Leading results
Women
1 Kimberly Garcia (PER) 1:26:40
2 Quanming Wu (CHN) 1:26:48
3 Alegna Gonzalez (MEX) 1:26:59
4 Shijie Qieyang (CHN) 1:27:15
5 Maria Perez (ESP) 1:27:19
6 Evelyn Inga (PER) 1:27:32
7 Erica Sena (BRA) 1:28:53
8 Glenda Morejon (ECU) 1:29:04
9 Li Ma (CHN) 1:30:02
10 Raquel Gonzalez (ESP) 1:30:15
Men
1 Caio Bonfim (BRA) 1:18:29
2 Alvaro Martin (ESP) 1:18:49
3 Diego Garcia (ESP) 1:19:25
4 Christopher Linke (GER) 1:19:27
5 Jun Zhang (CHN) 1:19:36
6 Jose Luis Doctor (MEX) 1:19:41
7 Jose Alejandro Barrondo (GUA) 1:19:42
8 Gabriel Bordier (FRA) 1:20:09
9 Andres Olivas (MEX) 1:20:14
10 Noel Chama (MEX) 1:20:40