Caio Bonfim celebrates his win at the Podebrady Walking meeting (© Czech Athletic Federation)
Caio Bonfim and Valeria Ortuno took top honours and led a number of athletes under the World Athletics Championships qualifying standards at the Podebrady Walking meeting – the first Gold level event in this year's World Athletics Race Walking Tour – on Saturday (2).
Brazil's Bonfim, the 2017 world bronze medallist, moved away from his rivals in the closing kilometres to equal the meeting record of 1:18:54 and triumph ahead of Sweden's 2019 world bronze medallist Perseus Karlstrom – who had set that meeting record last year – and Ireland's European U23 silver medallist David Kenny in the men's 20km race.
Mexico's Ortuno made her break earlier on in the women's 20km race and maintained that momentum, recording 1:29:25 to finish half a minute clear of Germany's Saskia Feige and Ecuador's Johana Ordonez.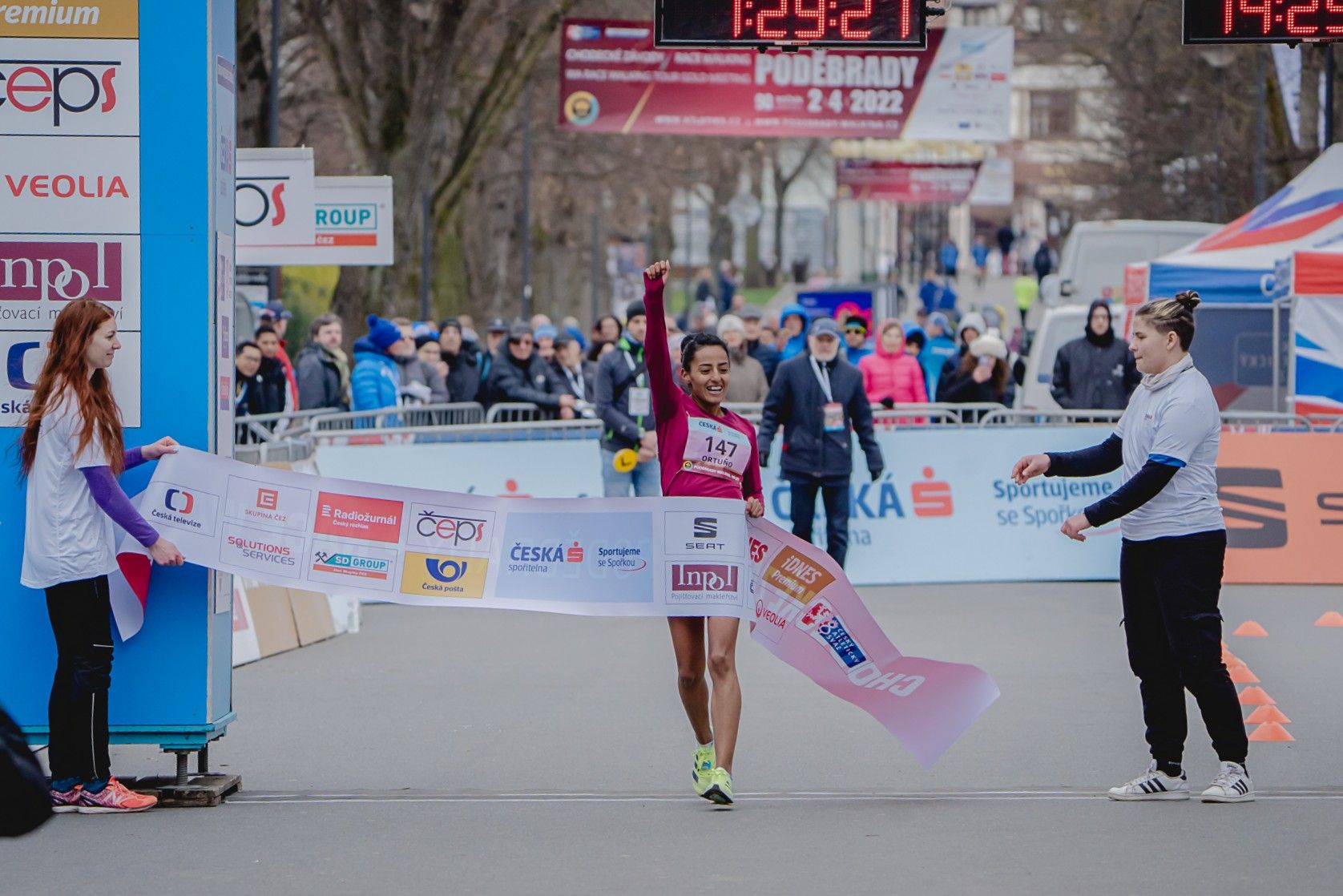 (© Czech Athletic Federation)

As well as kicking off the Gold calendar in the 2022 World Athletics Race Walking Tour, Saturday's meeting also marked the 90th anniversary of the race walk competition in the Czech spa town.
Just four weeks after his 35km win at the World Athletics Race Walking Team Championships Muscat 22, Karlstrom returned to Podebrady to defend his 20km title, with wins in 2020 and 2016 also featuring on his CV.
Bonfim, meanwhile, was looking to go one better than his runner-up spot at the South American Race Walking Championships in Lima in February, and build on his eighth-place finish over 35km in Muscat.
Karlstrom was part of the lead group that passed 5km in 19:52 and 10km in 39:40. Bonfim had been biding his time a few seconds back off the front of the pack but was to the fore as 7km was reached in 27:53. Four athletes forged ahead, with Bonfim and Karlstrom joined by Kenny and Ecuador's Brian Pintado through the 10km mark.
The group had split by 13km, with Kenny and Bonfim together ahead of Karlstrom, and Pintado just off the pace.
Karlstrom was the next to fall back but he battled on, determined not to let Kenny and Bonfim out of his sight – the leaders passing 15km in 59:24, seven seconds ahead of Karlstrom. As Bonfim moved away over the next kilometre, Karlstrom caught Kenny and they looked locked in battle for the runner-up spot. Bonfim was 18 seconds ahead at 17km – 1:07:13 to 1:07:31 – and had stretched his lead to 28 seconds with two kilometres to go, as Karlstrom made a bid to drop Kenny.
Bonfim was unchallenged as he secured success in 1:18:54, just seven seconds off his own national record recorded in La Coruna in 2019, while Karlstrom managed to hold off Kenny – 1:19:42 to 1:19:44 – with the Irish walker letting out a roar as he crossed the finish line and saw his time, having taken more than three minutes off his PB.
Pintado finished fourth in a PB of 1:19:47, while Spain's Alberto Amezcua joined them in dipping under 80 minutes with 1:19:58 for fifth. A total of 12 athletes finished under the 1:21:00 entry standard for July's World Athletics Championships Oregon22.



In the women's race, Ortuno had been joined by Spain's Olympic fourth-place finisher Maria Perez at the front of a six-strong group that passed the 5km point in 22:16. But over the next few kilometres Perez's red cards resulted in a two-minute penalty and she was later disqualified.
That left Ortuno to do battle with her compatriot Alegna Gonzalez, the fourth-place finisher at the World Athletics Race Walking Team Championships in Muscat who was fifth, one place behind Perez, in Tokyo.
They were side-by-side at the 10km mark, when the clock showed 44:23, with Ordonez and Feige a few seconds back. When Gonzalez dropped out a couple of kilometres later, Ortuno remained in control, although her closest challengers had closed the gap to five seconds.
Ortuno could not be caught, however, and was 10 seconds ahead of Ordonez at 15km (1:06:43), with Feige a further 15 seconds behind. While Ortuno, who placed 47th at the Olympics in Tokyo, remained ahead, Feige was fiercely giving chase and was four seconds off Ordonez with a kilometre to go.
Like Bonfim in the men's race, Ortuno had a clear path to victory with her win secured in 1:29:25, but half a minute back was a competitive clash for the runner up spot. Feige pipped Ordonez by just a single second as they clocked respective PBs of 1:29:57 and 1:29:58.
Italy's Valentina Trapletti finished fourth in 1:30:49, while Czech Republic's Eliska Martinkova (1:30:53 PB) and Tereza Durdiakova (1:31:09) were fifth and sixth on home soil – the top five all under the entry standard for Oregon.
After racing in Podebrady for the fourth time and claiming her first win, Ortuno said: "I am very happy. First place and the time for the World Championships in Oregon. My first win here, it's amazing for me." Despite the cold conditions, she added: "I like this weather, it's good for the race."
In the international team competition, Czech Republic claimed top spot ahead of France and Italy. In the men's match, Italy won ahead of Slovakia and France.
A number of athletes in the U20 races are targeting this year's World Athletics U20 Championships Cali 22 and that resulted in some competitive action and fast times. Mexico's 16-year-old Angel Vazquez Montes improved his PB to 42:15 to win the U20 men's 10km race walk ahead of Czech Republic's Adam Zajicek (42:19) and Jaromir Moravek (42:36), while the U20 women's title was claimed by Mexico's 17-year-old Karla Ximena Serrano, who clocked 45:20 to take exactly two minutes off her previous best. Finland's Heta Veikkola was second in 46:02 and Costa Rica's Sharon Lisseth Herrera Soto third in 46:04.
Jess Whittington for World Athletics