Keely Hodgkinson wins the 800m at the World Indoor Tour Gold meeting in Birmingham (© Dan Vernon)
Britain's Keely Hodgkinson and Sweden's Mondo Duplantis produced stadium record-breaking performances to highlight the Müller Indoor Grand Prix – a World Athletics Indoor Tour Gold meeting – in Birmingham on Saturday (19).
The women's 800m was the final event on the track and Olympic silver medallist Hodgkinson ensured the meeting ended in style, breaking the British indoor 800m record with 1:57.20 to move to sixth on the world indoor all-time list.
Making her season debut, she achieved the fastest ever indoor performance by a teenager, with the mark also being the quickest indoor 800m since the world record of 1:55.82 was set by Jolanda Ceplak at the European Indoor Championships in Vienna on 3 March 2002. Coincidentally, that also makes it the fastest indoor 800m in Hodgkinson's lifetime, with the 19-year-old having been born on the exact same date as that world record run.
To strong home crowd support, Hodgkinson followed the pacemaker through halfway in 58.58 and clocked 1:28.35 at the bell before covering the last lap in 28.8 for a dominant victory and British all-comers' record. It improves the stadium record of 1:57.61 which had been set in 2002 and such was the standard, Oceanian 800m record-holder Catriona Bisset set an Australian indoor record of 1:59.46 on her indoor racing debut for second place, while Jamaica's Natoya Goule, who won in Lievin in a national indoor record of 1:58.46, clocked 1:59.85 in third.
"I really wanted to try and front run," said Hodgkinson. "I haven't done that in such a long time, so I wanted to get confidence with that. I did what I knew I had been doing in training and just ran the race.
"I was annoyed because I stumbled a bit on the last corner and I feel like that might have cost me a tenth of a second, but we'll just correct that next time and hope I can go quicker. But I'm really happy with that race."
On it being the quickest indoor 800m during her lifetime, she added: "When you say it like that, it's a bit weird! That's something I wanted to do – I want to rewrite the history books but that world record is going to take some getting to. I am really happy with today and we'll just build on it from there."
Two years and four days since his world record-breaking exploits in Glasgow, Duplantis returned to the Muller Indoor Grand Prix, this time held in Birmingham, and delighted the capacity crowd with a world-leading vault of 6.05m.
The Olympic champion had a particularly close third attempt at a would-be world record height of 6.19m, but he was happy enough with his fourth consecutive six-metre victory of the year.
Duplantis took the lead with a first-time clearance at 5.61m. He rejoined the competition at 5.81m, once again going clear on his first try to maintain his lead. Thiago Braz, Duplantis's predecessor as Olympic champion, was the only other man to go clear at 5.81m, doing so on his third try, but he failed three times at 5.91m.
That left the way clear for Duplantis, who raised the bar to 6.05m. He needed all three tries but got over with room to spare on his final attempt. He then upped the bar to 6.19m – a familiar height for him now, but one he is yet to conquer. His first two tries weren't particularly close, but his third was much better. He gave it a nudge, the bar wobbled for a second or two, and then came tumbling down.
"I've got mixed emotions," said the 22-year-old. "6.05m is a good jump and result but I really wanted that 6.19m. I have expectations of myself and I know there are good conditions indoors so I can break the world record, I want it so badly."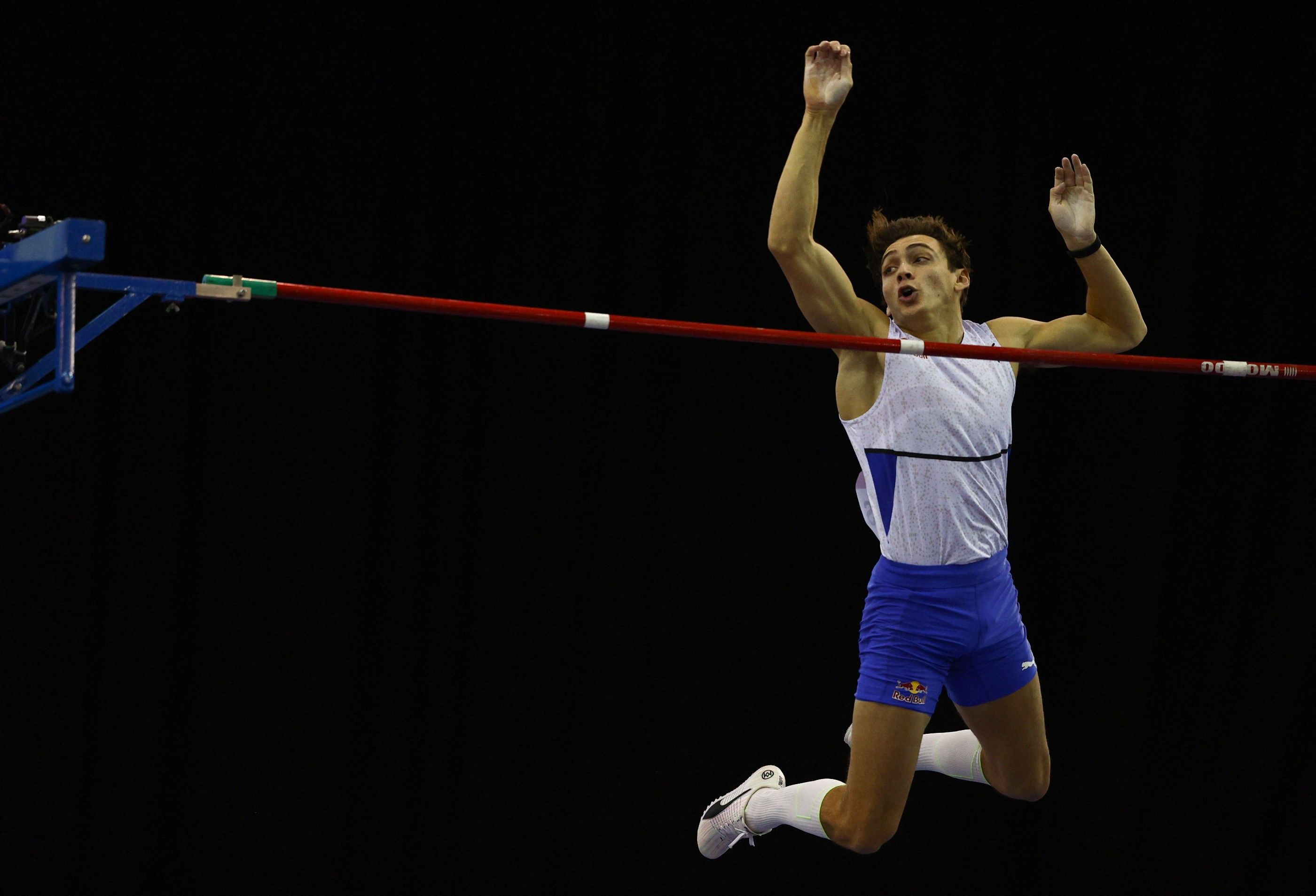 Mondo Duplantis in the pole vault (© AFP / Getty Images)
Global champions Holloway, Thompson-Herah and Lyles impress on the straight
Before he had even reached the first of five barriers, Grant Holloway had opened up a clear lead on the rest of the field in the men's 60m hurdles.
The world champion and world indoor record-holder made easy work of the hurdles, extending his lead with each clearance. He crossed the line in 7.41 – just 0.03 shy of the meeting record – to finish comfortably ahead of world indoor champion Andrew Pozzi, who clocked a season's best of 7.59. USA's world indoor silver medallist Jarret Eaton was third in 7.60.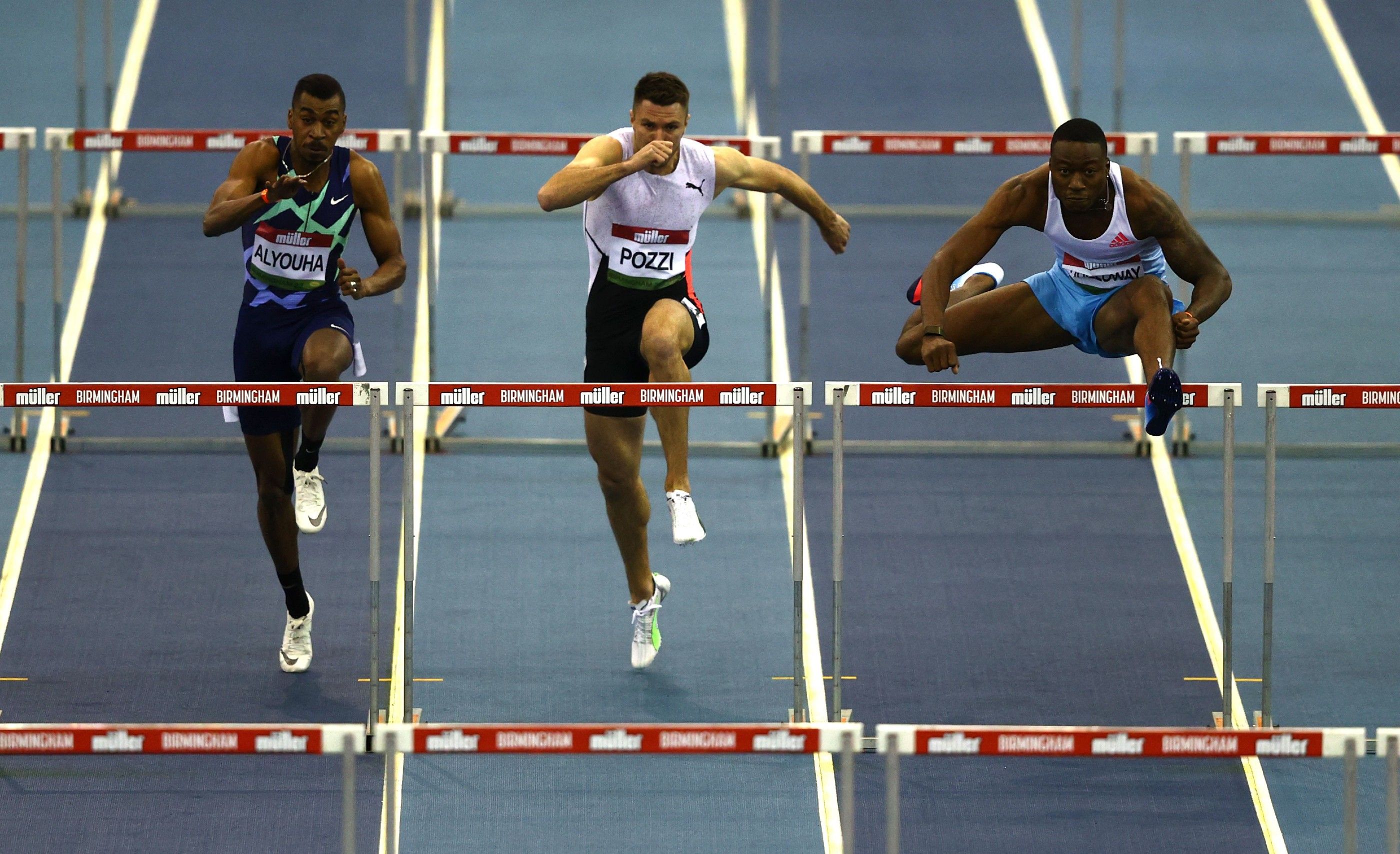 Grant Holloway on his way to a 60m hurdles win (© AFP / Getty Images)

In her first international race since winning at the Wanda Diamond League final in Zurich, Jamaica's five-time Olympic gold medallist Elaine Thompson-Herah won the 60m in 7.08 to kickstart a busy major competition year.
Back in the arena where she ran her PB of 6.98 in 2017, the 29-year-old – who now sits second on the world all-time lists for 100m and 200m thanks to the respective PBs of 10.54 and 21.53 she ran last year – held off Britain's Daryll Neita with a PB of 7.11 and Switzerland's world 200m bronze medallist Mujinga Kambundji with 7.13.
"It's a good win and although I wanted to go under seven seconds, I'm good," said Thompson-Herah, who next competes at the Copernicus Cup World Indoor Tour Gold meeting in Torun on Tuesday. "It's part of my training process and I'm still thinking about the World Indoors."
It's not often that athletes come from behind to win a race as short as 60m, but world 200m champion Noah Lyles used his trademark finish to great effect to take the men's short sprint.
US compatriot Ronnie Baker, the world indoor bronze medallist, held the lead for most of the way, and in a blanket finish it appeared as though he may have just about maintained his advantage. But in the photo finish, Lyles was given the verdict in a lifetime best of 6.55. Baker was awarded the same time in second place, while Elijah Hall (6.56) and Mike Rodgers (6.58) completed a US sweep of the top four places.
Redemption for Kipruto and Kipsang, victory again for Seyaum
Two days after a ninth-place finish in a scrappy race in Lievin, Kenya's Collins Kipruto rebounded with 800m victory in Birmingham.
The 2020 World Indoor Tour winner tucked himself behind Elliot Giles for the first two laps as they followed the pacemaker, who covered the first 400m in 50.68. Giles maintained the swift pace for much of the second half, but Kipruto started to close the gap on the final lap and eventually caught the Briton on the line, winning in a lifetime best of 1:45.39 – the second-fastest time in the world this year.


Collins Kipruto and Elliot Giles battle in the 800m (© Dan Vernon)

Giles was second in 1:45.42, the second-best time of his career, and 2019 European indoor champion Alvaro de Arriba was third in a season's best of 1:45.82.
Like his compatriot Kipruto, Abel Kipsang was looking to bounce back from his run in Lievin, where he was caught just before the finish of the 2000m. Here in Birmingham, contesting the distance over which he finished fourth at the Olympic Games, he ran a well-timed race to take the victory.
Paced through 800m in 1:54.36, Spain's Adel Mechaal took a short-lived lead at 900m before Germany's Robert Farken took up the running at 1000m, leading a break-away quartet that included Mechaal, Kipsang and Britain's George Mills.
Mechaal regained the lead at the bell, but Kipsang moved into pole position with 100m remaining and kicked to victory in 3:34.57, the fastest indoor 1500m by a Kenyan athlete for four years. The first seven finishers were rewarded with PBs as Mechaal finished second in 3:35.30 from Farken (3:35.44), Mills (3:36.03) and Piers Copeland (3:36.12). In sixth and seventh, there were national records for Italy's Ossama Meslek (3:37.29) and Luxembourg's Charles Grethen (3:37.38).
Two days after running 8:23.24 for the fourth-fastest indoor women's 3000m in history in Lievin, Dawit Seyaum continued her winning ways with a 1500m victory in 4:04.35 in Birmingham.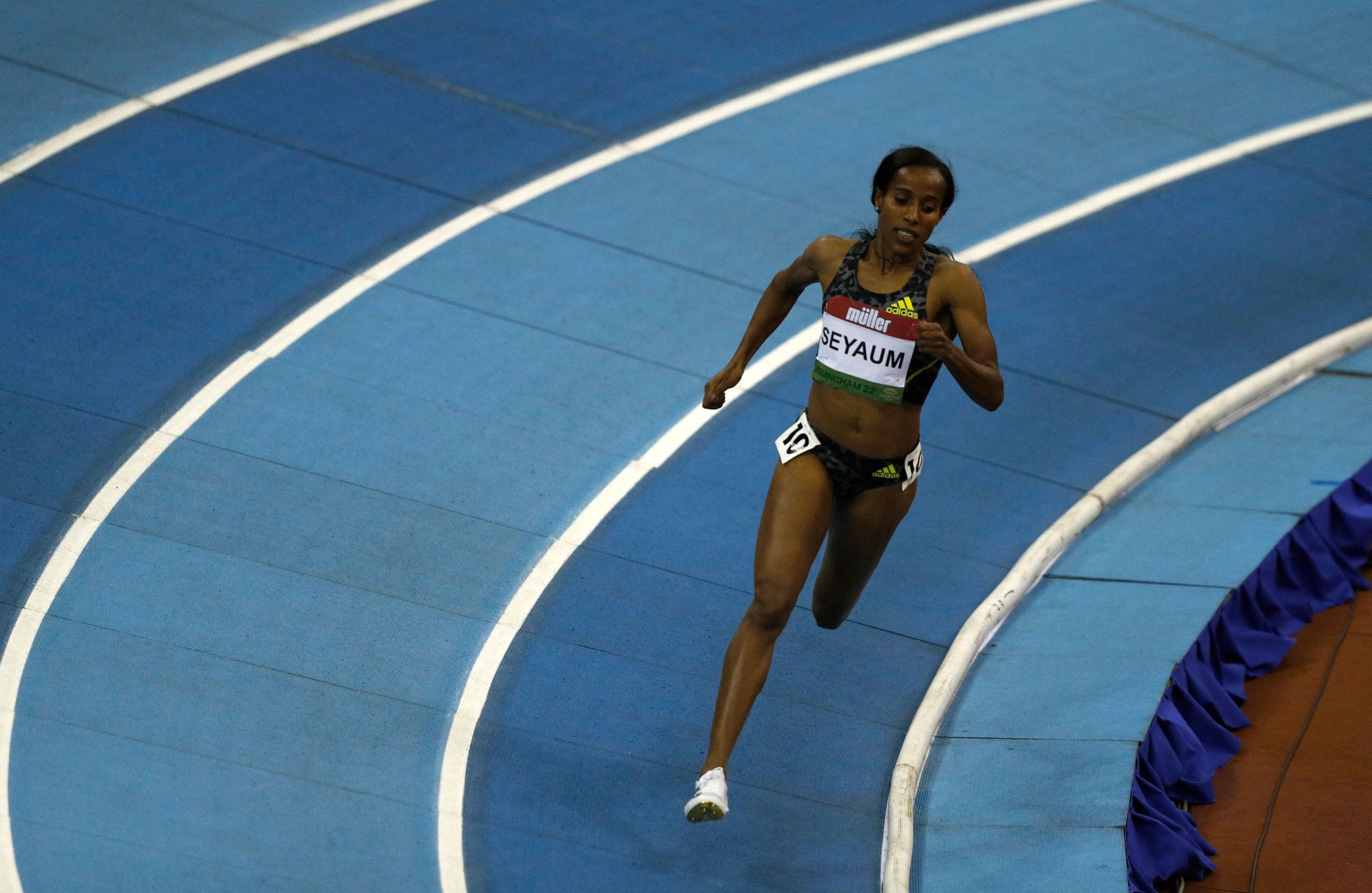 Dawit Seyaum on her way to 1500m victory (© AFP / Getty Images)

Second when the Müller Indoor Grand Prix was last held in 2020 in Glasgow, she went one better and claimed a dominant win, finishing more than two seconds ahead of Ireland's Sarah Healy with an outright PB of 4:06.94 and Australia's sub-four-minute runner Linden Hall, who clocked 4:07.36.
"I'm very happy with the victory and the crowd was good," said Seyaum, who followed the pacemaker to 800m in 2:12.52 and solo ran her way to victory. "My training is good and I'm looking forward to running well this season."
Two-lap wins for McPherson and Montgomery
The women's 400m got off to a fast start, with European indoor 4x400m champion Lieke Klaver of the Netherlands clocking 23.43 for the first lap. But Jamaica's Stephenie Ann McPherson launched her attack and reeled her in, coming through to claim her third win at this meeting, improving the indoor PB she set in 2016 with 51.39 to Klaver's 51.49. Poland's European champion Justyna Swiety-Ersetic was third in 52.09.
USA's Kahmari Montgomery led from start to finish to win the men's 400m. The 24-year-old was in first place at the break, covering the first lap in a swift but controlled 21.27, just ahead of Olympic finalist Liemarvin Bonevacia. Montgomery kept the Dutch sprinter at bay on the second lap and opened up a bit of distance, winning in 45.72 – his fastest time since setting a PB of 45.03 in 2019.
Bonevacia was second in 46.08, just ahead of a fast-finishing Ed Faulds, who set a European U20 indoor record of 46.16 in third.
In the women's high jump Australia's Eleanor Patterson continued her strong debut indoor season with another win, clearing a best of 1.97m to triumph ahead of Olympic champion Mariya Lasitskene and local athlete Laura Zialor, who both cleared 1.91m – a PB for the latter.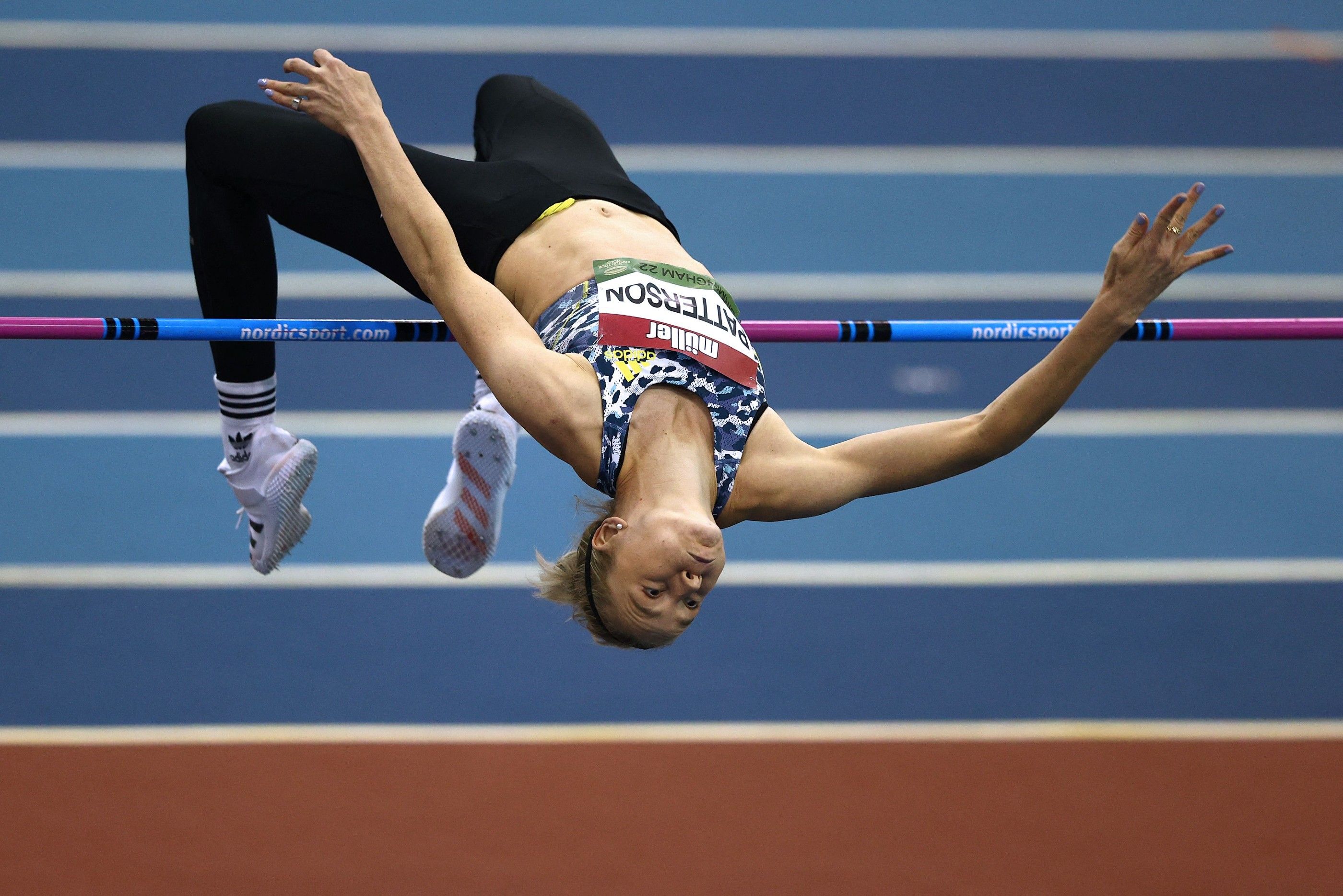 Eleanor Patterson in the high jump (© AFP / Getty Images)

Patterson had set an Oceanian indoor record of 1.99m in Banska Bystrica four days earlier and in Birmingham she entered the competition at 1.84m and cleared that and 1.88m on her first attempts. She then managed 1.91m on her second go and cleared 1.94m on the first time of asking, before achieving her winning height on her second attempt. She then had three attempts at a would-have-been outright PB of 2.00m.
"I felt like I was close to 2.00m today and that's really exciting," said the Olympic fifth-place finisher. "I'm really pleased with my start and I had my first ever indoor competition on Tuesday. Consistency is huge in this event. Before Tokyo last year I was jumping 1.96m a lot and I'm slowly inching my way up where I'm comfortable and able to handle big situations."
In the women's long jump, Sweden's European indoor bronze medallist Khaddi Sagnia leapt 6.70m in the first round and that proved to be the best of the competition, with multiple Barbadian record-holder Akela Jones runner-up with a 6.52m jump. Ivana Vuleta was third with 6.51m as she works towards retaining her title at the World Athletics Indoor Championships Belgrade 22 on home soil.
There was a battle between Zoe Sedney of the Netherlands and Switzerland's European U20 champion Ditaji Kambundji in the women's 60m hurdles, with Sedney narrowly getting the win - 8.02 to 8.05. Denmark's Mathilde Heltbech Steenberg was third in 8.12.
Elsewhere, local athlete Isabelle Boffey made the most of the home support in the women's 1000m, with the Birmingham-based European U23 champion taking the win in 2:38.25 in the longest race of her indoor career so far.
Jess Whittington and Jon Mulkeen for World Athletics