Britain's Keely Hodgkinson (© Getty Images)
Keely Hodgkinson made a strong statement in her first race of the season, breaking the world indoor 600m best with a 1:23.41 run at the World Athletics Indoor Tour Bronze meeting in Manchester, UK, on Saturday (28).
Racing the distance for the first time and on her home track, the 20-year-old took 0.03 off the previous world best of 1:23.44 set by Olga Kotlyarova in 2004.
With Olympic and world 800m medals already on her CV, Hodgkinson will now hope to use this latest result as a launchpad for further global success in 2023.
The Briton claimed those Olympic and world medals behind USA's Athing Mu and their head-to-head battles have led to some thrilling clashes over the past couple of years.
That is set to continue in 2023 and Mu will have her own chance to make a mark at the indoor 600m when she takes to the track at the Millrose Games, a World Indoor Tour Gold meeting in New York, on 11 February.
Mu set her PB of 1:23.57 in 2019, at the age of 16.
Also in Manchester, world 4x100m medallist Reece Prescod won his 60m heat in 6.60 but did not contest the final, while Isabelle Boffey won the women's 800m in 2:02.70 before going on to pace the women's 600m.
Poland's Pia Skrzyszowska continued her rise at the ISTAF Indoor meeting, a World Indoor Tour Silver event, in Dusseldorf on Sunday (29), storming to a PB of 7.84 to win a competitive 60m hurdles contest.
The 21-year-old, who claimed European 100m hurdles gold in Munich last year, opened her season with a PB of 7.86 to win her heat, taking 0.02 off her previous best set at the European Indoor Championships on home soil in Torun in 2021.
She then went another 0.02 faster in the final, winning in 7.84 ahead of Finland's Reetta Hurske, who improved her national record to 7.86, and USA's NACAC champion Alaysha Johnson, who clocked 7.88.
There was a Polish double in the hurdles events, Jakub Szymanski winning the men's final in 7.63. USA's Eric Edwards went quickest in the heats with 7.62.
"Actually, I was motivated because Jakub won his hurdle race. I saw him before and thought 'let's do a Polish double'," said Skrzyszowska. "Now I hope to go under 7.80 in my next race."
Germany's Olympic and two-time world champion Malaika Mihambo saved her best until last to triumph in the long jump, soaring 6.83m in the final round. The 28-year-old opened with 6.21m in a contest led by Britain's Jazmin Sawyers, who jumped her best of 6.50m in round three. But Mihambo responded with a mark 33 centimetres farther on her last attempt to secure a winning start to her long jump season after opening with a 7.43 60m in Karlsruhe on Friday.
The 60m events in Dusseldorf were won by Poland's Ewa Swoboda and Britain's Jeremiah Azu.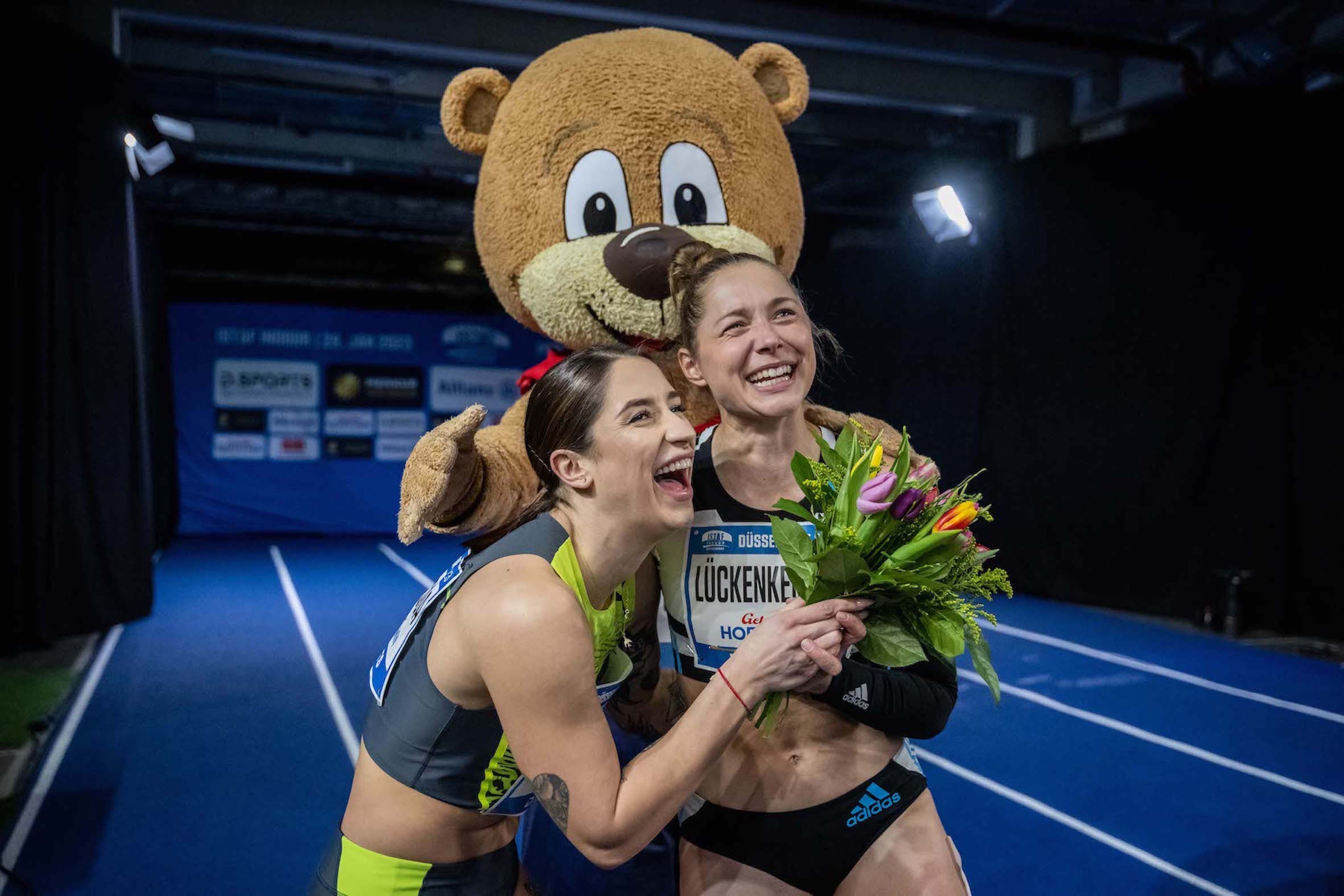 Ewa Swoboda and Gina Luckenkemper after the 60m final in Dusseldorf (© Camera 4)
Swoboda got the nod in a photo finish ahead of Gina Luckenkemper as both athletes clocked 7.18, with Tristan Evelyn improving the Barbadian record to 7.21 to finish third, while Azu clocked 6.60m to win the men's final. Germany's Julian Wagner had run 6.59 to win his heat.
USA's KC Lightfoot finished top in the men's pole vault thanks to his 5.76m clearance.
Sweden's Andreas Kramer, Henrik Larsson and Thobias Montler were among the winners at the Folksam GP on home soil in Stockholm on Sunday (29).
World indoor fifth-place finisher Kramer opened his season with a 1:45.90 800m at the World Indoor Tour Bronze meeting, while 2019 European U23 100m champion Larsson improved the Swedish 60m record to 6.56 after a 6.62 heat. In the men's long jump, Montler went beyond 8.10m with each of his three valid attempts, leaping 8.11m, 8.15m and then his winning 8.19m in the fifth round. Double European U18 champion Mattia Furlani jumped an Italian U20 indoor record of 7.99m for the runner-up spot.
Jamaica's 2018 world indoor silver medallist Danniel Thomas-Dodd won the women's shot put with a 18.62m throw, while Ukraine's world bronze medallist Andriy Protsenko topped the men's high jump with a 2.20m clearance.
At the Dr. Sander Invitational, also a World Indoor Tour Bronze meeting, in New York on Saturday (28), USA's Alicia Monson opened her season with a 4:23.55 mile win ahead of Whittni Morgan with 4:23.97. In third, 20-year-old Katelyn Tuohy set a US collegiate record with her time of 4:24.26.
In the women's 1000m, world indoor 800m champion Ajee Wilson further extended an indoor win streak that dates back to March 2018, when she finished second in the world indoor final in Birmingham. Running 2:35.97, she pipped Sage Hurta-Klecker, who was second in 2:36.37.
Drew Hunter won the men's mile in 3:55.57, while 17-year-old Shawnti Jackson, who won world U20 bronze last year, had another strong women's 300m run of 36.73.
There was also World Indoor Tour Bronze action in Spokane and the LILAC Grand Prix featured a 4:08.34 women's 1500m win by Sinclaire Johnson, while Noah Kibet won the men's 800m in 1:46.74 and Cole Hocker took the men's 3000m in 7:51.59. At the Meeting indoor Nantes Metropole, France's world indoor 60m hurdles champion Cyrena Samba-Mayela started her season with a 7.95 heat before winning the final in 8.04. Ukraine's Iryna Gerashchenko won the high jump with 1.93m.
At the Kladno Indoor, another World Indoor Tour Bronze event, Czech Republic's Tomas Stanek threw 21.69m to win the men's shot put on home soil, while Canada's Sarah Mitton led the women's contest with a 18.84m put. At the Meeting Internacional Catalunya Pista Coberta, a World Indoor Tour Challenger competition in Sabadell, Italy's Larissa Iapichino won the long jump with a 6.72m leap and world indoor champion Mariano Garcia claimed a dominant 800m win in 1:47.15.
At the Perche en or, also a World Indoor Tour Challenger meeting, Philippines' world bronze medallist Ernest John Obiena cleared 5.82m to win the men's pole vault contest, while Slovenia's world indoor bronze medallist Tina Sutej and Finland's European champion Wilma Murto both cleared 4.70m in the women's competition, Sutej winning on countback.
Kincaid and Nuguse impress in Boston
Multiple records fell at the Boston University John Thomas Terrier Classic on Friday (27), Woody Kincaid and Yared Nuguse leading the way with their North American indoor records in the men's 5000m and 3000m, respectively.
First, Nuguse ran a 7:28.24 season opener in the 3000m, recording the fastest ever time by a US athlete, indoors or outdoors, to move to ninth on a world indoor all-time list topped by Daniel Komen's 7:24.90 set in 1998.
Behind him, Sam Atkin broke Mo Farah's British record with 7:31.97 for the runner-up spot, while Spain's Mario Garcia was third in a PB of 7:34.74, Ethiopia's world U20 5000m champion Addisu Yihune finished fourth in 7:36.13 and Drew Bosley improved Nuguse's US collegiate record with 7:36.42 to finish fifth.
A couple of hours later, Kincaid also added his name to the record book. Finishing fast with a 26.27 last lap, he clocked 12:51.61 to take more than two seconds off Grant Fisher's area indoor 5000m record set on the same track in February 2022. Joe Klecker finished second in 12:54.99 to move to third on the North American indoor all-time list.
Their performances put them fourth and seventh, respectively, on the world indoor all-time list behind Kenenisa Bekele's world indoor record of 12:49.60 from 2004.
Elsewhere, Guatemala's Luis Grijalva took the mile in a PB of 3:53.53, winning by more than two seconds in a race that saw the top eight dip under four minutes.
The fast times continued on Saturday (28), Canada's Lucia Stafford also becoming a North American record-breaker with a 2:33.75 1000m season opener. That time moves the 24-year-old to ninth on the world indoor all-time list and saw her win the race clear ahead of USA's Allie Wilson, who clocked 2:36.31.
Hobbs storms a 6.98 60m
Aleia Hobbs was another athlete who made people sit up and take notice thanks to a storming 6.98 60m run at the Razorback Invitational in Fayetteville on Saturday (28).
After a 7.05 PB in the heats, which took 0.02 off her previous best set when winning the NCAA title in 2018, the US 26-year-old returned to dominate the final, becoming the 13th woman to ever dip under seven seconds in the discipline.
The performance puts the world 100m sixth-place finisher equal ninth on the world indoor 60m all-time list, matching the marks recorded by Shelly-Ann Fraser-Pryce and Elaine Thompson.
World indoor silver medallist Mikiah Brisco finished second behind Hobbs, clocking 7.18.
ALEIA ARE YOU KIDDING ME?!?!

6.98 for the 🐐!#GeauxTigers | @AleiaBitOfThis pic.twitter.com/myYas9jyAX

— LSU Track & Field (@LSUTrackField) January 28, 2023
Also on Saturday, world 200m fifth-place finisher Abby Steiner ran 50.59 for her first individual 400m on a regular sized track. The 23-year-old, who formed part of USA's winning 4x100m and 4x400m teams at last year's World Championships in Oregon, held off a strong attack from 2015 world 400m hurdles silver medallist Shamier Little, who took second in 50.64.
Chris Bailey won the men's 400m final in a PB of 45.09 from Sean Burrell, who clocked 46.37.
Jamaica's 2021 world U20 100m hurdles champion Ackera Nugent improved her 60m hurdles PB by 0.01, taking it to 7.88 to win the women's final, while USA's world 110m hurdles silver medallist Trey Cunningham won the men's event, clocking 7.60.
On the first day of action in Fayetteville on Friday (27), Favour Ofili made her individual season debut, clocking 22.53 to take the 200m ahead of Talitha Diggs with 22.65. Jeremiah Davis soared 8.21m to win the men's long jump.
Garland goes No.8 all time
Kyle Garland had the heptathlon campaign of his career so far at the Texas Tech Invite in Lubbock on Thursday and Friday (26-27), scoring 6415 points to soar up to equal eighth on the world indoor all-time list.
Garland won NCAA titles in both the decathlon and heptathlon last year, and the 22-year-old made another major mark in Lubbock, achieving PBs in five of the seven events during the two-day contest.
Starting with a 60m PB of 6.86, he then leapt 7.56m in the long jump, threw a 16.26m indoor PB in the shot put and ended the first day with a 2.19m PB clearance in the high jump. Day two began with a PB of 7.84 in the 60m hurdles and another of 5.00m in the pole vault before he closed things out with a 2:51.40 1000m.
Also in Lubbock, Micah Williams clocked 6.54 to win his 60m heat and then went even faster in the final, running a winning 6.49. Favour Ashe won his heat in 6.55 but didn't contest the final. In the women's long jump, Ruth Usoro opened her season with a 6.87m leap.