Gudaf Tsegay on her way to a 4:16.16 mile at the World Indoor Tour Gold meeting in Torun (© Adam Nurkiewicz)
Ethiopia's Gudaf Tsegay stormed to second on the world indoor mile all-time list, clocking 4:16.16 for a runaway victory at the ORLEN Copernicus Cup, this season's third World Athletics Indoor Tour Gold meeting, in Torun, Poland, on Wednesday (8).
The 26-year-old, who set the world indoor 1500m record of 3:53.09 at the World Indoor Tour Gold event in Lievin in 2021, went into the race in Torun targeting the record mile mark of 4:13.31 set by Genzebe Dibaba in 2016. Tsegay was second in that race, running 4:24.98 as an 18-year-old, and now, seven years and six global medals later, she also has the second-fastest women's indoor mile in history to her name.
The world 5000m champion and world indoor 1500m gold medallist showed her intent right from the start and followed the pacemaker through 400m in 1:01.1. Although the pace slowed, Tsegay was led to 800m in 2:07.21 and continued on to clock 3:11.26 at 1200m.
She eventually won by almost 13 seconds, with Poland's Weronika Lizakowska second in 4:29.06 and Jamaica's Adelle Tracey third in 4:30.17.
"I was hoping for the world record today, but athletics is like that," said Tsegay. "You can feel you are in great shape in training, but you don't always do what you wanted in competition. I still hope the world record will be mine one day!"
Britain's Olympic and world silver medallist Keely Hodgkinson was looking for a strong 800m season debut after her world 600m best of 1:23.41 in Manchester at the end of last month and although she later admitted that she was hoping for more, she achieved a very promising start. Winning in a world-leading meeting record of 1:57.87, she ran her second-fastest ever race behind the 1:57.20 British record set last year in Birmingham that places her sixth on the world indoor all-time list.
Finishing second, Benin's Noelie Yarigo also made her own mark as she recorded an outright PB and national record of 1:58.48 to move to fifth on the African indoor all-time list, just four days on from another PB performance in Val-de-Reuil. Her 1:59.29 recorded there was a world lead until the race in Torun, and the 37-year-old was delighted with her performance.
Yarigo was the only one to go with the pacemaker, Hodgkinson preferring to sit back and prepare for a strong finish. The Briton was on Yarigo's shoulder at the bell and overtook her on the back straight but her rival was chasing hard. Coming through for third place was Slovenia's Anita Horvat, who ran 2:01.42 after winning at this season's opening World Indoor Tour Gold meeting in Karlsruhe at the end of last month in a 2:00.44 indoor PB. Kenya's world bronze medallist Mary Moraa clocked 2:01.51 to finish fourth on her indoor debut.
"This track brings back some good memories for me," said Hodgkinson, who won European indoor gold in Torun in 2021. "The crowd was really loud and that carried me today. It was good to get a decent first 800m of the season but to be honest, I am a bit disappointed with the time. I just did not commit enough early in the race, but I will try again to run fast in a few weeks. If everything goes perfectly, maybe I can come close to the world record, but it is a tough mark to beat."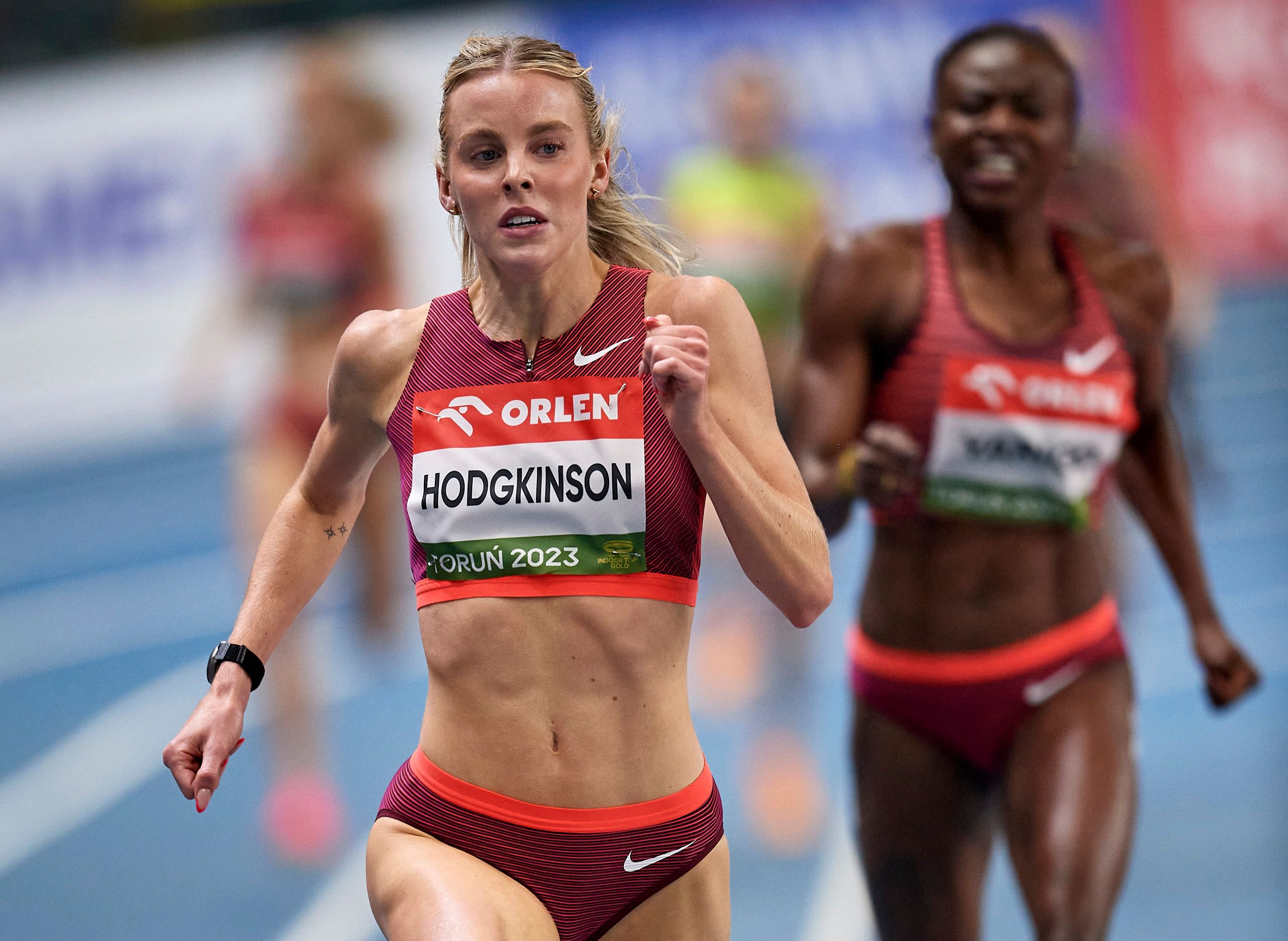 Keely Hodgkinson wins the 800m ahead of Noelie Yarigo at the World Indoor Tour Gold meeting in Torun (© Adam Nurkiewicz)
The men's 800m had looked to be a match up between Sweden's Andreas Kramer and Kenya's Collins Kipruto and that's exactly how the race played out, Kramer kicking at the bell to move past his rival and stride to victory.
Kramer, the world indoor fifth-place finisher, clocked 1:46.37 as a tiring Kipruto held on to finish second in 1:46.82, 0.14 ahead of Spain's Adrian Ben.
Making her 3000m debut, Freweyni Hailu used her 800m speed to hold off her compatriots and lead an Ethiopian top four in a tactical race. Moving ahead at the bell, the world indoor 800m silver medallist powered away from world indoor 3000m bronze medallist Ejgayehu Taye and world indoor champion Lemlem Hailu to win the farthest race of her career so far in 8:46.92.
After finishing second over 800m in Karlsruhe, this time Freweyni Hailu triumphed by almost a second, with Taye, the world 5km record-holder, second in 8:47.81. Lemlem Hailu was third in 8:49.10, while world 3000m steeplechase silver medallist Werkuha Getachew finished fourth in 8:51.55.
French champion Azeddine Habz overpowered Britain's George Mills and Spain's Jesus Gomez to win the men's 1500m in an indoor PB of 3:35.59. Following the pacemaker through 800m in 1:55.24 and 1000m in 2:24.66, Habz led at the bell and held off an attack from his rivals off the final bend to win by 0.33 ahead of Mills, who with 3:35.92 was just 0.04 off the indoor PB he set when winning in Karlsruhe, and European indoor 1500m bronze medallist Gomez, who clocked 3:36.33 for third.
The men's long jump competition was won by Sweden's world indoor silver medallist Thobias Montler, following the disqualification of the performance by Miltiadis Tentoglou.
Olympic champion Tentoglou recorded a jump of 8.40m in Torun but the result was later disqualified under athletic shoe regulations rule 10, which relates to sole thickness. Montler was therefore confirmed as the winner thanks to his second-round leap of 8.14m.
The men's pole vault saw Philippines' Ernest John Obiena put down another marker following his national indoor record-equalling 5.91m in Uppsala last week. With victory secured thanks to a second-time clearance of 5.87m, the world bronze medallist took one attempt at 5.92m and decided to skip straight to 5.95m. He failed his two attempts at that height but won by 5cm, Netherlands' Rutger Koppelaar securing second place on countback ahead of Belgium's Ben Broeders and his Dutch compatriot Menno Vloon, as they all cleared 5.82m – an outright lifetime best for Koppelaar and an indoor PB for Broeders.
In the men's high jump, New Zealand's world indoor bronze medallist Hamish Kerr enjoyed a perfect performance up to his winning height of 2.27m. Clearing 2.15m, 2.21m and 2.27m on his first tries, he needed just three attempts to triumph on countback ahead of Germany's Tobias Potye, achieving an indoor PB with his 2.27m clearance.
Skrzyszowska secures home success
In-form home favourite Pia Skrzyszowska was roared to a meeting record-breaking win in the women's 60m hurdles, the 21-year-old European 100m hurdles champion dipping to victory ahead of Finland's Reetta Hurske, 7.79 to 7.81.
Skrzyszowska was racing four days after threatening the almost 43-year-old Polish record of 7.77 in Lodz, where she clocked 7.78, and she again came close with another sub-7.80 run.
After a 7.86 heat win, Jamaica's world 100m hurdles silver medallist Britany Anderson clocked 7.83 for third in the final. Skrzyszowska eased to victory in the first heat in 7.91.
"I missed the national record by a small margin again, but at least it is a meeting record. I am in good shape and there will be many more chances," said Skrzyszowska. "I'm happy that even with a slow start today I was able to catch up and win with the final dip."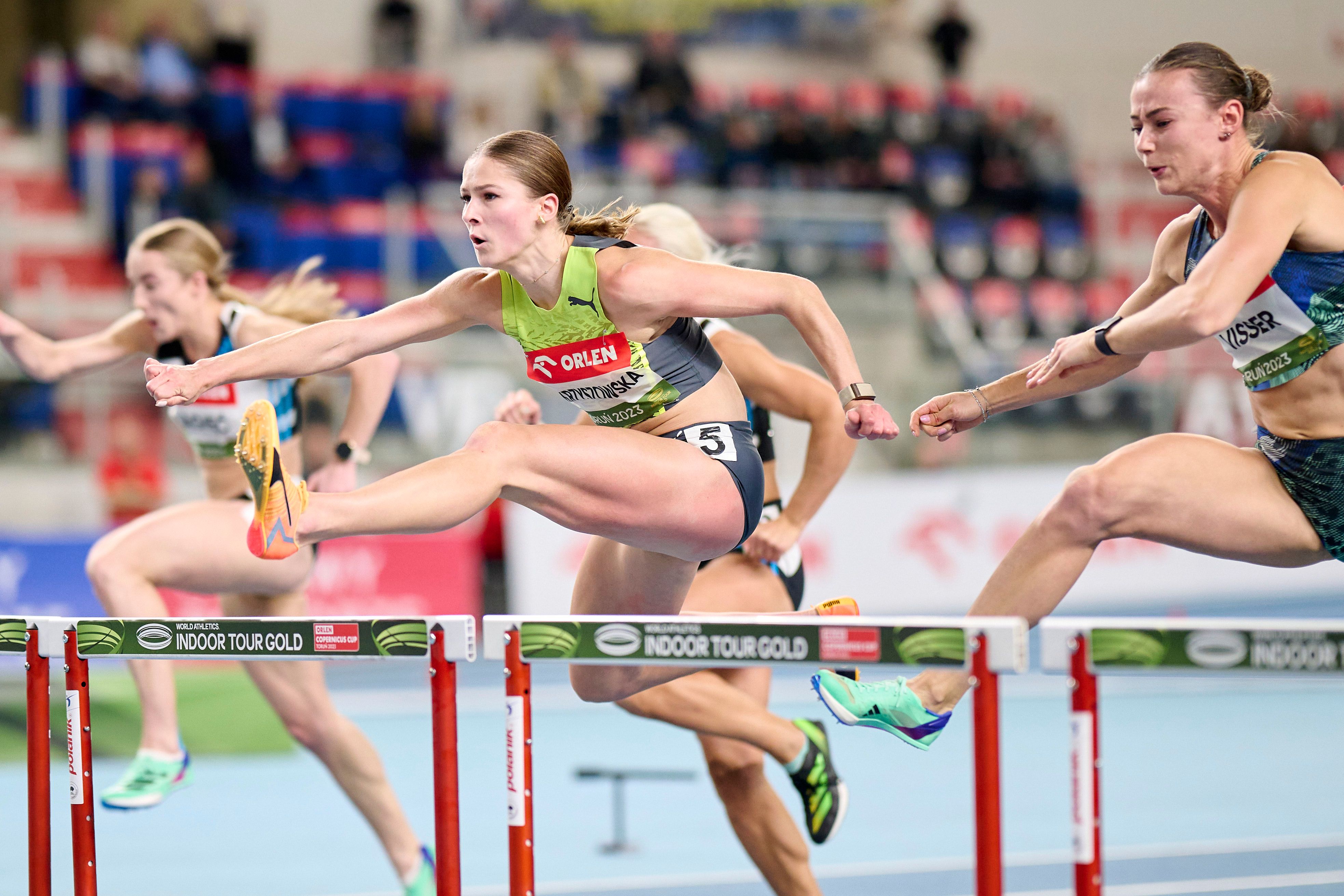 Pia Skrzyszowska in action at the World Athletics Indoor Tour Gold meeting in Torun (© Adam Nurkiewicz)
Fresh from a runner-up finish behind world record-holder Grant Holloway at this year's second World Indoor Tour Gold meeting in Boston on Saturday, USA's Daniel Roberts matched the time he ran there – 7.46 for his joint second-fastest ever performance – to triumph in the men's 60m hurdles in Torun. He beat Roger Iribarne by 0.03, that time of 7.49 being a PB for the Cuban. Poland's Jakub Szymanski secured third place in 7.58.
Earlier in the heats, Roberts pipped Iribarne in the first of the races, both athletes clocking 7.54m, while the second heat was won by Poland's Petr Svoboda in 7.61.
Mujinga Kambundji asserted her authority in the women's 60m final, powering to a 7.06 win ahead of home star Ewa Swoboda. World indoor champion Kambundji surged away in the second half of the race to triumph by 0.05 as Swoboda chased her over the finish line in 7.11. USA's Kayla White secured third place in 7.13, getting the nod ahead of Britain's Daryll Neita, who recorded the same time.
White and Swoboda had been evenly matched in the first heat, both athletes recording 7.17. Neita then won the second heat in 7.20, 0.01 ahead of Kambundji.
Netherlands' Lieke Klaver got off to an expected strong start in the women's 400m and six days on from her 51.00 PB win in Ostrava, the world relay medallist secured another victory, this time clocking 51.14. Czech Republic's European U23 champion Lada Vondrova followed her over the finish in 51.91.
Sweden's world indoor bronze medallist Carl Bengtstrom proved too much for his rivals in the men's 400m, reaching the bell narrowly ahead of Denmark's world indoor fourth-place finisher Benjamin Lobo Vedel and powering on to win in 46.15. Vedel was second in 46.50 and Britain's Alex Haydock-Wilson, who has raced at each of the three World Indoor Tour Gold meetings so far this season, was third in 46.70.
The next event in the World Indoor Tour Gold is the Millrose Games in New York on 11 February.
Jess Whittington for World Athletics