Gudaf Tsegay wins the 3000m in 8:16.69 in Birmingham (© Getty Images)
Gudaf Tsegay stormed to the second-fastest women's indoor 3000m performance of all time on an afternoon that saw World Indoor Tour titles won, and meeting and national records fall, at the final of the World Athletics Indoor Tour Gold series in Birmingham, UK, on Saturday (25).
During an action-packed couple of hours, Tsegay's 8:16.69 was the highlight as the world indoor 1500m record-holder fell just nine hundredths of a second short of the world indoor 3000m record of 8:16.60 set by her compatriot Genzebe Dibaba in Stockholm in 2014.
Aided by two pacemakers and Wavelight technology, Tsegay was a stride behind as Nadia Power reached the 1000m mark in 2:43.41, right on schedule.
Tsegay, who won world 5000m and world indoor 1500m titles in 2022, slipped to the end of the green line of lights signifying world record pace over the next couple of laps, but was still holding on as 2000m was reached in 5:31.06.
With two laps to go, the green lights were snaking away, but Tsegay wasn't done. Digging deep, she hit the bell in 7:45.18 and scorched a 31.51 last lap to take her agonisingly close to the record.
Ethiopia's 2021 world U20 5000m gold medallist Mizan Alem was second in 8:31.20 and Germany's Konstanze Klosterhalfen third in 8:35.14.
After her 4:16.16 mile in Torun, it's the second time this month that Tsegay has achieved the second-best performance in history behind a world record held by Dibaba.
"It was so close," said Tsegay. "My body is more tired from the travelling, but I am sure that I will get the world record next time."
While Tsegay secured a runaway victory, the men's 1500m was much closer as the leading athletes pushed each other to national records.
The race had been set up as a British record attempt and Olympic bronze medallist Josh Kerr – who started as the national record-holder with the 3:32.86 he ran in Boston last year – put himself right behind the pacemaker, followed by his compatriot Neil Gourley and Spain's Adel Mechaal.
But Gourley was ready to strike and he kicked down the back straight with devastating effect. Crossing the finish line in 3:32.48, the world indoor sixth-place finisher improved Kerr's national record and replaced him at No.8 on the world indoor all-time list.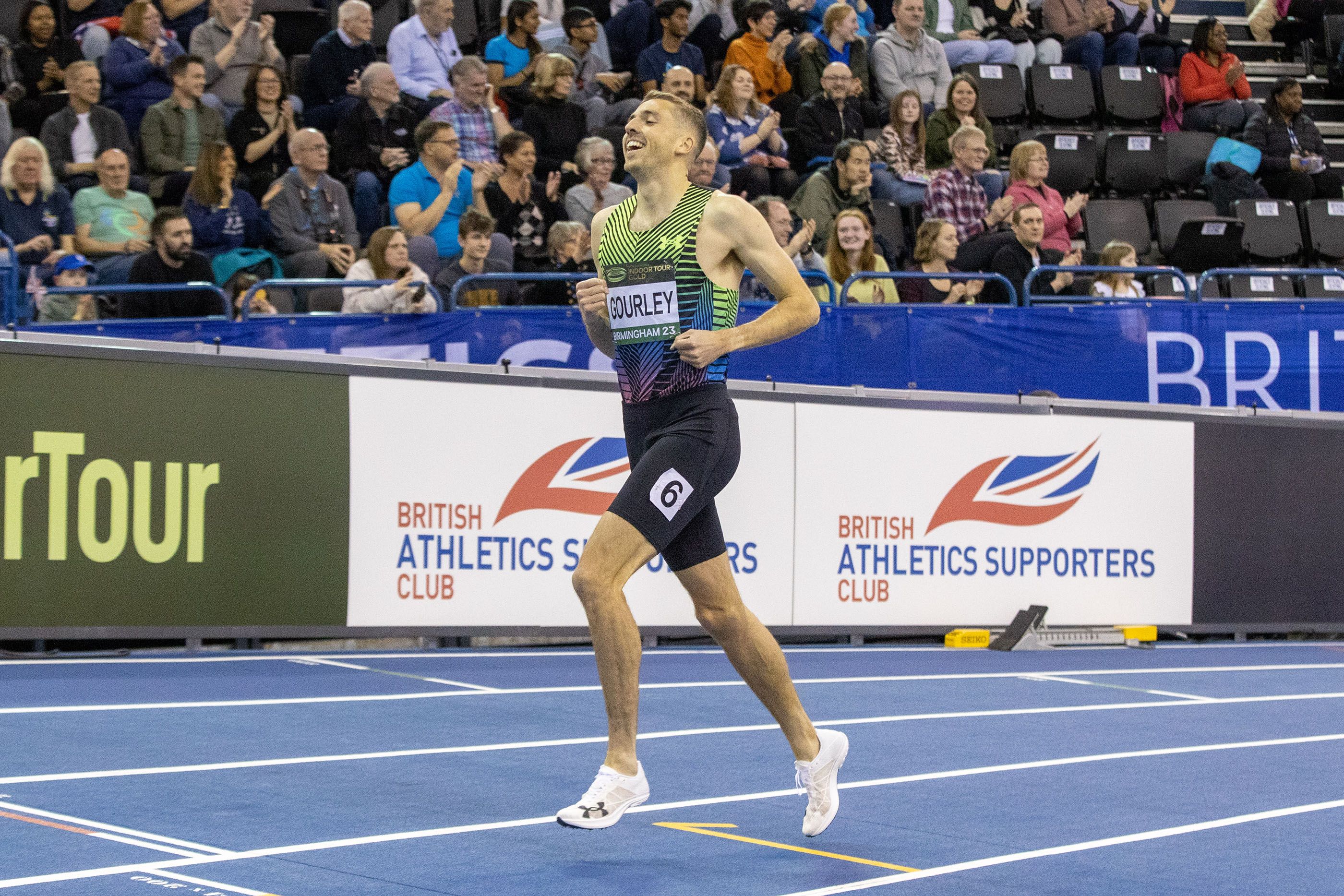 Neil Gourley celebrates his 1500m win in Birmingham (© Ian Stephen)
Chasing Gourley to the finish line was Mechaal, who set a Spanish record of 3:33.28 in second place. In third, Andrew Coscoran stormed to an outright Irish record of 3:33.49 and he was followed by his compatriot Luke McCann (3:34.76) as Kerr finished fifth in 3:34.93.
Gourley had further cause for celebration, as his win secured him overall victory in the World Indoor Tour after his mile win in Boston and runner-up finish in New York.
"That race was something else," he said. "I knew it was going to be quick, it was a case of hanging on and using my pace in the last 150m and thankfully I managed to do that."
Another British record was set in the women's 800m, Olympic and world silver medallist Keely Hodgkinson taking 0.02 off her own national mark with 1:57.18 to win by more than two-and-a-half seconds.
Although disappointed with her time – as she went into the race with an eye on the 1:55.82 world record that was set by Jolanda Ceplak on the day Hodgkinson was born almost 21 years ago – the Briton's victory got her the World Indoor Tour title and strengthened her place at No.6 on the world indoor all-time list.
Australia's Catriona Bisset was second in 1:59.83 and Britain's Isabelle Boffey third in 2:00.25.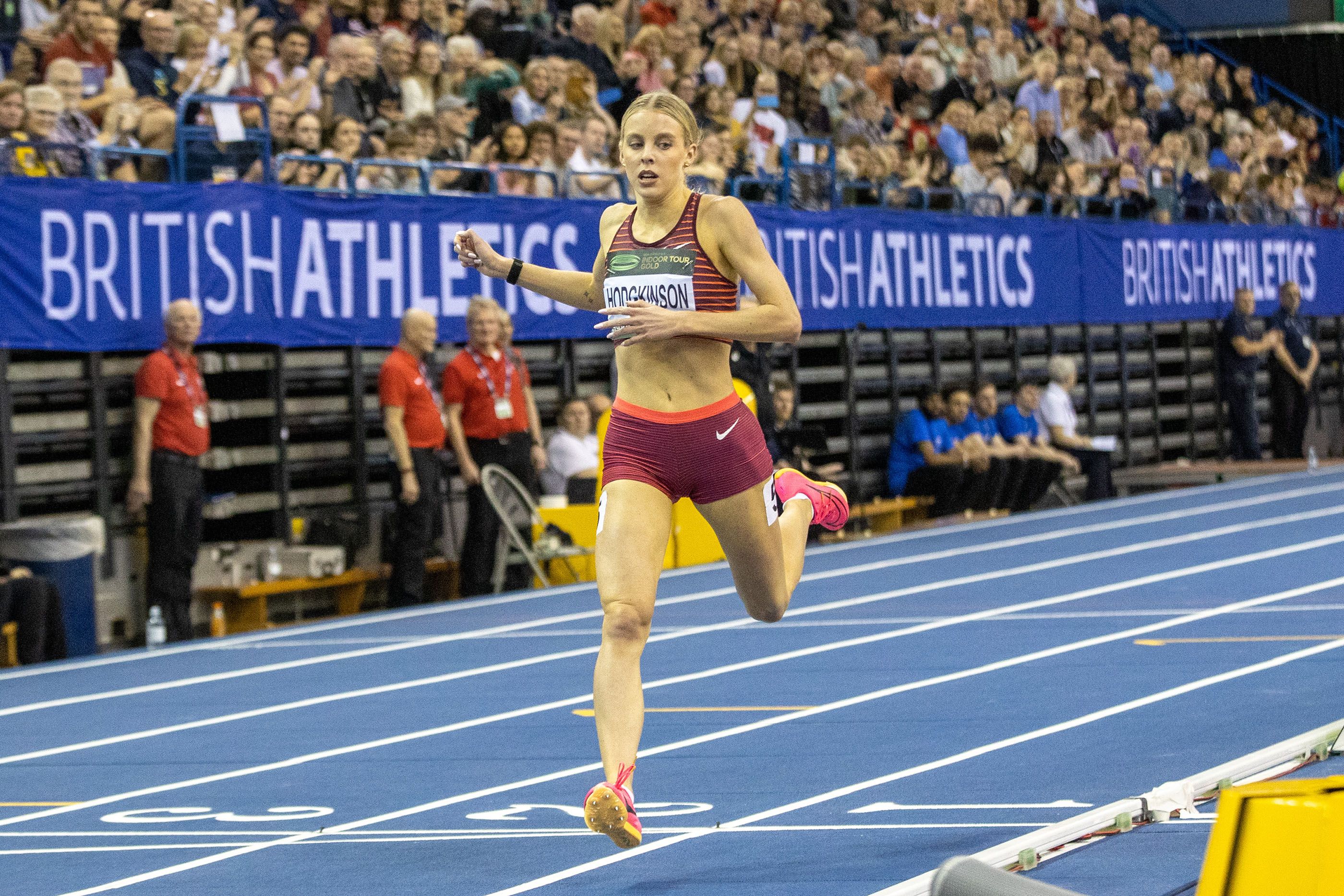 Keely Hodgkinson improves her British indoor 800m record in Birmingham (© Ian Stephen)
"It was pretty smooth running, but the line got away from me towards the end," said Hodgkinson. "I'm a bit gutted because I feel like I'm capable of faster than that, but nevertheless, I'm happy to come away with another British record."
The women's 1000m also featured a world record attempt, with Britain's Olympic 1500m silver medallist Laura Muir attacking Maria Mutola's 2:30.94 set in 1999. On pace in the first half of the race, the lights started to move away from Muir a short while after and she went on to win in 2:34.53.
Claudia Bobocea had been reeling her in and was rewarded with a Romanian indoor record of 2:35.35, while Poland's Sofia Ennaoui was third in a national indoor record of 2:35.69.
"I was going to go for it, and I think when you are running at that pace, it's going to hit at some point," said Muir. "Unfortunately, it hit a bit too soon, but I had to go for it, and I had to run those times at the start."
Asher-Smith breaks British record, Holloway maintains hurdles stronghold
Dina Asher-Smith was the first British record-breaker of the day, the 2019 world 200m champion improving her own national 60m mark to 7.03 in the heats before winning the final in 7.05.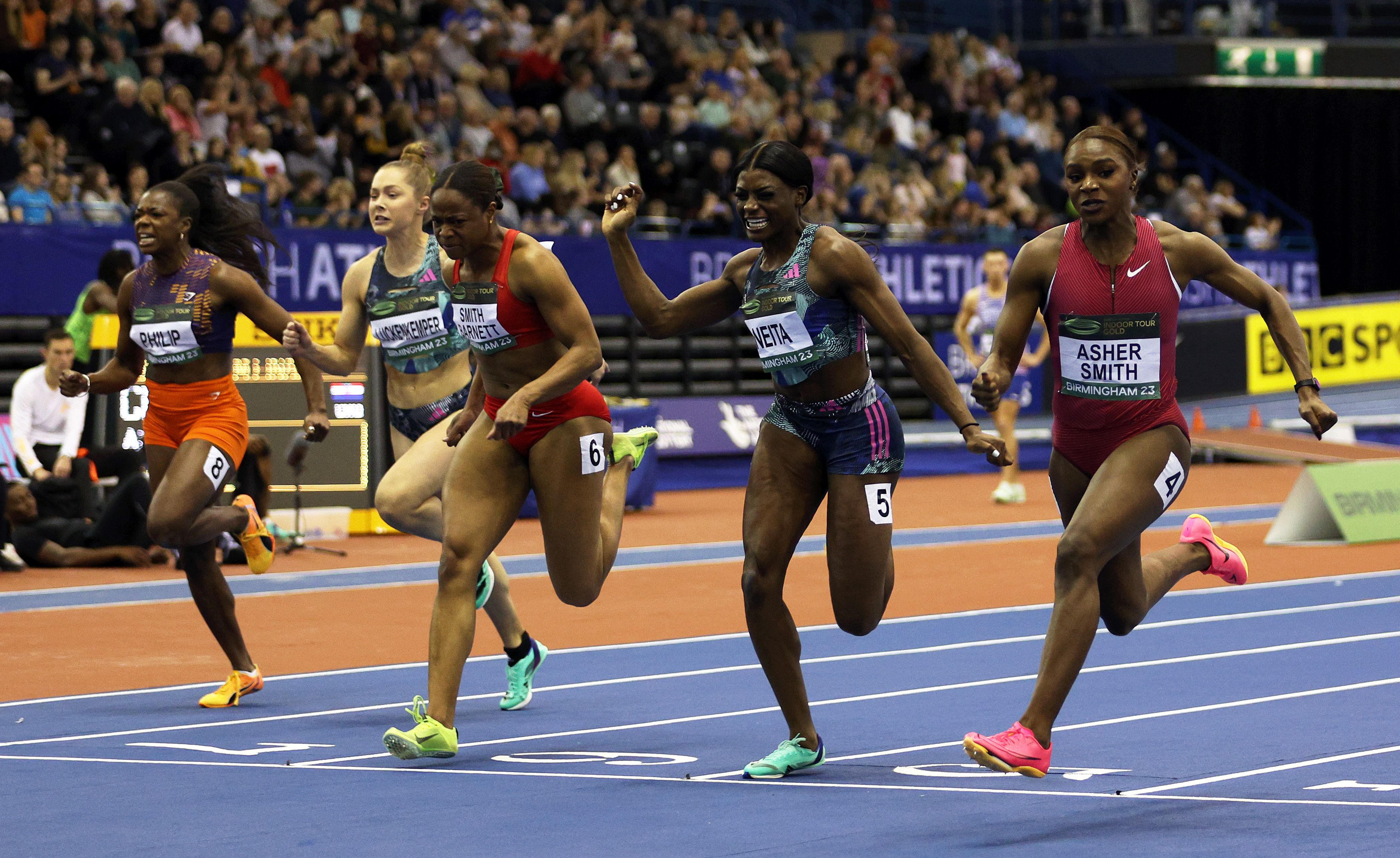 Dina Asher-Smith wins the 60m in Birmingham (© Getty Images)
The 27-year-old had taken the British record to 7.04 at the opening World Indoor Tour Gold meeting of the season in Karlsruhe and continued her consistency in front of a delighted home crowd.
Leaving her rivals behind, she won by 0.08 ahead of her compatriot Daryll Neita, who ran 7.05 in Berlin earlier this month, while USA's Destiny Smith-Barnett was third in 7.15 and Jamaica's world 200m champion Shericka Jackson fourth in 7.18.
"I'm really happy to have run a British record," said Asher-Smith. "I was aiming for sub-7 today, but it's good that I'm frustrated, running so fast. It bodes well."
Two-time world 110m hurdles champion Grant Holloway maintained his impressive indoor sprint hurdles win streak that dates back to 2014, when he was 16 years old – breaking the men's 60m hurdles meeting record with 7.35.
A season's best, and a time that only he and two other athletes have ever beaten, world record-holder Holloway won by 0.12 ahead of his US compatriot Daniel Roberts, also pipping him in the battle for the overall tour title. Cuba's Roger Iribarne was third in 7.58.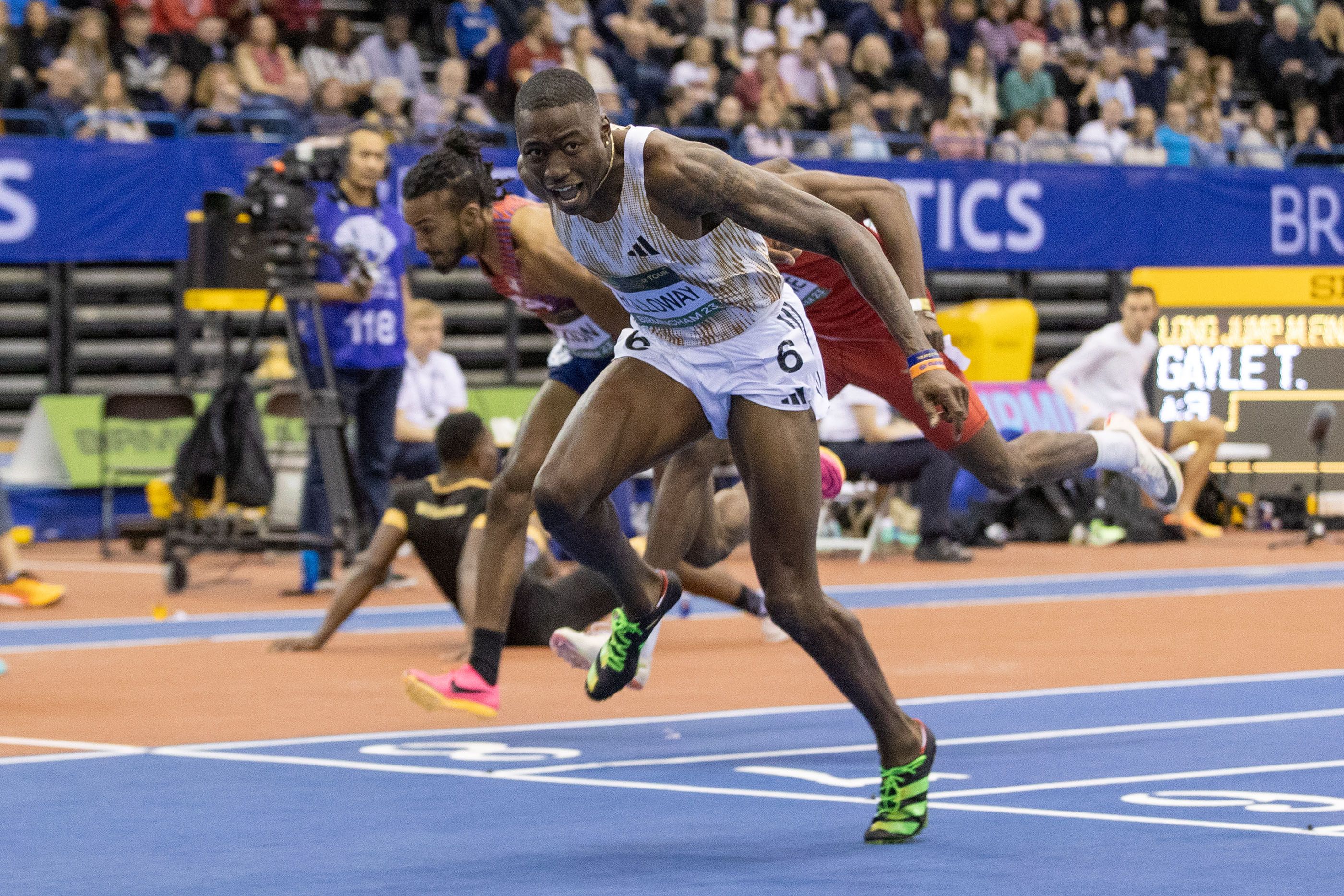 Grant Holloway wins the 60m hurdles in Birmingham (© Ian Stephen)
"It was a great race, the stadium record makes it that much better," said Holloway. "My goal was to come out here, have a little bit of fun, and I did that. The future is bright for me."
Trinidad and Tobago's world indoor champion Jereem Richards strode to overall tour victory in the men's 400m, holding off his US rival Vernon Norwood - 45.74 to 45.92. Ireland's Jack Raftery finished third in 46.66.
"It's been a competitive series and has really driven me forwards," said Richards. "Every time I step out on the track I try and improve and I have done that in every race so far this season. I'm grateful and very happy with it."
Dendy and Newman soar to victory
USA's 2016 world indoor gold medallist Marquis Dendy saved his best leap for last to triumph in the men's long jump.
Leading the competition with 8.01m in the first round and 8.07m in the second, he dropped down a place when Jamaica's 2019 world champion Tajay Gayle soared 8.13m with his final attempt.
Dendy also had more to give, however, and he responded with 8.28m to win the contest. Sweden's world indoor silver medallist Thobias Montler had to settle for sixth place on the day, managing a best of 7.63m, but he won the tour title thanks to his performances in Torun, Lievin and Madrid.
Canada's Alysha Newman won the women's pole vault and with it the overall tour title, as she cleared a season's best of 4.78m, enjoying a perfect performance up to that winning height. The 2018 Commonwealth Games champion entered the competition at 4.41m and cleared that, 4.51m, 4.61m, 4.71m and 4.78m on her first attempts before three unsuccessful tries at 4.84m.
Slovenia's Tina Sutej was second with 4.71m and USA's Gabriela Leon third with 4.61m.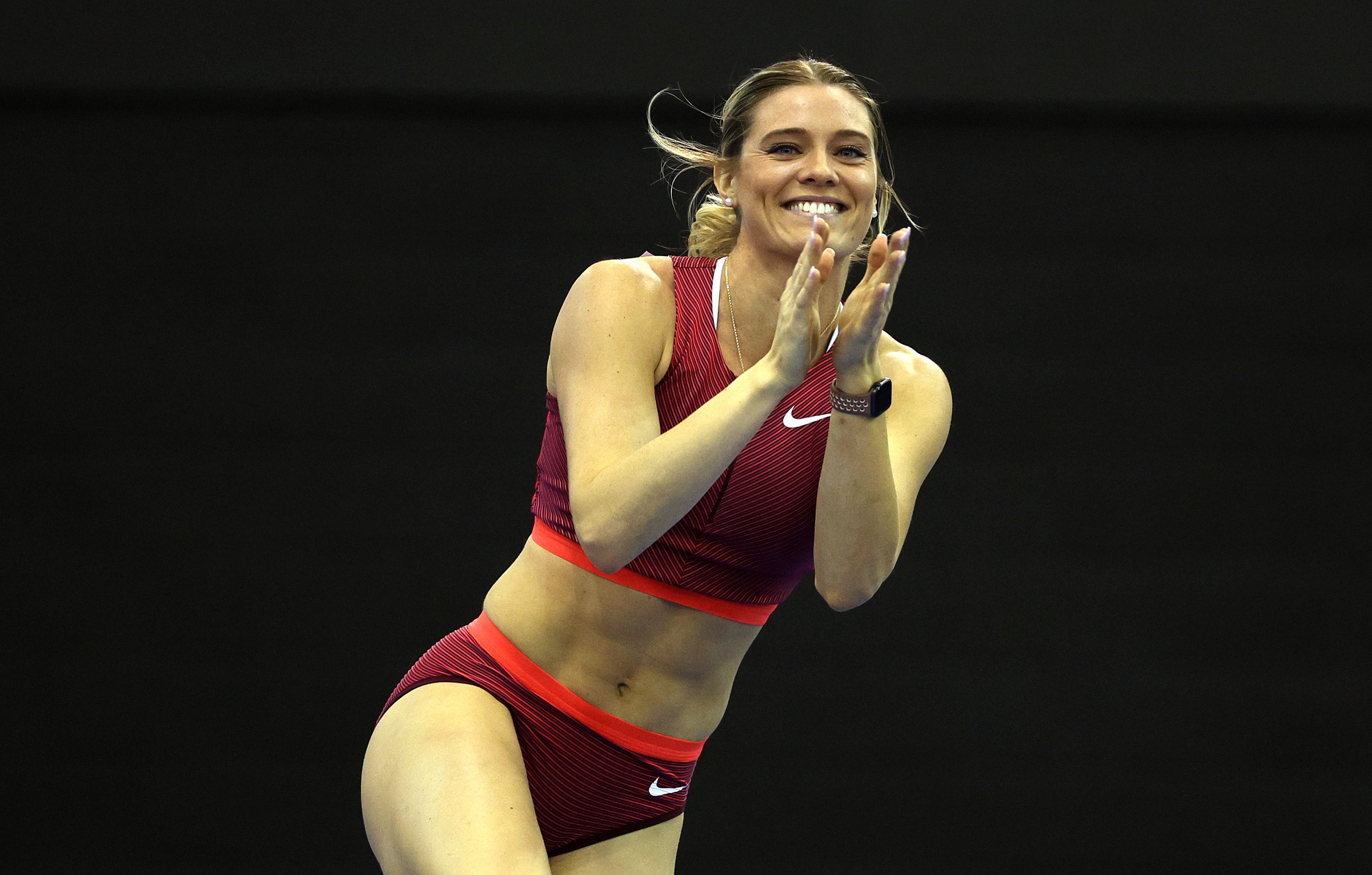 Alysha Newman celebrates her pole vault win in Birmingham (© Getty Images)
New Zealand's Hamish Kerr wrapped up his overall tour title win with victory in the men's high jump. Clearing 2.28m, the world indoor bronze medallist – who soared an Oceania record of 2.34m in Banska Bystrica last week – went on to have one attempt at 2.32m before calling it a day.
Mexico's Erik Portillo was second on countback as he also cleared 2.28m, while his compatriot Edgar Rivera secured third place on countback ahead of Germany's Tobias Potye, both athletes clearing 2.25m.
In a domestic men's 60m missing Ojie Edoburun, Jeremiah Azu and Richard Akinyebo due to false starts, Charlie Dobson got the win in 6.64.
The meeting in Birmingham was the final of this season's World Indoor Tour Gold, which offers athletes the chance to compete for bonus prize money as well as wild card entries for the World Athletics Indoor Championships, subject to selection by the athlete's national federation.
The scoring disciplines on the World Indoor Tour rotate each year. Each athlete's best three results through the season count towards their overall point score and the athletes with the most points in each scoring discipline secure the tour titles.
Jess Whittington for World Athletics