German javelin thrower Johannes Vetter (© Getty Images)
German star Johannes Vetter grabbed the headlines by throwing 92.14m in the men's javelin on a cool and rainy evening at the Spitzen Leichtathletik meeting, a World Athletics Continental Tour Silver event, at the Allmend Stadium in Lucerne on Tuesday (29).
Vetter opened the competition with 89.19m in the first round before improving to 92.14m from his second attempt. The 2017 world champion threw the javelin to 91.39 in the third round before withdrawing from competition after three attempts. Trinidad and Tobago's 2012 Olympic champion Keshorn Walcott finished second with 85.16m ahead of Julian Weber from Germany (84.85m).
Vetter has now thrown over 91 metres in seven competitions this season. He leads the world rankings with his impressive 96.29m set at the European Team Championships.
Vetter made his return to Lucerne, where he set his first German record with 94.44m in 2017, a month before winning the world gold medal in London. "Lucerne is like a home meeting for me and I am happy to be back in this venue," he said. "The organisation and the atmosphere are perfect. Spectators created a great atmosphere in the stadium.
"It was not easy to throw tonight. I would have liked to produce a better result, but my body was too tired after throwing 93.59 in Kuortane three days ago. I am happy that I managed to perform well again and throw over 92 metres."
Vetter highlighted a great night from German athletes, who claimed seven wins.
Reigning European champion Christin Hussong completed the German double by winning the women's javelin throw with 64.02m in the third round. Hussong won for the third time in her career in Lucerne. The German thrower produced four more throws over the 60-metre barrier (62.53m, 61.38m, 60.77m and 60.56m) which would have been enough to win the competition, as former European champion Tatsiana Khaladovich finished second with 60.31m.
"The conditions were very tough for javeliin throw," said Hussong. "Throwing again over the Olympic qualifying standard in rainy weather is a good result."


Kiplimo runs meeting record, Van Niekerk wins 400m
World half marathon champion Jacob Kiplimo from Uganda won the men's 5000m, setting a meeting record with 12:55.21. Kenya's Daniel Simiyu, who recently finished second at the Kenyan Olympic Trials, improved his PB to 12:55.88 to take the runner-up spot ahead of Boniface Kibiwott (13:06.36).
Olympic champion and world record-holder Wayde van Niekerk won his first 400m race this season in 44.87 on European soil in far from ideal weather conditions. Van Niekerk stormed into the lead going into the final bend before clocking his second sub-45 time in 2021. The South African star set the qualifying standard in Madrid with 44.56 earlier this year. Irishman Christopher O'Donnell finished a distant second in 45.55.
Van Niekerk made his comeback to the Lucerne meeting where he broke the 20-second barrier for 200m for the first time in his career in 2015 with 19.94.
"I thank Switzerland for the warm welcome," he said. "I am grateful to the organisers. It's always nice to return here. It was a positive win and I want to use the momentum. My aim is to win the gold medal in Tokyo."
Olympic and world finalist Akani Simbine from South Africa continued his unbeaten streak this season by winning the men's 100m in 10.11 (-0.2m/s), beating his compatriot Thando Dlodlo, who took second place in a season's best of 10.20.
Three-time world medallist Marie Josee Ta Lou claimed the win in the women's 100m with 11.09 (-0.4m/s) ahead of world 200m bronze medallist Mujinga Kambundji, who took second place with 11.24. Kayla White from the USA finished third with 11.31. Kambundji, who won the Swiss title last weekend in 11.05 in Langenthal, was one of the most cheered athletes by the enthusiastic Lucerne fans.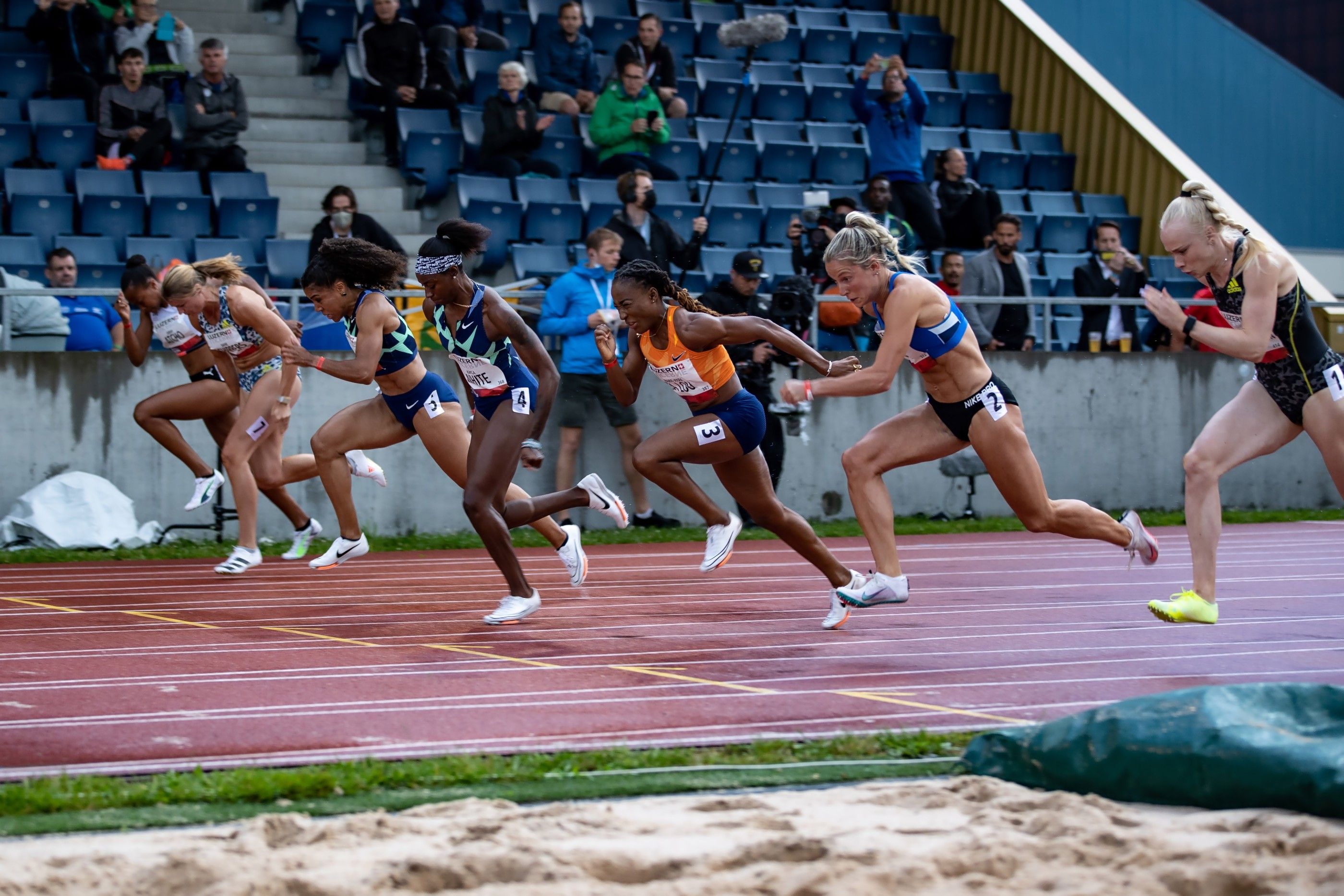 (© Hanspeter Roos)

Shot put success for Adams
Four-time world champion Valerie Adams won the women's shot put with 18.91m. Adams produced four more attempts over 18 metres (18.30m, 18.43m, 18.40m and 18.59m) which would have been enough to win the competition. Germany's Alina Kenzel finished second with 17.87m.
Robeilys Peinado from Venezuela cleared 4.61m on her first attempt to win the women's pole vault in difficult weather conditions. Lisa Gunnarsson from Sweden took second place with 4.41m.
Ditaji Kambundji, the younger sister of Mujinga, delighted the local fans with a win in the women's 100m hurdles in 13.11 (-0.8m/s) a few days after claiming her second consecutive Swiss title in 13.03 in Langenthal. She had also improved her PB to 12.94 earlier this month at the Continental Tour Bronze meeting in Geneva.
Namibian 18-year-old rising sprint star Beatrice Masilingi continued her great season with another win in the women's 200m ina lifetime best of 22.67 ahead of German champion Alexandra Burghardt (23.16) and Lisa Marie Kwayie (23.28).
European silver medallist Alex Wilson provided another win for Switzerland in the men's 200m in 20.64 (-0.3m/s). Dlodlo won the 200m B race in 20.74.
German champion Christina Hering launched her kick with 300m to go to take the win in the women's 800m with 2:00.04 ahead of Lore Hoffmann from Switzerland (2:00.38) and Katharina Trost (2:00.92).
European bronze medallist Thomas Barr from Ireland won the men's 400m hurdles with 49.12, beating the USA's Quincy Downing (49.42) and Nick Smidt from the Netherlands (49.73).
Ruswahl Samaai saved his best for last by clinching the win in the men's long jump in the sixth round with 8.06m. The South African jumper was the only athlete to go beyond eight metres, as Emiliano Lasa from Uruguay finished second with 7.90m ahead of Lester Alcides Lescay from Cuba (7.83m).
German champion Carolina Krafzik won the women's 400m hurdles in 55.55, beating Tia-Adana Belle from Barbados (56.00).
Gabriel Constantino from Brazil took a very close win in the men's 110 hurdles in 13.60, sharing the same time as second-placer Petr Svoboda from Czech Republic.
Robert Farken from Germany won the men's 1500m, setting a meeting record with 3:36.80.
Diego Sampaolo for World Athletics