Anderson Peters and Neeraj Chopra (© Dan Vernon / Getty Images)
The spiritual home of the javelin seems as good a place as any for Neeraj Chopra to make his first competitive appearance since winning the Olympic title in Tokyo last year.
The Indian superstar leads an insanely strong javelin field at the Paavo Nurmi Games on Tuesday (14) as the World Athletics Continental Tour Gold series reaches Turku in the javelin-mad country of Finland.
Chopra memorably struck gold in Tokyo last year with an 87.58m effort. More than 10 months have passed since Chopra became India's first Olympic gold medallist in athletics, but after a slightly delayed start to his 2022 campaign, he is ready to take to the runway once again.
His lack of recent competitions may not necessarily work against him; he set his lifetime best of 88.07m in what was his first outing of 2021. But even if he reproduces that form in Turku, it may not be enough to beat his opponents – four of whom have thrown beyond 89 metres this year.
The world list is led by world champion Anderson Peters. The Grenadian is undefeated in all seven of his competitions this year and the nine best throws of his life have call come in the past month, topped by the world-leading Caribbean record of 93.07m he throw in Doha.
But what makes Peters such a feared competitor is his ability to respond to his opponents. His winning throw in Doha came off the back of Olympic silver medallist Jakub Vadlejch producing a 90.88m effort to briefly take the lead. Similarly, Peters uncorked another big throw – 90.75m – in Hengelo after Germany's Julian Weber took the lead with 89.54m.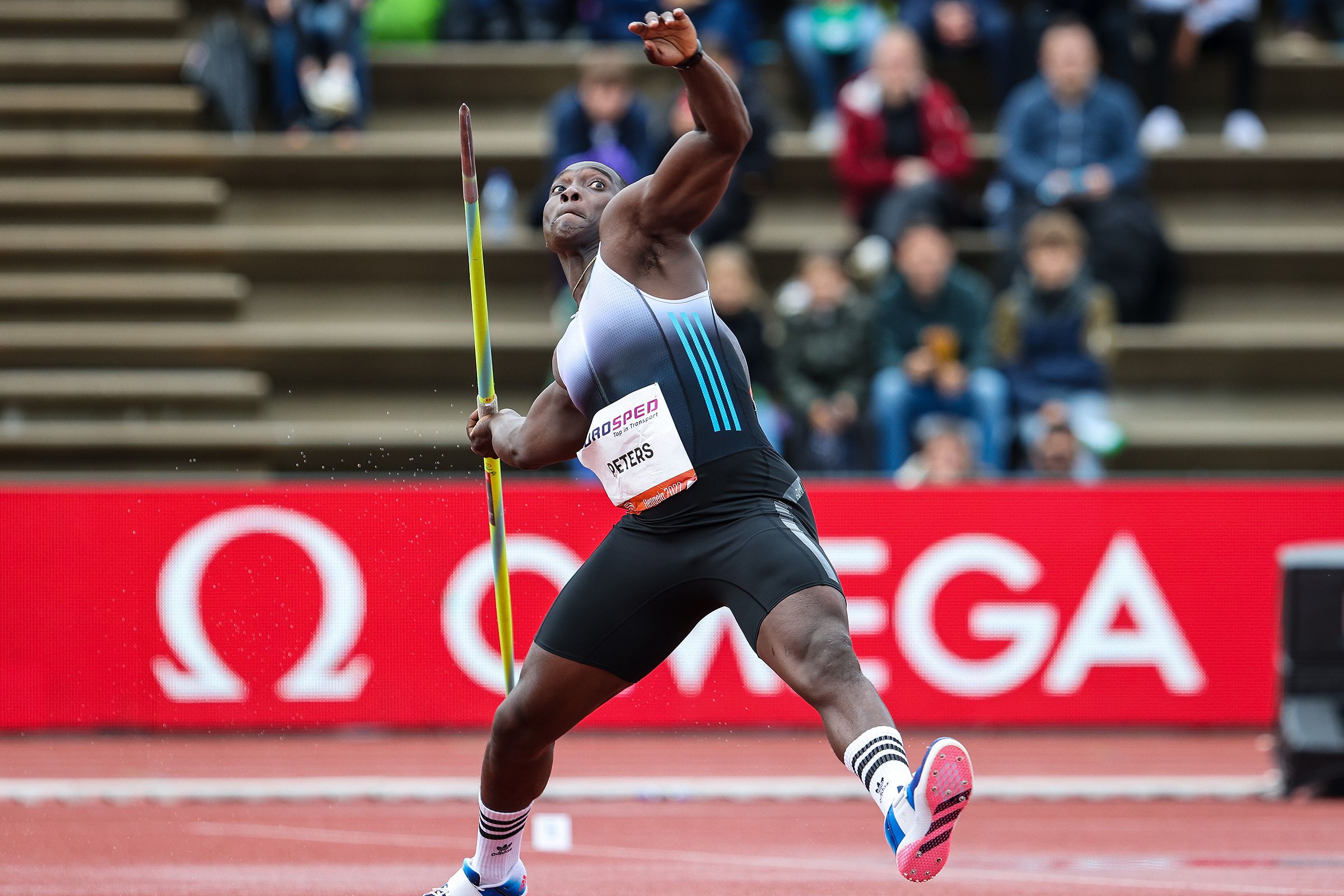 Anderson Peters in action in the javelin in Hengelo (© Dan Vernon)

"I've had an incredible start to the year, I'm having the season of my lifetime," said Peters. "I'm undefeated so far, and the last time that happened was in 2019, and I ended the year as world champion, so I'm looking forward to repeating that."
The competition organisers have provided an extra incentive for the javelin throwers: anyone who throws beyond the Finnish record mark of 93.09m will win a Mustang.
"This will be the toughest javelin competition of the year so far and I'm honoured to be part of it," added Peters. "And I'm chasing that Mustang."
Vadlejch and Weber will also be in Turku, as will 2012 Olympic champion Keshorn Walcott, who has thrown 89.07m this year, and Germany's Andreas Hoffman, who has a PB of 92.06m.
The discus field is similarly loaded and, as is the case in the javelin, the Olympic champion will take on the world leader.
Kristjan Ceh has dominated the discipline this year, throwing a Diamond League record of 71.27m in Birmingham and backing it up with a meeting record of 70.72m in Rome. The 23-year-old Slovenian is undefeated in nine contests this year and currently appears to have the upper hand on world and Olympic champion Daniel Stahl, who has been beaten by Ceh four times this year.
Nevertheless, Stahl is never far too far away and has a season's best of 69.27m. Andrius Gudzius, the 2017 world champion, is sandwiched between Ceh and Stahl on this year's world list, the Lithuanian having thrown a best of 69.39m. World and Olympic bronze medallist Lukas Weisshaidinger, who has improved his own Austrian record to 69.11m this year, and Olympic silver medallist Simon Pettersson are also in the line-up.
Olympic bronze medallist Malwina Kopron, who has a best of 75.08m this year, fronts the women's hammer field. The Pole will take on Sara Fantini, who recently set an Italian record of 74.86m, Finnish record-holder Krista Tervo, world U20 champion Silja Kosonen, and Olympic sixth-place finisher Bianca Ghelber of Romania.
The men's 800m promises to be a competitive race as just 0.8 separates the six fastest entrants based on their season's bests.
Olympic 4x400m silver medallist Tony van Diepen tops the entries with the 1:44.31 he ran to win at the Continental Tour Gold meeting in Bydgoszcz earlier this month. But European U20 record-holder Max Burgin, Kenya's Collins Kipruto and Sweden's Andreas Kramer are close behind on this year's world list with bests inside 1:45, while France's Gabriel Tual and Kenya's Cornelius Tuwei are just outside that benchmark.
Italian 800m runner Elena Bello smashed through the two-minute barrier for the first time in her career at the recent Wanda Diamond League meeting in Rome, clocking 1:58.97. She will attempt to back up that form with a strong run in Turku when she takes on fellow sub-two-minute performers Angelika Sama of Poland, Noelie Yarigo of Benin, Britain's Ellie Baker, Germany's Katharina Trost and Switerland's Lorre Hoffman.
In the men's 3000m steeplechase, the longest event on the programme, Ethiopia's 2018 Youth Olympic Games champion Abraham Seme faces Finland's Topi Raitanen and Germany's Frederik Ruppert, among others.
Redemption for Anderson
At the recent Wanda Diamond League meeting in Rome, Jamaica's Britany Anderson was level with Olympic champion Jasmine Camacho-Quinn for most of the way in the 100m hurdles, only to clip the final barrier and settle for second place in 12.50.
Were it not for losing momentum, the 21-year-old may well have been close to Camacho-Quinn's winning time of 12.37. But Tuesday's race in Turku will give Anderson the opportunity of rebounding with a fast time and perhaps victory to boot. She'll face Nigeria's Tobi Amusan, Australia's Liz Clay, and Nadine Visser of the Netherlands.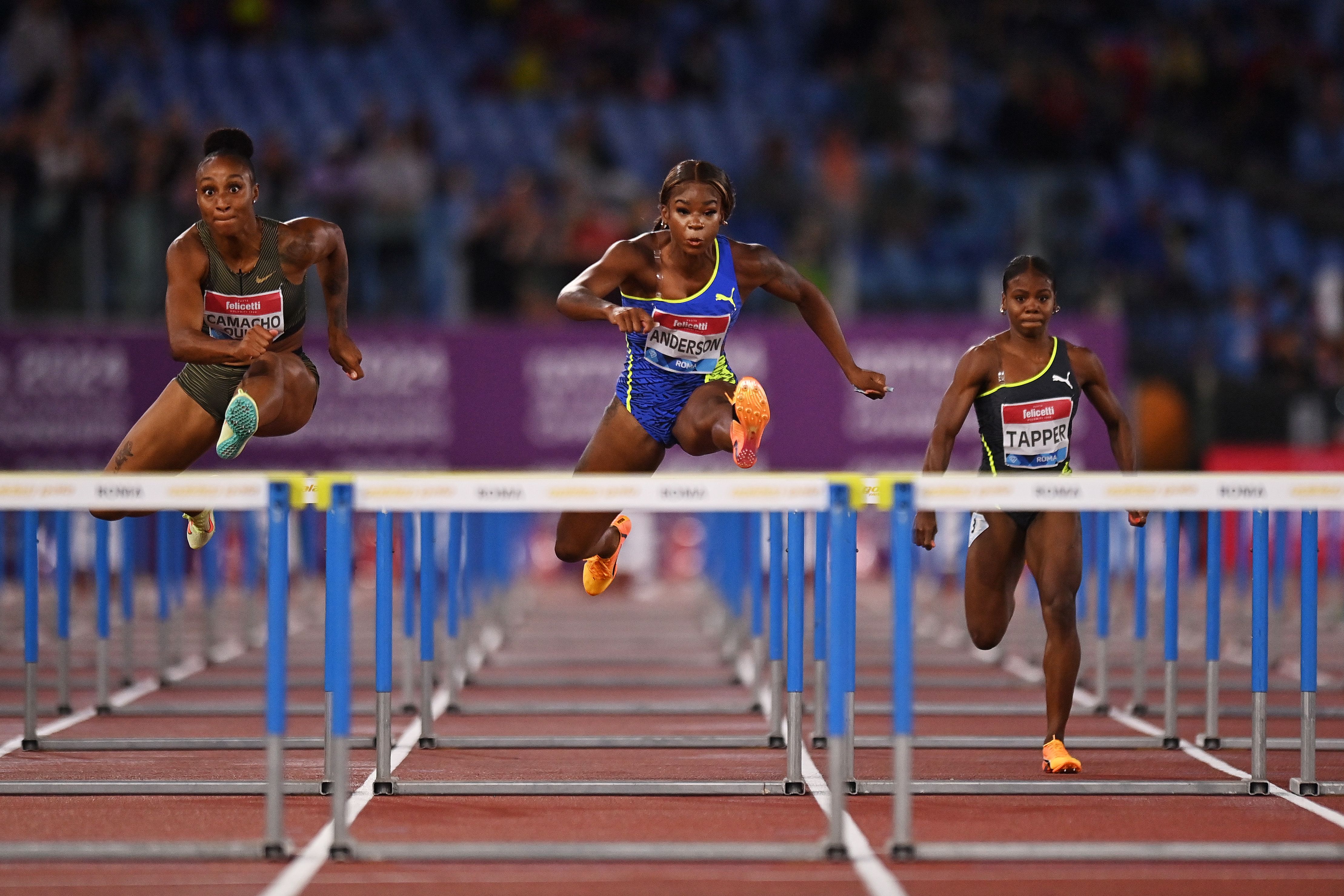 Jasmine Camacho-Quinn and Britany Anderson battle in the women's 100m hurdles at the Wanda Diamond League in Rome (© Getty Images)

Eduardo Rodrigues will be looking for another victory in the 110m hurdles following his triumph in Hengelo last week. The Brazilian will take on 2018 world indoor champion Andrew Pozzi and Damian Czykier, who recent set a Polish record of 13.25.
Elsewhere in the sprints, Britain's Olympic bronze medal-winning teammates Daryll Neita and Imani Lansiquot will clash in the 100m, while Nigeria's African Games champion Raymond Ekevwo leads the entries for the men's event. Estonia's Rasmus Magi and Mario Lambrughi will clash in the men's 400m hurdles, and Italy's Ayomide Folorunso and Finland's Viivi Lehikoinen should be competitive in the women's one-lap hurdles.
Dominica's Thea Lafond and world silver medallist Shanieka Ricketts should enjoy a close battle in the women's triple jump. Slovenia's Neja Filipic and USA's Tori Franklin will also likely be in the mix.
Brazil's 2018 world indoor silver medallist Almir Dos Santos, who has a best this year of 17.04m, will start as the marginal favourite in the men's triple jump. Multiple world and Olympic champion Christian Taylor, still returning from the injury that kept him out of the Tokyo Olympics, will be looking for an improvement on his recent jumps.
Olympic silver medallist Nicola Olyslagers leads a high jump field that also includes Ukraine's Iryna Herashchenko, Britain's Morgan Lake and Italy's Elena Vallortigara.
Olyslagers' fellow Australian Nina Kennedy, meanwhile, will be the favourite to take the women's pole vault as Wilma Murto carries home hopes.
Jon Mulkeen for World Athletics