Nia Ali and Jasmine Camacho-Quinn (© Getty Images)
Multiple global medallists including two reigning individual Olympic champions headline a series of competitive clashes when the World Athletics Continental Tour Gold makes its next stop at the Golden Spike in Ostrava on Tuesday (31).
Jasmine Camacho-Quinn stars in another strong 100m hurdles field and her fellow Tokyo gold medallist Gianmarco Tamberi leads the line-up for the men's high jump. US sprint legend Allyson Felix takes to the track in the 200m, while world champions Tom Walsh and Joe Kovacs feature in a shot put head-to-head and home javelin stars Jakub Vadlejch and Vitezslav Vesely take on the in-form Anderson Peters.
Olympic champion Camacho-Quinn is one of four global medallists looking to make a statement in the sprint hurdles, an event that has burst into action in fine style already this year. The Puerto Rican record-holder, who clocked 12.26 in Tokyo to move to joint fourth on the world all-time list, is the world leader with the 12.39 she clocked in Florida in April. After that she was unable to finish her race at the Drake Relays but placed second at the Puerto Rico Classic and then surged to victory at the Prefontaine Classic in Eugene, so will be looking to continue her winning ways when she races in the Czech Republic for the first time.
She will have to overcome some tough opposition if she is to do so as she faces the world champion, world indoor silver medallist and Olympic bronze medallist. Nia Ali contests her first 100m hurdles race outside of the USA since her world title win in Doha in 2019 and is fresh from facing Camacho-Quinn in Eugene, while Bahamian Devynne Charlton claimed 60m hurdles silver in Belgrade. They are joined by Jamaica's Olympic bronze medallist Megan Tapper, Hungary's Luca Kozak, Czech Republic's Helena Jiranova and Poland's European U23 champion Pia Skrzyszowska, who improved to 12.68 in Poznan last weekend.
The meeting record of 12.55 was set by Sharika Nelvis in 2015. Is that a mark Camacho-Quinn will be looking to attack?
"It's going down – I'll say it for her!" replied Ali, sitting alongside Camacho-Quinn at the pre-event press conference.
"If it happens, it happens," Camacho-Quinn added with a laugh. "I just want to come out here and have a safe race. I'm not really focused on a certain time but I just want to make it through safely and have fun with it."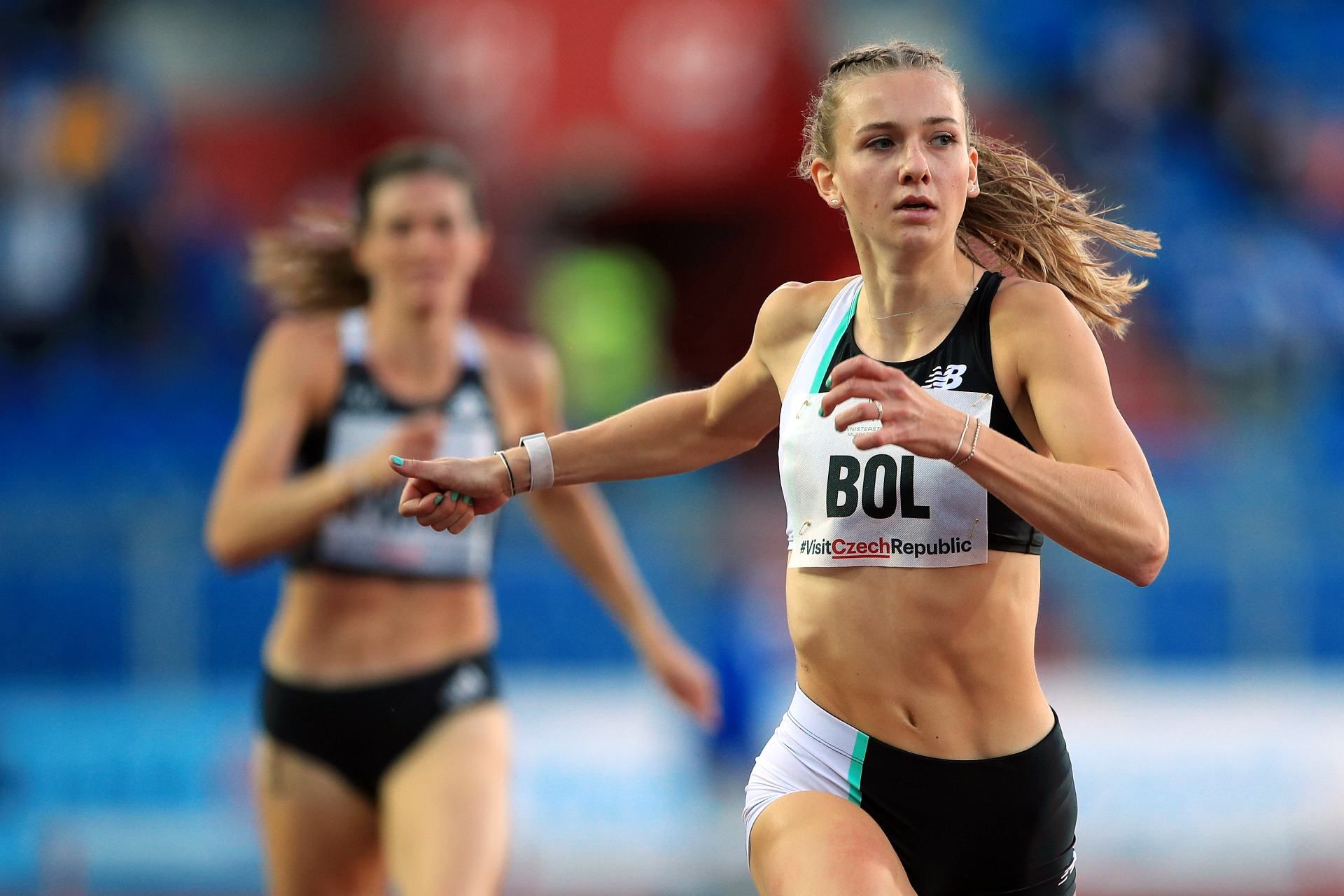 Femke Bol at the 2020 Golden Spike Ostrava (© Pavel Lebeda, Ludek Sipla)

As well as her rivals, Femke Bol will be racing the clock when she opens her outdoor season in the women's 300m hurdles. The Dutch Olympic 400m hurdles bronze medallist, who ran a European record of 52.03 in Tokyo, clocked 38.55 for the lesser-raced 300m hurdles event in Ostrava in 2020. That puts her second on the world all-time list behind Czech Republic's two-time world 400m hurdles champion Zuzana Hejnova, who set the world best of 38.16 in Cheb in 2013. Now Bol has another opportunity to target that mark when she returns to Ostrava alongside Ukraine's Olympic finalists Anna Ryzhykova and Viktoriya Tkachuk, Italy's Ayomide Folorunso and British champion Jessie Knight, who improved her 400m hurdles PB to 54.09 at the weekend.
"It's my first race so of course I would like to do it, I feel good, but you never know with your first race and it's a really good time that she set," Bol said, on targeting Hejnova's mark. "I'm excited to try it."
Felix returns
One of the all-time greats goes in the women's 200m. Felix was already an eight-time world champion and six-time Olympic medallist when she last competed in Ostrava in 2014 and since then the US sprint star has added another three Olympic titles and four world gold medals to her incredible CV. She returns on Tuesday, as she continues what she announced earlier this year would be her last season before her retirement from competitive athletics.
Back in 2014, during her sole appearance at the Golden Spike so far, Felix won the 200m in 22.75. Already this year the 36-year-old has run 22.40 for the half-lap event.
"This sport has changed my life and so in these final races, I'm just soaking it all up and really enjoying the experience," said Felix, who confirmed that she intends to race at next month's US Championships in Oregon. "I'm looking forward to getting a bit sharper and getting another race under my belt."
Jamaica's Candice McLeod leads a fierce 400m line-up, the Olympic fifth-place finisher facing Poland's 2018 European champion Justyna Swiety-Ersetic and her Olympic 4x400m medallist teammates Anna Kielbasinska and Natalia Kaczmarek, plus Dominican Republic's Fiordaliza Cofil, Lieke Klaver of the Netherlands and Czech Republic's Lada Vondrova.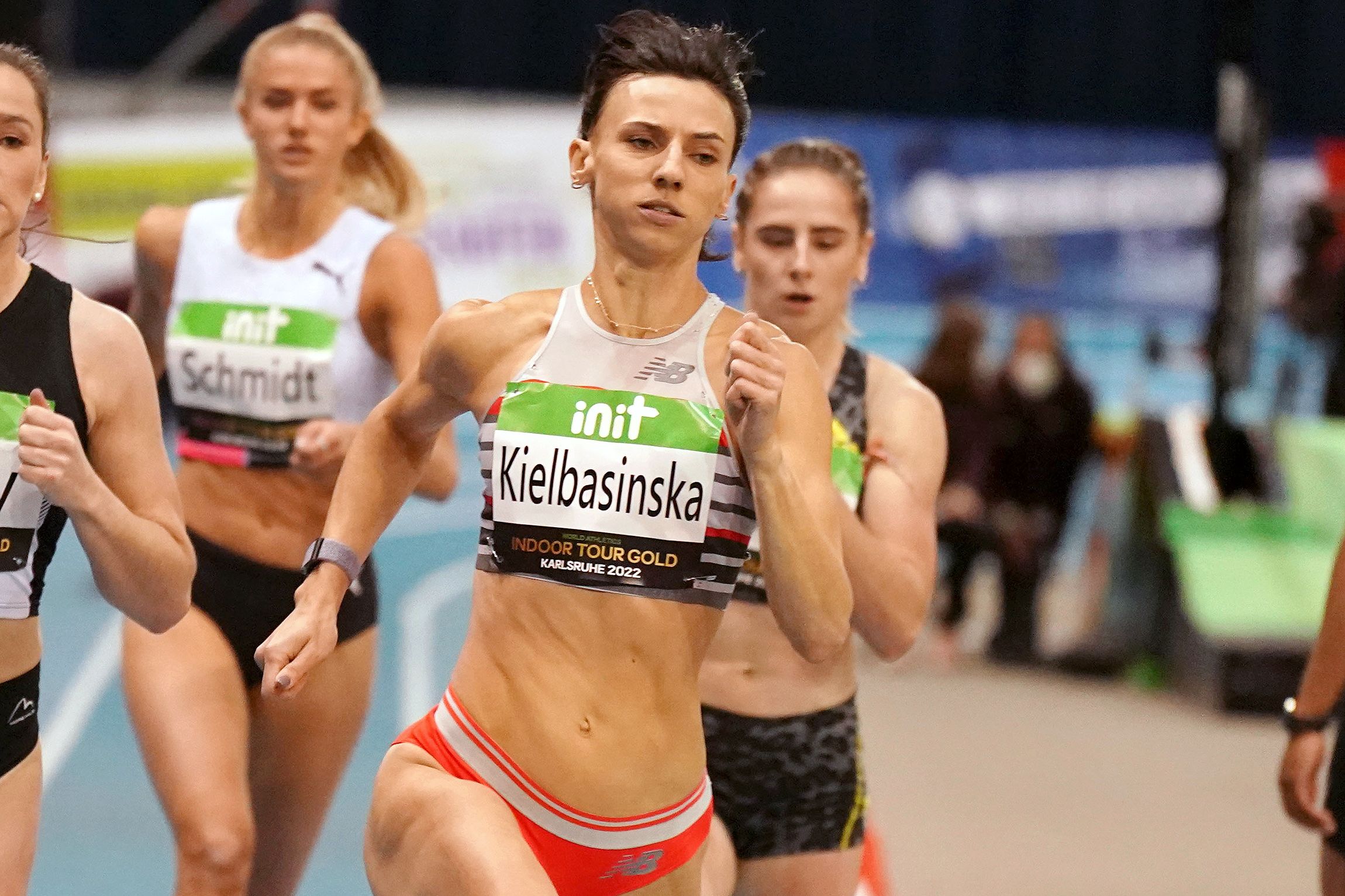 Polish sprinter Anna Kielbasinska (© Gladys Chai von der Laage)

The men's 100m features a clash of Blakes as Jamaica's 2011 world champion Yohan Blake goes up against his second cousin Jerome Blake, a member of Canada's silver medal-winning 4x100m team at the Tokyo Olympics.
Jerome ran a PB of 10.00 at the start of this month, while the field features three other sprinters who have joined Yohan in dipping under 10 seconds in their careers – South African record-holder Akani Simbine and the British duo of Zharnel Hughes and Reece Prescod.
Jerome Blake and Hughes will also clash in the 200m, taking on Blake's Canadian 4x100m teammate Brendon Rodney and USA's Elijah Hall.
Olympic 4x400m silver medallist Liemarvin Bonevacia, who set his Dutch record of 44.48 last year, goes up against Dominican Republic's Olympic mixed 4x400m medallist Alexander Ogando and Denmark's world indoor fourth-place finisher Benjamin Lobo Vedel in the 400m.
Poland's Olympic bronze medallist Patryk Dobek leads a strong 800m field, which also includes Bosnian two-time world medallist Amel Tuka, Kenya's world indoor silver medallist Noah Kibet, Botswana's 2012 Olympic silver medallist Nijel Amos and Kenya's world U20 champion Emmanuel Wanyonyi, who sits fourth on this season's top list with the 1:45.01 he ran to win at the Kip Keino Classic in Nairobi earlier this month. Britain's Max Burgin returns to the scene of his European U20 800m record a year ago, that 1:44.14 winning run being his most recent competitive performance due to injury.
The women's 1500m features Ethiopia's Diribe Welteji, who also won in Nairobi this month in 4:01.50, as well as Poland's European silver medallist Sofia Ennaoui, multiple Czech record-holder Kristiina Maki and Britain's European indoor and Commonwealth medallist Melissa Courtney-Bryant.
Ethiopia's Olympic silver medallist Lamecha Girma headlines the men's 3000m steeplechase. He was second on his season opener at the Diamond League meeting in Doha and will look to go one better in Ostrava.
Javelin in the spotlight
Fresh from his 93.07m throw in Doha, Peters renews his javelin rivalry with Olympic silver medallist Vadlejch, bronze medallist Vesely and 2012 Olympic champion Keshorn Walcott when he returns to Ostrava.
Second in the Czech city last year, the world champion has since launched himself to fifth on the all-time list with that North & Central American and Caribbean record-breaking throw in Qatar. Vadlejch was the runner-up there with a 90.88m PB and Peters later explained how seeing his Czech rival's performance helped him to improve his own best mark.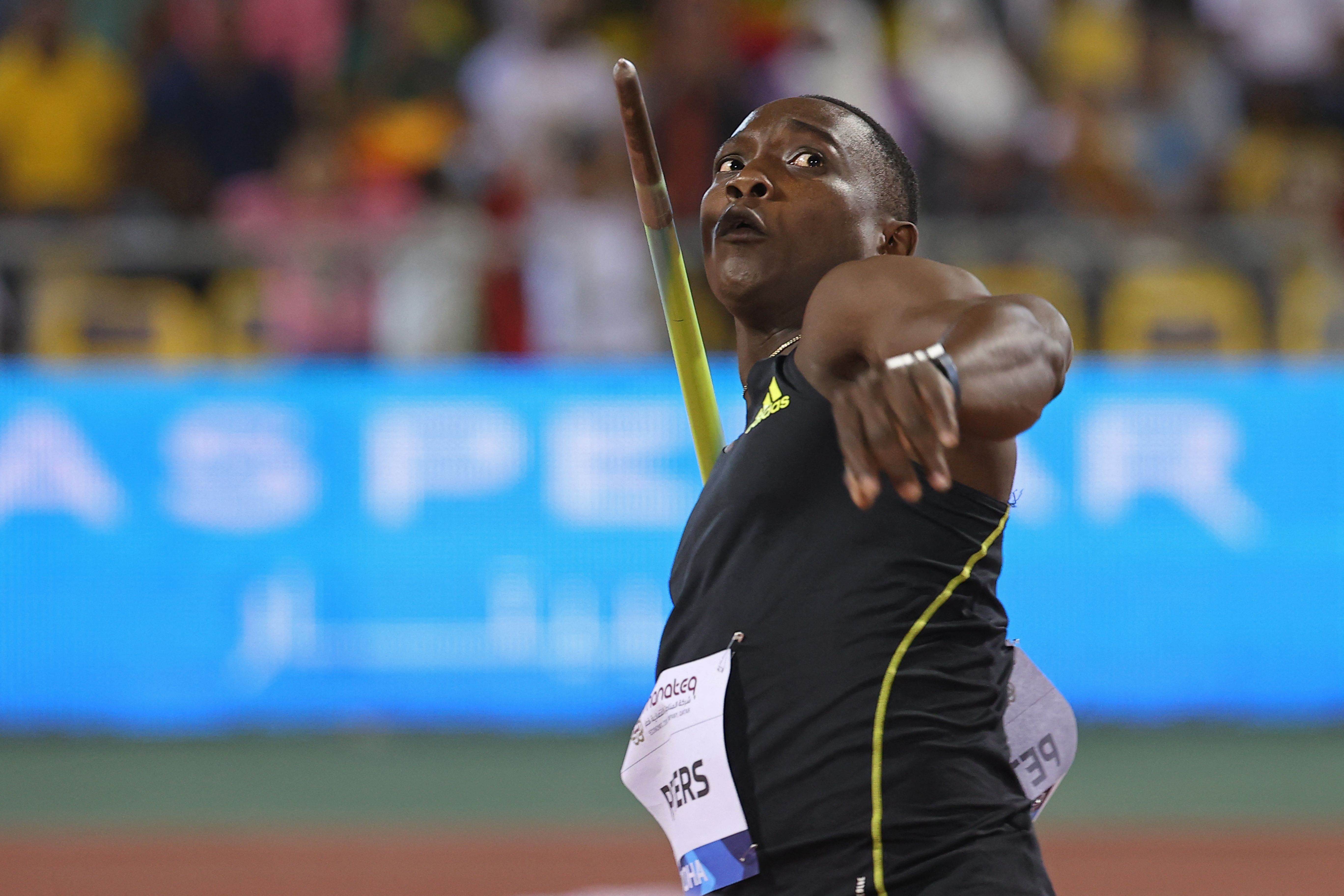 Anderson Peters in action at the Wanda Diamond League meeting in Doha (© AFP / Getty Images)

Now they will go head-to-head again, hoping to push each other on to greater distances at a meeting that boasts world record-holder Jan Zelezny – who set the Golden Spike record of 94.64m, also in 1996 – as its meeting director.
The spotlight will also be on the women's javelin as the field features home star Barbora Spotakova, the world record-holder, going up against Croatia's 2016 Olympic champion Sara Kolak and Czech Republic's European silver medallist Nikola Ogrodnikova.
"There will be very strong domestic and foreign competitors. I do not want to be left behind," said Spotakova, who threw her world record of 72.28m in 2008 and set the meeting record of 67.78m in 2012. "I'm looking forward to receiving great support from the audience."
The winners of the past five outdoor world titles – Kovacs, Walsh and David Storl – will clash in the men's shot put. Kovacs got gold in 2015 and 2019, while Walsh triumphed in 2017, and there is just a single centimetre between their PBs as Kovacs threw 22.91m when winning in Doha, pipping the now world record-holder Ryan Crouser and Walsh, who both threw 22.90m in an epic world final.
Kovacs threw 22.49m at Saturday's Prefontaine Classic and Crouser's meeting record of 22.43m from 2020 could be under threat, but Walsh will be looking to rebound after being beaten by Kovacs as well as Crouser in Eugene. Poland's European champion Michal Haratyk and Italy's Zane Weir add further quality to the field.
"I'm excited to return to the Ostrava Golden Spike where I know they love the big throws," said Kovacs. "This is a key competition in my build-up to the World Championships. I know Ostrava will bring a great competition and atmosphere."
Italy's Tamberi, who shared Olympic high jump gold with Qatar's Mutaz Barshim in Tokyo, contests his first Continental Tour meeting of the season after finishing seventh and second respectively at the Diamond League meetings in Doha and Birmingham.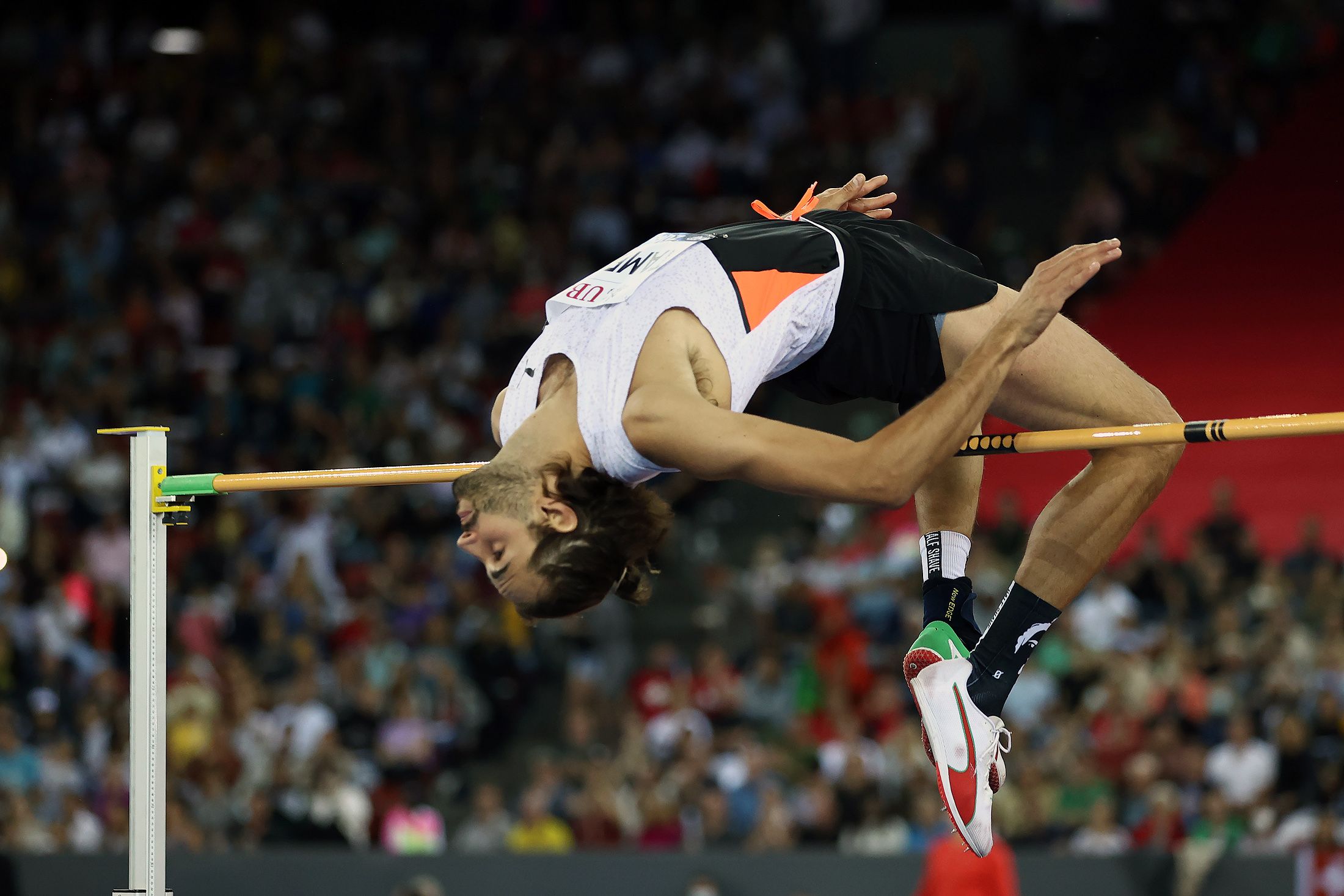 Italian high jumper Gianmarco Tamberi (© Getty Images)

A late decision to compete at the World Indoor Championships paid off as he claimed joint bronze in Belgrade and now his focus is on the outdoor global event in Oregon in July. Looking for his first win at what will be his third Golden Spike appearance, his opposition this time includes Syria's 2017 world bronze medallist Majd Eddin Ghazal, multiple Czech champion Marek Bahnik and his compatriot Jan Stefela, the European U23 champion.
"It is still very early in the season," said Tamberi, who has jumped 2.25m so far. "Last year it was very long and very tough mentally and emotionally for everybody. I think from now on we will see some good jumpers go over 2.30m – I hope I will be one of them, of course – and if the conditions will be good I hope tomorrow I can achieve that."
Sweden's Thobias Montler soared to long jump silver at the World Indoor Championships thanks to his national record leap of 8.38m. He'll be keen to build on that in Ostrava, when he tests himself against the likes of Emiliano Lasa, who has improved the Uruguayan records both indoors and outdoors this year, leaping 8.28m in Brazil at the start of this month.
Another world indoor medallist goes in the women's pole vault, with Slovenia's Tina Sutej competing for the second time this season after her runner-up finish at the Diamond League in Birmingham. She'll be joined by Czech No.1 Amalie Svabikova, who won the European U23 title last year.
Two 4x100m relays also feature on the programme, the men's event starring squads from the Czech Republic, Ukraine, Great Britain, Saudi Arabia and Switzerland, and the women's race being a domestic clash.
Jess Whittington for World Athletics