400m hurdler Sydney McLaughlin of the USA (© Getty Images)
Olympic champion Sydney McLaughlin is one of four individual Tokyo medallists competing in the USATF New York Grand Prix on Sunday (12) as many top US athletes gear up for their national championships — the World Athletics Championships Oregon22 qualifier — later this month.
McLaughlin, the gold medallist and world record-holder in the women's 400m hurdles, joins silver medallists Grant Holloway and Raven Saunders as well as bronze medallist Noah Lyles for the new stop on the World Athletics Continental Tour Gold series.
World champion Christian Coleman, three-time Olympic medallist Will Claye, 2016 Olympic bronze medallist Clayton Murphy and world indoor champion Ajee' Wilson will also compete at Icahn Stadium on Randall's Island, which has a long history of hosting major competitions. On the same site in 1936, Jesse Owens starred at the US Olympic Trials.
McLaughlin, a native of nearby New Jersey, is entered in the 400m, fresh off her scintillating 51.61 in the 400m hurdles on 5 June — a time that was only 0.15 off her world record.
McLaughlin has run sparingly this season. Her only other appearance was a 100m hurdles race at the Penn Relays in late April, where she clocked 12.75 for the victory. McLaughlin was a bit sidetracked in May, when she walked down the aisle to get married.
The Olympic 4x400m gold medallist, whose PB is 50.07 from 2018, will face three of her USA relay teammates from Tokyo in the 400m: Lynna Irby, Kendall Ellis and Kaylin Whitney. Ellis ran 51.00 in April, while Irby clocked 51.03 in May and Whitney's best time this season is 51.89. Kyra Jefferson posted a time of 51.55 in early May, 0.06 faster than McLaughlin ran in Nashville with 10 hurdles in her way.
McLaughlin was originally set to double up and also race the 100m hurdles but has decided to focus on the 400m flat in New York. The 100m hurdles features Alaysha Johnson, who clocked the fifth-fastest time in the world this year of 12.50 in Puerto Rico in May. Tia Jones was third at the USATF Golden Games in April in 12.59, while Christina Clemons finished sixth in the same race in 12.68. Chanel Brissett ran 12.73 in Puerto Rico and Gabbi Cunningham, an Olympic finalist last summer, was sixth at the Prefontaine Classic in 12.75.
Sha'Carri Richardson – the sixth-fastest woman in history over 100m – got a late start to the season, but she has come on strong. She ran 10.92 at the Prefontaine Classic when placing second behind Olympic champion Elaine Thompson-Herah. Thanks to a robust tailwind of 4.3m/s, Richardson posted a 10.73 last weekend in Florida.
But on Sunday she'll be up against Cambrea Sturgis, the top US sprinter this season with a wind-legal time of 10.87, and Olympic 4x100m silver medallist Aleia Hobbs, who ran 10.95 at the Golden Games.
Can Holloway shave some time?
A look at Holloway's head may be an indication of how he will do in the 110m hurdles. The world champion indoors and outdoor has run his best times when he shaves his hair. Holloway's PB is only 0.01 off the world record of 12.80. Because of inclement weather, he has raced his signature event only once this year and will be looking to improve his 13.34 from late April.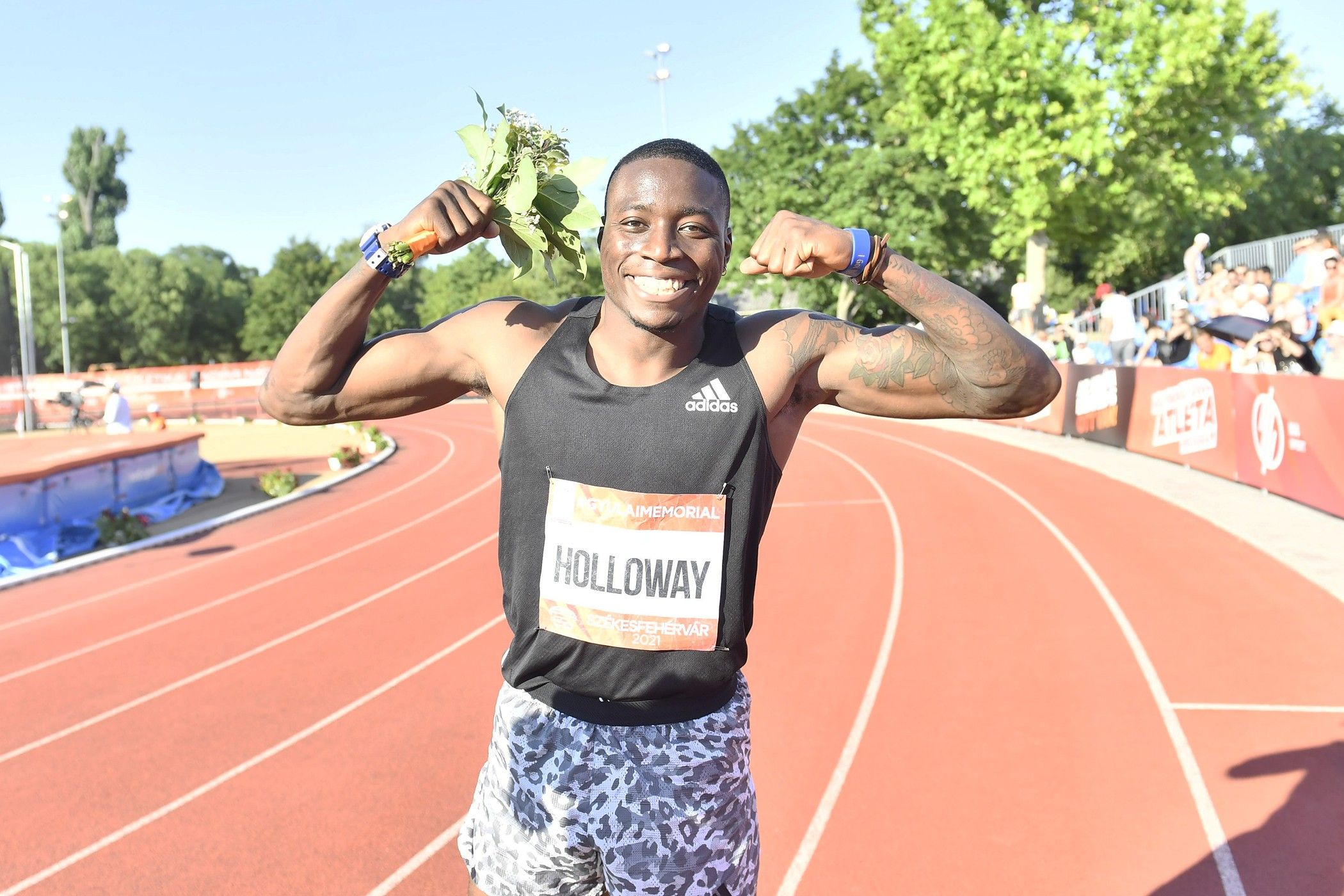 Grant Holloway celebrates his 110m hurdles win at the Gyulai Istvan Memorial (© Gyulai Istvan Memorial)
Devon Allen, who placed fourth at the Tokyo Olympics and is the 2021 Diamond League champion, has the third-fastest time this season, 13.11 from his Penn Relays win. Jamal Britt has run 13.30 and Olympian Daniel Roberts, who has a long rivalry with Holloway, has posted a 13.36.
In the men's 400m hurdles, Quincy Hall is tied for third on the world list thanks to his 48.10 at the Prefontaine Classic, where he placed third.
The women's 400m hurdles is the most international of the NY Grand Prix events, with six countries represented. Shiann Salmon of Jamaica has the top time of 54.43, followed by Gianna Woodruff of Panama at 54.60, Melissa Gonzalez of Colombia at 54.80 and Cassandra Tate of the USA at 54.81. Tia Adana Belle of Barbados and Mo Jiadie of China are also entered.
Coleman looking to dip under 10 seconds this season
In the men's 100m, Coleman, the world champion, has the fastest time in the field of 10.04 from his third-place finish at the Prefontaine Classic. He'll be seeking his first sub-10-second performance of 2022 in what will be his fourth 100m of the season. Kendal Williams clocked 10.05 last week in Nashville while Ackeem Blake of Jamaica recorded a PB of 10.08 in April and Marvin Bracy has run a wind-legal 10.11 and a wind-aided 9.80 (2.9m/s). Michael Rodgers and Isiah Young are scheduled to race in their second meet in four days after competing Thursday (9) in Rome
Lyles, the world champion and Olympic bronze medallist in the 200m, will race that distance for only the third time this year. He clocked 19.86 in early May for the No.4 time on the world list and then ran 19.72 with the wind only slightly above the limit (2.1m/s) to win the Diamond League meeting in Doha. Lyles also has run 10.05 twice in the 100m. Kyree King, who has a 20.18 in the 200m and 9.98 in the 100m this season, and world indoor 400m champion Jereem Richards of Trinidad and Tobago, who has clocked 20.06, are also running well this season.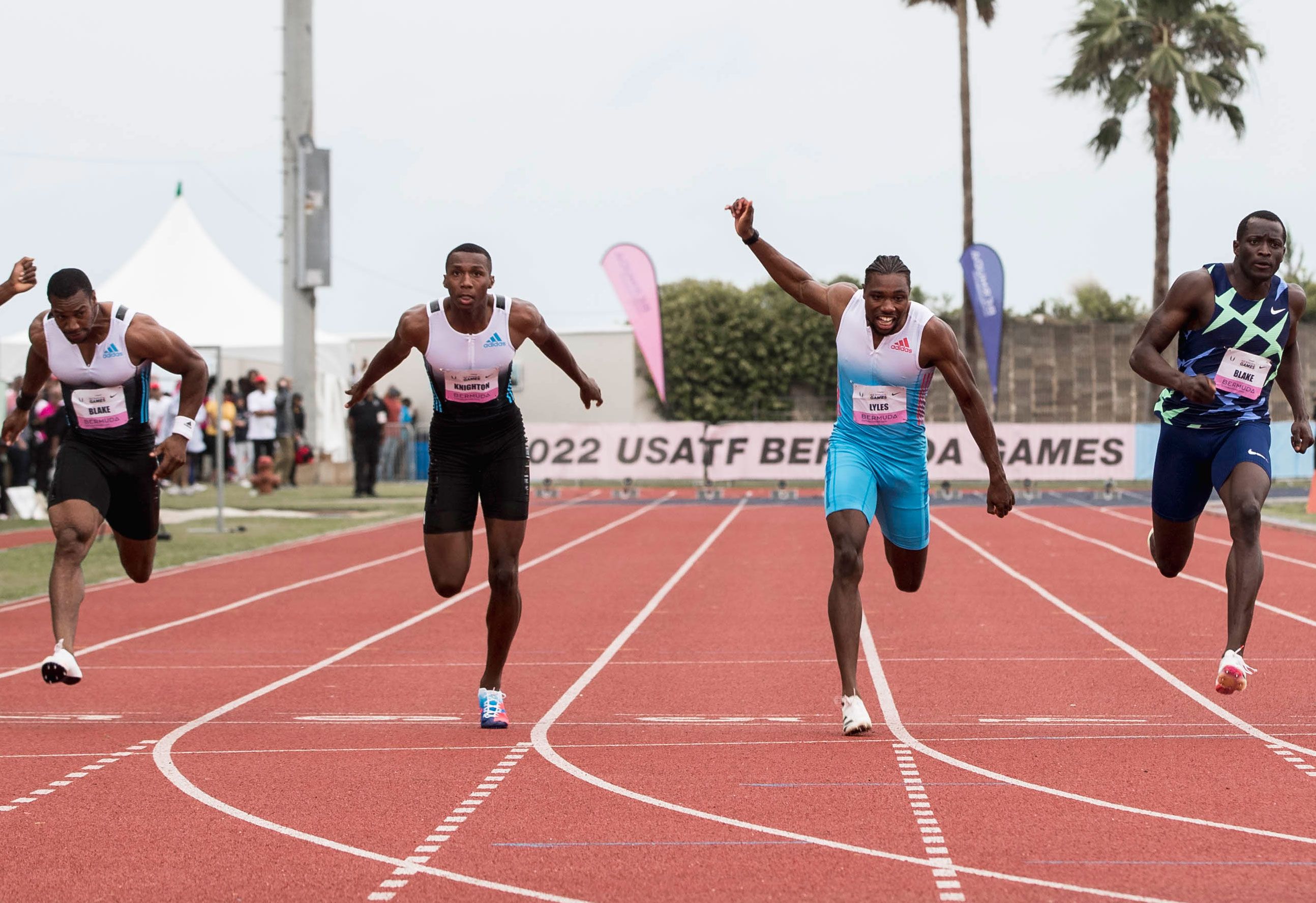 Erriyon Knighton and Noah Lyles race in Bermuda (© USATF)
The men's 800m will feature three of the top half-milers in the USA — 2016 Olympic bronze medallist Clayton Murphy, who has run 1:45.54 this season, and 2020 Olympians Bryce Hoppel and Isaiah Jewett. Hoppel was third in the Birmingham Diamond League meeting with a 1:46.33 while Jewett has only raced a 400m this year, clocking 47.50.
Wilson, who finally secured the first world title of her career in March in Belgrade, posted a time of 1:58.06 to place second at the Pre Classic. She is No.3 on the world list, just ahead of the similarly named Allie Wilson, who has run 1:58.18.
In the men's 400m, Trinidad and Tobago's 2017 world 4x400m champion Machel Cedenio takes on a field featuring the likes of USA's Noah Williams.
A triple jumper's last meet at age 30
In the only men's field event, Claye, a three-time Olympian, will launch his 11th year on the pro circuit on the day before his 31st birthday. Claye won Olympic silver medals in the triple jump in 2012 and 2016 and finished fourth in Tokyo. He also claimed the bronze medal in the long jump in 2012. Claye was fourth at the World Indoor Championships in March with 17.19m. Jah-Nhai Perinchief of Bermuda has the top mark in the field this season of 16.95m, followed by Marcos Ruiz of Spain at 16.94m.
Saunders, the Olympic silver medallist in the women's shot put, will take on Chase Ealey, who made a big impression with the No.2 throw in the world this year of 19.98m last Monday (6) in Hengelo. Saunders' Tokyo teammate Jessica Ramsey has thrown 19.38m this season to rank No.6, while Saunders' best is a heave of 18.71m to place sixth at the Doha Diamond League meeting. Danniel Thomas-Dodd of Jamaica ranks fifth at 19.53m.
Karen Rosen for World Athletics