Liberia's Joseph Fahnbulleh in the 200m semifinals at the World Athletics Championships Oregon22 (© AFP / Getty Images)
It's a now familiar sight: Joseph Fahnbulleh using his superb top-end speed to chase down his dreams on the hunt for sprint stardom.
That powerful finish was most recently on display at the World Athletics Continental Tour Gold meeting in Zagreb earlier this month, Fahnbulleh capping his season with one final win to celebrate his 21st birthday in style.
That season finale also offered Fahnbulleh the opportunity to reflect on an impressive couple of years that have seen him go from collegiate star to global stage, successfully transitioning to the senior ranks.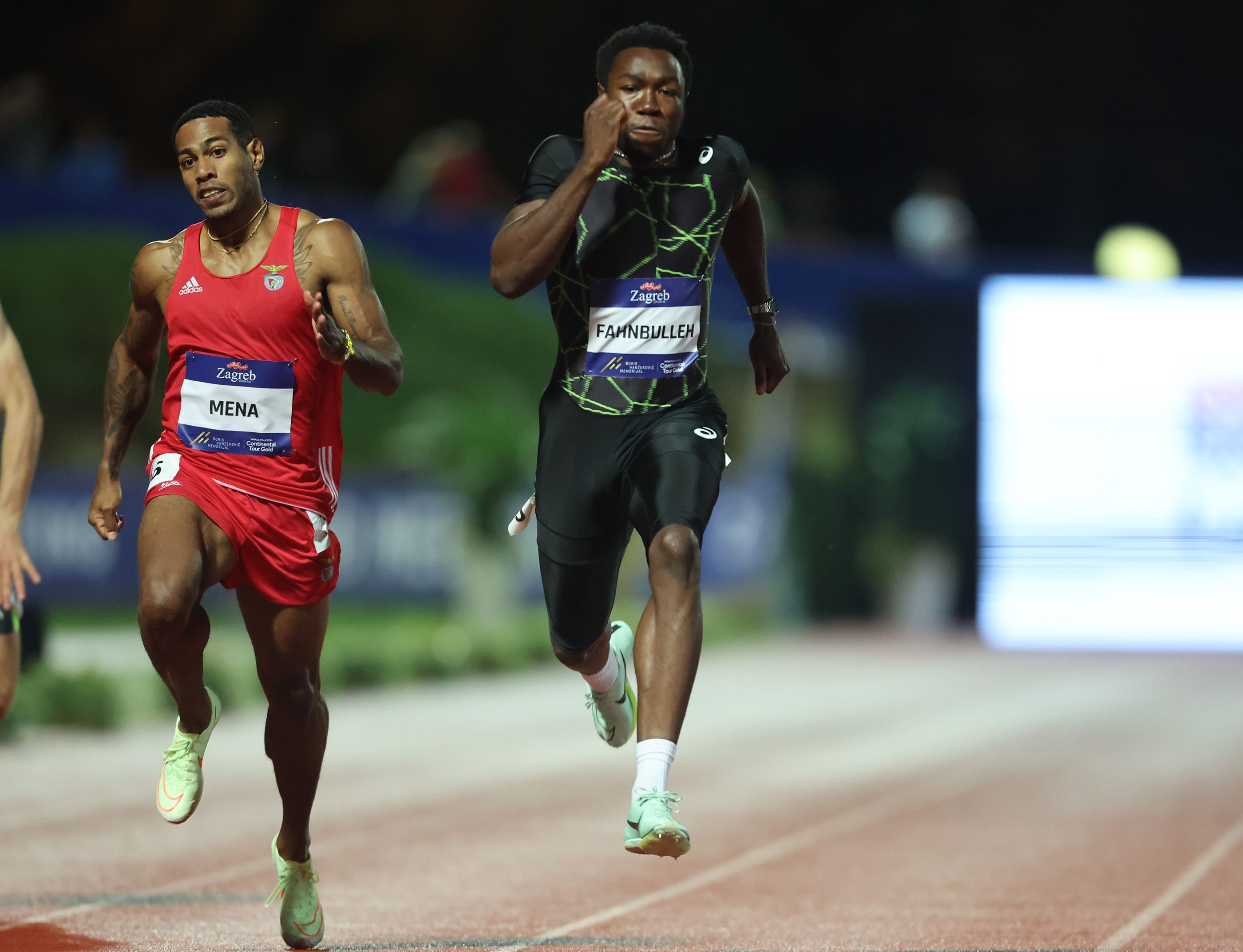 Joseph Fahnbulleh on his way to a 200m win at the Boris Hanzekovic Memorial in Zagreb (© Zagreb Meeting)
Fahnbulleh started his athletics journey as a cross country runner at Hopkins High School in Minnesota but is now a world and Olympic sprint finalist, one who made history for Liberia by becoming the nation's first athlete to reach the top eight at either the World Athletics Championships or the Olympic Games with his performances in Oregon and Tokyo.
"After the Olympics, then having the NCAA season I had and going to the World Championships, it has been mad, but at the same time, I've asked for it," says the three-time NCAA gold medallist. "It has been a learning experience, I've been taking it all in. Not really having any expectations on what I have been doing. Having a season where I can just reflect at the end of it and move on to the next with bigger goals."
There's certainly lots to reflect on, and a lot to look forward to. Then still a teenager, Fahnbulleh broke 20 seconds for 200m for the first time last year, storming to a 19.91 PB to win his first NCAA title in Eugene. That set him up for making his Olympic debut in Tokyo, where the 19-year-old ran 19.99 in the semifinals and then 19.98 in the final to finish fifth.
Under the guidance of coach Mike Holloway at the University of Florida, Fahnbulleh took that form through to 2022. It led him to a memorable sprint double on his return to the NCAA Championships in Eugene, where he won the 100m and retained his 200m title within the space of just 45 minutes. He ran national records in both races – 10.00 for 100m and 19.83 for 200m ­– again leaving fans mesmerised as the long-striding sprinter first chased down, and then breezed past, his rivals in the closing stages.
Next up was the World Athletics Championships Oregon22, where he won his heat, finished second in his semifinal in 19.92 and then finished fourth in the final in 19.84, just 0.04 behind his training partner Erriyon Knighton, who completed a US top three behind Noah Lyles and Kenny Bednarek.
"People have different journeys," says Fahnbulleh, who turned pro after the World Championships, signing with ASICS. "My first major international competition was the Olympics. Coach Holloway always says: 'act like you've been there', so I really wasn't scared. I was just more excited to run with the best because you see Andre De Grasse, you see Noah Lyles. I watched Andre in high school four years ago and I was like, 'I want to be there'. So, you work hard and you put in the daily grind.
"That set me up and it gave me confidence going into the NCAA season, and the NCAA season gave me the confidence going to Worlds. It's a continuous build – each year you just get better."


Joseph Fahnbulleh competes in the 200m semifinals at the Olympic Games in Tokyo (© AFP / Getty Images)
And Fahnbulleh has no doubt as to the people who have helped him as he grows. From his sixth grade teacher Miss Rossow who first encouraged him to try cross country, to his high school coach Nick Lovas who got him into sprints ("I loved cross country, but I would sprint the last 800m of the race and they were like, 'you're in the wrong sport!'") and now the Florida Gators team. From great family support, to being welcomed as an ASICS-sponsored athlete, Fahnbulleh hasn't done it alone.
"Just being around greatness all the time, it only forces you to be great," explains Fahnbulleh, who says he has learned from the likes of multiple world and Olympic triple jump champion Christian Taylor, two-time world 110m hurdles winner Grant Holloway and two-time world indoor triple jump gold medallist Will Claye at Florida. "Being under Coach Holloway coming out of high school, it was the best plan for me. My mom is a single mother and so with that, my high school coach was like a father figure to me, and I wanted a father figure going into college because I feel like that's how I grow. Coach Holloway, he has kids of his own, he treats his athletes like his kids, and it's a family.
"There's never a bad day with Coach Holloway or any of the staff. They push you and if you don't take the push as a constructive push, you're only going to fight them and when you fight them, you're not going to do well."
Coaching is also a path Fahnbulleh can see himself taking one day. "I took educational sciences (at the University of Florida) because I wanted to learn how the brain works and in the future I want to be a coach as well," he says. "So finding out how people learn and getting comfortable with the different mindsets that people have when it comes to different scenarios. After I get that degree, I'm going back to do sports marketing."
And the 'Sound Mind, Sound Body' approach of ASICS also fits with the ideals of Fahnbulleh, who still enjoys going on slightly longer runs when training allows.
"When I am alone and when I have down time, I do like to go for a run," says Fahnbulleh, who is also passionate about art and enjoys working with watercolour to create portraits. "You find the rhythm of running and it feels good as a release."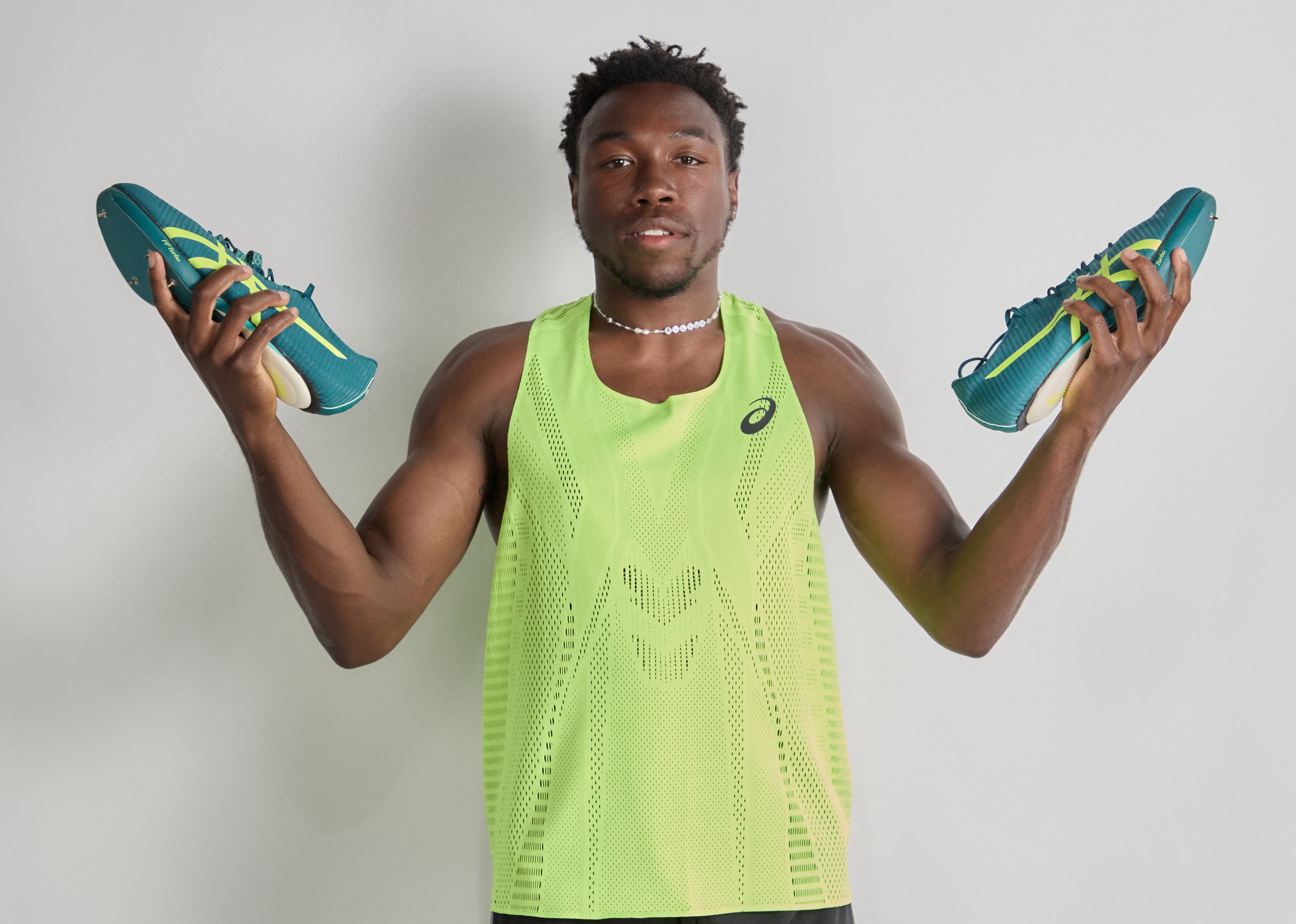 Joseph Fahnbulleh is proudly sponsored by ASICS (© ASICS)
Fundamentally, it's clear why Fahnbulleh works as hard as he does. His on track goals help the sprinter to achieve what is most important to him off of it.
"Growing up, it was just me and my mom," says Fahnbulleh, whose mother, Charlotte, is a nurse. "She loves what she does but life as a nurse is tiring. That pushed me in high school to be like, 'all right mom, I'm going to do well in my life so I can make sure that you are well in yours'."
She is the reason Fahnbulleh represents Liberia. It's to represent her.
"Competing for my mom was probably the best thing that I could do," he says. "She had to flee the country (Liberia) when she was like 12. My uncle and my two aunts went to London and my mom went to the States to live with my grandmother. Since that has happened, I wanted to represent my mom the best way that I could and at the best level that I could. Competing for Liberia and always having the ability to be on the biggest stage is phenomenal.
"If I can work hard now and in a few years I can make sure that she is good and she is relaxed, then I have fulfilled life."
One of the two necklaces Fahnbulleh always wears – a cross and chain – was given to him by his mother before the World Championships final. The other – made of beads – was made for him by a friend. The beads spell the word "bullet".
"It came from high school," he says, explaining the significance of 'bullet'. "The end of my last name – they dropped the 'h' from 'bulleh' and added the 't'. I call myself that a little bit because I am like a bullet. My mom gave me this other one before the final at Worlds and so I wore it for good luck. Since then, I haven't taken it off."
And Fahnbulleh – Bullet by nickname – already has some key targets he hopes to hit in the future.
"The next huge aims are, next year at Worlds – to make the podium," he says. "I've gone from fifth to fourth. Next year podium. No time goals really, we just chase execution.
"Having a good support system around me, whether that be my coach, friends, my mom – make that stronger. And take the ASICS brand to new heights.
"Those are my main goals right now. I'm working. I'm not at the level yet where on a bad day I run 19.6. I'm going to be there, but I have to put in the work in order for me to be there."
Jess Whittington for World Athletics