Mondo Duplantis at the FBK Games in Hengelo (© Dan Vernon)
With a jump as precise as it was perfect, as powerful as it was peerless, Mondo Duplantis did what he does best at the FBK Games in Hengelo on Sunday evening (4), soaring into the sky and over a meeting record of 6.11m. Despite all the Dutch stars on show, it was the moment that drew the biggest roar from the packed stands at the World Athletics Continental Tour Gold meeting.
Duplantis was well known, and loved, by the Hengelo crowd before this, having competed at the Fanny Blankers-Koen Stadium for the past two years, going beyond six metres on both occasions, the meeting record before today his 6.10m from 2021.
With Kurtis Marschall of Australia and Menno Vloon of the Netherlands maxing out with bests of 5.81m, Duplantis put the competition to bed with his first-time clearance at 5.91m. After that, he put the bar up to 6.11m, clearing it with room to spare. As the wind swirled, he then put the bar up to a world record of 6.23m, though none of his three attempts ever looked like succeeding.
Still, it was a great day's work for Duplantis, who has long been a student of the sport, and rest assured he took note of KC Lightfoot's recent North American record of 6.07m.
"It didn't hurt the motivation, of course," he said. "When you see a great jump like his, it's super awesome for the sport. For me, it's just a little bit of extra motivation to try to push it up just a little bit higher because it is competition, and we're out here competing with each other, whether or not we're on the same track."
Duplantis's goal on the road to the World Athletics Championships Budapest 23?
"I'm just trying to focus on that gold medal and right now, I'm just going to go meet by meet, try to get a little bit better every time to make sure I'm nice and sharp for the big dance."
On the track, Femke Bol was her typical world-class self in the women's 400m, though the stiff headwind down the back straight meant any outlandish times were off the table today. Nonetheless Bol asserted her superiority, utilising a storming last 100m to hit the line in 50.11 and smash the meeting record. Next in was USA's Wadeline Jonathas in 51.74, with Germany's Laura Muller third in 52.08.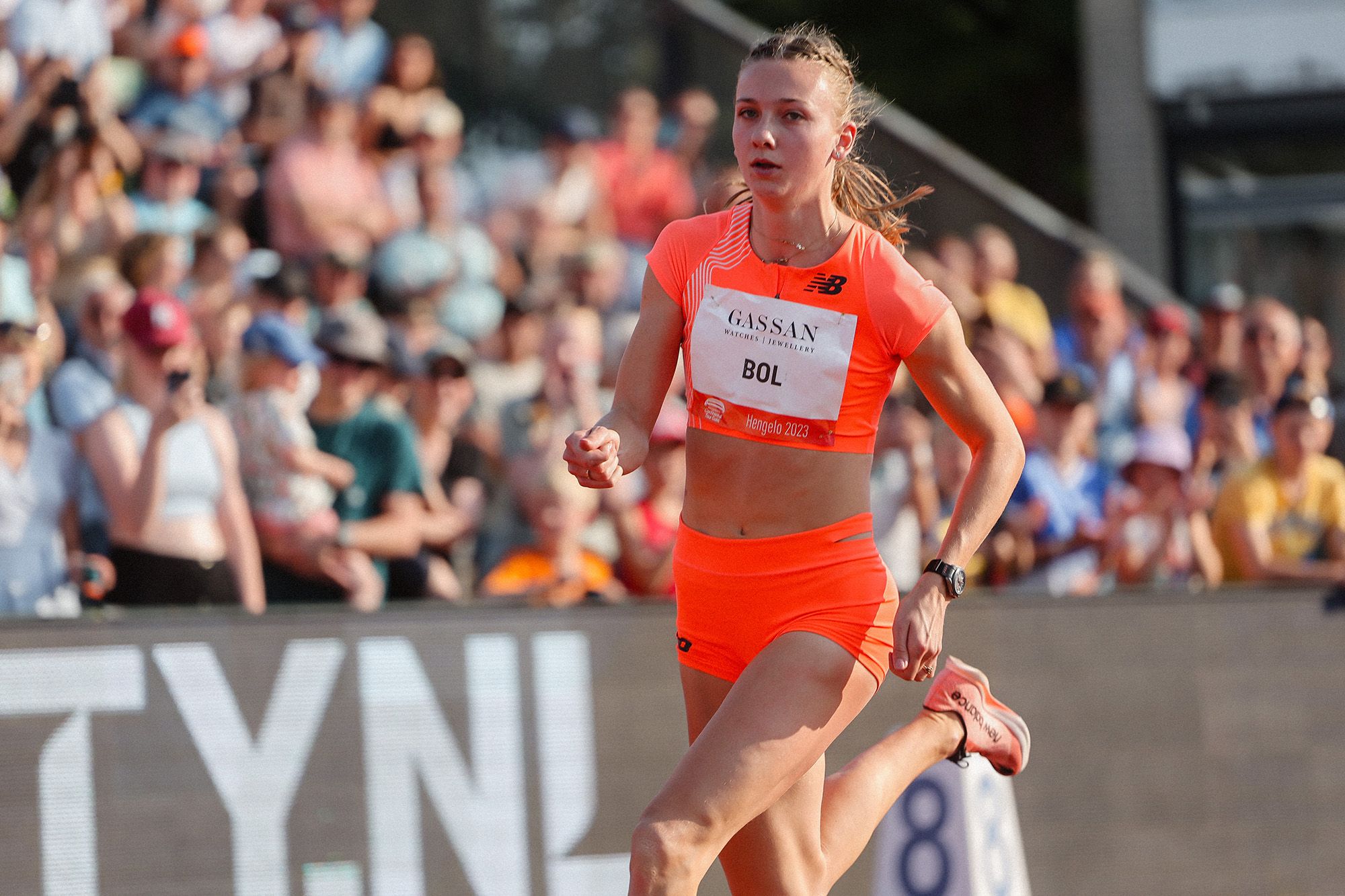 Femke Bol on her way to winning the 400m in Hengelo (© Dan Vernon)
"I did not really have a time in mind, I was focused on winning," said Bol. "For the coming outdoor season, I am focused on the hurdles, and these are going great. That is the most important."
Hassan does back-to-back 10,000m and 1500m double
The women's 1500m saw fellow Dutch star Sifan Hassan return to the track just 20 hours after winning the 10,000m in a world lead of 29:37.80, and six weeks after winning the London Marathon in dramatic fashion. But the double Olympic champion showed all that marathon training did little to blunt her speed.
After 800m was reached in 2:09.06, and 1200m in 3:13.51, the 2019 world 1500m champion seized command, though she had company in Kenya's Nelly Chepchirchir as she kicked for home, who gave strong – but ultimately futile – chase as Hassan went for broke up the home straight, hitting the line in 3:58.12 to Chepchirchir's 3:58.96. Uganda's Janat Chemusto took third with 4:01.98.
"I was so scared before the race as I hadn't run it in like two years so I was like, 'Oh my God, what is going to happen?'" said Hassan. "But I felt very easy in the competition. I followed and the last 200 metres, I finished strong. I didn't push myself and I still finished very well in the sprint."
Hassan said she now "has to make a racing plan" for the summer, adding that her outings in Hengelo helped her gauge where her fitness is at as she transitions back to the track.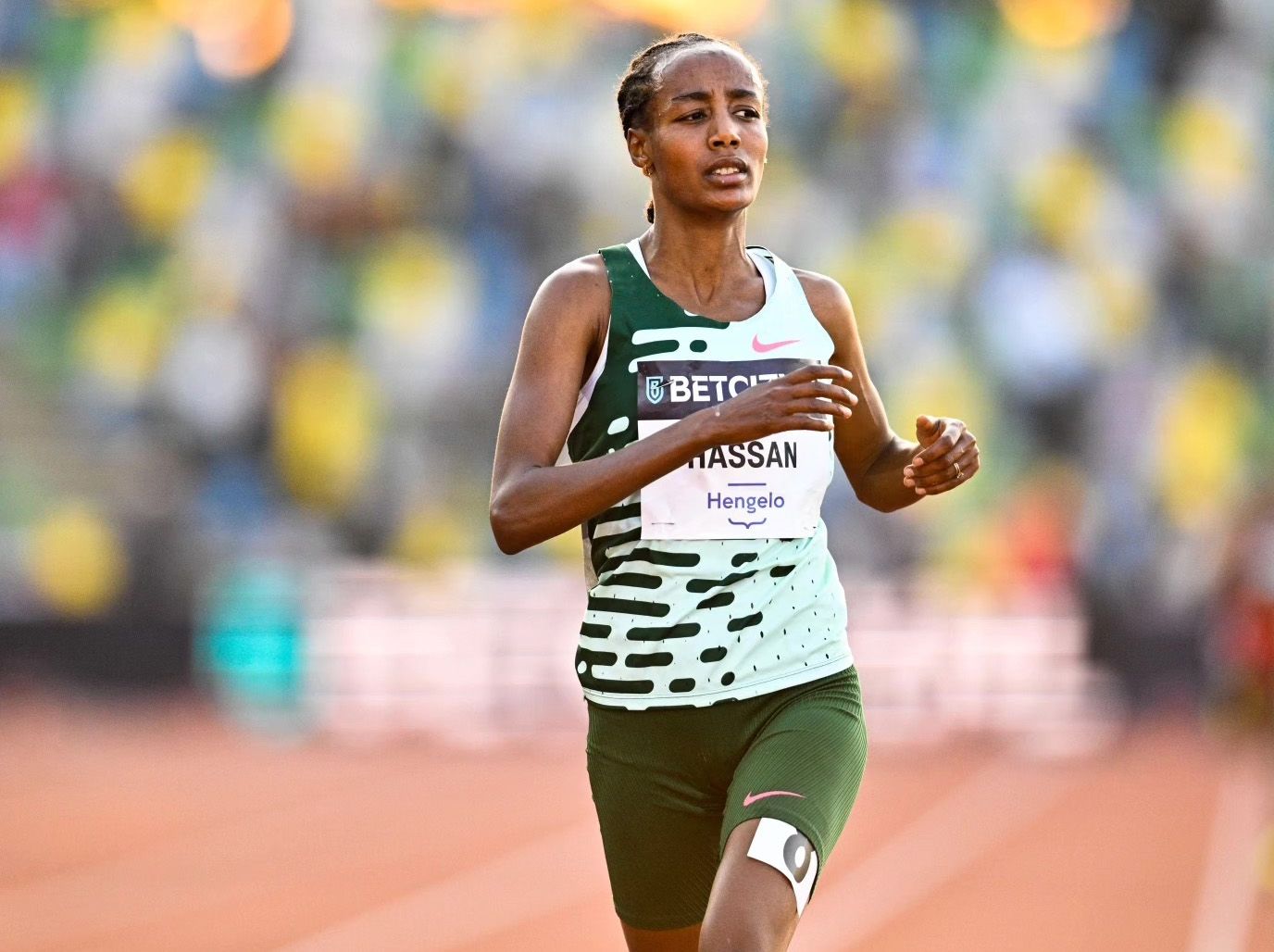 Sifan Hassan races the 10,000m at the FBK Games in Hengelo (© FBK Games)
On a mild, windy Saturday evening at the Fanny Blankers-Koen Stadium, it was clear from early in the race that Hassan was not keen to chase the world 10,000m record, settling in behind the pacemakers as they towed the field along at 2:57 per kilometre. Shortly after 3000m – reached in 8:51.00 – Hassan was left in front, ahead of Ethiopia's Tsigie Gebreselama and Kenya's Grace Loibach Nawowuna.
Gebreselama moved to the front in the fifth kilometre, but it wasn't long before Hassan resumed control, passing 5000m in 14:46.01. Then the pace slowed, from 70 seconds a lap to 71, and then to 72, and soon it was down to two, with Hassan leading Nawowuna through 7000m in 20:41.67 and 8000m in 23:43.23.
Nawowuna, the world cross country fourth-place finisher, led through 9000m in 26:47.08, with Hassan biding her time until the last lap – her domain – and she duly swept to the front and blasted a 60.86 final 400m to delight the Dutch crowd and win in 29:37.80.
Nawowuna, at just 19 years of age, took second on her 10,000m debut with 29:47.42 – a time that puts her eighth on the world all-time list – while Gebreselama finished third in a PB of 30:04.42. Next in was Kenya's Selah Busienei in 30:26.40, with her compatriot Betty Chelangat just behind in 30:27.94.
Grant Holloway was one of the poster boys of the meeting and he showed why in the 110m hurdles, the two-time world champion displaying another crisp exhibition to clock a meeting record of 13.03, with fellow US athletes Devon Allen (13.12) and Eric Edwards (13.29) just behind.
"I'm pleased with what I need to do, and I continue just to work at it," said Holloway. "We can expect the world record to be broken this year, and if not this year, next year."
USA's Nia Ali claimed victory in the 100m hurdles, the 2019 world champion clocking 12.61 (0.2m/s) to beat local favourite Nadine Visser (12.71), with Switzerland's Ditaji Kambundji third in 12.78.
"I wanted to focus on not wiping out on the first hurdle, since I've been hitting it really bad. I was able to keep my composure," said Ali. "I have a lot to improve on, which I am excited about."
CJ Allen continued his winning ways in the men's 400m hurdles, the US athlete a class apart when winning in 48.24, with Dutch athlete Nick Smidt second in 49.17 and Germany's Joshua Abuaku third with 49.23. "Right now I am not really consistent, and I am running fast, so no complaints for me," said Allen.
Britain's Reece Prescod finished strongly to claim the men's 100m, dipping under 10 seconds for the first time this season with 9.99 (0.4m/s). Jamaica's Yohan Blake took second with 10.05 while Dutch athlete Raphael Bouju clocked a PB of 10.09 in third. "Qualifying for the World Championships is done now, so I've just got to keep working, but so far, so good," said Prescod.
Britain's Daryll Neita was a commanding winner of the women's 100m, clocking 11.05 (-0.1m/s) ahead of Egypt's Bassant Hemida (11.16) and Brazil's Vitoria Cristina Rosa (11.18). "I came here to win, I would have loved to get the meet record (10.92), maybe next time," said Neita.
The women's 200m went to Hemida, who clocked an Egyptian record of 22.41 (1.4m/s) to edge the fast-finishing Lieke Klaver, who set a PB of 22.51. Early leader Kayla White of USA had to settle for third in 22.56.
Botswana's Busang Collen Kebinatshipi edged a close race in the men's 400m, his 45.01 just in front of Vernon Norwood (45.05), with South Africa's Zakhiti Nene third in 45.17.
Ireland's Andrew Coscoran won a cagey men's 1500m, in which 800m was reached in a pedestrian 1:58.46. The wheels began to turn then, and Coscoran struck for home on the final turn, only for Britain's Elliot Giles to kick by in the home straight. But Coscoran held his form admirably to edge past again near the line, winning in 3:37.97 to Giles' 3:38.00, with Australia's Jye Edwards third in 3:38.24.
Mahuchikh and Furlani leap to victory
Ukraine's Yaroslava Mahuchikh claimed victory in the women's high jump with a perfect series up to 2.00m, which she cleared at the first attempt. She recorded three failures at 2.05m, but by then it was immaterial, given her closest pursuer was compatriot Iryna Gerashchenko, who bowed out with a best of 1.93m. Germany's Johanna Goring was third with 1.90m, edging Yuliia Levchenko on countback.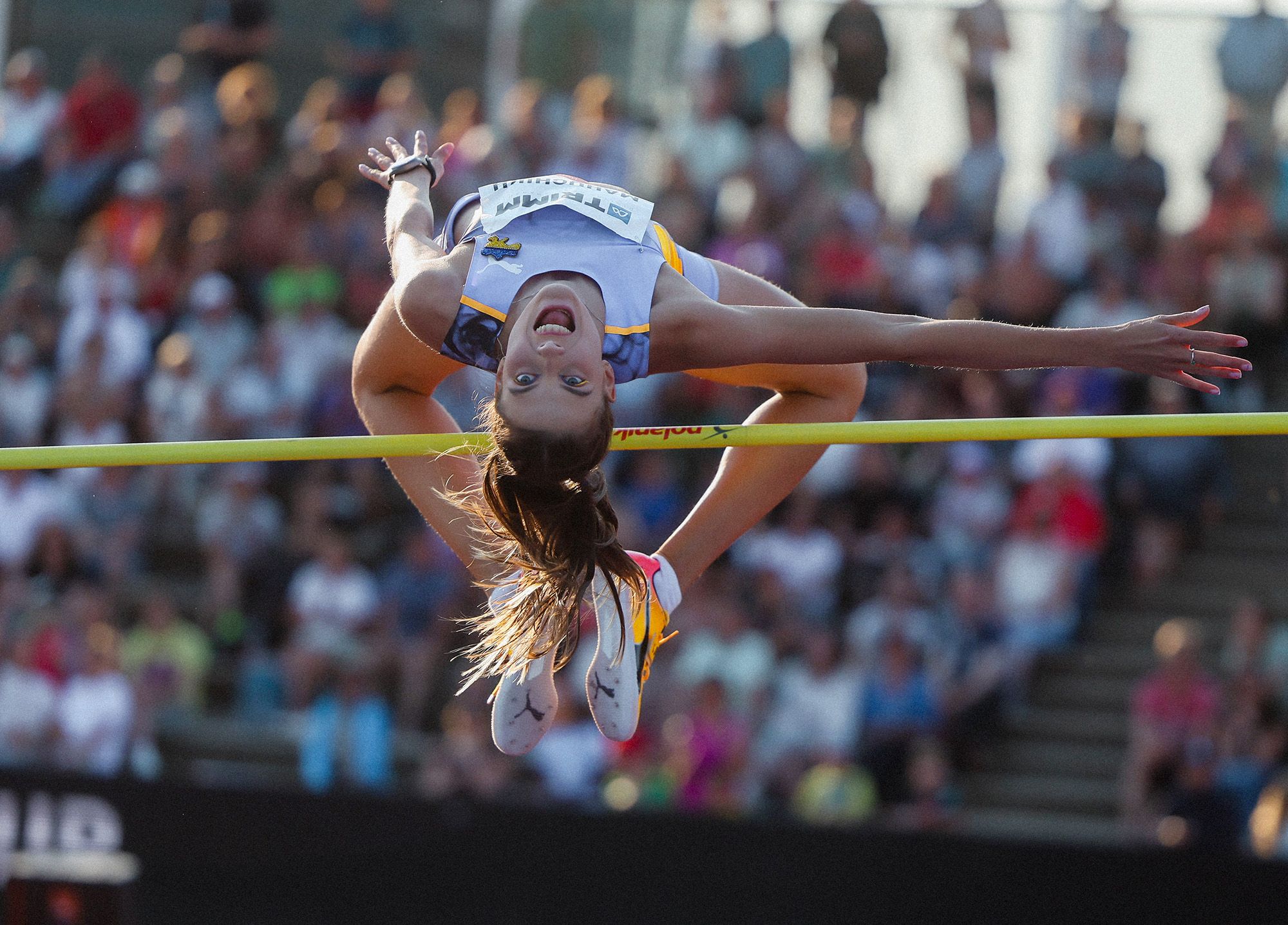 Yaroslava Mahuchikh, winner of the high jump in Hengelo (© Dan Vernon)
Mahuchikh said she was happy to clear 2.00m at the first attempt, and revealed that when she was competing recently in Rabat, there was "a rocket attack 10 meters from the house" of her parents back in Ukraine, with Mahuchikh adding: "Please remember that in my country the war is not finished."
Italy's Mattia Furlani underlined his star quality with a PB of 8.24m to win the long jump. The 18-year-old had jumped a wind-assisted 8.44m in Savona, Italy, last month and in Hengelo, he was a cut above his rivals, with runner-up Cheswill Johnson jumping 8.08m and JuVaughn Harrison third with 8.07m.
Germany's Julian Weber was an impressive winner in the men's javelin, his final-round effort of 87.14m giving him a wide-margin win over Trinidad and Tobago's Keshorn Walcott (83.56m) and Finland's Oliver Helander (80.50m). Germany's Andreas Hofmann got injured during his final warm-up throws and was stretchered from the track.
USA's Maggie Ewen continued her fine form with a win in the women's shot put, her 19.61m the best of her two recorded efforts, with Jamaica's Danniel Thomas-Dodd next best with 19.21m. Portugal's Auriol Dongmo took third with 18.89m.
"You take what you can get sometimes when the other girls are not quite on their game," said Ewen. "I am really happy with how I threw. I threw a huge PB last week so I was really trying to come into this meet to throw something that I could be proud of."
World champion Chase Ealey had an experimental competition that ultimately backfired, with two fouls and a throw of 17.09m seeing her eliminated, but she had a good reason. "I was doing a new technical thing," she said. "I got a little too excited because the warm-up was good and then I added a bit too much, I went a bit too crazy. I think I will be fine in my next competitions. I am working on something new and I know I am going to throw far."
Cathal Dennehy for World Athletics