Niklas Kaul competes in Gotzis (© AFP / Getty Images)
Germany's world champion Niklas Kaul and 2017 world silver medallist Carolin Schafer lead the fields for the Stadtwerke Ratingen Mehrkampf-Meeting this weekend (7-8), when the World Athletics Combined Events Tour Gold series moves on to the German town for the event's 25th anniversary celebrations.
Kaul will go up against his compatriot Kai Kazmirek, world indoor silver medallist Simon Ehammer and five other decathletes to have surpassed 8000 points, while six heptathletes – including Schafer with her 6836 PB – have broken the 6000-point barrier in the seven-event discipline.
Athletes will have the qualification standards for the World Athletics Championships Oregon22 and European Championships in Munich in their sights, with the respective marks for the global event being 8350 for the decathlon and 6420 in the heptathlon.
Kaul vs Kazmirek in top domestic clash
Kaul gained a surprise gold at the World Athletics Championships in Doha in 2019, aged just 21. Two-and-a-half years later he will start his combined events season on home soil in Ratingen in a year that offers a world title defence in Oregon and a continental championships on home soil.
The now 24-year-old is entitled to a wild card entry for Oregon as the defending champion but Kazmirek is in a similar position as the winner of the 2021 Combined Events Challenge. Should they both wish to compete, it will be down to the German Athletics Federation to decide which wild card entry to accept, so both athletes will be using Ratingen to demonstrate their form and secure precious world rankings points.
The European Championships on home soil is understandably a big goal, however, and Kaul was fourth at the 2018 edition, also held in Germany. The 2016 world U20 champion achieved his 8691 PB when winning his senior world title in Doha but has completed just one decathlon since then, scoring 8263 in Götzis last year.
With his place for the Olympic Games in Tokyo all but secured, he decided to end his competition early in Ratingen last year. He also did not complete the full 10 events in Tokyo but that was due to injury. This will be Kaul's first decathlon since then and he started his season with a 4.90m pole vault clearance, 14.60 110m hurdles and 45.22m discus throw at a meeting in Frankfurt at the start of this month.
Kazmirek, meanwhile, scored his 8580 PB when finishing fourth at the 2016 Olympics in Rio and then last year topped the standings in the Combined Events Challenge following a season that included an 8190 score in Götzis and 8184 win in Ratingen. He competed at the World Indoor Championships in Belgrade in March but was unable to finish due to stomach problems.
Rising star Ehammer was runner-up in that Belgrade heptathlon, securing silver behind Olympic champion Damian Warner with a 6363-point Swiss record. Last year's European U23 long jump champion returns to decathlon action in Ratingen, looking to improve on his 8231 PB from 2020 and having been unable to complete his competition in Götzis last June.
As well as his world silver medal win, the 22-year-old's performances during the indoor season included a 8.26m long jump - the furthest ever leap recorded in an indoor heptathlon – in Aubiere in January.
Lining up alongside them will be Germany's Mathias Brugger (8304 PB), who returns to competition for the first time since the Ratingen meeting in June last year, plus Tim Nowak (8229 PB), Andreas Bechmann (8142 PB) and Sweden's Marcus Nilsson, who achieved his PB of 8120 points in Ratingen in 2018.
Schafer heads heptathlon
Schafer had been due to compete in Ratingen last June en route to the Olympic Games, but unexpected vaccination side effects put paid to the 2017 world silver medallist's plans. The 30-year-old still managed to compete in Tokyo, however, and achieved 6419 points to finish seventh, two spots behind her placing at the Rio Games five years earlier.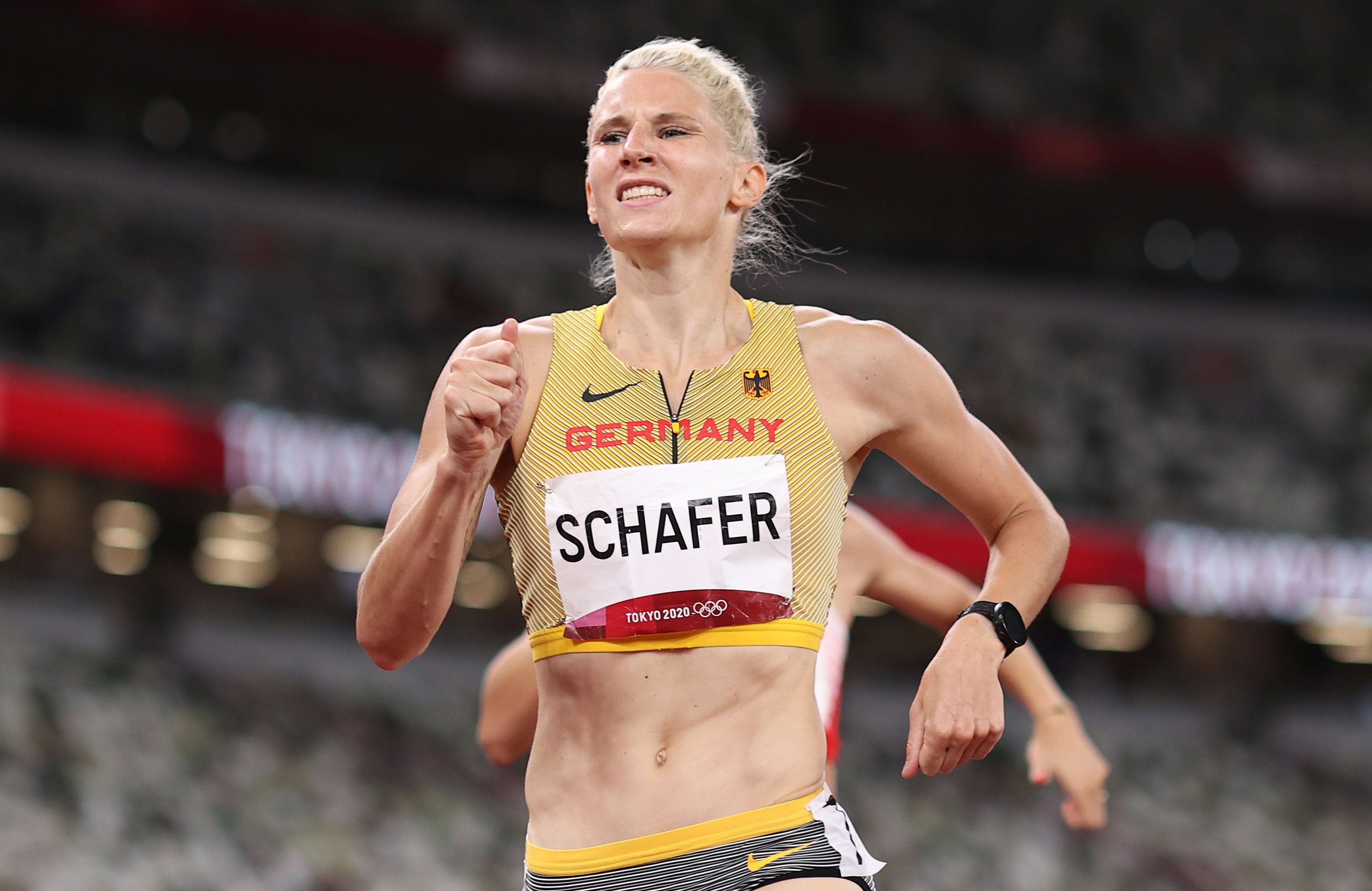 Carolin Schafer competes in Tokyo (© Getty Images)
Now she does return to Ratingen, and this will be her first heptathlon since Tokyo, where a javelin PB of 54.10m were among her results.
Like her training partner Kaul, Schafer also started her season in Frankfurt a few days ago and clocked 13.70 in the 100m hurdles, while she also threw the javelin 49.73m. Her 6836 PB was achieved when finishing second in Götzis in 2017, the same year as her first win in Ratingen. She retained her title in 2018 and then claimed bronze at that year's European Championships on home soil in Berlin.
Belgium's Hanne Maudens will also be among those looking for a strong performance in Germany. The 25-year-old, who claimed bronze medals at the 2016 World U20 Championships and 2019 European U23 Championships, set her 6252 PB in Götzis in 2018. She focused on the 400m last year – improving her PB to 53.06 – but made a combined events comeback during the indoor season.
Joining them will be Germany's 2019 European U23 silver medallist Sophie Weissenberg, who set a series of PBs – in the 60m hurdles, high jump and shot put – indoors earlier this year. Ratingen will be her outdoor season debut and she also plans to compete in Götzis – another Combined Events Tour Gold meeting – in June. Her 6293 PB was set in the Austrian town in 2019.
Other athletes on the entry list to have surpassed 6000 points so far are French champion Leonie Cambours (6192 PB), who finished seventh in the pentathlon in Belgrade, plus Germany's Anna Maiwald (6119 PB) and Britain's Katie Stainton (6029 PB).