Dutch decathlete Pieter Braun (© Getty Images)
Six decathletes with 8000-point-plus PBs and seven athletes who have broken 6000 points in the heptathlon will battle at the 35th Multistars, the first Gold level meeting of the 2022 World Athletics Combined Events Tour, in Grosseto this weekend (30-1).
Dutch world seventh-place finisher Pieter Braun tops the decathlon list, while Swiss record-holder Geraldine Ruckstuhl leads the heptathlon entries.
Having previously been hosted in Desenzano del Garda, Florence and Lana – with Spain's Maria Vicente and Norway's Martin Roe claiming victory in the northern Italian town in 2021 – this year the event takes place in Grosseto for the first time. As well as victory, the respective World Athletics Championships Oregon22 standards of 8350 for the decathlon and 6420 in the heptathlon will also be among the targets for the leading entries.
Braun achieved his 8342-point PB when finishing third behind Damian Warner and Maicel Uibo at the 2018 edition of the Götzis Hypo Meeting. He went on to place seventh at the following year's World Athletics Championships in Doha but was unable to finish his heptathlon competition at the European Indoor Championships in Torun the following year due to an ankle problem. His last completed decathlon was the World Championships in 2019, as he gets ready to make a 10-event return following injury struggles and having been forced to withdraw from the Olympic Games in Tokyo.
He will be joined by five other athletes who have surpassed 8000 points in the senior event: Estonia's Kristjan Rosenberg, Risto Lillemets and Taavi Tsernjavski, plus Axel Hubert of France and Venezuela's Georni Jaramillo.
Rosenberg, last year's Estonian champion, will be looking to go one better than his runner-up Multistars finish in 2019, while Lillemets is the 2020 national champion who went on to finish fifth at the 2021 European Indoor Championships, and Tsernjavski claimed his two Estonian titles in 2015 and 2018.
Hubert, who achieved 8000 points for the first time at his own organised decathlon competition in 2020, has since improved to 8260, while 2019 South American champion Jaramillo has a best of 8048.
Last year's European U20 silver medallist Sander Skotheim of Norway also has a PB over 8000 points, achieved in the U20 event, and he makes his senior decathlon debut in Grosseto.
Italy's Dario Dester returns to combined events action after his 10th-place finish in the heptathlon at the World Athletics Indoor Championships Belgrade 22. Competing on home soil, he will be joined by his teammate in Belgrade, Sveva Gerevini, who finished ninth in the pentathlon after improving the national record to 4451 earlier in the season.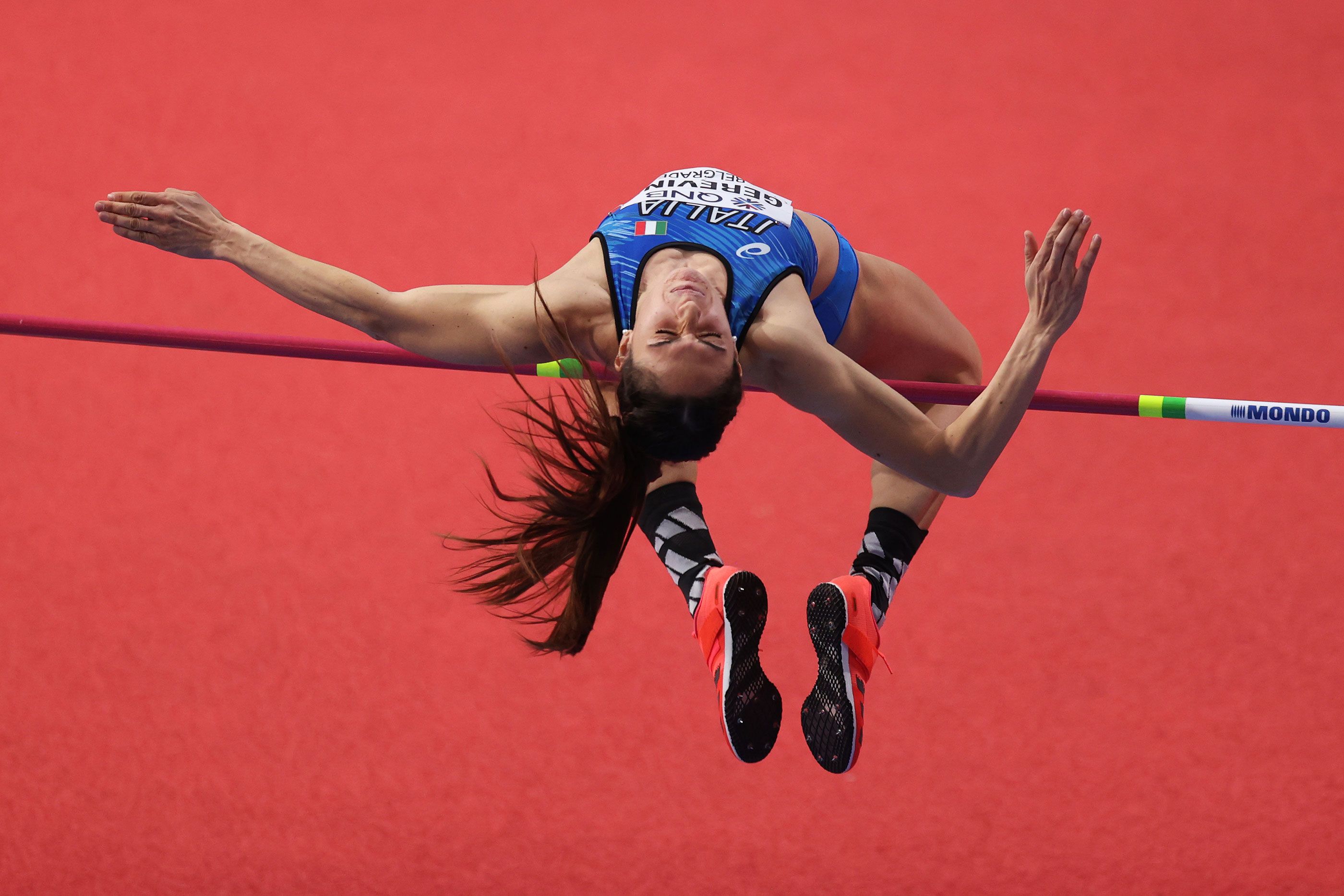 Italy's Sveva Gerevini at the World Athletics Indoor Championships Belgrade 22 (© Getty Images)
Sixth in that global competition in Belgrade was Spain's Claudia Conte, and she also competes in Grosseto. Her PB of 6186, achieved when she claimed European U23 silver last year in Tallinn, puts her second on the Multistars entry list behind Ruckstuhl.
Ruckstuhl, meanwhile, achieved her 6391-point national record in Talence in 2018 and the following year became the European U23 champion and finished ninth at the World Championships in Doha. Like Braun, injury also denied her the chance to compete at the Tokyo Olympics and in Grosseto she makes her return to competition for the first time since last June.
Alongside Ruckstuhl and Conte are five other heptathletes to have achieved 6000 points in their careers so far: Switzerland's Annik Kalin, Puerto Rico's Alysbeth Felix Boyer, Sofia Ifantidou of Greece, Poland's Paulina Ligarska and Myke van de Wiel of Netherlands.
Kalin, the 2019 European U20 bronze medallist, achieved her 6170 PB in 2020, while Puerto Rican record-holder and Olympian Felix Boyer's best of 6124 came in Cali in 2016. Two-time Multistars winner Ifantidou's 2012 PB is 6109, while Ligarska scored 6028 last year and Van de Wiel 6012, also in 2021.