Brazilian decathlete Felipe dos Santos (© Getty Images)
Many athletes will be in pursuit of World Athletics Championships Oregon22 qualifying standards at the 11th Meeting Internacional Arona Pruebas Combinadas Tenerife, a World Athletics Combined Events Tour Gold event, taking place in the Canary Islands this weekend (4-5).
The targets for Oregon are 8350 points in the decathlon and 6420 in the heptathlon.
The 27-year-old Brazilian Felipe dos Santos has exceeded the 8000-point barrier four times, topped by his 8364 PB set in Sao Paulo in December 2020. Dos Santos' strongest events are the 100m, where he holds a 10.37 lifetime best, and the javelin, where he managed a PB of 61.33m in Bragança Paulista last April, when he recorded 8004 points to win the contest on his 2022 decathlon debut.
French 25-year-old Axel Hubert boasts a career best of 8260 set in Aubagne almost two years ago and will be trying to finish his first decathlon since then, as he was forced to withdraw in Götzis last year after only four events. Hubert has only competed in individual disciplines so far this season, topped by a javelin effort of 63.39m that is still some way off his formidable PB of 69.69m set in 2020.
The experienced German Matthias Brugger has surpassed the 8000 landmark on seven occasions, led by his 8304 performance in Götzis in 2018. More recently, the 2016 world indoor heptathlon bronze medallist finished two decathlons last year with scores over 8000 points, but he got injured in the opening 100m in Ratingen last month and Arona should be a good test for the 29-year-old.
His fellow German Andreas Bechmann is very much in the the same boat, as the European U23 champion also dropped out in Ratingen. His withdrawal came after the shot put, in what was his first appearance of the season. Bechmann's strongest events are the long jump and the shot put, boasting respective lifetime bests of 7.72m and 15.81m, both set in Tallin en route to his European U23 gold. He also has a 2.10m high jump performance to his credit.
Marcus Nilsson will also be one to watch. The 31-year-old Swede has exceeded 8000m points twice in his career, holds a 8142 PB set in 2018 and showed interesting form last month in Ratingen, where he scored 7927 to place fourth. Nilsson should be aiming for his third 8000-plus effort in Arona, backed by a strong second day that includes performances such as 5.10m in the pole vault, 65.33m in the javelin and a 4:18:01 clocking in the closing 1500m.
Yet the most in-form decathlete on show this weekend seems to be Italy's Dario Dester as the 21-year-old, a fine fourth at last year's European U23 Championships, is fresh from a career best of 8109 points in Grosseto five weeks ago. The Italian managed five PBs on that occasion, with efforts such as 10.76 in the 100m and 7.61m in the long jump.
Another rising specialist is Venezuela's Gerson Izaguirre, the newly-crowned Iberoamerican champion from La Nucía a fortnight ago, when he improved his PB to 7827 points.
The women's competition will also be a wide open event, with half a dozen athletes capable of taking the win this weekend.
In terms of PBs, the list is headed by Uzbekistan's Ekaterina Voronina. The 30-year-old managed a PB of 6346 last year in Tashkent, a few months prior to her 12th-place finish at the Tokyo Olympics where she fell 58 points short of her best. Voronina finished 15th in Götzis last weekend with 5984 points.
USA's Ashtin Zamzow-Mahler boasts a 6291 lifetime best set last year in Azusa and the 25-year-old has another four 6100-plus performances to her credit, a 6198 score for second place in Fayetteville last month among them. The 100m hurdles is arguably her best discipline, having clocked 13.33 for the distance.
She will be joined by her compatriot Chari Hawkins, 12th at the 2019 World Championships in Doha and holder of a 6236 tally earlier that year at the US Trials, where she placed third. Hawkins opened this season with a 6032 performance in Fayetteville but did not complete her heptathlon last week in Götzis as she didn't take part in the closing 800m.
Spanish fans will roar for Claudia Conte, the European U23 silver medallist.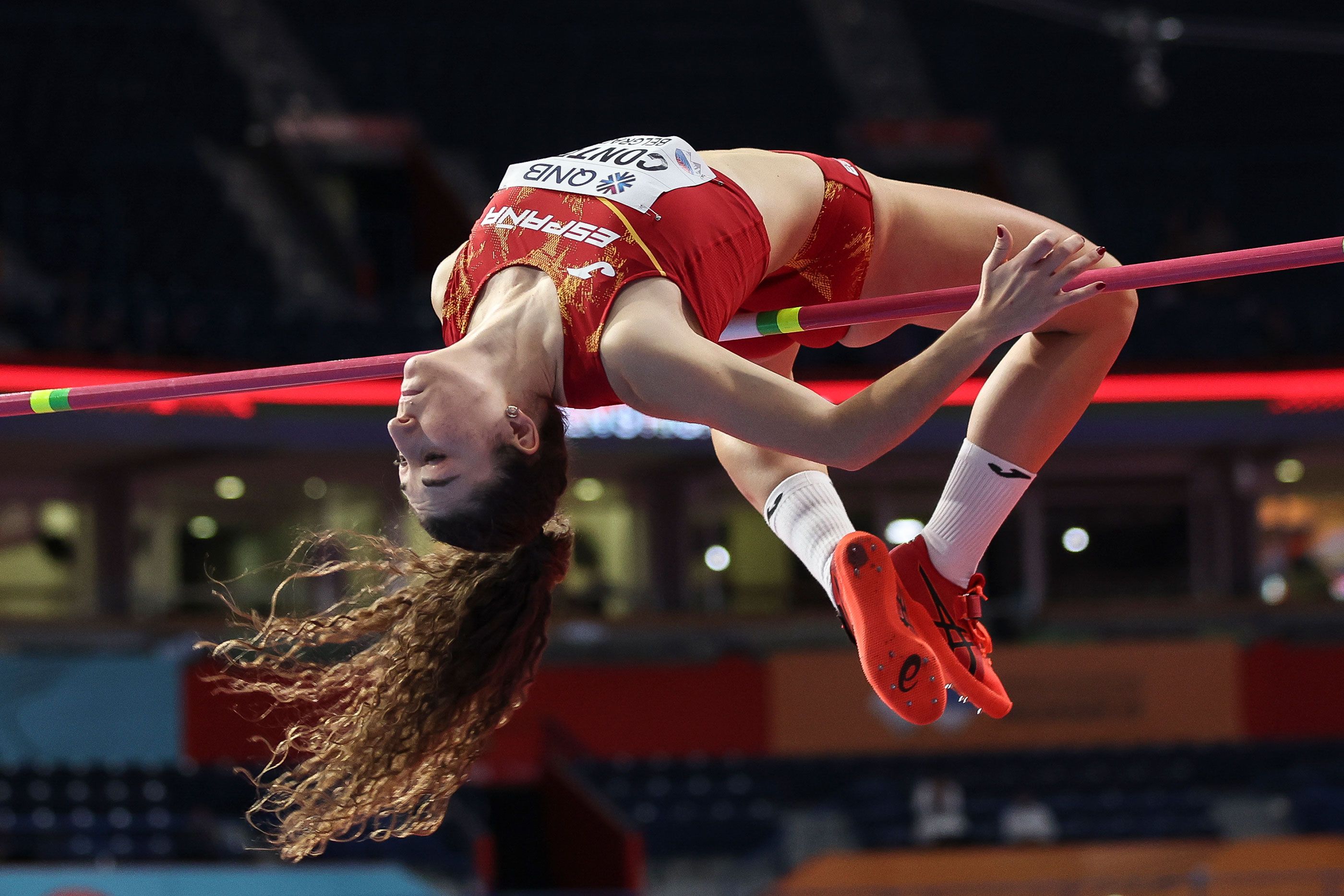 Spain's Claudia Conte (© Getty Images)
The Spaniard enjoyed a successful indoor season, capped by sixth place at the World Indoor Championships in Belgrade, where she set a PB of 4499. The 22-year-old contests her second heptathlon this season after a 5914 performance in Grosseto for third place, some 272 points off the 6186 score she managed in Tallinn. Conte's strongest event is the high jump, with a 1.88m clearance set last year in Arona where she placed fifth overall.
France's Solene Ndama should also be in the mix. The 23-year-old is the 2019 European indoor pentathlon bronze medallist and excels in the hurdles, an event in which she became the European U20 champion back in 2017 before focusing on the combined events. Ndama scored a below-par 3984 pentathlon in Aubiere this winter and Arona will be her debut in the seven-event contest this outsdoor season.
Britain's Niamh Emerson made a major breakthrough back in 2018 when she captured the world U20 heptathlon title in Tampere with 6253 points. In addition to that accolade, the then 19-year-old also claimed bronze at the Commonwealth Games on the Gold Coast, and at the European Indoor Championships in Glasgow in 2019 she was only beaten by her compatriot Katarina Johnson-Thompson. However, a series of injuries prevented her progression and the now 23-year-old will look to complete her first heptathlon since 2018. Her fellow Briton Ellen Barber (6028 PB) will also be in contention.
Watch out too for Sveva Gerevini as the 26-year-old Italian is in the form of her life having surpassed the 6000 landmark for the first time last month in Grosseto. She was runner-up there with 6011 points, helped by her performances in the opening and closing events as she recorded 13.60 and 2:09.81 for the 100m hurdles and 800m respectively.
Breaking the meeting records of France's world record-holder Kevin Mayer (8469 points in 2015) and Austria's Verena Mayr (6472 in 2019) won't be an easy task for the athletes assembled in Arona this weekend.
Weather forecasters predict a pleasant and sunny weekend, with temperatures reaching 24ºC.
Emeterio Valiente for World Athletics