Trayvon Bromell wins the 100m at the US Trials in Eugene (© Getty Images)
Three years ago, it seemed implausible that Trayvon Bromell and Allyson Felix would represent the United States at a 2020 Olympic Games. Bromell was coping with a debilitating sequence of injuries, and Felix was coming off a difficult childbirth.
Now that it is the 2021 Olympics, they will be running for medals in Tokyo.
Bromell won the 100m in 9.80 (0.8m/s), and Felix made her fifth Olympic team during the USA Olympic Trials on Sunday night (20) in Eugene, Oregon.
The 25-year-old Bromell once thought his end had come. He left the Rio Olympics in a wheelchair after aggravating a heel injury.
He has had two achilles surgeries over the past five years, and in a span of three-and-a-half years ran three races. He was effectively out of athletics. He credited religious faith for turning around his life, on and off the track.
"When I went down in 2016, I realised I didn't know what was going on," he said. "In 2018, I wondered if I wanted to live anymore. What resource am I not going to for this change?
"My mom told me to try God. Since devoting myself, things have changed."
In a high-quality final, the top four men finished inside 9.90, and 9.91 – recorded by teenager Micah Williams of host University of Oregon – was only sufficient for fifth place. It was the fastest first five in trials history.
Ronnie Baker and Fred Kerley, the latter dropping down from the 400m, claimed the two other Olympic spots, finishing second and third respectively in 9.85 and 9.86. 200m specialist Kenny Bednarek was fourth in 9.89. World 200m champion Noah Lyles started poorly and was seventh in 10.05.
Following this victory and his world-leading 9.77 from earlier this month, Bromell will head to Tokyo as a gold-medal favourite.
"I feel with confidence sometimes comes complacency. And for me, I don't like to get complacent," he said. "For me, I'm still going to go home and train as if I'm not being talked about at all."
On a day celebrated as Father's Day, the top two in the women's 400m were both mothers.
Quenara Hayes – who became a mother in October 2018 and has this year returned to sub-50-second form – finished first in 49.78, just 0.06 shy of the PB she set when winning the 2017 US title.
Felix closed rapidly to clock 50.02. Third spot was taken in 50.03 by Wadeline Jonathas, who was fourth at the 2019 World Championships. Kendall Ellis clocked 50.10 for fourth place, narrowly missing a team spot by just 0.07.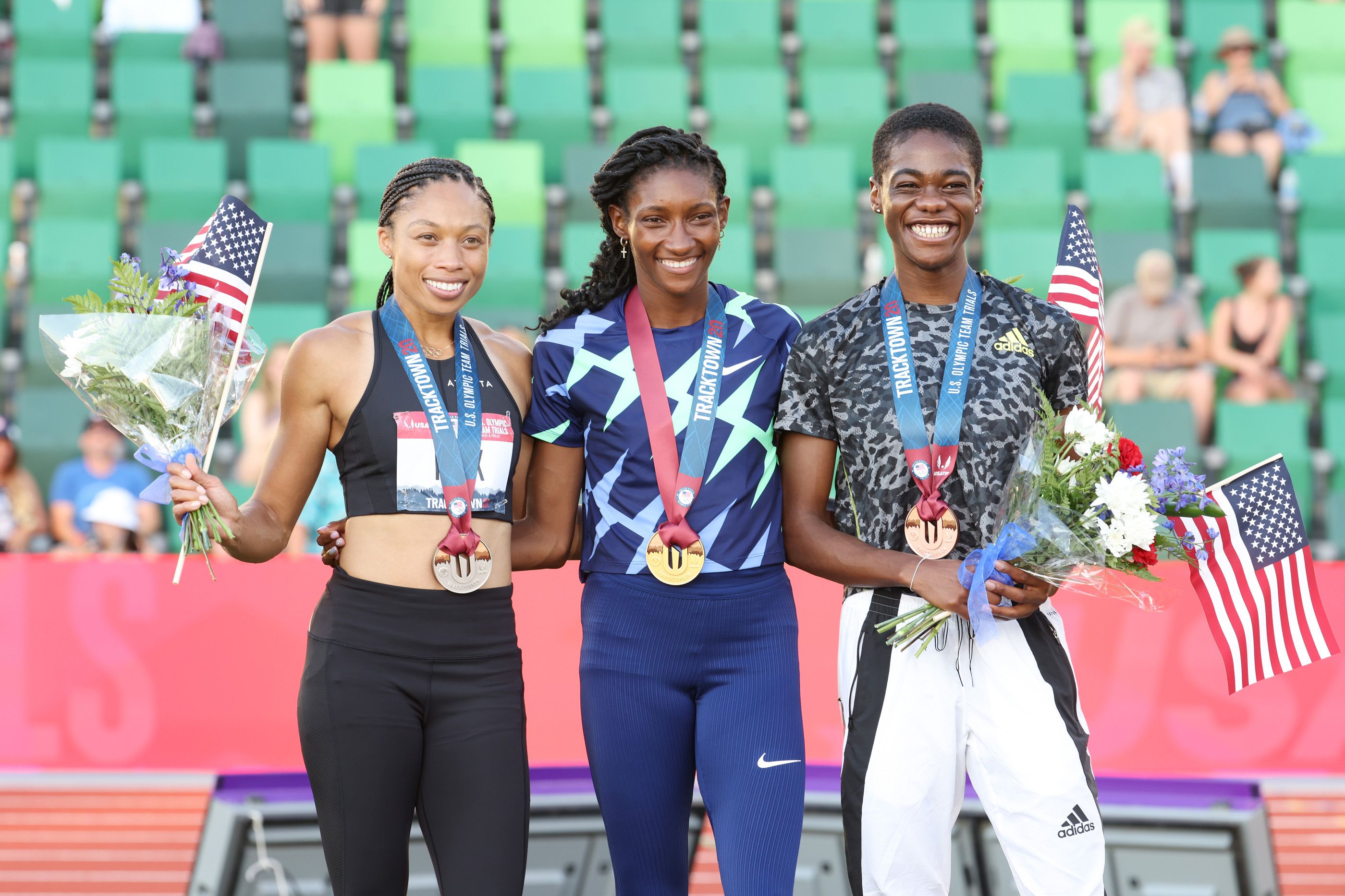 "When your body is out for eight to nine months, plenty of nights I would cry," said Felix. "I was trying to rush the process."
Felix made the team, 17 years removed from winning a 200m silver medal in Athens in 2004. She gave birth to a daughter in 2018, and she was at Hayward Field to see her mother race.
"There has been so much that has gone into this," Felix said, "and there were many times where I didn't think I would get to this moment."
She said she was "absolutely sure" she would not try for Paris 2024.


Winkler breaks North American hammer record
Rudy Winkler broke Lance Deal's 25-year-old North American hammer record with a distance of 82.71m.
Winkler opened with 80.75m to break the meeting record, then followed it with his winning mark in round two. He went on to record three more throws beyond 80 metres, including an 82.10m effort in round four.



Daniel Haugh (79.39m) and Alex Young (78.32m) also set PBs to finish second and third. The three men now occupy the second, fifth and sixth places on this year's world list.
Hal Connolly was the last US man to win Olympic gold in the hammer, and Deal was the last medallist with his silver in Atlanta in 1996. Winkler said his 80-metre throws felt effortless.
"I was more prepared for this than I have been for anything in my life," said Winkler, who had a case of Covid-19 in spring 2020 but was never hospitalised.


Redemption for Harrison and Scantling
The five-year wait since the last Olympic Trials has felt like an age for Kendra Harrison and Garrett Scantling.
On that occasion, back in 2016, Harrison finished sixth in the 100m hurdles while Scantling was fourth in the decathlon, meaning they both missed out on making the US team for Rio. But this time both were clear winners of their respective events.
Harrison, who went on to set a world 100m hurdles record of 12.20 later in 2016, won on Sunday in Eugene in a season's best of 12.47, finishing 0.01 ahead of Olympic champion Brianna McNeal.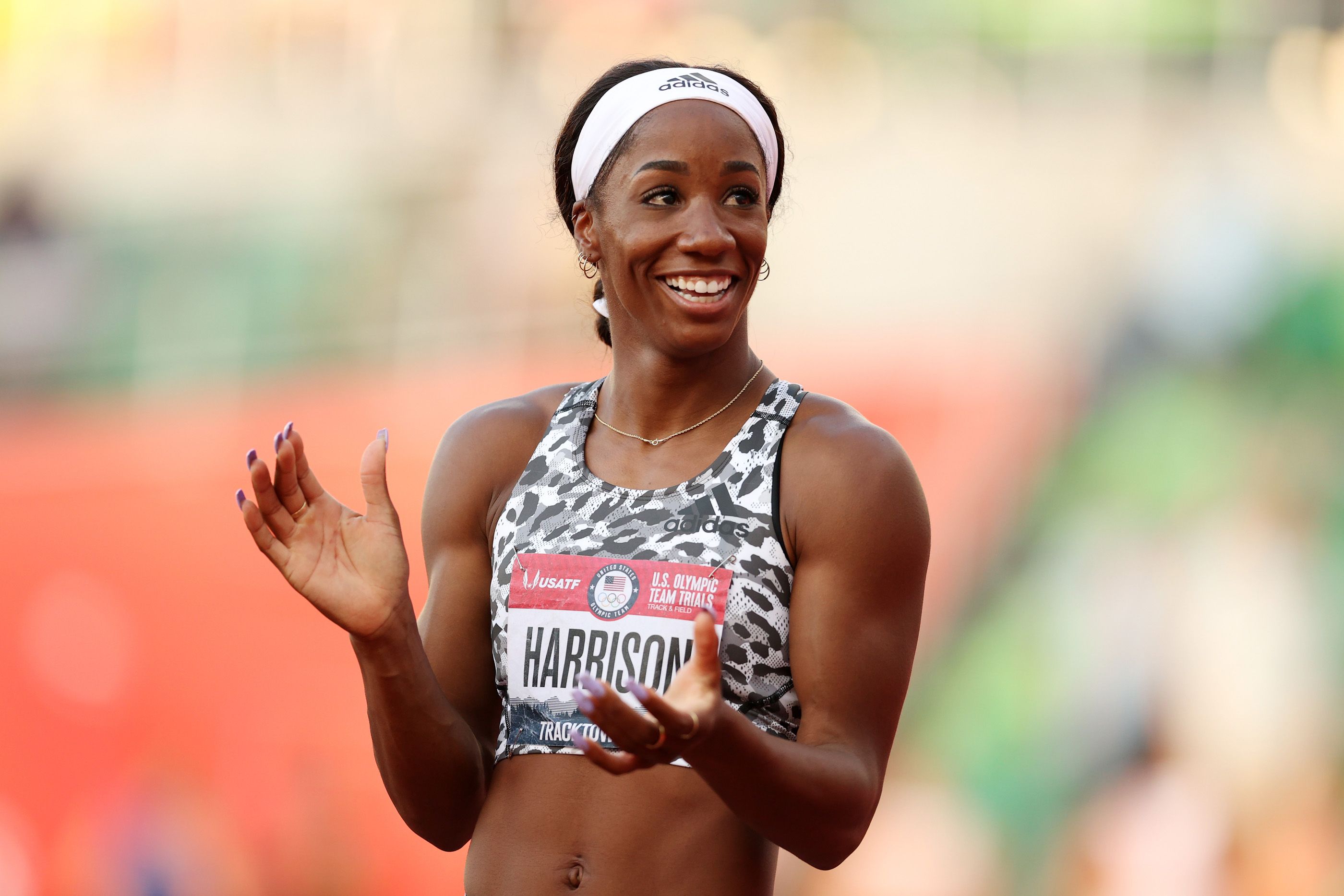 Christina Clemons and Gabbi Cunningham were close behind, both timed at 12.53 and separated by just five thousandths of a second in third and fourth. With four women finishing inside 12.54, it's the highest quality 100m hurdles race in history outside of global championships.
McNeal is currently appealing a five-year ban for a doping violation, but received permission from the Court of Arbitration of Sport to compete. If her appeal is denied, Cunningham will take the third spot on the US team for Tokyo.
The decathlon was of similar high quality. Scantling, who had led since the second event, started where he left off on day two, charging to a PB of 13.88 in the 110m hurdles. He then uncorked a lifetime best of 48.17m in the final round of the discus before clearing 5.15m in the pole vault.
A 64.21m throw in the javelin brought his tally to 8074 points and he still had one event to go. He ended his competition with 4:57.75 in the 1500m to secure victory – and his place on the Olympic team – with 8647, a mark that moves him to eighth on the US all-time list.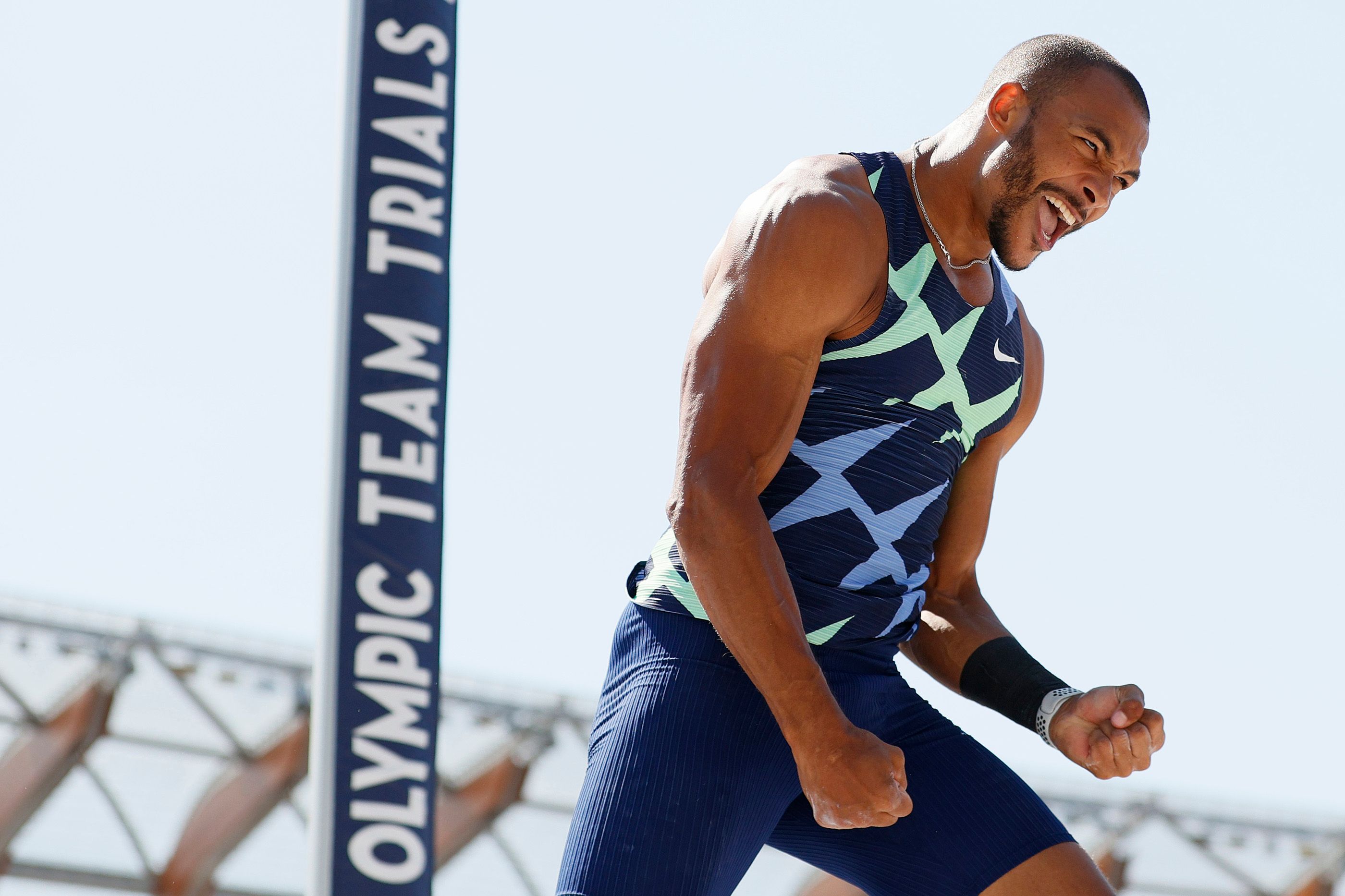 Steven Bastien sat in fourth place at the end of the first day and remained in contention on day two, helped by a 14.24 run in the 110m hurdles. He moved up the leaderboard once again, thanks to a 4:22.21 run in the 1500m, elevating him to second place and a PB of 8485.
Zach Ziemek, who finished seventh at the 2016 Olympics, excelled in the pole vault, sailing over 5.55m to keep alive his dream of competing at a second Games. Combined with his points from the high jump (2.14m) and long jump (7.74m), he became the first decathlete in history to score more than 3000 points in the jumps events in one decathlon. Ziemek maintained a podium finish during the final two events, eventually placing third with a PB of 8471.
In a high quality competition, the top six finishers exceeded 8100 points and the top nine men bettered 8000.
Michael Norman took the 400m in 44.07 over Michael Cherry, 44.35. Randolph Ross, who ran a world-leading 43.85 on this same track to win the NCAA title earlier this month, seized the third spot in 44.74. Norman said he had one pre-Olympics race in Szekesfehervar but that he would otherwise concentrate on training.
"In 2016, there were no expectations, no goals, have fun and see what happens," said Norman, who was fifth in the 200m at that year's trials as an 18-year-old. "This year everything was done with a purpose, and I had a goal in mind."
Keturah Orji set a meeting record of 14.52m on her final attempt in the triple jump, having held the lead since her opening leap of 14.40m. Former US record-holder Tori Franklin was second with 14.36m.
Vashti Cunningham won her fourth successive US title with a high jump of 1.96m. She passed 1.99m and missed three attempts to tie her outdoor world lead of 2.02m.
Roy Jordan for World Athletics
• Results