Anzhelika Sidorova in the pole vault at the Wanda Diamond League final in Zurich (© Getty Images)
World champion Anzhelika Sidorova became just the fourth woman in history to scale five metres in the pole vault, winning with 5.01m at Weltklasse Zurich on Thursday (9) to take the 2021 Wanda Diamond League title.
With Mondo Duplantis winning the men's pole vault with 6.06m, it was the first competition in history in which the five-metre and six-metre barriers had both been bettered.
For quite some time Sidorova had looked to be the next in line to join the exclusive club. Her previous best, 4.95m, was set when winning the world title in Doha, but the authorised neutral athlete was a little below that at the Tokyo Olympics, taking silver with 4.85m.
But, perhaps motivated by narrowly missing out on Olympic gold, Sidorova was a woman on a mission in Zurich. She cleared all of her heights on her first attempt, up to and including 4.91m. 2016 Olympic champion Katerina Stefanidi was the last of Sidorova's opponents, having cleared a best of 4.77m before registering a failure at 4.84m and two misses at 4.91m. Olympic champion Katie Nageotte, meanwhile, was disappointed to register three failures at her opening height of 4.57m.
Sidorova, meanwhile, continued with her incredible series, going over 4.96m on her first try. She then had the bar raised to 5.01m and finally got over it on her third attempt.
"I think this is really the right place to jump high," said Sidorova after winning in the same stadium where the world record was set back in 2009. "Heading to the stadium, I did not feel like it was coming today. I think we are all a bit tired already after a long season. I still cannot believe I got over the five-metre barrier today."
On a great night for pole vaulting, Olympic champion Mondo Duplantis produced the first ever six-metre vault in Zurich's Letzigrund Stadium, winning the men's contest with a meeting record of 6.06m.
The 21-year-old Swede opened at 5.58m and followed it with first-time clearances at 5.83m and 5.93m. Two-time world champion Sam Kendricks and Timur Morgunov also got over the latter, doing so on their second attempts, but would ultimately go no higher.



Duplantis registered his first failure of the day at 5.98m but got over it on his second try to break Igor Trandenkov's meeting record from 1996.
Duplantis then got over 6.06m on his first try, the fourth-best outdoor clearance of his career, to extend the meeting record even higher.
He ended his competition with three attempts at a would-be world record height of 6.19m, which were unsuccessful, but he was more than happy to wrap up his Wanda Diamond League campaign with the trophy.


Olympic champions leading all the way
Duplantis and Sidorova weren't the only field event winners in Zurich to have led from the early stages before finishing with a flourish.
World and Olympic champion Yulimar Rojas sailed out to a meeting record of 15.27m (-0.4m/s) to take an early lead in the women's triple jump. She followed it with three fouls, but landed beyond 15 metres again in the penultimate round (15.22m) before ending with a mammoth 15.48m (0.3m/s), smashing her own meeting record from the first round.
Her winning jump is the fourth best mark in history, and it was also her 16th jump beyond 15 metres in 2021 – a record tally for a single season. The Venezuelan now owns six of the top seven jumps in history.
Jamaica's world silver medallist Shanieka Ricketts took second place with 14.64m ahead of compatriot Kimberly Williams (14.47m).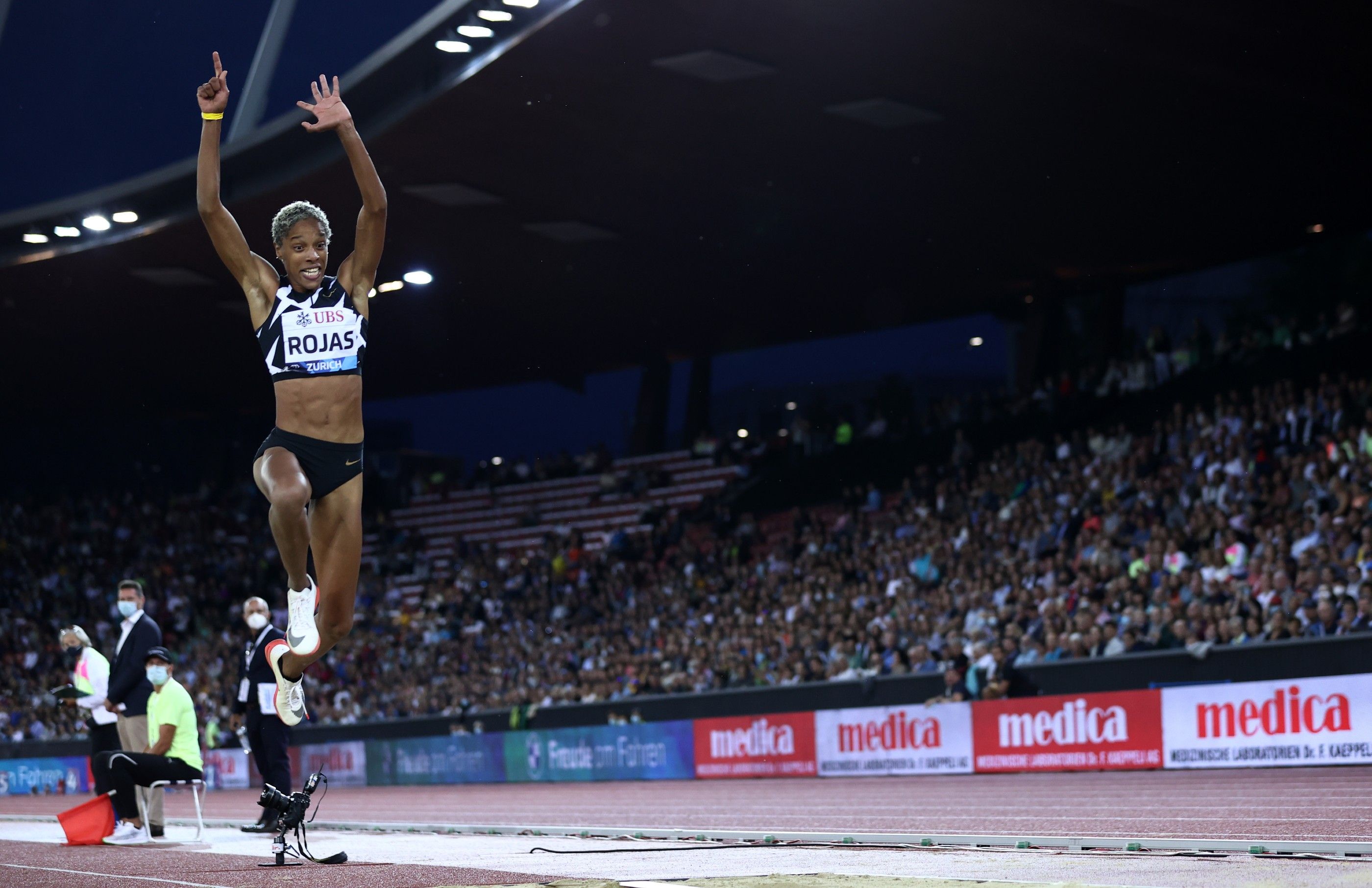 Olympic champion Pedro Pablo Pichardo was similarly dominant in the men's triple jump.
The Portuguese record-holder opened with 17.26m and it wasn't until the fifth round that he improved on that, jumping 17.27m. World indoor record-holder Hugues Fabrice Zango came close to Pichardo's lead with 17.20m in round five, but Pichardo pulled out a huge 17.70m effort in the final round to ultimately win by a comfortable margin.
"At the beginning it felt a little cold, but eventually I warmed up and the jump came out," said Pichardo. "The atmosphere here is great, and every time we have a crowd like this in the stadium, it really has an impact on the athletes – it is very important for us."
Valarie Allman capped her incredible season by winning the women's discus with 69.20m.
The US thrower opened with 66.48m to take an early lead, but multiple Diamond trophy winner Sandra Perkovic closed the gap in the fourth round with 65.77m. Allman responded, though, and threw 69.20m in round five. Perkovic ended with 67.22m but it wasn't enough to catch the US thrower.
"I definitely reacted when Sandra threw a distance close to my first throw," said Allman, whose biggest throws of the year have all come in the competitions that mattered most: the US Trials, the Olympic Games and the Wanda Diamond League final.
"The women's discus right now is so intense and competitive, and this is pushing all of us to put up good competitive results," she added.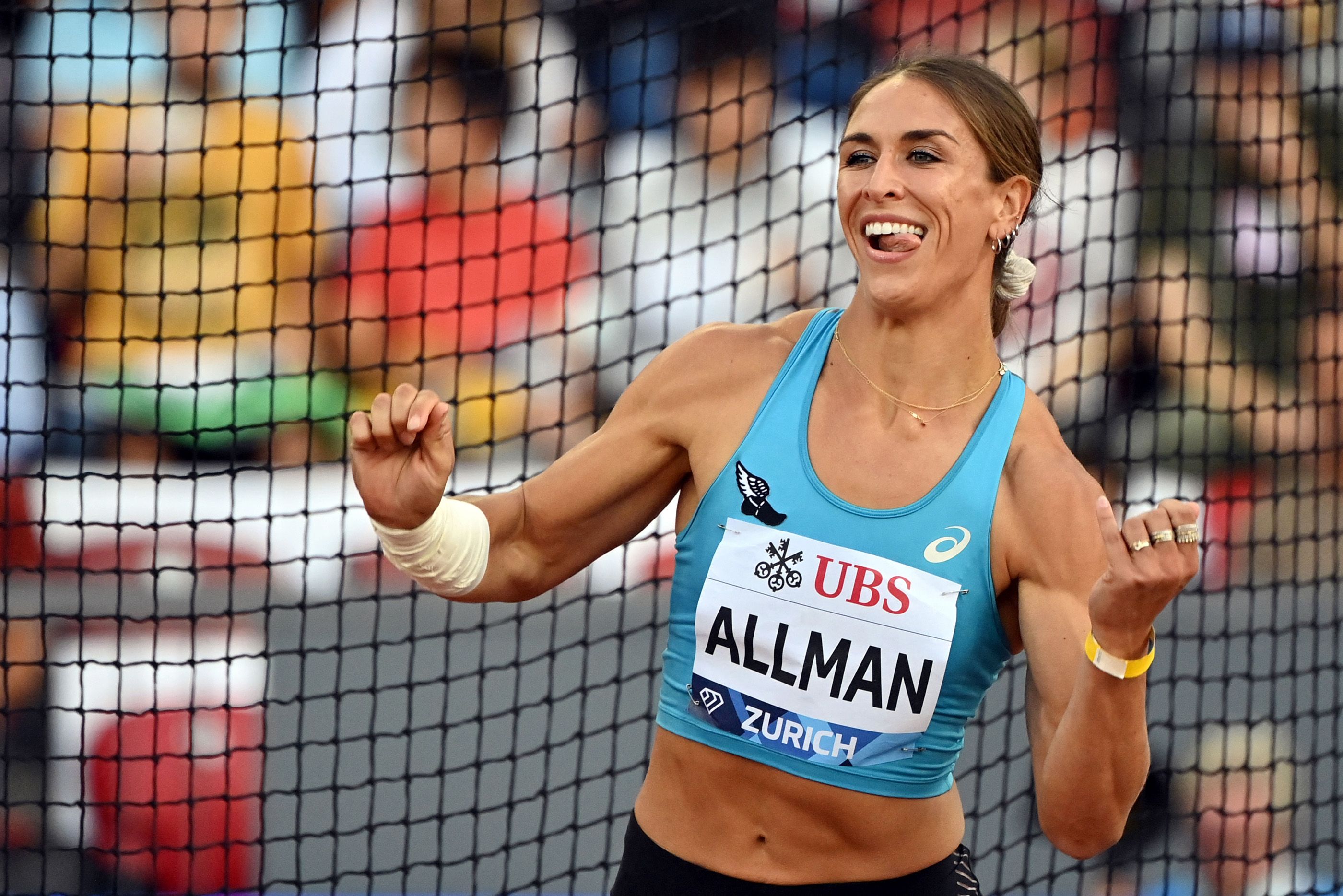 World and Olympic champion Daniel Stahl extended his winning streak in the men's discus. The Swede's opening throw of 66.49m remained the best mark of the competition, though it came under pressure in the fifth round from Slovenia's Kristjan Ceh (65.39m) and world silver medallist Fedrick Dacres (65.33m).
Gianmarco Tamberi was another Olympic champion who was victorious in Zurich.
The effervescent Italian, who shared the Olympic gold medal with world champion Mutaz Barshim in Tokyo, was flawless up to and including 2.30m. Ilya Ivanyuk and Ukraine's Andriy Protsenko were the only other athletes to clear that height, doing so on their third attempts.
Tamberi then got over 2.32m on his second try, while Ivanyuk exited the competition at that height. Protsenko had two misses at 2.32m and one at 2.34m.
As soon as Protsenko had failed at 2.34m, Tamberi was confirmed the winner. But he continued jumping and, responding well to the energy from the crowd, got over 2.34m on his second try to secure the Diamond Trophy.


Redemption for Vetter and Hussong
One of the biggest shocks of the Tokyo Olympics was the ninth-place finish of Johannes Vetter in the men's javelin.
The German had dominated the event for the past two years, winning 19 consecutive competitions ahead of the Games, and regularly throwing well beyond 90 metres. But he struggled to throw well on the surface in Tokyo's Stadium and wound up ninth in the final with a best of 82.52m.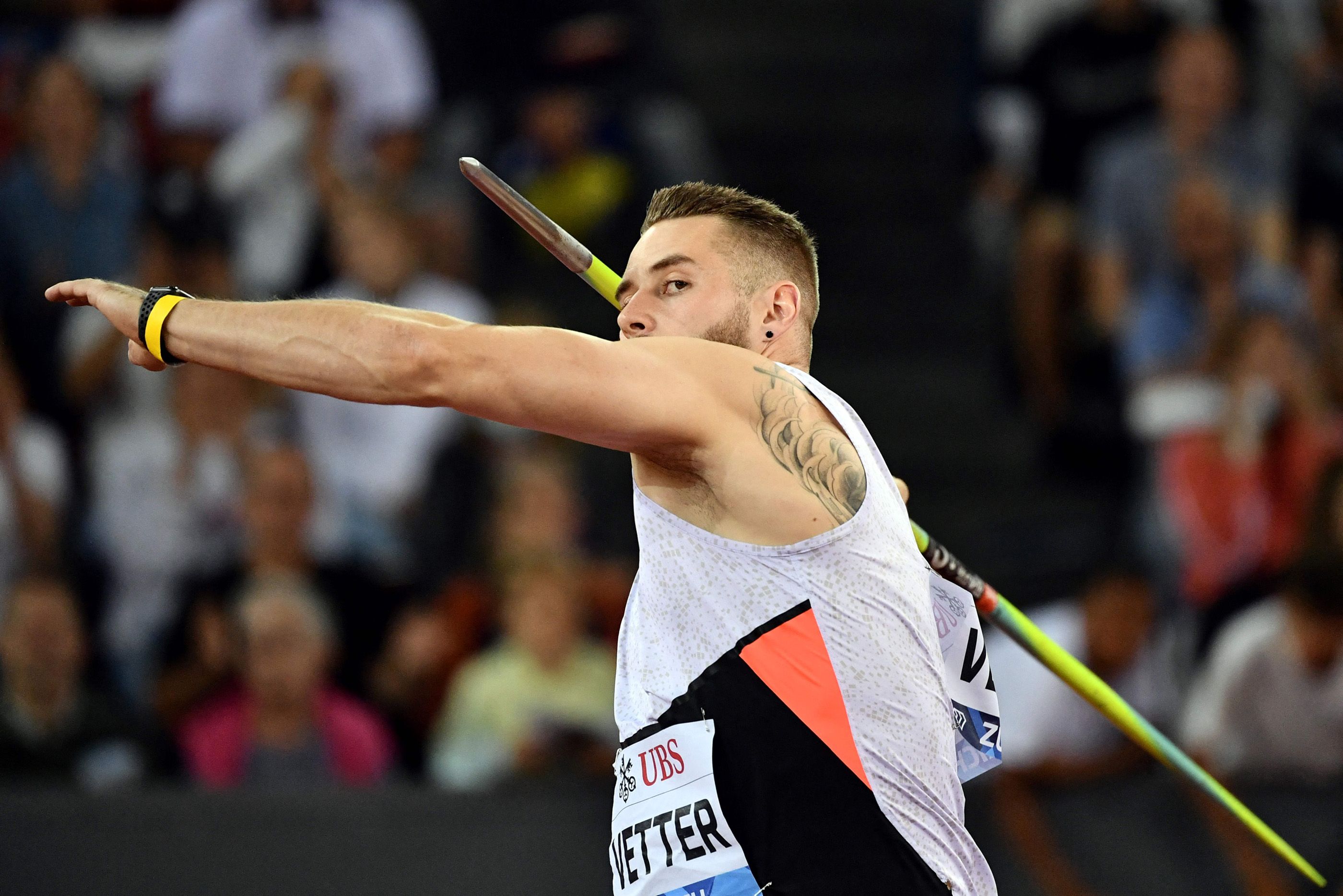 In Zurich, however, the 2017 world champion recaptured his usual form and won the men's javelin with a second-round throw of 89.11m. Compatriot Julian Weber, the fourth-place finisher at the Olympics, was second with 87.03m.
Christin Hussong may not have been as strong a pre-event favourite as Vetter going into the Olympics, but the German was considered one of the main medal contenders for the women's javelin. But she, too, finished down in an uncharacteristic ninth at the Games.
The European champion returned to winning ways in Zurich and took the women's javelin crown with a best of 65.26m in the final round, beating world champion Kelsey-Lee Barber of Australia (62.68m).
Jon Mulkeen for World Athletics