Mondo Duplantis at the press conference for the Wanda Diamond League Final in Eugene (© Matthew Quine / Diamond League AG)
A "victory parade" for some, a chance of revenge for others. But for all, this weekend's Wanda Diamond League Final in Eugene offers the world's best athletes the opportunity to make a strong closing statement and sign off for the season in style.
Some of those athletes came together at the pre-event press conference on Friday (15), on the eve of competition at the Prefontaine Classic where 32 finals will be contested over two days of action.
For a number of the stars, the event offers a return to Hayward Field for the first time since last year's World Athletics Championships. Some retained the titles won there at this year's global showpiece in Budapest, including Sweden's Mondo Duplantis. With all other action having concluded, the pole vault sensation closed the 2022 edition with a world record clearance of 6.21m – a mark he has since improved by another centimetre – and unsurprisingly he has fond memories of the venue, as well as big ambitions for his return to the runway.
"It's a good place for me here," he smiled. "I know that it's a place that I can jump really high. It's my last competition and I would like to end on a bang and a nice height here.
"I feel quite good. I think that I have one really good competition left in me (this season). I don't have much more than one, but I think I do have one good one in me and so I'm excited about it."
The majority of athletes qualified for the Diamond League Final by earning points at the 13 series meetings, while others were entered as national or global wild cards. On whether the format of the pole vault final, and having fewer athletes in the field, changes the dynamic, Duplantis added: "For pole vaulting, it's super nice. Because it's a really long day out there, especially if you're trying to attempt a world record height – you're out there for maybe, once I've warmed up, almost five hours from when I am taking my last jump.
"I think I'll be a little bit more fresh out there and I think that's a really good thing, especially if you're trying to take a crack at something really high."
Joint world champions Katie Moon and Nina Kennedy also hope to push each other to great heights in the women's pole vault final. USA's Moon, the Olympic champion, and Australia's Kennedy, the defending Diamond League champion, could not be separated in Budapest as they both cleared 4.90m and shared the title.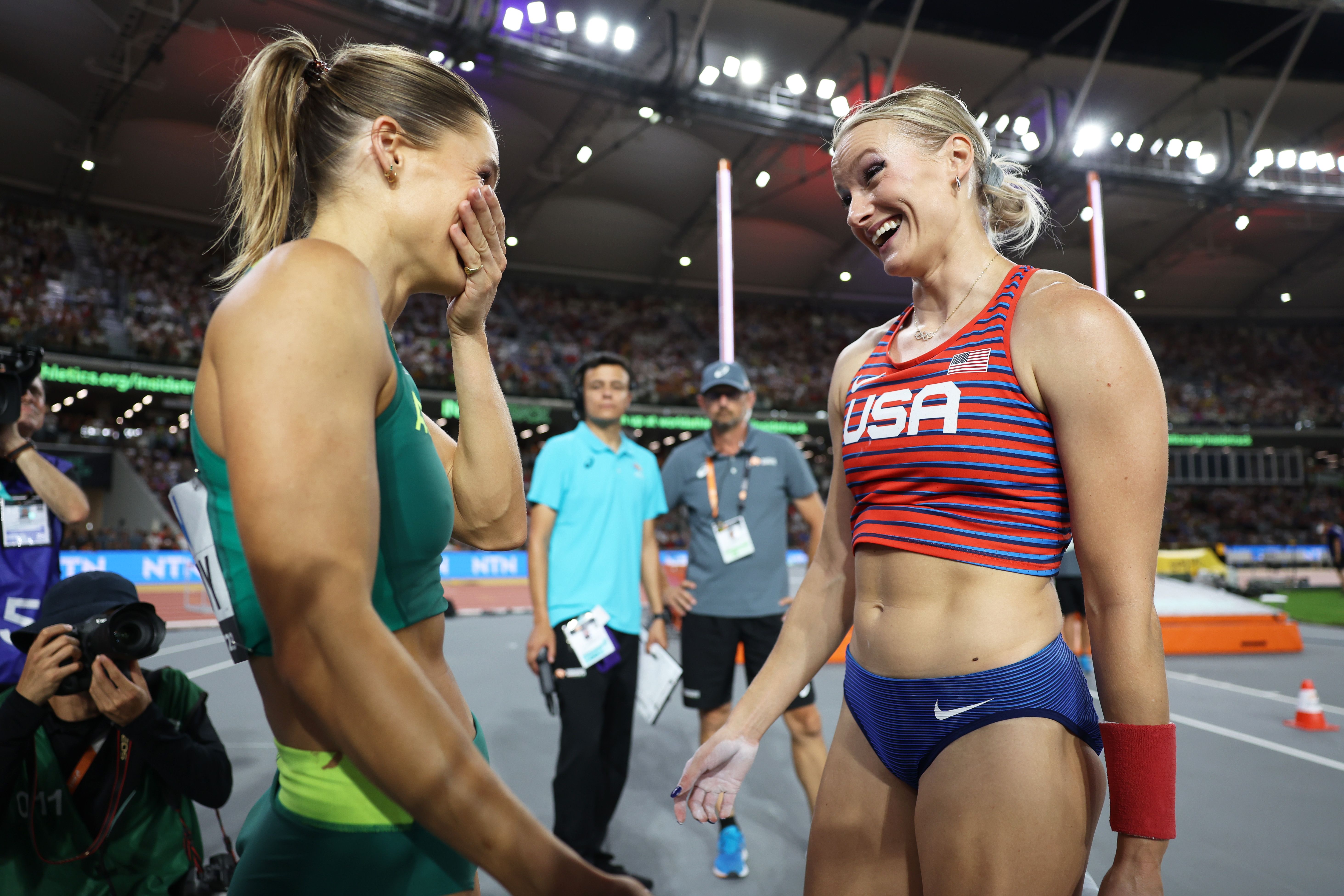 Nina Kennedy and Katie Moon at the World Athletics Championships Budapest 23 (© Getty Images)
Kennedy won on their rematch at the Diamond League meeting in Zurich one week later, improving the Oceanian record to 4.91m, which could provide even more motivation for Moon, should it be needed, as she competes on home soil.
"Last year, and this year as well, once the major is done, I've performed," said Kennedy. "In Zurich, I just went and had fun and I jumped 4.91m and broke my national record. So, I think Katie and I will just try and have some fun out there tomorrow, and hopefully some big bars will happen."
A question to all athletes at the press conference was how they intend to start their off seasons.
"Hopefully, with a win tomorrow," replied Kennedy, with Moon quick to add: "I'll give you some competition there!" As well as great competition in the discipline, there is great camaraderie and the pair – joined by other global medallists such as Finland's world bronze medallist Wilma Murto, USA's two-time world indoor champion Sandi Morris and Slovenia's world indoor bronze medallist Tina Sutej – are sure to put on another show.
That's the aim of Noah Lyles, too, with the three-time world gold medallist in Budapest making an encore in the men's 100m after previously announcing the end of his season.
"In Zurich, they were trying to get us to do the medal ceremony, and I'm slumped on the side of the stand like, 'I think I'm seeing stars!'" he laughed. "But it had been less than a week since I had run on the 4x100m (in Budapest, after also winning the 100m and 200m). Two or three days later, I was doing my shakeout and I'm like, 'I think I got one more in me'.
"Every meet that happens after World Championships, I see almost as a victory lap," he added. "A lot of people will get tired, but I'm like well it doesn't matter if you win or lose now, because you already won World Championships, nobody can take that from you. I remember coming to Prefontaine after the Olympics and I guess I didn't realise how much people want to see you after the moment happens, that we've got to treat this like our victory parade."
Noah Lyles speaks with the media in Eugene (© Matthew Quine / Diamond League AG)
His fellow world 100m champion and US teammate Sha'Carri Richardson agreed.
"I'm feeling grateful for the season I've already had. Knowing that I am world champion of this year, I am world leader of this year, I feel like anything else – like Noah said – it's more of a victory lap," she said.
"I've done what I wanted to do, but the job is not done, so going into this next line up, the amazing ladies that I have been racing basically all season, I'm lining up against them again and we'll see who will come out on top."
Richardson ran 10.65 to win the world title in Budapest, equalling the world lead that had been set by Jamaica's Shericka Jackson in July. Jackson secured silver behind Richardson in the world 100m final and went on to take the 200m title in 21.41. They go head to head again in Eugene.
"I would say more important to me is execution. Time, the placement, all of that is just a bonus to execution," added Richardson when asked about the Diamond League final. "As long as I go out there and execute the race that me and my coach have been training to do all season, I'm happy with that."
Was her 10.65 in Budapest a perfect run?
"No, there's no such thing as a perfect run," she replied.
For her compatriot Grant Holloway, the three-time world 110m hurdles champion, having the final in Eugene to target was important to maintain motivation.
"The biggest thing for me coming out here is I've been really trying to find a sense of motivation, a sense of urgency," he said. "After Worlds, once you put blood, sweat and tears into an event and you come out on top, you accomplish that goal, it's always hard to try to refocus and get it all going. My support staff, my team, we've been working diligently, really trying to put some more gas in the tank. At the end of the day, you already have your world title, it can't be taken away, but at the same time you want to try to protect your throne and solidify why you do certain things."
In an exciting rematch at Hayward Field, he again lines up alongside Jamaica's Olympic champion Hansle Parchment, who got silver in Budapest, and bronze medallist Daniel Roberts of USA.
"Hansle is the Olympic champion for a reason," he said. "Daniel has been making strides of becoming one of the best hurdlers in the world and definitely for America. It's going to be that same rematch. The biggest thing for me is come out here and have some fun. The crowd is going to be roaring, I'm running on a familiar track. I ran 12.81 here (in 2021, when he was just 0.01 off the world record), so I'm just trying to have some fun and whatever happens, happens."
He too has already made plans for after this season.
"I'm hosting a golf tournament so that we are able to feed less fortunate families for Thanksgiving, as well as giving Christmas gifts," he explained. "All proceeds are going to a good cause. I want to get the awareness out."
He will then turn his attention to preparing for the indoor season and defending his 60m hurdles title at the World Athletics Indoor Championships Glasgow 24.
For Norway's Jakob Ingebrigtsen, there are two finals to get through in Eugene before he can focus on the off season, which features his wedding the following weekend.
The two-time world 5000m champion first contests the Bowerman Mile – the final event on the programme on Saturday – before returning to the track on Sunday for the 3000m.
"First, I'm here to run the mile, that's the most important objective of this meeting," said the Olympic 1500m gold medallist, who set a world two-mile best in Paris and a world 2000m record in Brussels. "It's my first mile of the season and the Diamond League final, so I'm hoping to get another trophy and a good time.
"This definitely feels like a home meet for me in the mile. I've been here many times and have a lot of good memories and great achievements running the mile. It's great to be back."
Does he have a set time in mind? The world record of 3:43.13 has stood to Hicham El Guerrouj since 1999.
"It all depends on the conditions," he said. "Hayward Field is a difficult track to manage and to run fast, especially in distance events. With 300 metres to go, there's always headwind so that can be a little bit tricky. It all depends on if we can get lucky for a couple of laps. If not, we're going to have a good race on our hands. We're going to have to run fast to be able to win. It's going to be a good race."
Another athlete seeking a strong mile is Yared Nuguse, who believes his PB is due for revision and has an eye on the US record (3:46.91).
"If the race goes out nearly anywhere as fast as any other Diamond League has gone out, then I'm sure that's something that could be managed," he said.
Ingebrigtsen, sitting alongside him at the press conference, interjected with a smile: "Just stick to me as long as you can, and we'll get you sub-3:46."
"We'll see," responded Nuguse. "I might be closer than you think."
Jess Whittington for World Athletics