Mondo Duplantis at the Wanda Diamond League meeting in Brussels (© Matthew Quine / Diamond League AG)
Meeting records are hard to come by in the Wanda Diamond League, given it's the premier one-day meeting circuit in the world, but three such marks fell at the Memorial Van Damme in Brussels on Friday (3), thanks to Mondo Duplantis, Sifan Hassan and Michael Cherry.
When the men's pole vault got underway, some 40 minutes before the first track event, the King Baudouin Stadium was still filling up. By the time the contest reached its climax three hours later, with all other disciplines having long finished, Duplantis commanded the attention of every single person inside the venue.
Though the world record once again evaded Duplantis tonight, the 28,000 spectators – the largest gathering for an athletics meeting since the start of the Covid-19 pandemic – were treated to a vaulting masterclass from a legend of the sport.
The Olympic champion opened at 5.50m, skipped 5.65m and then got over 5.75m and 5.85m on his first tries. Four other men were left in the competition at this point, but only two of them got over 5.85m; Olympic silver medallist Christopher Nilsen did it on his first try, while US compatriot KC Lightfoot scraped over on his third attempt.
The US duo couldn't quite manage 5.91m tonight, though, but Duplantis once again went clear at the first time of asking to confirm his victory. The 21-year-old Swede then raised the bar to 6.05m in a bid to add some height to his own 6.00m meeting record from last year. He brought the bar down with his first two tries, but got over it on his third attempt.
The bar was then raised to the would-be world record height of 6.19m. Following a short wait while the technical officials ensured all was set for a record attempt, Duplantis took to the runway but wasn't particularly close to clearing the bar on his first attempt. His second try was significantly closer, and his third attempt was also decent, but a world record wasn't to be tonight.
Nevertheless, Duplantis wasn't disappointed with his winning height of 6.05m. Only he, Sergey Bubka and two-time world champion Sam Kendricks have ever vaulted higher outdoors.
"I was really close to the world record," said Duplantis. "Everything was perfect, it was just up to me. I haven't had such an amazing atmosphere during a competition in a really long time."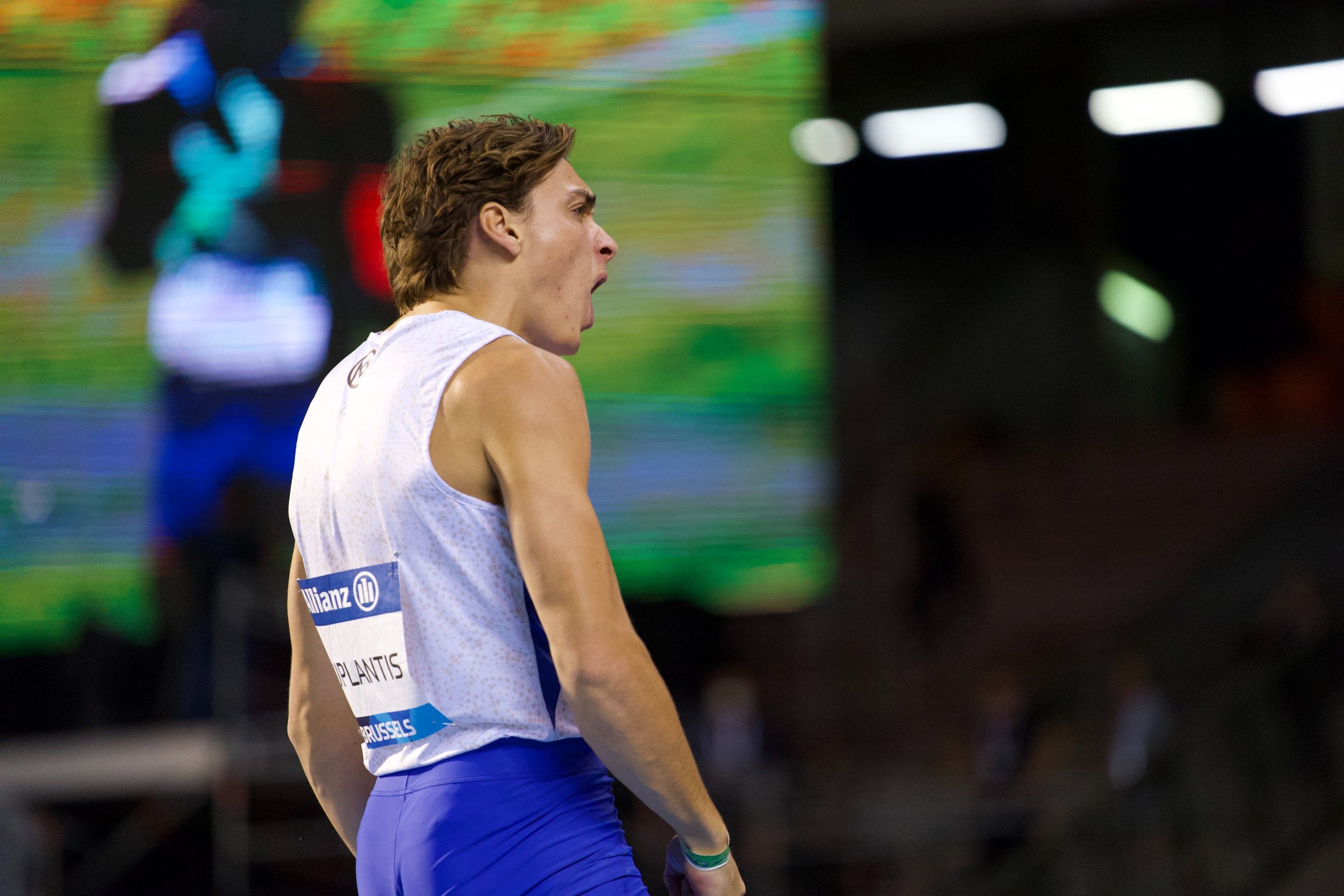 Almost a month has passed since Sifan Hassan's final race at the Olympic Games, where she won two gold medals and one bronze. Having raced just once during that time, the Dutch distance star arrived in Brussels well rested and ready to take on the mile.
She was the only athlete capable of sticking with the pacemakers as they led through the first 400m in 1:02.03. By the time the second pacemaker reached the 800m point in 2:04.97, with Hassan still in close attendance, the rest of the field was about 30 metres adrift.
With a lap to go, it was clear from the wavelight technology that an improvement on Hassan's 4:12.33 world record was not on the cards in Brussels, though it never really seemed as though that was her ambition for the race anyway. By this stage, her lead had grown to 50 metres and she kicked for the final lap, going on to win by more than six seconds.
Her winning time of 4:14.74, the fifth-fastest performance in history, smashed Faith Kipyegon's meeting record by two seconds. Ethiopia's Axumawit Embaye was second in 4:21.08, closely followed by Australia's Linden Hall, who broke her own Oceanian record with 4:21.38.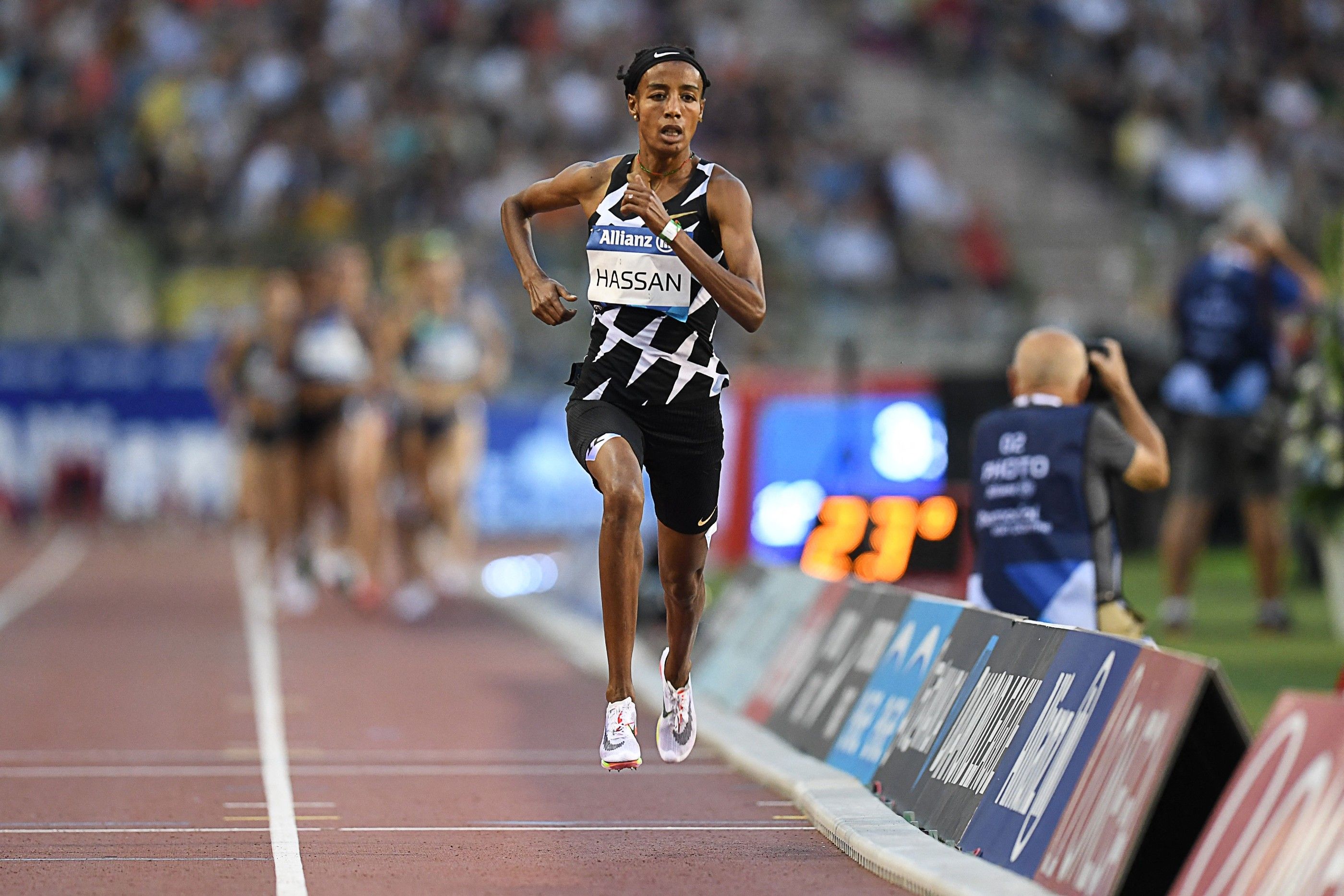 "Since the start of the pandemic, we haven't had such a big crowd and I'm so happy to see them," said Hassan. "We haven't experienced it for nearly two years; it makes you feel special. It's amazing, I really love it."
In Tokyo last month, Michael Cherry was beaten to the 400m bronze medal by just 0.02 as Kirani James pipped the US sprinter at the line. Today's race in Brussels was the first clash between the pair since the Olympic final, and Cherry ran like a man with a point to prove.
He went out hard, as did James, and by half way the duo had started to open up a clear gap on the likes of Isaac Makwala and Liemarvin Bonevacia.
James almost drew level with Cherry on the final bend, but Cherry had another gear left and forged ahead down the home straight, crossing the line in a lifetime best of 44.03 to take 0.03 off Michael Johnson's meeting record from 1998.
James finished second in 44.51 with Makwala taking third place in 44.83.
The meeting record may have remained intact in the women's high jump, but it proved to be one of the most enthralling contests of the night.
Olympic champion Mariya Lasitskene breezed through the first few heights and hadn't recorded any failures up to and including 1.98m. World silver medallist Yaroslava Mahuchikh, who needed three attempts to clear 1.95m, also got over 1.98m on her first try, while Olympic silver medallist Nicola McDermott needed two jumps to clear it.
But McDermott was then the first to go clear at 2.00m, getting over on her first try, then Lasitskene did likewise. Mahuchikh succeeded on her second attempt at 2.00m, but then nailed 2.02m on her first attempt, taking the lead at a critical point of the competition.
Lasitskene missed once and then passed to 2.04m, while McDermott had two misses at 2.02m before registering a third failure at 2.04m. Neither of the trio managed to get over 2.04m, leaving Mahuchikh as the winner. It was just the second time in Diamond League history that three women have cleared 2.00m in the same competition.
With Lasitskene having won in Lausanne and McDermott winning in Paris, Mahuchikh's triumph in Brussels means all three Olympic medallists have achieved Diamond League wins since the Tokyo Games.


Kerley makes Diamond League history
Olympic 100m silver medallist Fred Kerley won the short sprint, becoming the first man to win over 100m, 200m and 400m in the Wanda Diamond League.
World leader Trayvon Bromell blasted into an early lead and held his form well, but Kerley rallied and held off the additional challenge from Michael Norman in lane seven, dipping well on the line to take the victory in 9.94.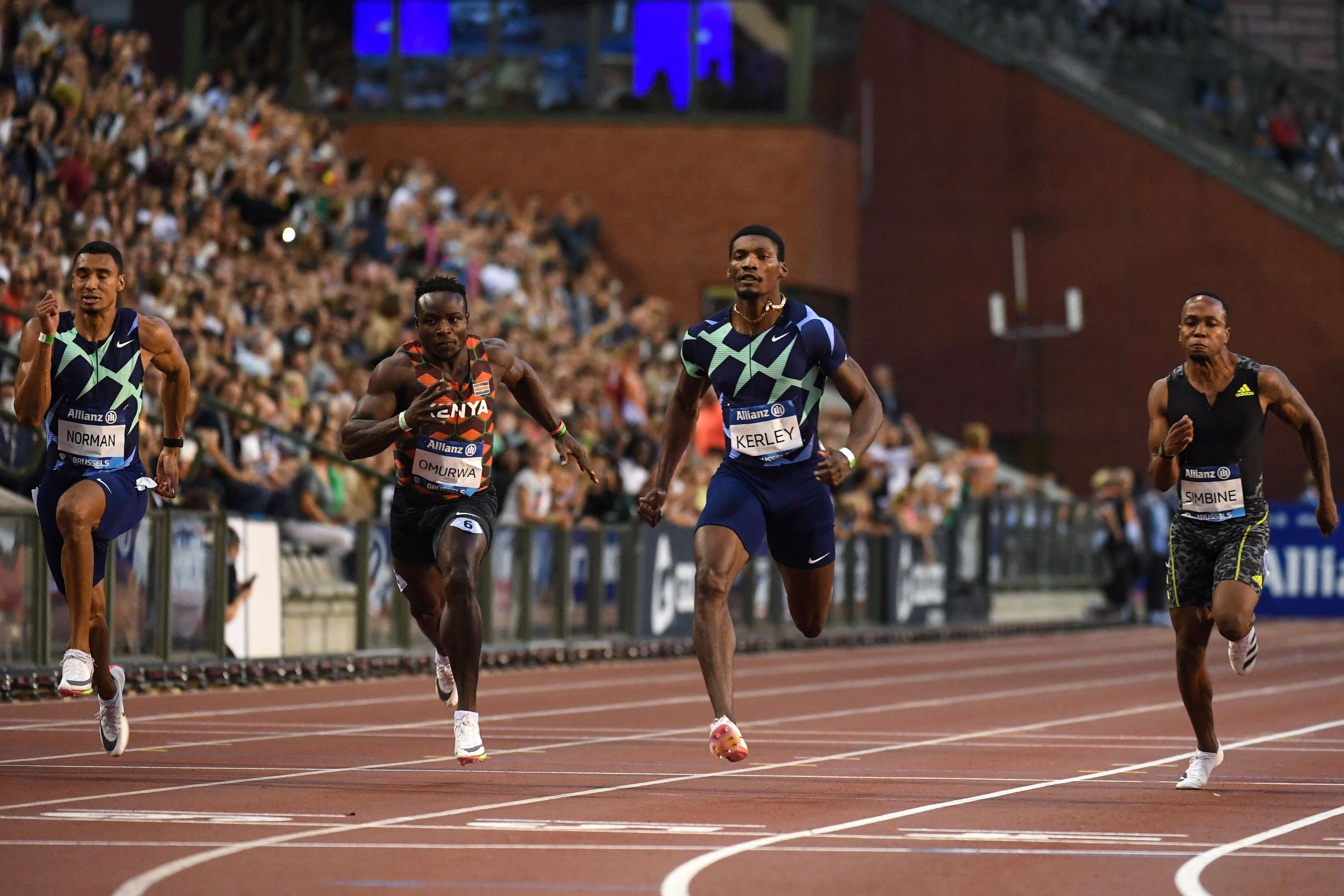 Bromell held on to take second place in 9.97, just 0.01 ahead of Michael Norman (9.98), completing a US sweep of the top three places.
Christine Mboma, also an Olympic silver medallist, won the women's 200m. The Namibian teenager came through strongly in the closing stages to edge in front of Jamaica's Shericka Jackson and world champion Dina Asher-Smith.
Mboma stopped the clock at 21.84 while Jackson took second place in 21.95. Asher-Smith recorded a season's best of 22.04 in third, and US 100m champion Sha'Carri Richardson was a few strides adrift in fourth place (22.45).
Burundi's Francine Niyonsaba produced a similarly well-timed finish to win the 5000m.
Once the last of the pacemakers dropped out at 2000m, Niyonsaba took up the running at the front of the pack with two-time world champion Hellen Obiri close behind. The Kenyan led for a brief stint too, passing through 3000m in a swift 8:42.57.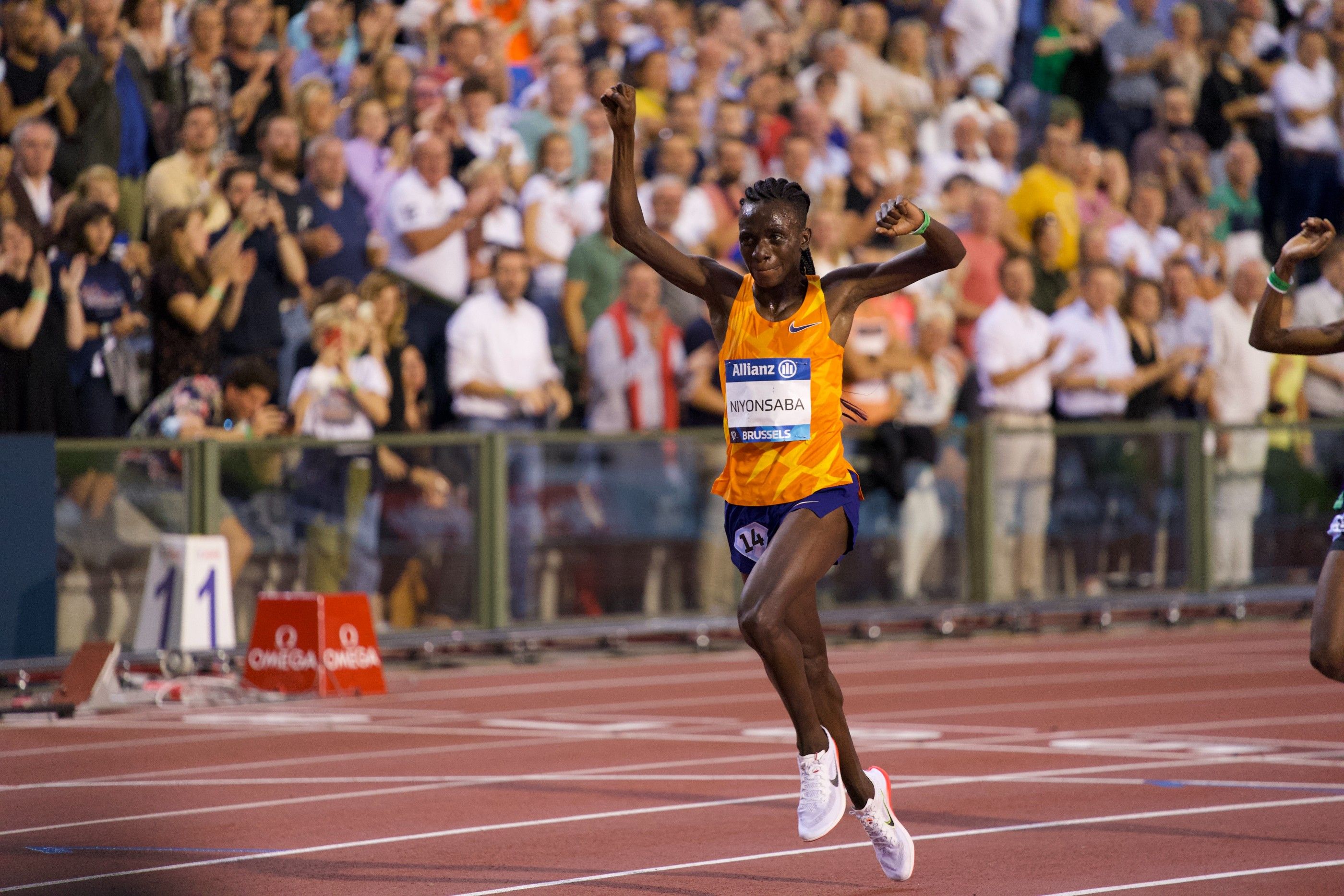 Niyonsaba, who finished fifth over 10,000m at the Tokyo Olympics, led again for most of the final kilometre, but Obiri kicked into the lead when the bell sounded for the final lap. She appeared to be on her way to victory, but Ethiopia's Ejgayehu Taye came back strongly and briefly led with about 90 metres to go, then a rejuvenated Niyonsaba came back to take the lead in the closing stages, crossing the line in a national record of 14:25.34.
Taye took second place in 14:25.63 with Obiri claiming third in 14:26.23. World silver medallist Margaret Chelimo Kipkemboi set a PB of 14:27.12 in fourth as the top seven women finished inside 14:32 – unprecedented depth for a 5000m race.


Goule, Rotich and McSweyn take middle distances
Exactly one month since her eighth-place finish at the Tokyo Olympics, Jamaica's Natoya Goule rebounded with a satisfying win over 800m, beating several women who finished ahead of her at the Games.
With the pacemaker passing through the first lap in 56.99, the field was still relatively tightly bunched with 300 metres to go. Goule held the lead, but Olympic silver medallist Keely Hodgkinson moved on to the Jamaican's shoulder on the final bend and looked poised to strike.
Goule had saved something for the finish, though, and she held off the challenge from the British teenager, winning in 1:58.09. Hodgkinson was second in 1:58.16 from compatriot Jemma Reekie (1:58.77).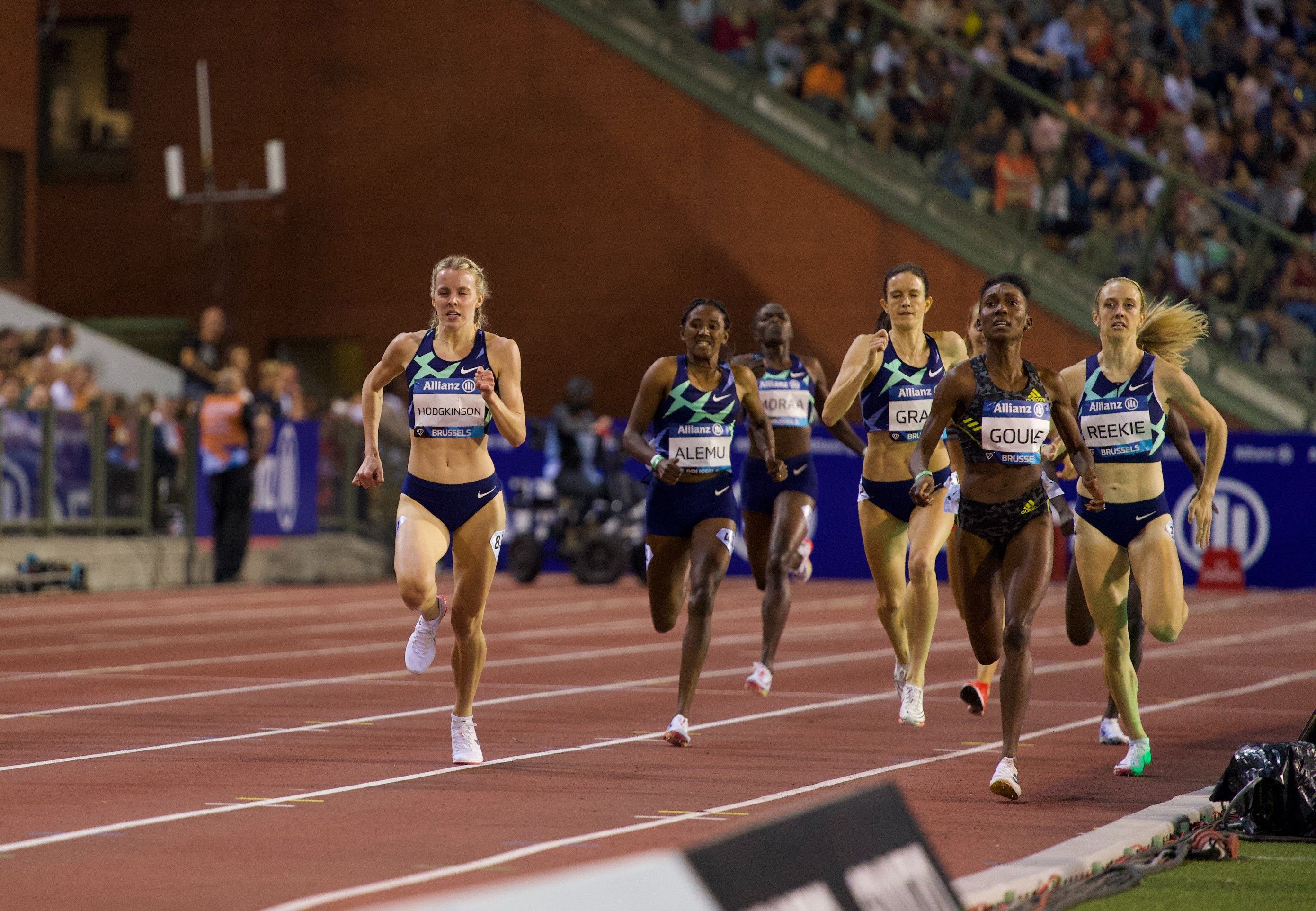 Stewart McSweyn led an Australian 1-2 in the men's 1500m. The Oceanian record-holder overtook a fading Mohamed Katir on the home straight to win in 3:33.20 with compatriot Oliver Hoare taking second place (3:33.79). Poland's Michal Rozmys was third in 3:33.96.
Olympic silver medallist Ferguson Cheruiyot Rotich was a comfortable winner of the non-scoring men's 800m, crossing the line in 1:43.81 to win by more than a second from Belgium's Eliott Crestan (1:45.24).


Hurdles victories for Dos Santos and Visser
Racing for the first time since taking Olympic bronze and moving to third on the world all-time list, Brazil's Alison dos Santos won the men's 400m hurdles with his trademark strong finish.
Kyron McMaster of the British Virgin Islands led for most of the race, making up the stagger on Dos Santos, drawn one lane outside him, by the half-way point. Dos Santos stuck with McMaster around the final bend and drew level with Jamaica's Jaheel Hyde. McMaster hit the penultimate hurdle, throwing off his rhythm slightly as he went into the final barrier. Dos Santos, meanwhile, came off the 10th hurdle much better and went on to win in 48.23.
McMaster finished second in 48.31 and Yasmani Copello took third place in 48.45.
The closest finish of the day came in the women's 100m hurdles, in which Nadine Visser won by just eight thousandths of a second from Tobi Amusan, both timed at 12.69 (0.7m/s). Olympic bronze medallist Megan Tapper was third in 12.77.
Elsewhere, Steffin McCarter saved his best for last to win the men's long jump. His sixth-round leap of 7.99m was not only the best in the 'final three' contest; it was also the top mark of the entire competition. Ruswahl Samaai was second thanks to his last-round leap of 7.89m, having jumped 7.95m earlier in the competition.
Jon Mulkeen for World Athletics