Mutaz Barshim and Gianmarco Tamberi at a press conference ahead of the Wanda Diamond League Final in Zurich (© Chiara Montesano / Diamond League AG)
Their comments might have come at a press conference held in Zurich's Letzigrund Stadium, but on Wednesday (7) a number of global champions will take their sport to the streets for the first session of the Wanda Diamond League Final.
The two-day Weltklasse meeting will see the first six finals contested on Sechselautenplatz – one of the city's most famous squares on the shore of Lake Zurich – before the second day of competition decides the remaining 26 titles in the more traditional arena. Speaking to the world's media on Tuesday, joint Olympic high jump champions Mutaz Barshim and Gianmarco Tamberi were among those to share their excitement of competing at the street set up, although Tamberi – who won the Diamond Trophy inside the Letzigrund 12 months ago – couldn't hide his love for jumping in the stadium.
"It's my favourite competition and my favourite stadium – I love the people, the crowd here. They get crazy when we get in here," he said. "I have wonderful memories of this stadium, but of course (the street event) is going to be amazing in the same way. I am that kind of high jumper who loves to be close to the people, so in the venue where we will jump on Wednesday, it is going to be even better. But it is about the memories I have inside here. I have competed here probably six or seven times, including at the (2014) European Championships."
Asked about the incredible connection he always has with the crowds, he added: "I come from another sport – basketball – and my biggest dream when I was younger was to have that kind of scene that the crowd do to the players. Coming out on the (athletics) track, looking at the athletes' attitudes, some are very focused and it looks like they are sad. I said, if I start this sport, I don't want to be sad, I want to be happy there – I want to enjoy and make the crowd part of what I am doing. As soon as I started to do it, I saw that they could give me much more. Probably because I am very close to them, they support me a lot and that gives you energy, because you are not alone – even in a difficult moment. They are part of what you are doing. The energy they can give you, it is just amazing. And after that, you see they have fun and that is most important. They come here to have fun and enjoy."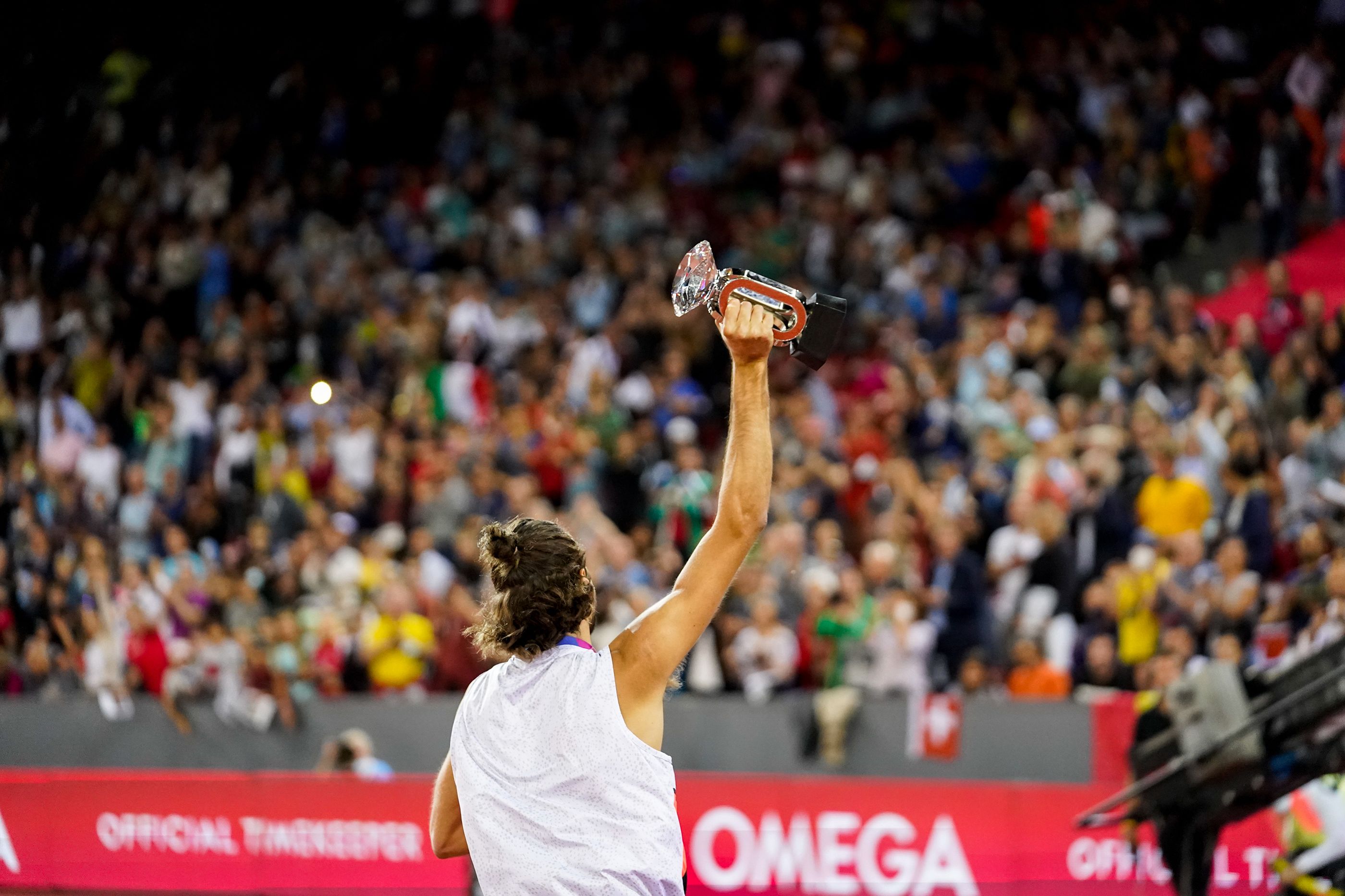 Gianmarco Tamberi celebrates his 2021 Diamond League win in Zurich (© Matthew Quine / Diamond League AG)
So passionate is Tamberi about the event that he even postponed his honeymoon so he could compete in Zurich. The Italian 30-year-old got married at the start of this month and Qatar's three-time world champion Barshim was among the guests.
"It's one of the most important competitions of the year, so I couldn't miss it," said Tamberi. "The day before the wedding, me and Mutaz were training together." Barshim then attended the following day's celebrations but according to Tamberi, his friend left earlier in the night. "This guy was thinking about Zurich so he left at 11pm," Tamberi laughed, gesturing to his great friend and rival sitting to his right. "I left at 5am, but he was thinking about the final!"
Barshim added: "It was amazing, I really enjoyed the wedding. But his first mistake was to not go to the honeymoon direct." To which Tamberi replied: "You know why he is saying that: because he didn't want me to compete here! He is a smart guy."
When they go head-to-head in competition on Wednesday, Barshim will be aiming for his fourth Diamond Trophy win, while Tamberi will aim to retain that title he won in the Letzigrund last year.
Joining them in jumps action on Sechselautenplatz will be USA's two-time world indoor champion Sandi Morris and home star Angelica Moser in the pole vault. They are both also relishing the chance to compete so close to the fans.
"To have the Diamond League Final at home is incredible," said 2019 European indoor champion Moser. "It will be amazing with all the fans, friends and family by our side, it's going to be a real special occasion."
Morris agreed. "I know that there is the traditional setting of an athletics competition and that's normally what we experience for a championship. I like that we are branching out a bit and making it a street competition because it does get the sport in front of new eyeballs," she said. "It brings new energy and that's what our sport needs, to switch it up a bit. I love being able to interact with the fans. It also just makes it fun and it takes the pressure off a little bit."
Crouser continues
While the Diamond League Final has been a focus for many athletes throughout the season, and particularly in the past few weeks, one athlete who has not had the preparation he would have planned is Ryan Crouser, who explained that his experience of having covid almost made him end his season early.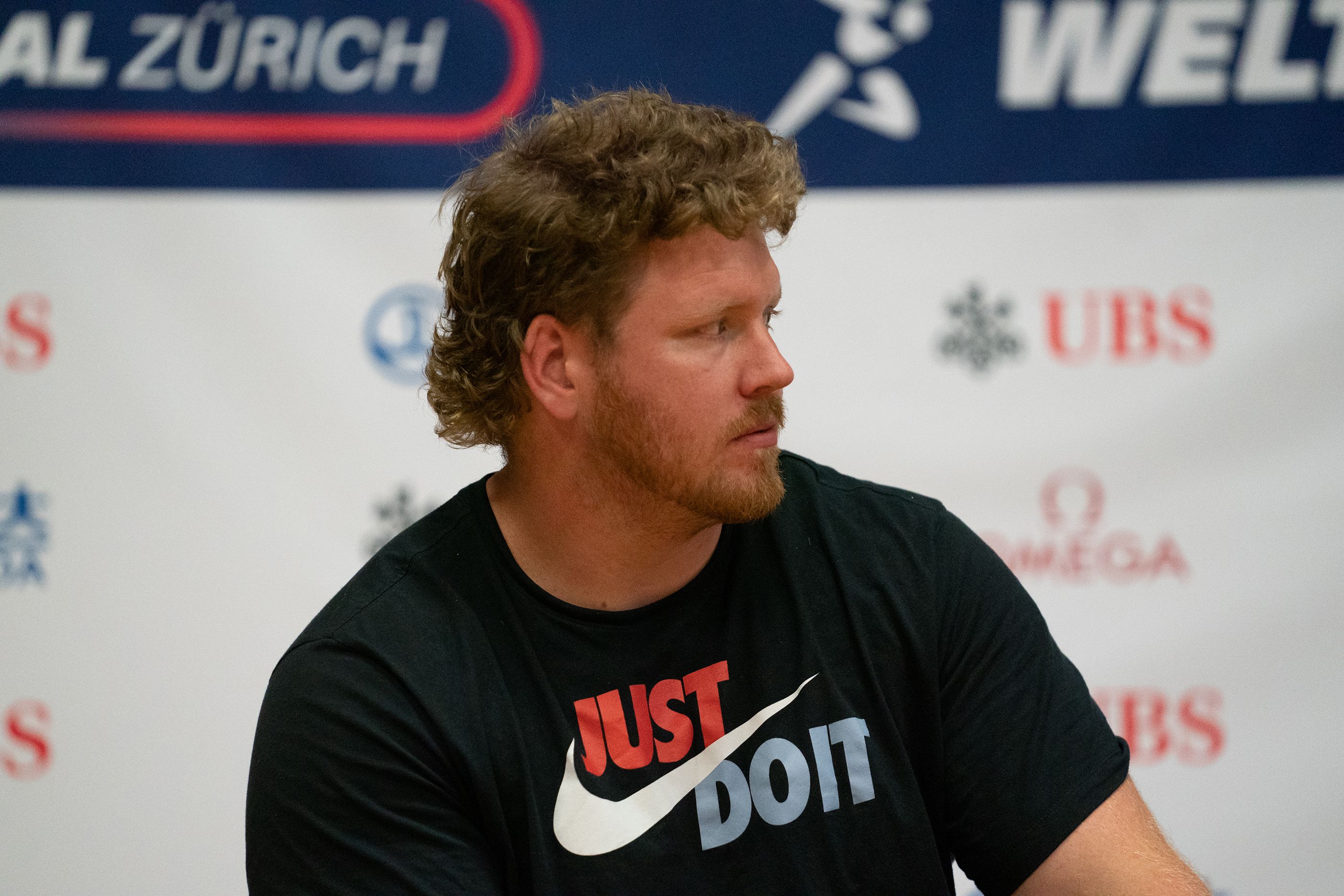 Ryan Crouser at the Wanda Diamond League Final press conference in Zurich (© Chiara Montesano / Diamond League AG)
"I had long-form covid, so 22 days of not much training and being quite sick, and then I came over here and had a sinus infection. Yesterday was the first day I woke up and felt like I was actually alive! I feel like I am rounding into the form that I'm hoping I can be in, considering the preparation," said the world shot put record-holder, who suffered his first outdoor defeat since 2019 at the Diamond League meeting in Lausanne but returned to winning ways in Lucerne.
"There was definitely the temptation to shut it (the season) down," added the 29-year-old, who in Zurich will go up against his US compatriot Joe Kovacs, who beat him at Athletissima, as well as New Zealand's Tom Walsh. "I was sick with covid symptoms for eight days but then what really got me is I had covid-induced insomnia, so I was sleeping one or two hours a night for 22 days. That really cost me most of my training base and some of my sanity.
"I think the one thing that track has taught me is you've got to push through and endeavour. I've actually really surprised myself with how well I have been able to come back from it. I'm physically not where I would like to be – my body weight and strength levels are down – but the one positive is I feel like technically I am throwing as well as I ever have. I am trying to use it as a learning experience, so when I am bigger, stronger and more well prepared next year, if I can grasp the technique I have been having the last couple of weeks, I feel like it's a fantastic foundation for next year.
"I wish it hadn't happened but I'm trying to turn it into a positive because if I want to throw farther – even 24 metres – it's going to have to be a combination of perfect technique along with perfect physical preparation. Right now, I'm chasing that perfect technique."
Sitting alongside him at the press conference was his fellow US thrower Chase Ealey, who also won world shot put gold in Oregon. "Shot putters in distress!" joked Ealey, who was asked about her own ailment, having entered the press conference wearing a protective boot on her right foot. "I recently had some toe problems," she explained, "but it's not as serious as it looks!" With a new training set up and love for her sport, the 28-year-old remains focused on the US record, a mark she is currently just 12cm off with her world-leading PB of 20.51m. Asked about the development in depth in the women's shot put, and whether a world record might also be possible in the coming years, Ealey responded with a definitive "yes".
"I have many technical changes still to come," she added, the 22.63m world record having been set in 1987, "and I think I can do it."
Hassan looks beyond Zurich
The press conference welcomed another two world record-breakers in Sifan Hassan and Gudaf Tsegay, who will race the 5000m on a temporary course around the Zurich Opera House.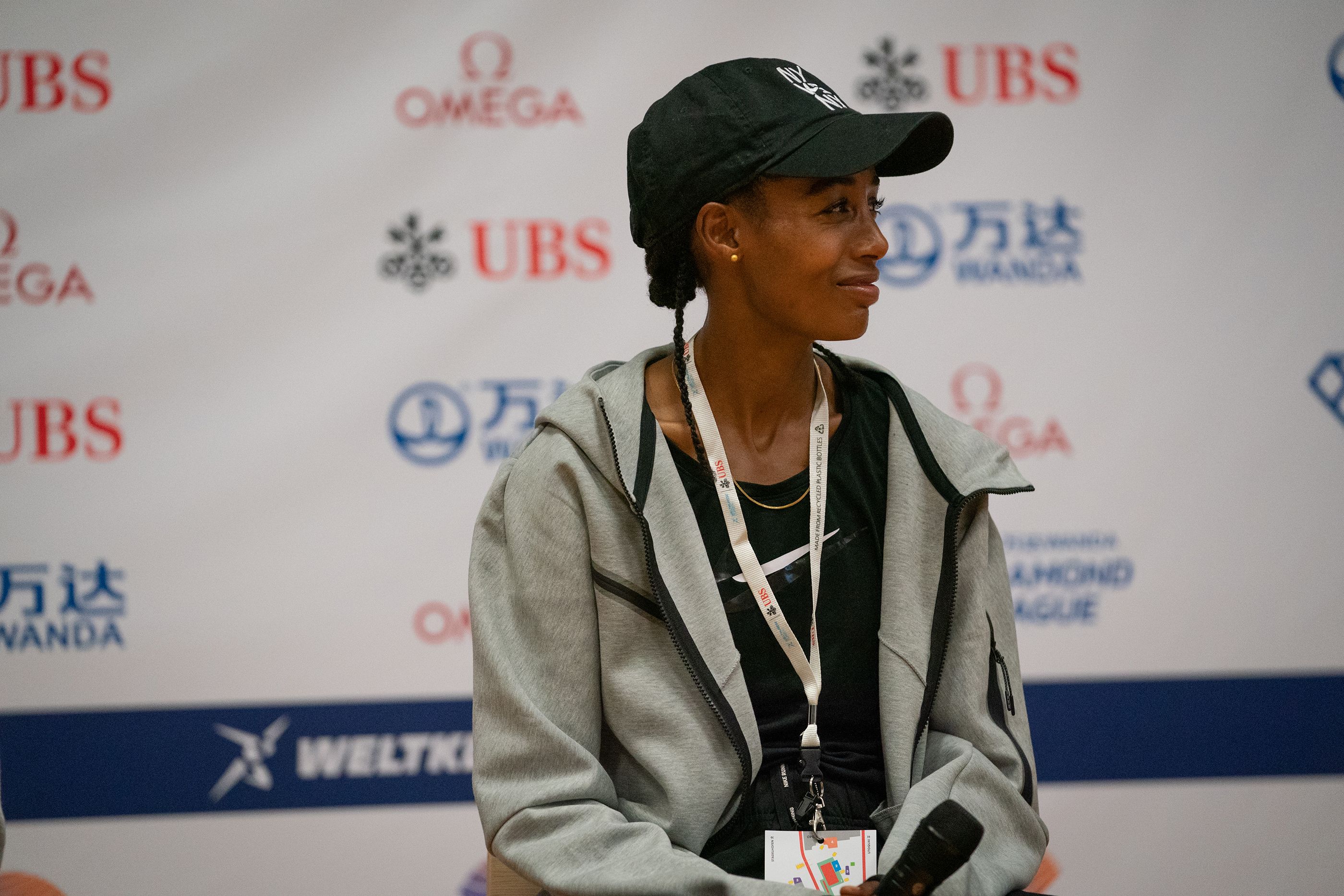 Sifan Hassan speaks with the media ahead of the Wanda Diamond League final in Zurich (© Chiara Montesano / Diamond League AG)
The conference proved to be an opportunity to reflect on a successful year for Ethiopia's world indoor 1500m record-holder Tsegay, who won world indoor 1500m gold and the outdoor 5000m title, and it was also a chance to discuss future aims for the ever ambitious Hassan, the Dutch distance star who won Olympic 5000m and 10,000m titles as well as 1500m bronze in Tokyo last year.
"This year has been a very good year for me," said Tsegay. "World champion, world indoor champion and running 3:54 (for 1500m indoors) – I am so happy."
Hassan has raced sparingly this year following her full-on 2021 but said that she is in great shape in training, particularly when it comes to endurance, and she is already thinking about future targets.
"In Tokyo I did amazing, but it affected me a lot. This year for me is like a break year," said Hassan. "For me, I have to have a very big goal and a big challenge to go forward – I want to get motivated, I'm curious. If I don't have a big goal – 'can I do it, can't I?' – then I don't work hard. That's why I took an off year, I lost a couple of races and that gave me a boost. One year before Tokyo, I knew I wanted to do three distances, it was killing me that I couldn't tell anybody. Is this possible or is this not possible? I play a game with myself, so I can work hard."
One of her big goals now is making the step up to the marathon.
"I don't know when, but I'm thinking about it," she said. "I'm thinking about it every night and every day, whenever I run."
Could it be that she races the marathon at the 2024 Paris Olympics? "Why not?" she replied with a laugh.
In 1952, at the Helsinki Olympics, Czech running great Emil Zatopek achieved a so far unsurpassed Olympic treble, winning the 5000m, 10,000m and marathon. On the prospect of emulating that feat, she said: "That was by a man, right? Now it's the women's time, so we have to do that!"
Jess Whittington for World Athletics