US hurdler Devon Allen (© AFP / Getty Images)
Devon Allen wants something to be known – he is not quitting athletics.
The 27-year-old from Phoenix, Arizona, who ran the third-fastest 110m hurdles of all time at last Saturday's New York Grand Prix, beating world champion and fellow US athlete Grant Holloway, will soon take up a three-year contract with National Football League team Philadelphia Eagles – but he will be alternating between athletics and American football rather than forsaking one for the other.
"Everybody is saying I'm quitting. I'm not quitting," he said at a press conference held on the eve of the Wanda Diamond League meeting in Paris. "During the football season I'm going to play football. And once February comes along and we've won the Super Bowl, hopefully I'm going to come back and start training for track and get ready for the major championships.
"When the athletics comes around, obviously I'll need a little bit of leeway. Because it's not quite the football season yet, there's some training camps, but hopefully I'm doing well enough in football that I can do both."
Asked if playing football might injure him for athletics, he responded: "I did two ACLs in 2015 and 2016 playing college football. So I recovered from that. I think in athletics injuries are going to happen, obviously football's a little more contact injuries, track and field may be mostly muscle injuries. So going forward, I have to do the best things to manage my body, because that's what's going to allow me to run 12.7 and play NFL and do well.
"Being a wide receiver is probably the least amount of risk other than being a punter or a kicker. But we'll see. I'm not going to think about that too much. It's something I've wanted to do my whole life and I have the opportunity now so I am going to take the opportunity and just go for it."
On the subject of his 12.84 clocking – had that come as a shock?
"I always believe I can do it," he said. "That's the reason why I am here in track and field, because I believe I can be the best in the history of the sport.
"Training's been going really well. I've been back and forth with training for football in April and May. About two and a half weeks ago I was done with football. So for a while I've been training only one or two days a week on the track, running 13.1, 13.2, pretty solidly.
"Earlier this year, indoors, I decided to go from eight steps to seven steps to the first hurdle, and that – I'm not going to say it's a game-changer because I ran quick last year with eight, but it has really helped me to be in the race early, and then use my last five, six, seven, eight, nine, 10 hurdles that I've always been good at.
"If I had Grant's start, I probably would have run 12.6 by now. But he's the greatest in the history of the 60m hurdles and probably the greatest starter for a long time.
"Me and Grant have spoken about that. I said, 'hey, teach me how to start', and he said 'teach me how to do your last four!'"
Sitting alongside Allen, 30-year-old home hurdler Pascal Martinot-Lagarde, European champion and world bronze medallist, reflected on recovering from his most recent injury – to his right calf – ahead of what will be his first race of the season.
"I don't know my shape at all because I had an injury at the end of April and had to have a month off," he said.
"I have no reference at training about my speed, but I'm not afraid about anything, and that may be the best way to run well. It's the same way I ran in the Olympics – I was injured just before, but in final I was OK. So how am I going to run tomorrow? I don't know – and it's OK for me."
Shelly-Anne Fraser-Pryce – 35, a mother, owner of three Olympic and nine world golds, but still pushing on to go faster.
The effervescent Jamaican ran a personal best of 10.60 last year and tops this year's world lists with her 10.67 clocking in the thin air of Nairobi. Looking ahead to the World Athletics Championships Oregon22, it is clear that she wants world gold in double figures.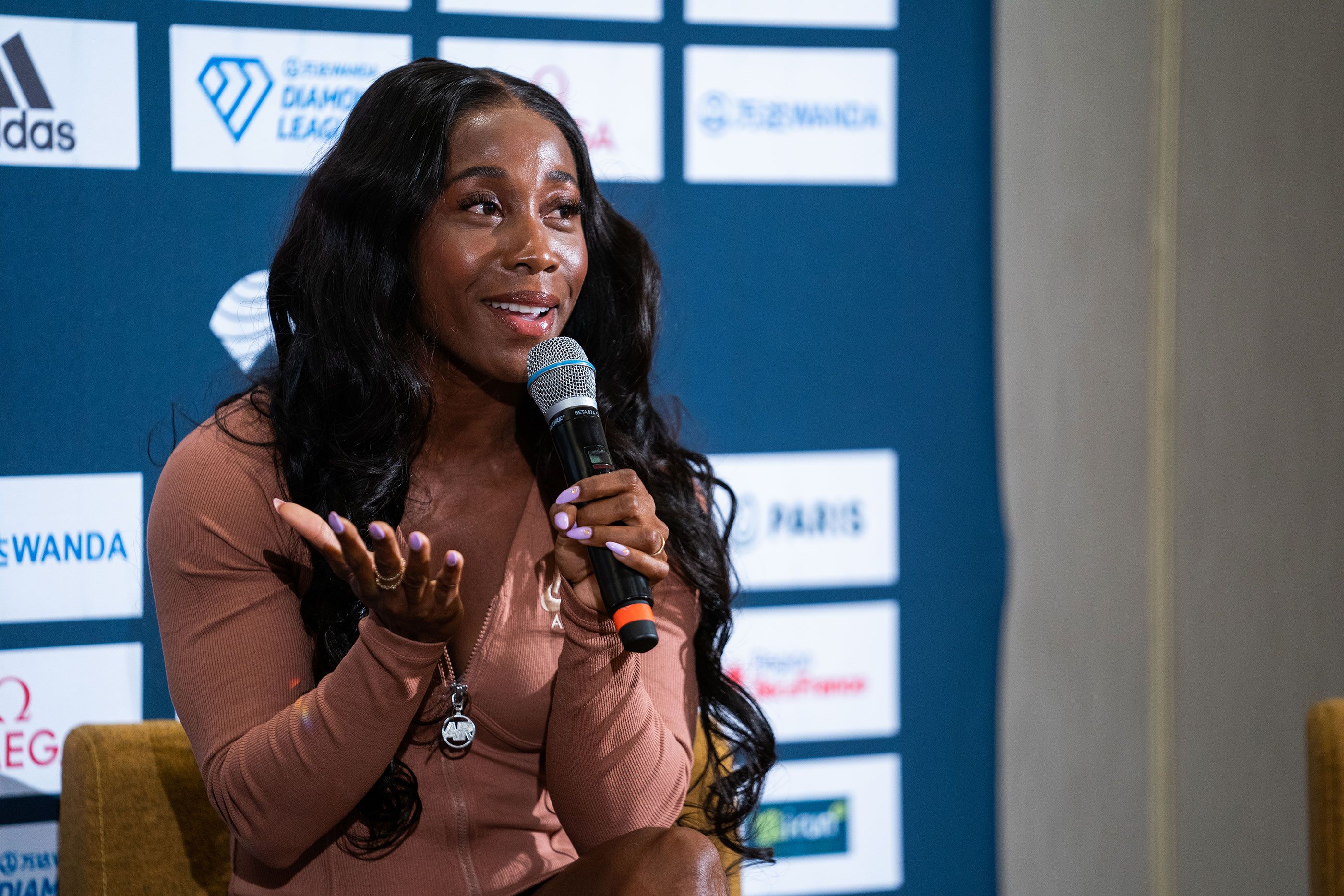 Shelly-Ann Fraser-Pryce at the Wanda Diamond League press conference in Paris (© Matthew Quine / Diamond League AG)
Asked about her continuing motivation, she replied: "I believe I can run faster. I am hungry in that regard. I have been making sure to do the things I know help me to do that, to do with my technique, and once I have been able to cement that I definitely think that I will be able to run faster than I dreamed possible."
And Paris 2024?
"Yes," she said. "Why not? I ran 10.6 last year, and this year. If I feel good, God willing, you will see me until I am 40!"
When it was pointed out to her that her compatriot sprinter Merlene Ottey competed until she was 47 at the top level, Fraser-Pryce laughed uproariously, saying: "No, no. I don't want to be lining up and have people saying, 'Why don't grandma go home?' But I would definitely love to be here in 2024."
The Bahamas is providing the Stade Charlety with the men's and women's Olympic 400m champions in the form of Steven Gardiner and Shaunae Miller-Uibo, both of whom will be racing in Paris for the first time.
Asked how far he was able to walk along the street without being recognised and stopped back home, Gardiner – who as well as being famous is 1.93m tall – responded with a wide smile: "I would say two inches! We have a population of less than half a million people. So Shaunae and I get to perform for our small country and then we go home and they love us like we are their own kids. It's just a great feeling."
Christian Taylor, who turns 32 tomorrow, is having to set aside the memories of winning two Olympic and four world triple jump titles and concentrate on getting back to full competitive mettle after an achilles tendon injury last year ended his Tokyo ambitions.
Taylor, whose personal best of 18.21m, just eight centimetres shy of Jonathan Edwards's 1995 world record, came in 2015, currently has a season's best of 16.11m.
"Right now, to be very honest, I'm in a very humbling position, and watching a lot of competitions, losing a lot of competitions, but just re-learning and re-building confidence in my ability," he said. "At the end of the day, I'm still the same person, my body is still the same, it's just building that confidence that the body's OK, I can push a little further, I can run a little faster.
"Last Tuesday in Turku was the biggest test for me, the first time I jumped from a full approach. I feel like this was the biggest hurdle. I am a speed jumper. Lot of the others are vertical jumpers. For me it's about how much speed I could bring through. It was the ultimate test – 'if I run, can I walk away?' Now I can breathe, now I can hold my head above water and say 'let's compete again'.
"It's difficult to compete when you are thinking 'is this going to be my final jump?' Now I've got the confirmation I can compete again, I can get back to the mentality of doing big marks."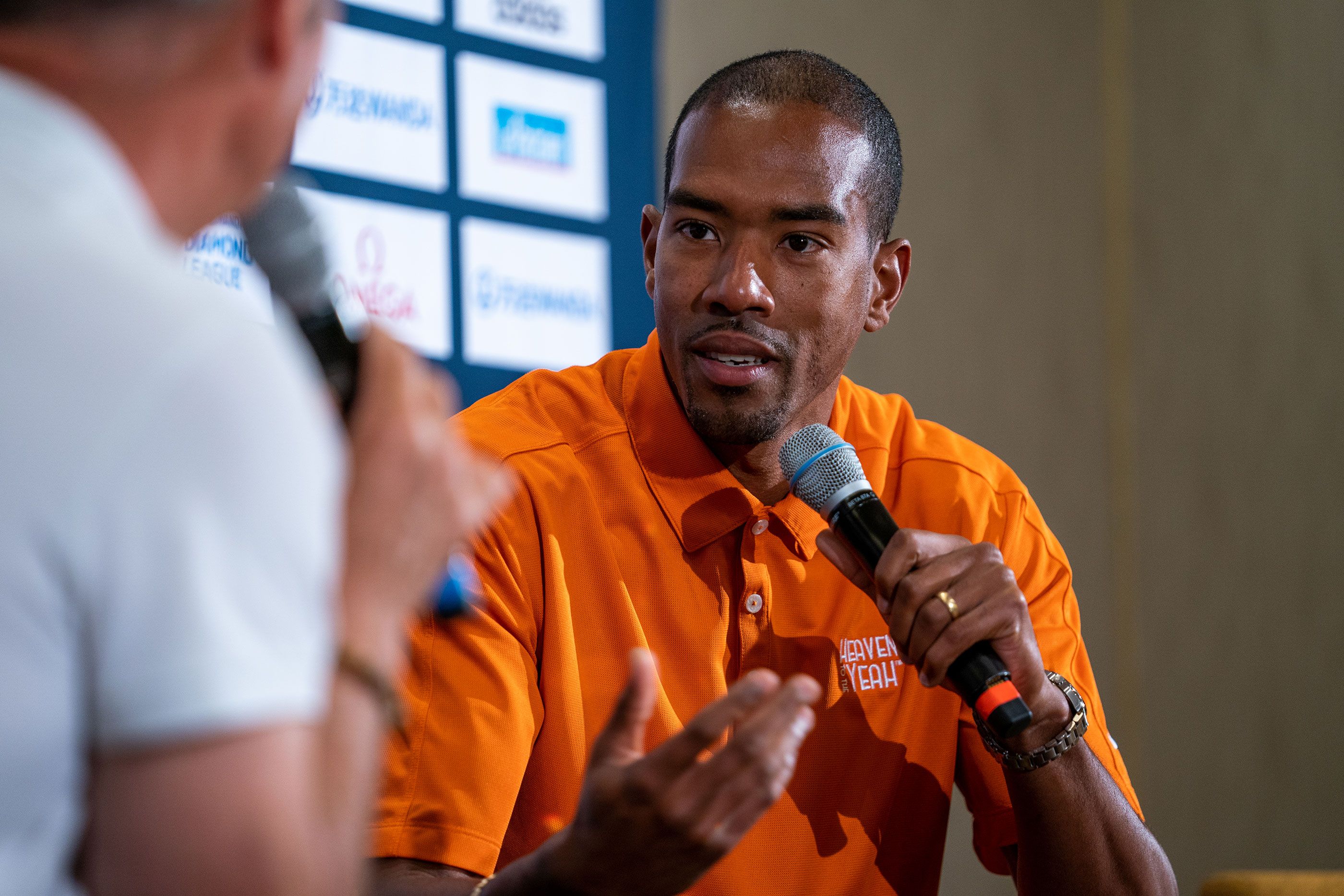 Christian Taylor at the Wanda Diamond League press conference in Paris (© Matthew Quine / Diamond League AG)
Asked about the onward route to Oregon, Taylor responded: "I think it's going to be a bit of back and forth. My goal is Paris 2024. My heart was broken to miss Tokyo, I really had so many plans.
"But this is life. In this time of the pandemic we all had plans, we all had to realign, readjust. Of course, looking towards Eugene, it would be fantastic to compete on home soil. But I would be lying if I said everything wasn't building towards Paris 2024."
Sitting alongside him, French-based Burkino Faso jumper Hugues Fabrice Zango also reflected on the special nature of the Olympics.
"Winning an Olympic medal last year changed a lot of things," said the 28-year-old, who has just completed his master's in electrical engineering at Artois University in northern France. "I was the first athlete from my country to bring back an Olympic medal, and the first African athlete in triple jump to win an Olympic medal. I was very, very happy for this and proud.
"But after Tokyo I had to finish my studies. Now I'm happy because it's done and I can go back to work on triple jump. Last week I did 17.34m. But this is not enough. I am still hungry and I want to do more. When you jump 18 metres you want to go back and feel this great moment again."
Among the opposition at the Meeting de Paris on Saturday (18) will be the two up-and-coming Cubans who top the 2022 list, Jordan Diaz Fortun and Andy Diaz, who have jumped 17.76 and 17.64m respectively.
"Now these young ones are coming with big teeth," Zango said with a grin. "This is something that motivates me. And Christian is still there."
Mike Rowbottom for World Athletics