US sprinter Erriyon Knighton (© Philippe Fitte)
Erriyon Knighton may have only been involved in athletics for a few years but he has already made lots of history.
Along with his world U18 bests and world U20 records over 200m, Knighton last week became the first athlete in history to win a second World Athletics Rising Star award.
Not even Usain Bolt – whose records Knighton has broken – achieved that feat.
"Winning this back-to-back means my talent is getting recognised on a big stage," Knighton said last week in Monaco. "I've put in the work to deserve this, so I'm grateful for it."
Taking 200m bronze at the World Athletics Championships Oregon22 – and becoming the youngest individual medallist in a men's event in World Championships history – was the highlight of Knighton's year.
"2022 was a fun and long season," he says. "I still had my last year of school, so trying to balance that with the first half of my season meant that I just had another thing to think about. Finishing school was the most important thing, but after I did that, my season opened up.
"Even though I didn't come away with the win, winning my first world medal was the best moment of my year," added Knighton, who was 18 years and 174 days old on the day of the 200m final in Oregon. "And it has given me more hunger for next year."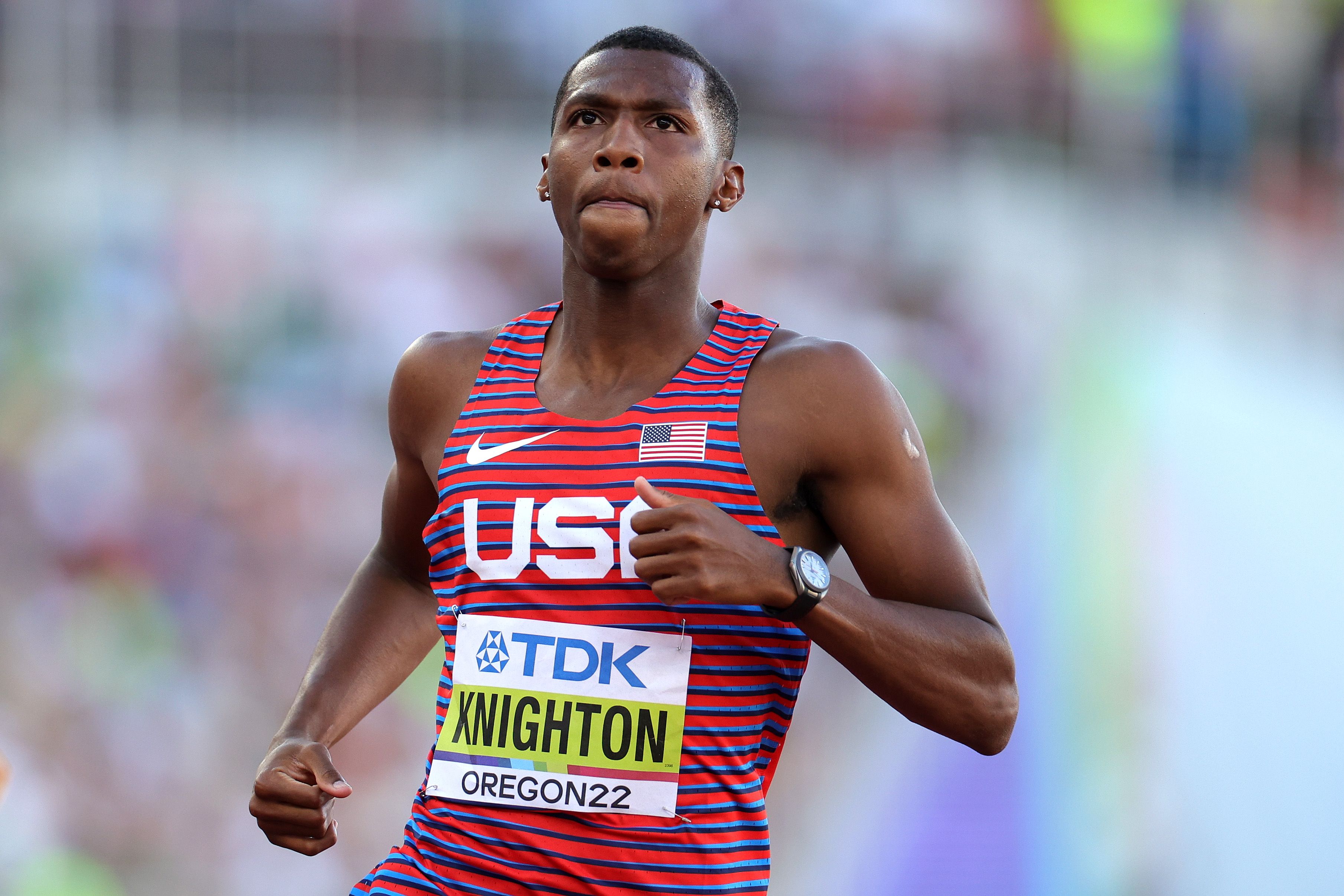 Erriyon Knighton at the World Athletics Championships Oregon22 (© Getty Images)
A highly motivated Knighton is a dangerous prospect for the rest of the world's top 200m sprinters. This will also be the first time that Knighton has trained solidly for track and field in the off season.
"Around this time in previous years, I'd be playing American football, but I've stopped that now," he explained. "It's my first time doing everything in training, so it's all new to me.
"Strength work will be a big focus for me," he added, when asked about which areas he feels he could make the most improvement. "I feel like I still have a lot left in the tank in the 200m. None of my races so far have been perfect, so there's still room for improvement. I can still get better; I just need to learn how to put my right race plan together. When I figure that out, I think I'll be somewhat great."
For someone still so new to the sport – he only started competing at the high school level in 2019 – Knighton has already managed to figure out a lot about his specialist event.
In 2020 he set a US U18 best of 20.33, then in 2021 he improved his PB to 19.84, breaking Bolt's world U18 best and world U20 record in one fell swoop.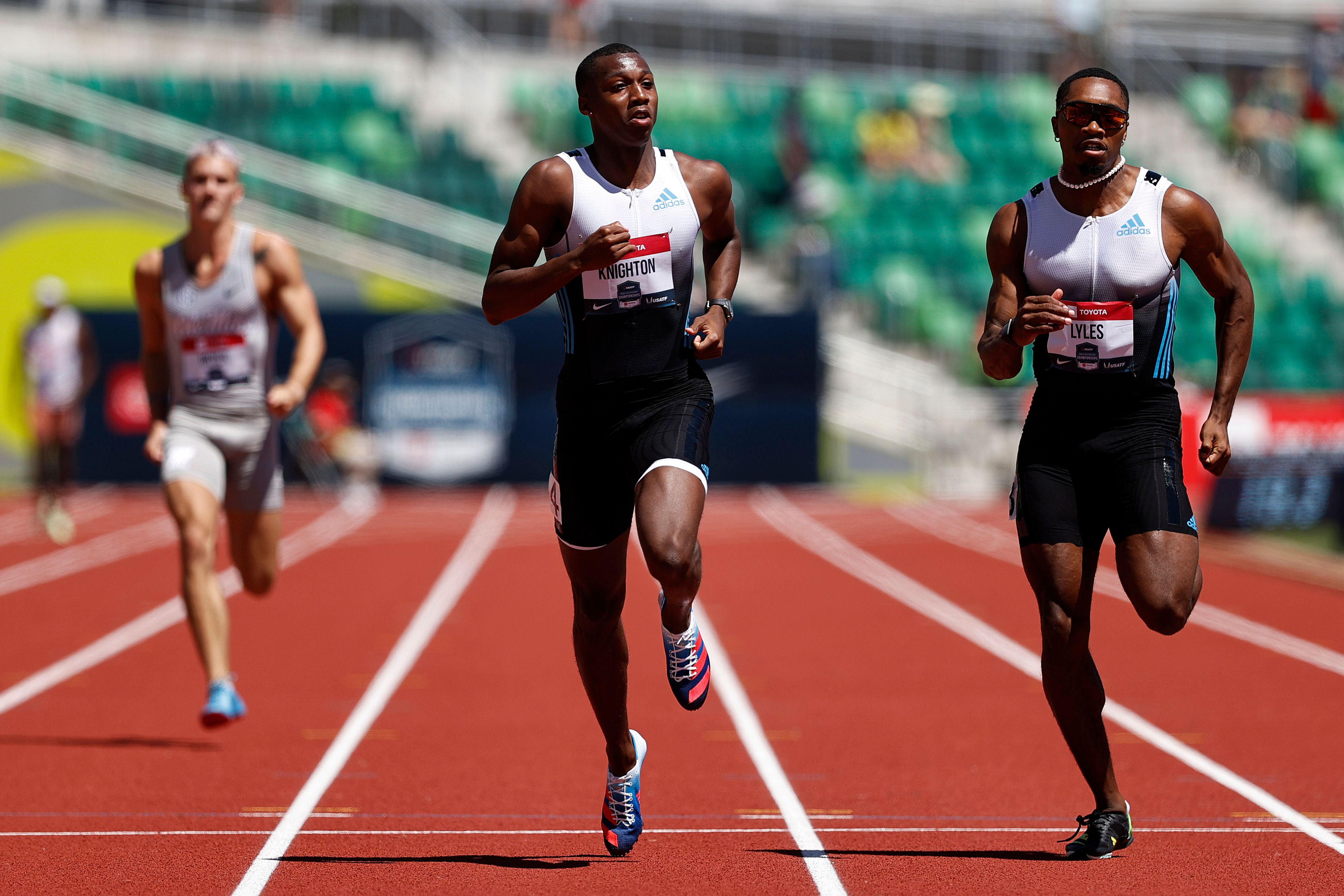 Erriyon Knighton in action at the US Championships (© Getty Images)
Still an U20 athlete for 2022, Knighton opened his season with 19.49. It could not be ratified as a world U20 record, but still stands as the fastest time in history by an U20 athlete. He went on to finish second at the US Championships in 19.69, which has been submitted for record ratification.
By the end of the season, Knighton had racked up his tenth career sub-20-second clocking. For context, Bolt managed the feat twice as an U20 athlete. And, staggeringly, Knighton still has another year left in the U20 ranks.
Age is almost immaterial, though, for someone who is already so well established in senior international races and who has one eye on the World Athletics Championships Budapest 23, where he hopes to finish higher than he did in Oregon.
He feels that his experiences of 2022 will stand him in good stead for 2023.
"This season has taught me to stay focused," says Knighton. "I had a long list of races to get through and it goes by so slow; it doesn't go by fast. I think I lost a bit of focus when I headed to Europe, so this season has taught me the importance of staying focused."
The prospect of returning to Hungary is also an exciting one for Knighton, whose first race after turning professional was in Szekesfehervar last year.
"I know I'll have a lot of people behind me," he said. "I had so much support when I raced there last year, so it feels good to think I could be going back to Hungary next year for the World Championships."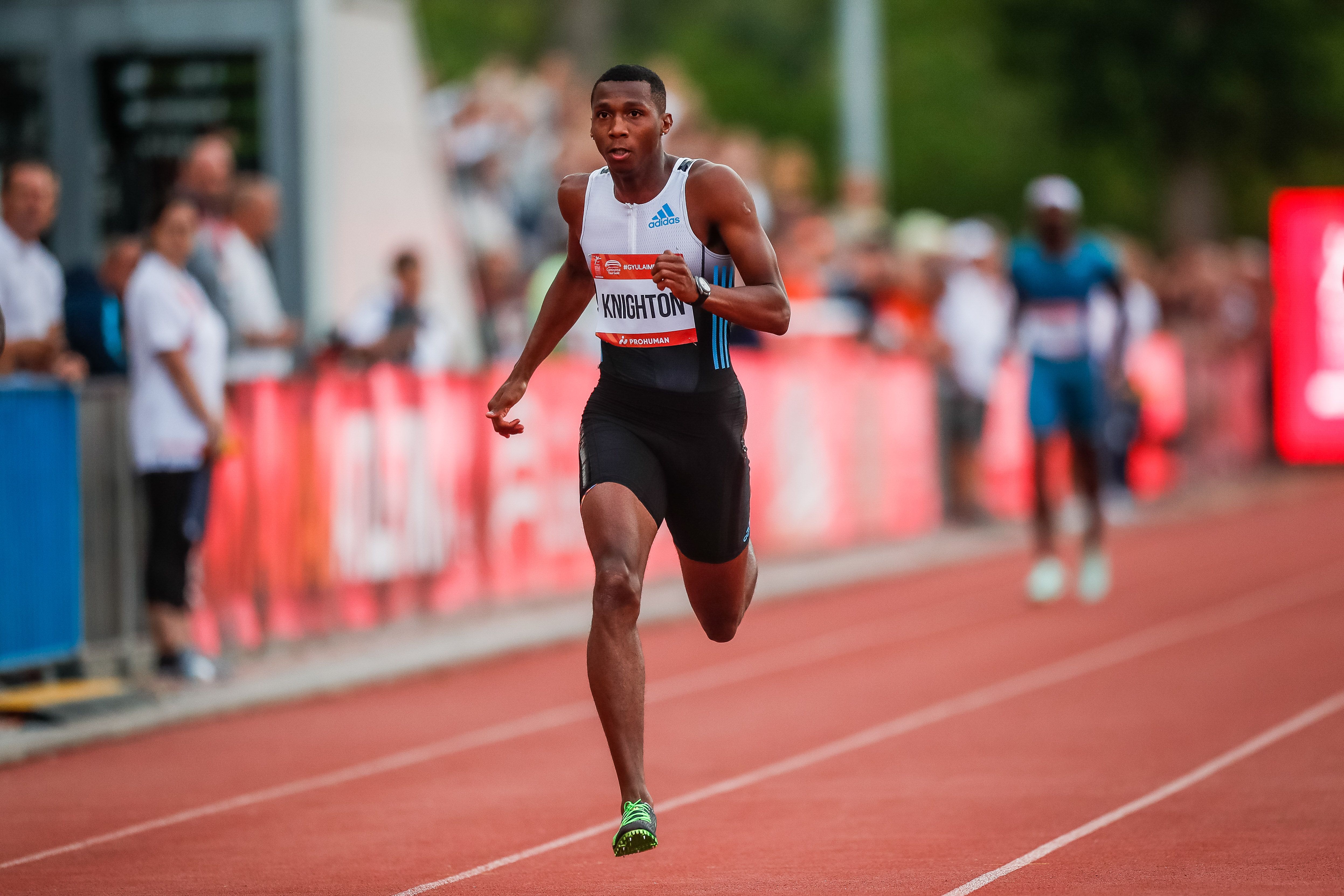 Erriyon Knighton wins the 200m at the Gyulai István Memorial Hungarian Athletics Grand Prix 2022, Székesfehérvár (© Zsigmond László)
He also has the backing of legends within his sport, including Michael Johnson, who recently highlighted Knighton in Time Magazine's "2022 Time100 Next" feature, a list that recognises 100 rising stars from various industries around the world.
It meant a lot to Knighton, who had looked up to Johnson ever since he made the switch to track and field.
"Growing up, I was stuck on American football so I had a lot of idols in that sport," explains Knighton. "But once I switched to track and field, I started paying attention to the greats like Usain Bolt, Yohan Blake and Michael Johnson.
"Michael Johnson knows what it feels like to run fast, so it feels good to hear him say those things," adds Knighton. "I'm working towards being an Olympic champion like he was.
"I want to go on to dominate my event, but right now I'm sticking to what I know best and that's just being me for now," says Knighton, who also added that he'd be happy to be part of either the US 4x100m or 4x400m relay pools, but would prefer the 4x100m.
"I want to try to stay on top for as long as I can. Knowing the past American greats who have dominated this event, I believe it's possible again. I've just got to believe in myself."
It speaks volumes of Knighton's quiet confidence when he doesn't flinch at the comparisons to Johnson and Bolt.
"I haven't met Usain Bolt, but if I did meet him I'd probably just ask him about race plans," he said. "Knowing that Usain Bolt went on to do great things, I think I can do that as well. I don't see myself stopping right now."
Jon Mulkeen for World Athletics