Ugandan 800m runner Halimah Nakaayi (© Getty Images)
In the latest in our mini-series, we look at world 800m champion Halimah Nakaayi's journey to the Tokyo Olympics.
How has life changed for you since winning the world title in 2019?
Halimah Nakaayi: Life has changed a lot. I am so grateful that I am now a world champion and since winning in Doha I have managed to inspire many people. I am very motivated and I strongly believe that with hard work all things are possible in life. I am from a region in Uganda where many people believe that you cannot do athletics. But I have proved to people otherwise. This has been a long-held dream of mine.

How often do you watch your World Championships victory?
HN: I've watched it several times. What I can tell you is I've looked at my medal far more times than the video – and this is what motivates me to work harder!



WATCH: full coverage of the women's 800m final at the World Athletics Championships Doha 2019

You performed well indoors in 2020, setting a PB of 2:01.96, and then Covid-19 intervened. How did the pandemic impact on your training?
HN: Since Covid it has been difficult. We experienced lockdown in Uganda and I had no access to a training venue in Kampala. I normally train at the main stadium but this was turned into a Covid hospital. It was very hard, life has been so challenging.
We reached a situation where nobody could even go out on to the streets to jog, so in May/June I made the decision to move 30km away from Kampala to live with my grandparents at Mabira Forest. I went with a training partner but at least here I could do some road work.

What were your emotions after hearing that the Tokyo Olympics were postponed until 2021?
HN: Of course, it was a decision beyond my control. I simply took it as another opportunity to put in a strong foundation to enable me to perform well in Tokyo. Previously, my weakness was my endurance, so I've tried to work seriously on that. I feel I'm now much stronger.

Did you lose fitness during this period?
HN: Yes, of course. I had many big dreams in 2020 but so many things changed. Mentally, it was very hard. I was mainly doing long runs of up to 15km at a moderate pace – just carrying out general conditioning. But I knew I had to keep positive. As long as life was there, I had to keep as fit as possible and motivated for the future. In July I moved to Kapchorwa (the Global training camp in the Ugandan Highlands and training base of Joshua Cheptegei). Every year I head out to Kapchorwa for my endurance build up.

How helpful was your coach Addy Ruiter throughout these challenging times?
HN: He has been so helpful. We were in regular communication. He explained to me that with Covid the situation was not normal. Sometimes we plan for races but they'll be cancelled or postponed. He was always there to guide me.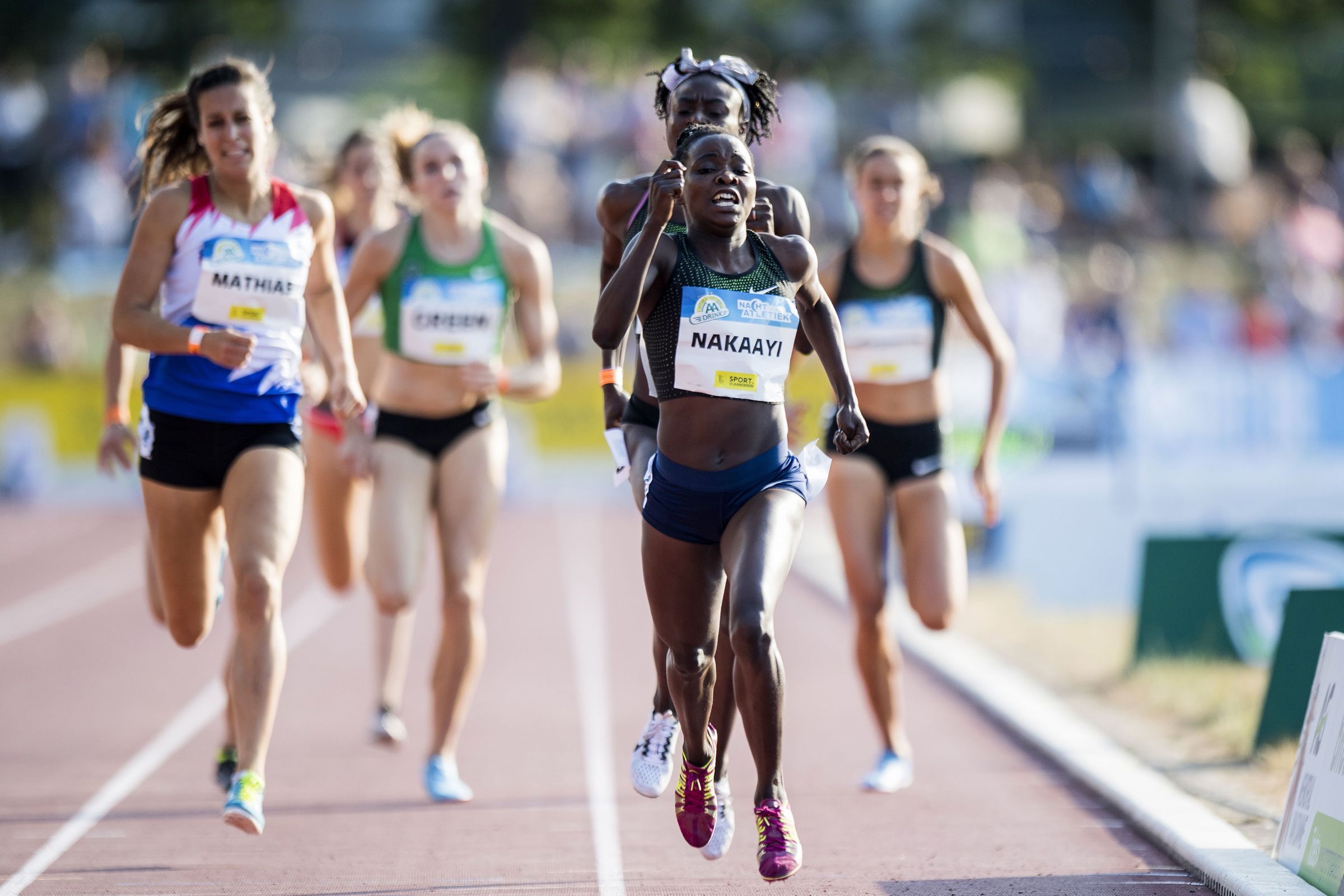 In 2020 you competed just once; running a national 1000m record of 2:32.12 for fifth place at the Wanda Diamond League meeting in Monaco. Why did you decide to compete just once?
HN: While in Mabira Forest I picked up a shin injury. It was a very deep shin pain. But the problem worsened after running in Monaco. Although I set a national record (in Monaco), I could have done much better because the injury did not allow me to sprint. The injury meant I did not do any other competitions in 2020.

When did you return to full training again?
HN: I never stopped training altogether and I did some gym work, swimming and core stability sessions. My general endurance training for the 2021 season started in October.

What kind of influence is Joshua Cheptegei as a training partner?
HN: What Joshua achieved in 2020 (three world records) has been a great motivation. Training with him and sharing the same coach has given me great belief that I can achieve a lot more in the future. Through hard training and determination he has showed us all that anything is possible. I have learned a lot from him. He is always there to guide me.
I was not always the most confident athlete but after I won at the Oslo Diamond League (in June 2019) he talked to me and gave me belief. Winning in Oslo opened my eyes to the future possibilities that one day I could become a world champion.

2020 was tough for so many people around the world. Who did you lean on to help you get through this period?
HN: I would get most of my motivation from the other athletes. We tried to encourage one another to stay motivated for the future and not to give up and that in future a solution will be found. I not only spoke to other athletes from Uganda but all over the world. I am very good friends with Noelle Yarigo from Benin and regularly chat on WhatsApp or Instagram.



What is your current state of fitness?
HN: I am in great shape and my body is responding well, I am happy with where I am at.

What are your aims and ambitions for 2021?
HN: I'm focusing on training hard and listening to my coach. I'd like to be a great champion and maintain my position on the podium (at the Olympics). I'd love to be one of those athletes consistently at the top. For now, I'm just concentrating on training and giving my best.

What would you want your legacy to be?
HN: I would like to inspire the youth to say no matter where you come from; if you have a dream, please fight for it. I have proved this. I work on trying to empower women and children. Many parents stop their children from competing in sports because they think it will be detrimental to their studying. But I have a degree in computer science and computer technology and have proved I can balance sports with academic life.
I also like to target younger people who have given birth and they perhaps feel like this is the end of their life. I want to encourage them that this is not the case. There is more to life than just cooking and being at home. I would like to motivate them that they can do other activities and that this is not the end of their life.

Steve Landells for World Athletics