Andrea Mayr on her way to the vertical uphill title at the World Mountain and Trail Running Championships (© Jonathan Wyatt)
On a day that pushed legs, lungs, hearts and minds to breaking point, Austria's Andrea Mayr and Kenya's Patrick Kipngeno proved the unbreakable, unstoppable duo, taking gold in the vertical uphill events on day one of the World Mountain and Trail Running Championships in Innsbruck-Stubai on Wednesday (7).
The vertical uphill may be the shortest of the elite races here this week, but it is surely the most sadistic – with more than 1000m of elevation gain across its 7.1km course, the gradient approaching the finish at Elferhutte hitting a truly gut-wrenching 40%.
As USA's Grayson Murphy, bronze medallist in the women's race, put it: "It just lasts forever."
Funny how, in certain situations, 48 minutes and 14 seconds can feel like forever. That was exactly how long it took Mayr to reach the finish, the quickest of the 102 women who had lined up by 37 seconds. It meant the 43-year-old claimed her seventh individual world mountain running title, and her first since 2017.
This, she had not seen coming, despite the event being on home turf.
"Of course I wanted to be one of the first five, but I was dreaming of getting a medal," she said. "I would never try to say aloud that first place would be possible."
Mayr had played a patient game in the race, going through the first 900m trail section down in the valley in 13th place, but by halfway she had moved her way through to the front.
"On the flat, it's not for me as I'm not that fast anymore; this year I'm 44," said Mayr, who represented Austria at the 2005 and 2007 World Athletics Championships in the steeplechase and at the 2012 Olympics in the marathon. "But I know that as soon as the steep part starts, my part starts, then I could overtake and overtake."
That she did, and she piled on the pressure when the course reached its middle section. Mayr had a 33-second advantage at the 3.9km checkpoint, but at 5.9km, she had company in the form of Kenya's Philaries Jeruto Kisang. But as they neared the finish, and that crippling final incline, Mayr leaned into the hill and broke the spirit and the legs of her rival, who had to walk a significant part of the final kilometre. That was when Mayr had the biggest helping hand from her supporters.
"The last three minutes, it was so loud, they were cheering so much," she said. "You couldn't hear yourself breathing anymore. That takes away the toughness of the race a little bit."
She was overcome with joy at the finish. Kisang, who finished fifth last year, was also delighted with her silver medal, while Murphy was content with bronze, given she will be much better suited to the mountain classic, which she will compete in on Saturday.
"My goal was to podium, so I'm glad to get a medal count started for the US," she said.
Kenya took the team event ahead of Germany and the United Kingdom.
The men's race, meanwhile, saw another former gold medallist reign supreme, though this time it was a more recent winner: 2022 champion Kipngeno. He shot to the front right from the start, running like a man with little to fear from the inclines ahead. When he got to them, it was clear why.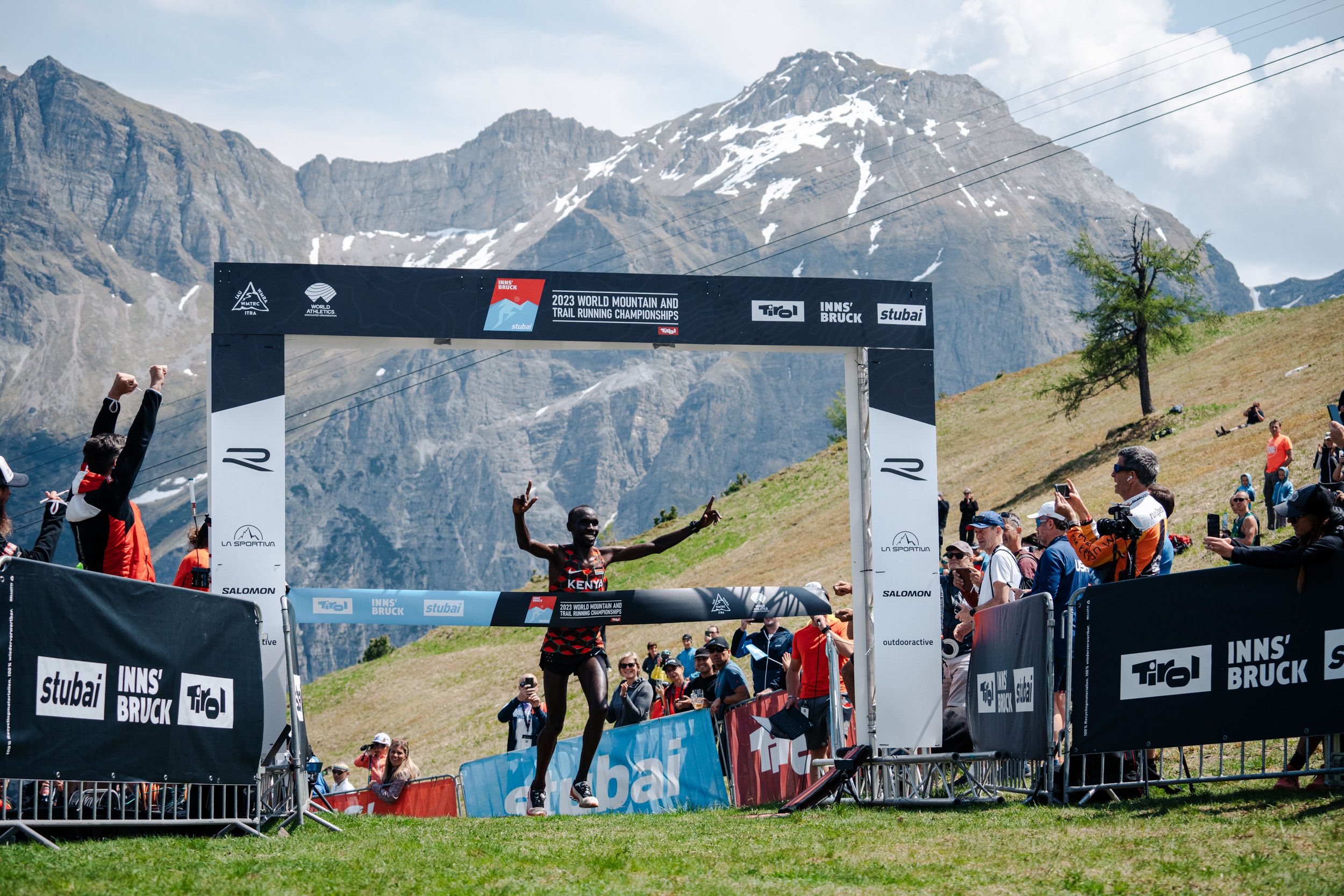 Kenya's Patrick Kipngeno wins the vertical uphill title in Innsbruck (© Roast Media)
Kipngeno, who spends much of the year based in Austria, was a class apart and built a considerable advantage, which had grown to 29 seconds at the 3.9km checkpoint, with Uganda's Levi Kiprotich and Kenya's Josphat Kiprotich giving chase.
But Kipngeno was running in splendid isolation and that was how it stayed. He built a 49-second advantage by 5.9km and by the time he approached the final incline, he had time to have a seat, grab a drink and admire the stunning Alpine views, not that Kipngeno did any such thing, continuing to churn his way to the finish, high-fiving supporters. He hit the line in 40:18, a whopping 1:33 clear of Uganda's Levi Kiprotich in second, and 1:46 clear of the bronze medallist, his Kenyan teammate Josphat Kiprotich.
"I thank God because I have retained my title," said Kipngeno, who trains in Nakuru County when he's back home in Kenya. "The course was very nice, very difficult. I started going hard at 5km. I did the course before so when I was running, I was very confident because I knew all of it. I used to train in Austria. I have a lot of friends in Europe, it's my second home. I trained very well so I knew I was going to win."
Kipngeno led Kenya to team gold and he predicted his nation will be continue to be a rising force in mountain running in the years ahead. If this performance was anything to go on, then future podiums could well be filled with the black, red and green kit.
"Every year we are getting better," he said. "In Thailand we were three (on the Kenyan team), now we are coming with seven, and every year we are increasing the number of athletes."
But runner-up Levi Kiprotich of Uganda sent a warning shot to his East African rival. "I'm very happy to be winning a medal this year," he said. "But next year I'm going to be number one."
Cathal Dennehy for World Athletics
Leading results
Women
1 Andrea Mayr (AUT) 48:14
2 Philaries Jeruto Kisang (KEN) 48:51
3 Grayson Murphy (USA) 49:22
4 Laura Hottenrott (GER) 49:56
5 Valentine Jepkoech Rutto (KEN) 49:59
6 Christel Dewalle (FRA) 50:04
7 Domenika Mayer (GER) 51:21
8 Scout Adkin (GBR) 51:39
9 Karoline Holsen Kyte (NOR) 51:51
10 Joyce Muthoni (KEN) 52:09
Team
1 Kenya (17)
2 Germany (33)
3 Great Britain and Northern Ireland (51)
Men
1 Patrick Kipngeno (KEN) 40:18
2 Levi Kiprotich (UGA) 41:51
3 Josphat Kiprotich (KEN) 42:04
4 Eliud Cherop (UGA) 42:16
5 Joseph Gray (USA) 42:32
6 Daniel Osanz (ESP) 42:41
7 Philemon Ombogo Kiriago (KEN) 42:54
8 Joe Steward (GBR) 43:02
9 Filimon Abraham (GER) 43:08
10 Roberto Delorenzi (SUI) 43:31
Team
1 Kenya (11)
2 Uganda (21)
3 Switzerland (45)