Mutaz Barshim and Gianmarco Tamberi celebrate their joint high jump win at the Tokyo 2020 Olympic Games (© Getty Images)
The finest high jump duel in Olympic history ended in the most appropriate way imaginable: with Mutaz Barshim and Gianmarco Tamberi sharing the gold medal in Tokyo.
Barshim, the two-time defending world champion and Tamberi, the 2016 world indoor champion and reigning European champion indoors, sailed through the competition on Sunday (1) without a miss through to 2.37m, Barshim over six heights and Tamberi seven.
After each missed three times at 2.39m, they met briefly with an official, and decided there would be no need for a jump off. The medal and title of Olympic champion would be shared – just like the similar roads that brought two of the finest high jumpers of their generation to this historic moment at a one-of-a-kind Olympic Games at Tokyo's National Stadium.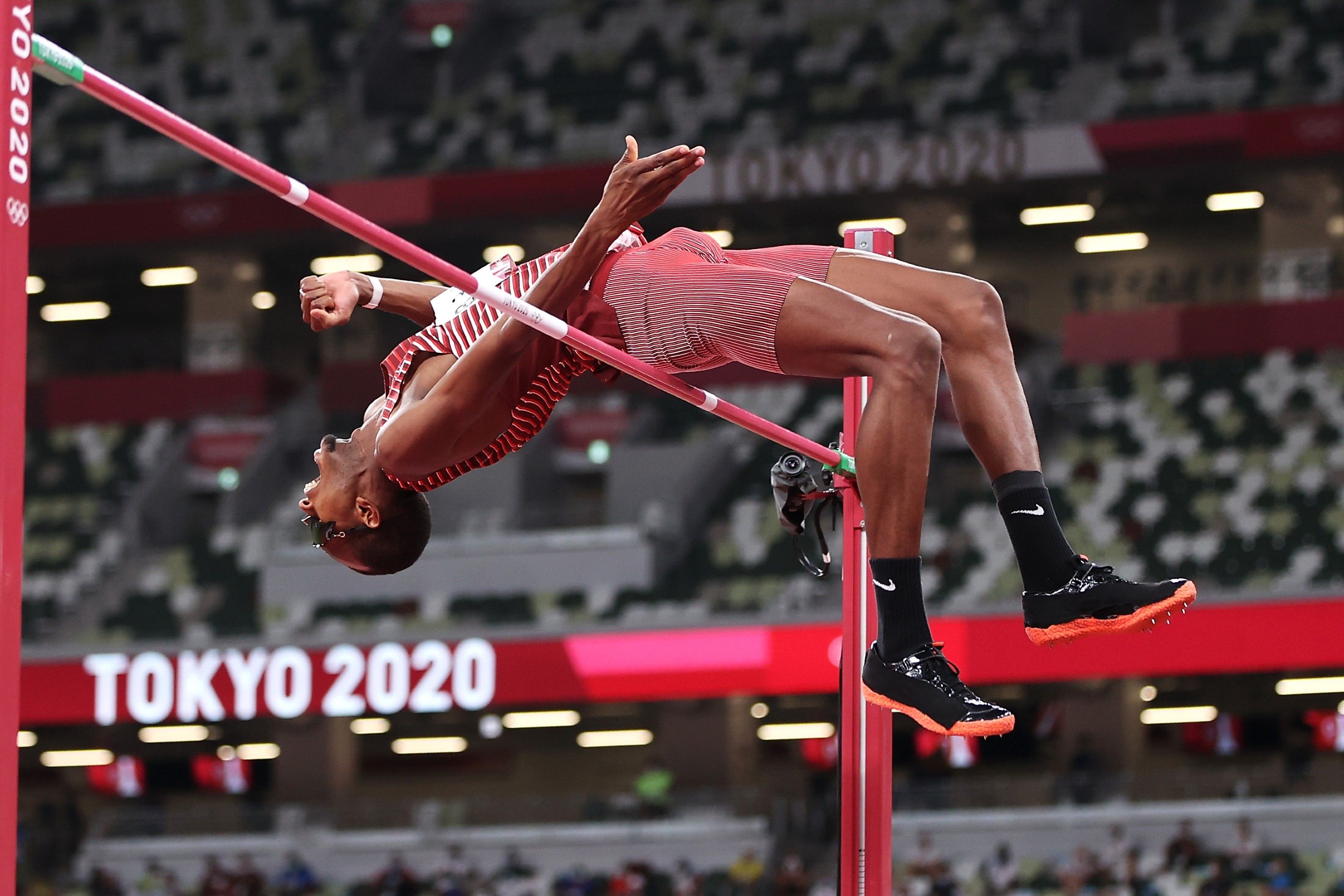 Five years ago, Tamberi, a 2.39m jumper, tore a ligament in his left ankle when attempting to top 2.41m at the Monaco Diamond League meeting just three weeks before the Rio Games where he would have started as one of the favourites.
In July of 2018, Barshim tore ankle ligaments while attempting to break the world record with a leap at 2.46 in Szekesfehervar, Hungary.
Barshim didn't jump for the next 11 months but worked his way back into contention to successfully defend his world title before a delighted home crowd in Doha. Tamberi too was sidelined from competition for 11 months, but with a more gradual return to the event's upper echelon.
Those career-threatening injuries seemed part a distant past when the pair took to the stage today, a distance made even farther when the global coronavirus pandemic postponed the Olympic Games, giving each a crucial extra year to find their previous form.
"After my injuries I just wanted to come back, but now I have this gold, it's incredible. I dreamed of this so many times," said Tamberi, who was also one of the first to congratulate 100m champion Marcell Jacobs, whose shock victory capped one of the finest evenings in Italian athletics history. "I was told in 2016 just before Rio there was a risk I wouldn't be able to compete any more. It's been a long journey."
"It is amazing, this is a dream I don't want to wake up from," said Barshim, who competed just four times this season with just a modest 2.30m season's best to his credit. "I have been through a lot. It's been five years that I have been waiting, with injuries and a lot of setbacks. But we are here today sharing this moment and all the sacrifices. It's really worth it now in this moment."
That showed as the pair embraced, just before a double celebration ensued, Barshim jumping into the arms of his coach, Tamberi dropping to the track on his knees next to the cast he wore after his 2016 ligament surgery. On it he wrote: 'My road to Tokyo'.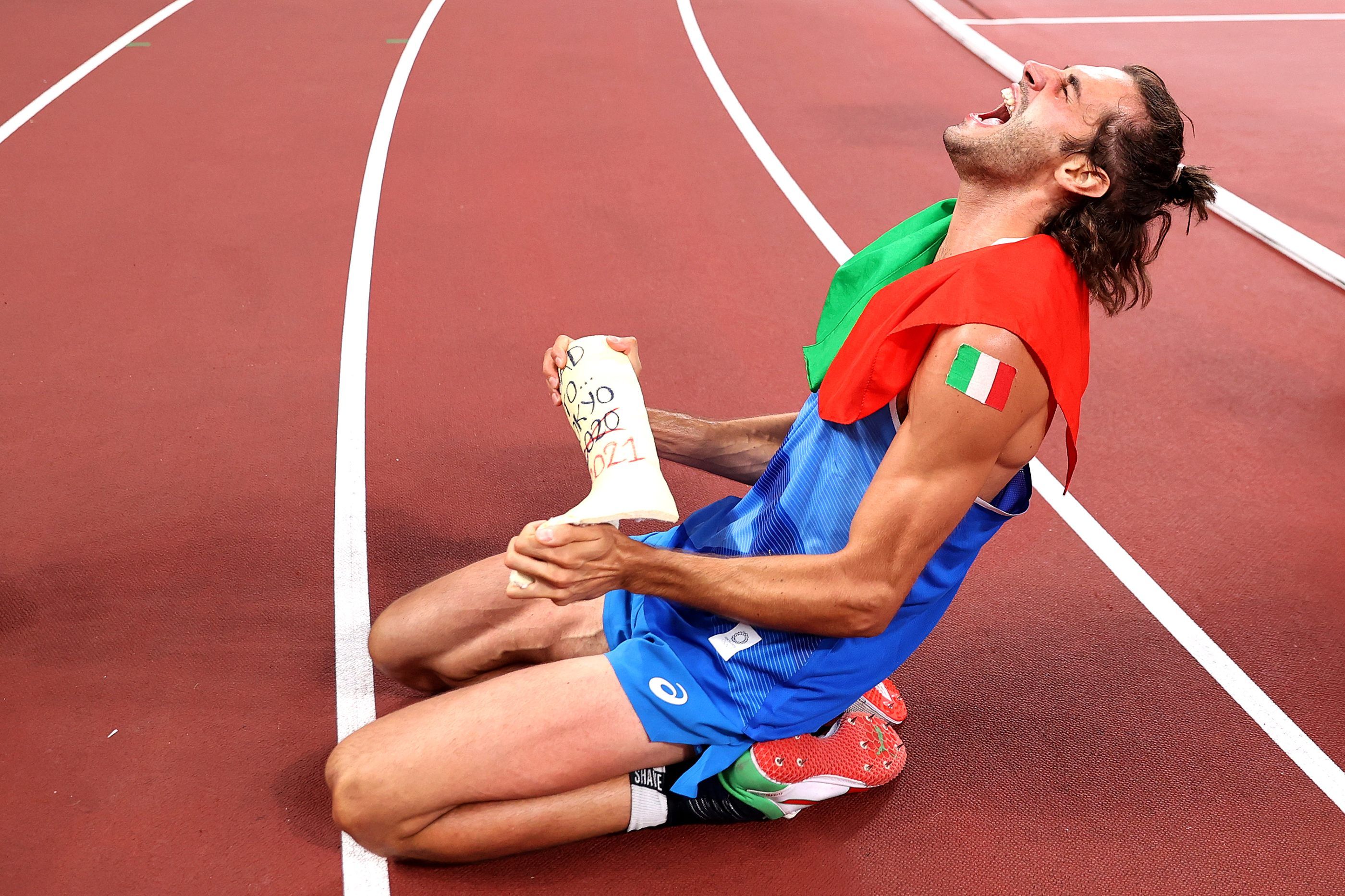 For Tamberi, the end of that road began at 2.19m and for Barshim at 2.24m. Their successful clearances at 2.37 was an historic first; never had two jumpers topped that height at an Olympic Games.
But they weren't there alone. They just took the quickest route.
Six men were still jumping at 2.39m: Tamberi and Barshim; Maksim Nedasekau of Belarus who topped 2.37m after a miss at 2.35m; Sanghyeok Woo of Korea and Australian Brandon Starc who cleared 2.35m; and US champion JuVaughn Harrison, who scaled 2.33m and passed his way to the ultimate height.
Nedasekau, who produced the nearest miss at 2.39m, was forced to settle for bronze while Woo clinched a surprise fourth place finish after his inspired performance, beating Starc on countback. The 25-year-old Woo, who jumped to the world U18 title in 2013, improved his 2.30m PB twice on the night, first with a second attempt clearance at 2.33m and again after first attempt success at 2.35m.
Authorised neutral athlete Mikhail Akimenko was sixth on countback over Harrison, after both topped out at 2.33m. Harrison returns to action in the men's long jump final on Monday morning.
Bob Ramsak for World Athletics
MEN'S HIGH JUMP MEDALLISTS
🥇
Mutaz Barshim 🇶🇦 QAT
2.37m
🥇
Gianmarco Tamberi 🇮🇹 ITA
2.37m
🥉
Maksim Nedasekau 🇧🇾 BLR
2.37m
Full results