Qieyang Shijie celebrates her 35km race walk win at the Dudinska 50 (© Milan Duroch)
China's Qieyang Shijie and Italy's Massimo Stano led a series of World Athletics Championships Oregon22 qualifying time performances to win on their 35km race walk debuts in Dudince on Saturday (23).
Multiple global medallist Qieyang clocked 2:43:06 and Olympic 20km race walk champion Stano recorded 2:29:09 at the Dudinska 50, a World Athletics Race Walking Tour Gold event, where a number of area and national records were set.
Always in control in the women's 35km race, Qieyang broke away from Peru's Kimberly Garcia after the pair passed the 16km mark together in 1:14:31.
Qieyang, who claimed 2012 Olympic silver in the 20km race walk but is expected to be awarded gold following the disqualification of Yelena Lashmanova, built a five-second lead over the next kilometre and maintained it as she passed 20km in 1:32:51.
Garcia, who finished third in the 20km event at last month's World Athletics Race Walking Team Championships in Muscat, was clear in second and reached the 20km point in 1:32:56.
Qieyang had extended her lead to 13 seconds by the finish, the two-time world medallist winning in an Asian record of 2:43:06 to Garcia's South American record of 2:43:19.
China's Li Maocuo followed her second-place finish in Muscat with third place this time, clocking a PB of 2:45:46. Brazil's Viviane Lyra was fourth in a PB of 2:49:12, while USA's Robyn Stevens achieved an area record of 2:49:29 in fifth. In total, 11 women were under the entry standard of 2:54:00 for the World Championships in July.
In the men's 35km race, Stano – who had clocked 2:35:03 as a 35km split during a 50km event in 2019 but was contesting his first race over the distance – was in third and 39 seconds behind Mexico's race leader Jose Luis Doctor at 30km, which they passed in 2:08:12 and 2:08:51 respectively.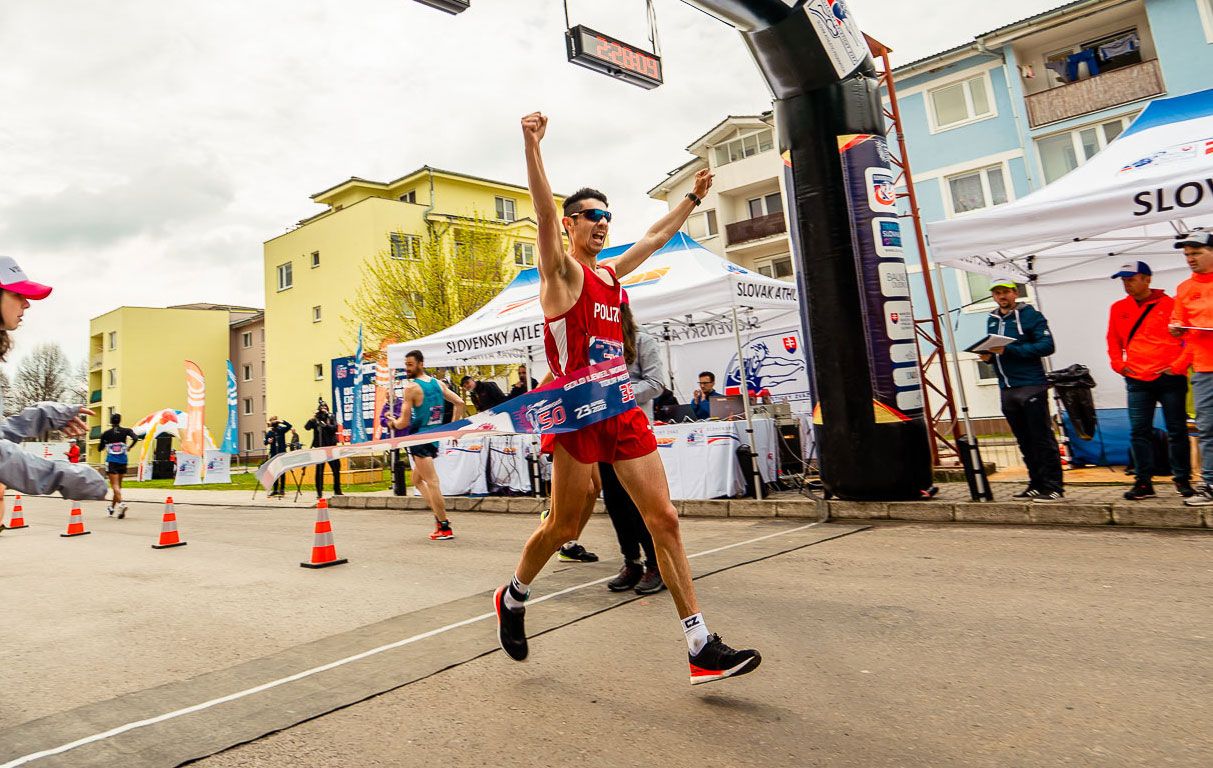 Massimo Stano wins the 35km race walk at the Dudinska 50 (© Milan Duroch)
But Stano continued to focus on his own race and had overtaken second-placed He Xianghong of China by 33km. Stano then took the lead with a kilometre to go and crossed the finish line in 2:29:09 to win by 15 seconds ahead of Doctor with an area record of 2:29:24. In third, He set a national record of 2:29:35.
Aurelien Quinion of France was fourth in a PB of 2:30:01 and Colombia's Jose Montana fifth in a South American record of 2:30:46 as a total of 15 athletes achieved the standard for Oregon.
The 20km races were won by Guatemala's Jose Alejandro Barrondo in 1:20:56 and Mexico's Sofia Ramos Rodriguez in 1:34:04.
Saturday's event was the 41st edition of the Dudinska 50, which returned with the same name but new distances as it featured 35km races for the first time due to changes in the international championships schedule.
Over at the Polish 20km Race Walking Championships in Sulejowek, Olympic 50km race walk champion Dawid Tomala claimed a win over the shorter distance, clocking 1:25:16 at the World Athletics Race Walking Tour Bronze event.
Artur Brzozowski was second in 1:25:27 and Rafal Augustyn third in 1:25:52.
The women's race was won by Katarzyna Zdzieblo in 1:30:11 from Olga Niedzialek in 1:30:34 – both under the qualifying standard for Oregon. Agnieszka Ellward was third in 1:37:08.